6 months ago I retired.
In my final years of working, I spent a lot of time wondering "What Will Retirement REALLY Be Like?". This Retirement Reality Series tracks my retirement journey for the benefit of folks who have the same curiosity.
In today's Part III, I'm sharing 6 Lessons From The First 6 Months Of Retirement.  I enjoy writing the lessons from retirement in this series and hope they help as you journey to, and through, your own retirement.
Bottom Line:  Retirement Is Great, and I have no regrets at the 6-month mark.  I've learned a few things since my June 2018 retirement, and some of those lessons will be the focus of today's post.
The Retirement Reality Series shares what it's REALLY like to make the transition into retirement. Today, the view from 6 months.
Click To Tweet
At the 180 Day mark, I've put together these 6 Lessons From Retirement and will continue to add to the series as our retirement rolls on.  I hope you're enjoying the journey (I know I am!).
---
6 Lessons From The First 6 Months Of Retirement
As I said in The First 60 Days Of Retirement,
Retirement is exactly like I thought it would be.
Retirement is nothing like I thought it would be.
That continues to be the case, and I'm often surprised by this phenomenon called retirement.  Even with 6 months under my belt, I still pinch myself with the reality that mandatory work is a thing of my past.  Life without work is hard to explain, but it's even better than I imagined.
I enjoy my frequent "Lazy Wake-Up Mornings", where I allow myself to fade in and out of sleep for 30 minutes before rolling out of bed (our dogs also seem to love those mornings, when they get some good loving while they're laying in bed with us before the day begins).   After 33 years of waking up to the urgency of an alarm clock, the luxury of those lazy mornings is hard to describe.  Wonderful, really.
Have I become as lazy as a dog?  I think not and have found retirement to be busier than I expected.  I seem to add items to my "To Do" list faster than I check them off, but enjoy the casual pace with which things can now be completed.  As Mr. Smith said in my first One Retirement Question Interview, "What You Don't Do Today Will Still Be There Tomorrow".  Seems Mr. Smith was correct, and that Luxury of Time is one of the 6 lessons I'll share below:
---
1. Expect Unexpected Opportunities
As I was preparing for retirement, many of my friends advised me to expect a flood of phone calls with opportunities, and they were right.  As I wrote The Ten Commandments Of Retirement, I warned myself to hold off making obligations with Commandment #4:  "Make No Obligations" (I broke that commandment, and would suggest it be reworded to "Be Very Selective In Making Obligations")
Expect those unexpected opportunities, but be extremely selective on which of those opportunities you choose to pursue.  I've done exactly that, and I've been happy with the outcome.  The 3 Unexpected Opportunities which I've accepted have been:
Joining The Board Of Directors of a multi-national company (minimal time commitment, and a great way to leverage my experience and stay a bit engaged in my area of expertise.  The pay doesn't hurt, either).
Be On A YouTube Show with Brian & Bo at The Money Guy Show. (My first YouTube Show, how could I say no?)
Be On National Television by accepting an invitation to be on a "Retirement" segment (details tba in 2019)
---
I have no idea what the future will bring, but I've learned to enjoy the unexpected twists and turns along this road called retirement.  Expect The Unexpected, but be very careful about giving up the Freedom you've worked so hard to obtain.
---
2.  One More Year Was Worth It
Enduring through the One More Year Syndrome is difficult, but the rewards come after you've retired.  In our case, the additional money we were able to save by waiting "OMY" have reduced our anxiety in retirement.  As I wrote in 6 Steps To Avoid The Looming Bear Market, the stock market is getting a bit volatile.  In spite of that, we're anxiety free in our first 6 months of retirement.  We have a cushion, and the daily gyrations of the stock market aren't a factor in our daily lives in retirement.  Our withdrawal rate is at a conservative level, and we have sufficient cash reserves to ride out all but the most apocalyptic of storms.
We're sleeping well at night.
One more year was worth it.
---
3.  You'll Still Be Planning In Retirement
After 3+ decades of planning for retirement, one of our lessons from retirement is how the "planning" changes after you leave the workforce.  The accumulation phase is over, and we're in the drawdown phase.  We're no longer saving money.
However, the planning hasn't stopped.
On the financial front, we're monitoring Our Retirement Withdrawal Strategy, and we've automated our "paycheck" from our Capital One savings account into our checking account.  We're deciding when to trigger some before-tax IRA conversions to a ROTH given the new Tax Law Loophole,  and we're paying attention to our Unsolved Health Insurance.
On the fun front, we're planning our retirement roadmap, and making a course for both short- and long-term adventures.  We've decided to launch The Great American Road Trip in May 2019 and will be spending 3-4 months going cross-country to visit our new granddaughter in Seattle.  We're charting the course, literally, for that adventure as I write this post, and we're having a lot of fun deciding what we're going to see along the way.
The planning is different in retirement, but it doesn't go away.
---
4.  Fitness Is More Fun In Retirement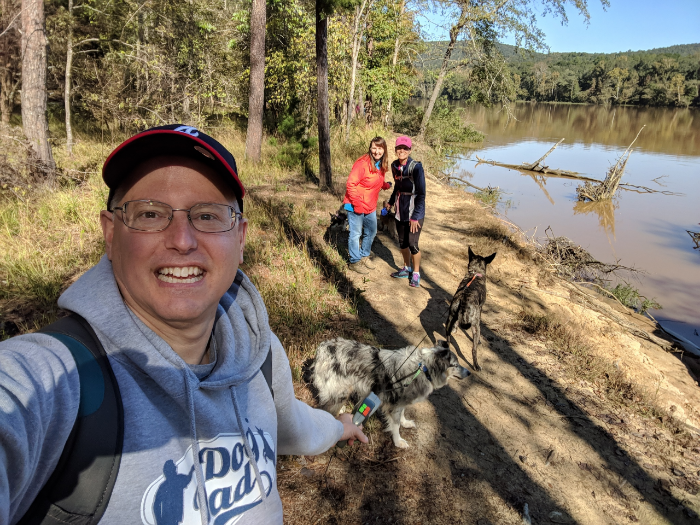 I'm a big believer in keeping yourself fit and encourage all of you to find some way to exercise.  It's increasingly important as we age, and it's something we all should do (see the updated fitness guidelines from HHS here).  I want to enjoy as many of my retirement years as possible doing the things I want to do, and fitness helps me get to that goal.
Since December 1994, I've been a runner.
I've run in hundreds of races, from 5k's to marathons, and it's kept me is decent shape for the past 24 years.  I never really loved running, but it was the only type of fitness activity that "fit" with my working lifestyle.  I'd dutifully strap on my Asics running shoes for my lunchtime run, then grab a quick shower in the fitness center available in my workplace.
Running worked, but I wouldn't call it fun.
One of our favorite lessons from retirement is the fact that fitness activities are now more diverse and a lot more fun.  When we're in town, I hit the local gym for Spin Class on Mon-Wed-Fri, and my wife and I do a Barre Above class together on Tuesday and Thursday.  When we're out camping, we hike every day.  Our dogs love it, and so do we.
Throw in some mountain biking, swimming, and the occasional run, and I'm finding that fitness is more fun in retirement.  I'm planning to keep it a part of my routine for as long as I'm able.  I encourage you to do the same.
---
5. The Luxury of Time
After 33 years of waking to an alarm clock, I love my retirement mornings.  I wake up when I wake up, and I'm not in a hurry to get out of bed.  My dogs seem to appreciate the change.  I know I do.
The Luxury Of Time is our favorite of these 6 lessons from retirement.  As I wrote in Time Affluence,  the ability to use the luxury of time for things that make a difference is one of the true joys of retirement.  For the first time in our lives, we're able to prioritize our time to do the things that matter most to us.  For us, we're using some of our time to help unfortunate dogs find a better path through life, and it's rewarding when one of our "favorites", like Max, finds his forever home.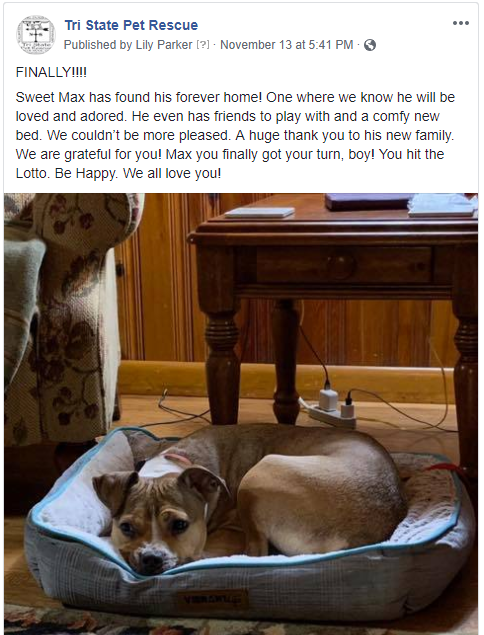 Using our time to make a difference in this world, however small, is a true luxury. A cherished lesson from retirement.
Big Announcement:  I'm currently in the Seattle area for 2 1/2 weeks for the birth of our first grandchild.  I wrote the majority of this post prior to our departure, but couldn't hit "publish" without adding this update that our granddaughter, Octavia Rose, entered this world on November 27, 2018.  Grandma and Grandpa were able to be here for the excitement, thanks to the Luxury Of Time.  I can think of no better example to define Lesson #5 than having the luxury of an extended stay for the birth of our first grandchild.
Ah…Retirement…time for what's truly important!
---
6.  Some Structure Is Good For The Soul
After decades of structure in our lives, we were excited as we approached the Starting Line of retirement.  100 Days To Freedom outlined our anticipation at the Freedom to do what we wanted to do, when we wanted to do it.
One of the lessons of retirement we've learned over the past 6 months, however, is that SOME structure is good for the soul.
Leaving your days to chance risks wasting the precious nature of time.  Time never stops flowing. Wasting a day or two is ok, it's part of the fun of retirement.  However, providing a bit of structure helps to avoid that wastefulness from becoming a bad habit.
The right amount of structure helps to ensure that you're spending your time doing the things that you want to do while leaving you free to enjoy the Freedom you've worked so hard to achieve.
Perhaps an example is in order.  As I mentioned in Lesson 4, fitness is important to us.  Fitness is one of those areas where, if you don't make time for it, it's very easy to let slip through the cracks.  By adding just a touch of structure (Spin Class every Mon-Wed-Fri at 8:00 am) we ensure that we're prioritizing our fitness, while still leaving the balance of the day free to do as we please.
Our dogs are another area where some "structure" is good.  We have 4 dogs, and they're a priority for us.  Every morning and evening, those dogs get a nice long walk.  1.3 miles around our private forest trail if we're home (one of the reasons we love our "Great" cabin), and a nice hike if we're camping.  They deserve it, and it chills them out so we can leave them sleeping if we choose to have some unstructured "exploring" time throughout the day.
Structure and Freedom work well together, making Lesson #6 of our Lessons From Retirement.
---
Conclusion
The past 6 months have been better than I could have imagined, and we're continuing to learn lessons from retirement.  I enjoy being introspective during our journey, and it's rewarding to share the lessons we're learning for those who are walking a similar path.  In summary:
The 6 Lessons From 6 Months Of Retirement:
Expect Unexpected Opportunities
One More Year Was Worth It
You'll Still Be Planning In Retirement
Fitness Is More Fun In Retirement
The Luxury Of Time
Some Structure Is Good For The Soul
If you like this "Retirement Reality Series", you may enjoy Living The FI Life, a compilation post from Fiology which shares posts that other recent retirees have written on the subject of lessons from retirement.
What About You?  If you're retired, what are the biggest lessons from retirement you've learned thus far?  If you're pre-retirement, are you curious what retirement will really be like?  Let's chat in the comments…