I've always loved tractors, and am the proud owner of a John Deere garden tractor.  Since we've downsized and moved to the mountains, I don't really need it anymore.  So, I've nominated myself to serve as the "road crew" of the 1 mile long private road leading up to our cabin.  I faithfully mow the shoulders of our little road, and the neighbors on the road appreciate it.  It's really an excuse to keep my little tractor, but sometimes we need to just indulge ourselves.
In addition to my John Deere tractor, I also own the stock, DE.  I didn't buy it in a normal fashion, however, and that's the focus of this article.  Rather than buying the stock outright, I used a simple option trading strategy which I've developed, and which I'll share openly with you today.
As my regular readers know, I like to mix in "technical" financial planning concepts with "softer" retirement lifestyle articles.  This one will be an example of the former, but I really encourage you to read through it, and understand the concept.  If used correctly, this option trading strategy will result in an improvement to your returns.
Using this simple option strategy has increased my returns on DE by an additional 7%.
Click To Tweet
An Option Trading Strategy to Improve Your Returns
On July 11, 2014 I decided to buy 100 shares of John Deere (DE) stock.
I like the dividends (~3%) for future retirement income, and I like the diversification play into agriculture. At the time, DE was trading at $88/share, too rich for my blood.  Rather than buy the stock, I decided to use my option trading strategy to improve my returns, and ultimately got paid to buy the stock at $84/share, a price 5% below the level at which it was currently trading. Less than two years later, I've now reduced my actual cost basis on the DE stock to $74/share, a price 16% below the $88/share level "most" people would have bought it for at the time!  I still own the stock, and I still get paid the dividend.
How did I do it?
Today, I'll tell you how.
In simple terms, my option trading strategy focuses on the use of only 3 basic option trades.  Selling a put, selling a call, and rolling a position.  I do these trades frequently, and have had great success in improving my return as a result.  This article will focus only on these three fundamental option trades, which I'd seriously encourage you to consider in your own investment portfolio.
Selling A Put
Some people get intimidated by options, and believe they're a tool only used by "experts" and "speculators".  I firmly disagree, and believe they are a misunderstood tool that should be used by "average investors" to improve their returns.  I'll walk through my option trading strategy in simple English, using my DE examples along the way to show you how this simple strategy works.
Options are a tool that can by used by average investors to improve returns. Follow this article step by step to learn how.
Click To Tweet
On July 11, 2014, rather than BUY DE stock at $88, I SOLD A PUT at $84.  I execute my trades online via TDAmeritrade, and they have a very useful options screen in their ThinkorSwim platform.  I'll forgo the details of that for this article, but can walk anybody through it if interested (just send me an email!).
What does selling a put mean?
When you sell a put, you're making a commitment to buy the stock if it's at a level below your put price at a certain date in the future (called the expiry date).  In simple terms, I sold the DE put at $84, with an expiry date of Sept 20, 2014.  If DE was trading below $84 on Sept 20, I'd be obligated to buy it at $84.  Since I wanted to own it anyway, and was comfortable the $84 price, I was fine with that.  In return for selling the put, I received a payment of $110.  To insure I had the money available to buy the stock if it was below $84, I needed to have $8400 on reserve at TDAmeritrade.  Options trade in "lots" of 100 shares, so the smallest trade you can make if for "1 lot", which covers 100 actual shares of the stock (I'll avoid the topic of trading on margin and sublots for the sake of this discussion).
A 7% Return
Think about it for a minute:  I received $110, in return for tying up $8400 for 2 months.  Do the math, I just earned a 7% annualized return!!  For those who want to check my math, it's simply (110 return /8400 reserve) * (2 months / 12 months).  
There are MANY times (the vast majority) when that's the end of the trade.  If DE is trading ABOVE $84 on 9/20, my put expires and I keep the $110.  I just earned a 7% annualized return, and am free to execute another similar trade. To give you a sense of how often I do this, I currently have 18 option trades open on my TDAmeritrade account, with expiration dates ranging from June – October 2016.
What If DE is below $84?
In this case, DE was trading at $81 on Sep 20.  Since I had an obligation to buy at $84, I was forced to buy 100 shares.  As I mentioned earlier, I was paid $110, so this confirms my statement that I was paid to buy the stock at $84, which was below the $88 when I decided to buy DE back in July. Not a terrible thing, since I had decided in advance that I was comfortable buying DE at $84 as a long term retirement income strategy.  It's important for you to have this attitude BEFORE you sell the put, as you do run the risk of "getting exercised the put", which is the term for being forced to buy the stock at expiry (as happened to me in the DE example).  There is an alternative to buying the stock at the time of expiry, which is covered under the "Rolling A Position" trade later in this article.
As a final note on the put side of this option trading strategy, there are also times I will "buy back" the put that I've sold prior to expiration date.  If the stock has increased significantly in price, the cost of the option will fall.  If I sold a put for $100, and can buy it back for $10, I'll net a $90 profit on the trade without having to wait for expiration.  This frees up my "reserve" money, which can then be redeployed into selling a new put.
Selling A Call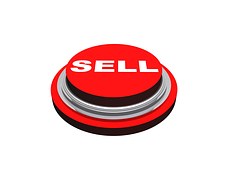 On Sept 20, I became the proud owner of 100 shares of DE, which I paid $84/share to purchase.  This was predetermined by the $84 "strike price" and the Sept 20th expiration of my put.  To be clear, at this point I had "lost money" on the trade.  I paid $84 for the stock, which was actually trading at $81.  I did make $110 on the put option premium, so my actual net cost was $82.90, which was still a $190 negative position ($84 – $1.10/share = $82.90 on a stock currently trading at $81.  -1.90 per share @ 100 shares = $190 loss).  I was fine with that, this was a long term holding, and I prefered owning it at $82.90 than the $88 DE was trading at when I first sold my put.
Now what?
The next phase of my option trading strategy is to sell a "covered call" (which means you already own the physical stock).
On Oct 31, 2014, I sold a call for 1 lot of DE at $90/share, with an expiration date of Jan 17, 2015.
What Does Selling A Call Mean?
Selling a call means that you are making an obligation to sell your stock at a certain price in the future.  In the case of my trade with DE, I had sold a call at $90 with a Jan 17 expiry.  If DE were trading higher than $90 on Jan 17, I would be forced to sell it at $90.  Since I only paid $84 for it, I was fine having an obligation to sell at $90.  In return for selling the call, I received a payment of $86.  My risk:  what if DE were trading at $100/share on Jan 17?  I'd be frustrated, and be forced to sell my stock "below market" at $90.  That's the risk you take in return for selling the call (and, it's why you get paid to sell a call).
On Jan 17, DE was trading for $84.  Since this was below my $90 call, the option "expired worthless", which means I wasn't forced to sell the stock.  The trade expired, and I was free to do it again.
I've "Sold" The Same Stock 7 Times
Since I bought DE in Oct 2014, I've sold calls on these 100 shares a total of 7 times, and have been paid a total of $968 in "call premiums" (the money you get paid when you sell a call).
I STILL OWN THE STOCK!
I STILL EARN THE DIVIDEND.
IN ADDITION, I'VE EARNED A 7% ANNUALIZED YIELD IN CALL PREMIUMS!
The $968 is a 7% bonus, and an example of Using Options To Improve Your Returns.
Click To Tweet
Rolling A Position
The final element of my option trading strategy is "Rolling A Position".  In fact, I did it this morning.  On DE.
What Does Rolling A Position Mean?
Using today as an example, I was in a bit of a spot.  I had a DE call which was facing expiration on May 16.  My call price was at $80 (meaning I was obligated to sell if the price were over $80, and DE was trading at $82.  I really didn't want to sell the stock on May 16th, so I "rolled" my position from a May 16 expiration out to a Sept 16 expiration, and GOT PAID another $252 for the trade.
Today's Rolling Trade
Since I had initially "sold a call" with a May 16 expiration, I now needed to BUY the call back.  That cost me $320.  Ouch.  To offset the cost, I simultaneously SOLD a call with a Sept 16th expiration.  For that trade, I was paid $572.  Net the two together, and my net revenue was $252, and I rolled my expiration from May to Sept.  That's what "rolling a position" looks like.
Another way the rolling trade can be used is on the initial put you sold in step one.  If your stock is trading below your put strike price, and you'd prefer to NOT buy the stock, you can "roll" your put using the same technique as outlined above.  This will move your "obligation to buy" out to the new expiration date.
My Cost Basis On DE is now $74
Although I paid $84/share for DE when I bought it back in Sep 14, my "cost basis" is now down to $74.  Essentially, that means the total revenue I've received from my initial put trade and my subsequent call trades totals $1,000.  If I divide the $1,000 of revenue by the 100 shares I own, it equates to $10/share, or a 12% "cost reduction". Essentially, I could sell the stock today at $74 and be "break-even" on the overall trade.  Even if I'm only able to sell the stock at the $84 I paid for it, I'll still keep the $1,000 in "option premiums" I've received, and net a $1,000 profit in spite of the stock price not increasing.
Using the revenue of selling calls helps reduce your cost basis on any stock you own.  I've heard stories of folks that have been selling calls on some stocks for so many years that they've actually earned more in call revenue than they initially paid for the stock.  Essentially, their cost basis is zero, with the entire stock purchase having been "paid for" by the revenue they've earned selling call options.
Risks & Other Considerations
No stock trading comes without risk, and it's the same with options.  The biggest risks in the strategy I've outlined above are:
You may be forced to buy a stock at a price higher than market price when your put expires.
You'll have to maintain sufficient $$ in your account to pay for the purchase, or run the risk of paying to borrow money "on margin"
You must be approved by your trading company to trade options and establish a margin account.
You may be forced to sell a stock at a price lower than market when your call expires.
Your call may be exercised before expiration date, which means you'd be forced to sell the stock at the call price.
Frequent trading can increase your trading expenses (I track all of my returns as a net number, after expenses).
Start small to insure you understand options before getting too carried away.
My first option trade was stupid, and I lost about $1,000.  I didn't really understand what I was doing, and played the trade entirely wrong.   That's why I only trade options in my "trading account" at TDAmeritrade, which represents less than 10% of my overall net worth.  I learned from my initial trading mistake, read a lot more articles on option trading, and ultimately developed my personal option trading strategy I've outlined for you in this article.  Not every trade ends well, and there are times you'll lose money.
You need to focus your efforts on finding a stock you're interested in buying, and only sell puts for that stock.  Do some Google searches on option trading or talk to your trading company for more details before you start to trade.  Study this article in detail as you're considering making your first trade.  Start small, trade 1 or 2 lots on a stock with a value of less than $50/share.  Let it run through expiration before you place another trade, and insure you fully understand how options work before you expand your use of this option trading strategy.
Conclusion
I've been trading options for about 5 years now, and fully understand my option trading strategy.  Even after 5 years, I keep my strategy simple and make only 3 types of trades (selling a put, selling a call, or rolling a position).  I wish I had started earlier, as it's proven to be a nice way to earn some additional income on my stock portfolio.  Don't be intimidated by options.  Start small, learn from experience, and you can easily follow my example of:
Using Options to Improve Your Returns.