The Readers Have Asked, And So It Shall Be.
At your request in the comments of last week's What I Learned From A 7,000 Mile Train Journey (wow, what a response!), I've written today's Part 2 of the "Train Adventure" Series, The Ultimate Guide To Cross-Country Train Travel. This post is for those of you who are interested in taking your own train journey or those who are simply curious about the details.  As a bonus, I've added Insider Tips in each section based on our personal experience.
The Ultimate Guide To Cross-Country Train Travel, with Insider Tips, pricing details and things we'd have done differently.
Click To Tweet
The Ultimate Guide To Cross-Country Train Travel
The first thing to decide when thinking about a train trip is where you'd like to go, and whether you'll be overnight on the train.  By definition, you can only go where the rail lines go.  If you're in the USA, your only choice for cross-country train travel is Amtrak (short for American Track), so this post will focus on the Amtrak system (apologies to my international readers, but I'm writing this from personal experience which was based in the USA):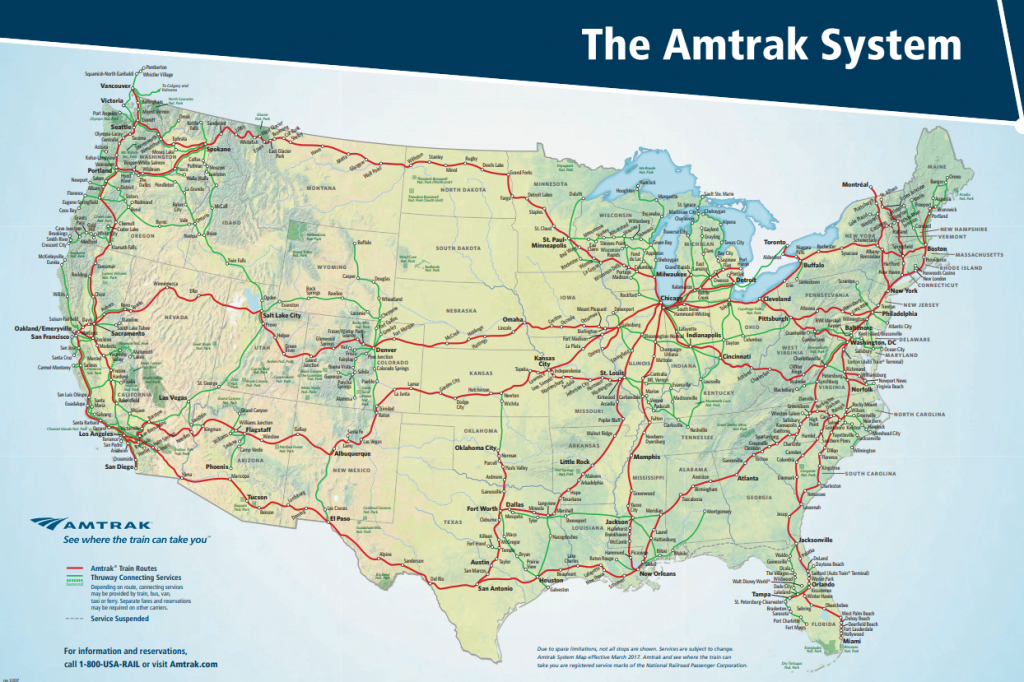 As you think about various destinations, it's helpful to click on the Amtrak Route Summary, which provides a detailed summary of each route and which train stations they'll stop.

What's With The Names?
I'm not sure of the history, but I love the way Amtrak has named their various train lines, and complimented each route with art deco artwork branding.  It can be a bit confusing at first, but think of each named route as an inter-state from which you can exit anywhere along the way.  For example, w
hen we started our trip in Atlanta, we took the Crescent route from Atlanta to Washington, DC (The Crescent runs from New Orleans To New York).  In Washington, we made a connection to the Capital Limited which runs from Washington to Chicago.
** Insider Tip:  To enhance your journey, take time to enjoy some of the beautiful train stations along your route.  Most were built near the turn of the century, and have wonderful photography on their walls showing the station's history.  Many cities have recognized the value of these magnificent structures, and are investing millions of dollars to restore them to their former glory.  Get off at any station with a depot, and take a quick walk inside to witness the unique architecture and local history.
---
Should I Book A Sleeping Car? What Are They Like?
If you're going to be overnight for more than 1 night, I'd strongly encourage you to book a sleeper car.  There are two basic types of sleeper cars on Amtrak (take a virtual tour here), and we tried a few nights in each:
Roomette: Pictured above and below.  Two facing seats, folding table between.  Seats fold flat to make the bottom bed, upper bunk folds down from the wall at night.  These rooms are SMALL, but sufficient for two passengers to sleep and have a private seating area throughout their trip.
Bedroom:  The higher level of sleeper is the Bedroom configuration, which includes a private bath and toilet (public facilities exist for Roomettes down the hall in the same sleeper car, but aren't private).  Bedrooms cost more, obviously, depending on the route.  It's really a question of how much a private bath is worth to you.  The seating and sleeping comfort are comparable between the two options.
In addition, Amtrak offers a Bedroom Suite, which is simply two bedrooms with the connecting door opened.  This may be something to consider if you're traveling with children.  The routes which use the "Superliner" cars also offer a Family Bedroom, which consists of one room with 2 adult berths and 2 smaller children berths.
** Insider Tip:  If you're going to be on the train overnight, I'd encourage you to seriously consider a sleeper car.  The coach seating is comparable to an airline economy seat (with a bit more room below the rows) and does not "lay flat".  For one night, the coach may be acceptable, but if you really want the full experience of a long distance train adventure with good sleep, you should consider "paying up" for the sleeper car.  The Roomette is a viable option to get some sleep without incurring the additional expense of the "Bedroom" upgrade with a private bath.  Finally, consider leaving excess carry-on baggage in the rack provided in the lower section of the sleeper car, it frees up valuable space in your room.
---
Are Meals Included?  What About Tipping?
If you book a sleeper car, 3 meals per day are provided.  The dining car staff will come through the train a few hours before each meal to take reservations.  Make a reservation, and keep your appointed time.  The meals were unrushed, and the food quality was very good.  Service is comparable to a restaurant, with a full-service menu and tableside service.  Non-alcoholic drinks are included, alcoholic drinks are available for a surcharge.
For tipping, we tipped 20% calculated off the menu pricing even though the meals were "Free".
Each sleeper car has a full-time attendant who turns down your bed at night, sets up your car in the morning, makes coffee (each sleeper car has a central coffee station), and answers any questions you may have.  We're not sure what's customary for attendant tips, so we went with $10/day/person (I hope that's fair and reasonable.  It seems I paid a bit more than this blogger, who only tipped $5/day/person).
** Insider Tip:  Regardless of how you're traveling, pack some snacks.  As a coach passenger, you can eat in the dining car (you'll pay menu prices).  Everyone also has the option of buying meals or snacks in the "cafe", which we found adequate but far inferior to the dining car.  We bought some snacks in the cafe along the way, but if we had to do it again we'd pack a few in our carry-on bags for convenience, and to insure we had our favorite snacks available.
Finally, if you're having a meal in the dining car, don't miss the Creme Brulee dessert.  It's to die for (we ate it with almost every lunch and dinner).  It was more of a pudding than what you normally think of for Creme Brulee, but was absolutely fantastic.
---
Are Flexible "Rail Pass" Tickets Available?
Amtrak does off "Rail Pass" tickets (click here) which offer on/off flexibility as follows:
The Rail Pass covers coach travel only, although upgrades to Busines Class (larger, leather seats) or sleeper cars for an additional surcharge.  While This Guide To Cross-Country Train Travel is based primarily on our experience, I wanted to include the option of purchasing a Rail Pass, since it was specifically requested by a reader.
---
Can I Make Stops In Cities Along The Way?
We booked "traditional" tickets and scheduled two stops.  In Seattle, we stayed for a week to visit our daughter (the primary objective for our trip).  On the return leg via the Southern Route, we scheduled a stop in New Orleans for a day.  We arrived late in the evening from L.A. and headed to our hotel in the French Quarter.  We stayed the entire next day, a second night in the hotel, and caught an early morning train out to Atlanta.
In addition, we had several "long" layovers in Washington DC and Chicago.  In Washington, our "long" layover got squeezed by a late arrival, so we chose to stay in the lounge area.  In Chicago, we took an Uber down
** Insider Tip:  If your travel allows, plan a few stops along the way.  Our priority was to spend as much time in Seattle visiting our daughter and her husband as possible, so we intentionally minimized our stops along the way.  Were we to do it again, we'd plan a day or two at several more stops (Glacier National Park should be a "must stop", as the wonderful National Park lodge is only a short walk from the train depot.  This makes sense, given that the rail companies built the original National Park lodges to encourage tourist to ride the trains.)
---
Are The Trains On Time?
Unfortunately, that wasn't our experience.  Of the 6 routes we rode, only 1 arrived on time.  We were told by fellow passengers that freight trains get priority on most lines (which sounds counter-interactive, until you realize that the rail lines are owned by freight companies), and Amtrak schedules are an educated guess at best.
It was a common occurrence throughout our trip to stop from time to time to "wait" for a passing freight train.  Fortunately, it seems that Amtrak plans several hours between most connecting trains, and we didn't miss any connections due to delays.
You've been warned.  Plan accordingly.
** Insider Tip:  Download the Amtrak app for your phone, and use the Track Your Train feature to track your train while you're underway.  We also found a great online link (https://asm.transitdocs.com/map) which lets you zoom in on your train and see how fast you're going, as well as your train status:
---
What's It Like While You're Underway?
Riding on a train for a long distance is a wonderful experience, but it takes some getting used to.  The motion is not as smooth as an airplane, and walking through the train takes some practice (my wife can FLY down those hallways!).  The side-to-side motion is unpredictable based on track condition, so keep your hands free if possible and grab on to walls and seatbacks as you make your way through the train.
The top sleeper bunk has a "cargo net" type safety harness which hooks from the edge of the bed to the ceiling to keep you in bed as you sleep.  Use it.  I don't think you'd get shaken out of bed, but it's reassuring to know that it's there "just in case".  Our attendant warned us on the first night that it would be rougher than we'd expect in the bed, which was helpful.  The first night took some adjustment, but by the second night, we found sleeping with the motion addictive.
** Insider Tip:  If you want some unique photographs (like the one at the top of this post), walk to the very back of the train during your journey.  There's a window at the rear of the train which allows you to get some artistic shots, complete with rail tracks rolling toward the horizon. Tunnels also provide some unique photo opportunities:
---
Is There WiFi On Board?
A reader specifically asked this question, and it's a good one.  I was surprised by the lack of WiFi on most trains.  Amtrak claims that most of the Eastern routes have WiFi, but we struggled to ever get it to work on our phones or computers.  We relied exclusively on our cell signals throughout the trip and were surprised to have a signal for the majority of the journey. There were extended sections, however, where no cell signal was available.
** Insider Tip:  Plan on using your phone as a "Hot Spot" if you absolutely must hook your laptop to the internet.  You should also consider downloading some movies before you leave home (we did, but never got around to watching them).  Ideally, you should prepare yourself to enjoy the train as one of the few remaining places in society where you can truly disconnect.  Take advantage of it, and plan on engaging in real conversation as a break from your addiction to the phone.  In hindsight, being disconnected was one of the true pleasures of train travel.
---
Is It Easy To Book Your Trip?
If Amtrak reads this, here's some friendly "user advice" – improve your website's user-friendliness.  We found the site very difficult to use for multi-leg trips and ended up giving up.  That said, their Customer Service folks were good to work with, and provided us with all of the suggested routing and sleeper car options in a clear and helpful manner.  We were able to book our entire trip with one phone call.
** Insider Tip:  Join the Amtrak Guest Rewards Program BEFORE you book your trip.  We didn't, and had to scramble after the fact to get credit for our trip.  Also, bypass the online system, and call the Amtrak Customer Service folks @ 1-800-USA-RAIL to talk through the options for any trip you're considering.
---
How Much Did Our 7,000 Mile Trip Cost?
Ok, the BIG question!!  Let me start by saying train travel is NOT inexpensive.  If you're looking at the train as a viable option to flying, you'll be disappointed.  It takes longer and will be more expensive (excluding, perhaps, coach seating), and you're likely to be delayed en route. The reason for taking a train trip is not for efficient transport.  Rather, it's the enjoy the experience of slow travel across a beautiful and diverse country. In our case, the cost/benefit analysis justified the trip.
For us, the value was in the experience.  Cross-country via train. Wow, what an experience.  A true "trip of a lifetime", and worth every penny.  Given that it was a Bucket List item for us, we were willing to pay the price.  In our case, that price was $4,542.
Gulp.
Granted, we went with sleeper cars the entire route (excluding our last "day leg" from New Orleans, where we traveled coach), and splurged for the full Bedroom experience (ah, private bath) on the entire Empire Line from Chicago to Seattle.  We went large, and we loved it.
As a personal finance blogger, I hesitate when I see that number.  However, I have absolutely no regrets, and wouldn't hesitate to recommend train travel to folks who are considering the experience and have the means to afford it.  It's Time To Live Like No One Else, after all, and we had room in our budget for the trip (we bought the tickets prior to my retirement, and paid for the expense via free cash flow).   Further, when you consider that the cost includes 8 nights of accommodations, and 48 meals (8 Days X 3 Meals Per Day X 2 People), it's not as outrageous as it may initially seem.
** Insider Tip:  Check the Amtrak Discounts page before booking for current discounts, and consider coach for any portion of your trip which doesn't include an overnight stay.
---
Any Other Tips For Us?
As a matter of fact, my wife has one to add.  She chimed in as I was writing this post to remind folks to "bring something warm".  We were surprised how cool Amtrak keeps their trains and were fortunate to have some warmer items to wear.  Bring along a sweatshirt and/or a blanket, you'll be glad you have them.
Also, plan on bringing some slip-on shoes.  You can take off your shoes in your sleeper car but must wear shoes whenever you leave your room.  You'll be coming and going frequently, so it's easiest to have some comfortable slip-on shoes for your time on the train.
---
A Serious Note On Pedestrian Fatalities
45 Miles from our final destination, our train ground to an urgent stop.  Having spent 8 days on the train, we knew something had gone wrong but had no idea of the severity of the situation.  As the emergency personnel arrived on the scene, we knew it was bad.
Turns out, a pedestrian had trespassed on the tracks, using a small shortcut trail from a neighborhood to a store on the other side of the tracks.  The 26-year-old man had his earbuds in and was walking with his back in the direction of the train.  He never saw it coming.  It turns out, he wasn't alone.
During our two hour delay awaiting the NTSB investigation, I did a bit of research on my phone. I was shocked to find in this article that pedestrian fatalities are shockingly high, with 888 folks being killed by trains in 2017. Most, as in our situation, were caused by trespassers illegally crossing the tracks.  As sad as this situation is, I don't think a viable guide to cross-country train travel would be complete without mentioning the reality of this risk.
Take this lesson to heart – never risk it.  Never race a train across a RR crossing in your car, and never use a "shortcut" along the tracks.  His life wasn't worth it, and neither is yours.
---
Conclusion
Hopefully, this Ultimate Guide To Cross-Country Train Travel has been helpful if you're considering an Epic Bucket List Transcontinental Rail Journey.  Based on our experience, it's a trip I'll treasure for the rest of my life.  While the fatality was a bit of a downer at the end of the trip, at least it gave me the opportunity to share with you the seriousness of crossing train tracks, and the shocking frequency at which pedestrian accidents occur.
I'd strongly encourage any of you who are considering a trip to pursue it.  It's an experience like nothing else you'll ever do, and it's an amazing way to see the country en route to your destination.  For more on our actual experience, please read my first post in this series titled What I Learned From A 7,000 Mile Train Journey.