His name is my name, and my name is his.
When I was born, my parents decided to give me the name of my Mom's brother as my middle name.  We've shared the name for 55 years.
Carl.
Today, my Uncle Carl answers The One Retirement Question: What One Piece Of Advice Would You Give To A New Retiree?
Click To Tweet
My relationship with Uncle Carl has always been special, and I've often wondered if it's become we share the same name.  I consider myself fortunate for having him as a part of my life and value our relationship. Since childhood, I've been told that we share the same personality, and I've come to realize it's true.
Today, Uncle Carl (aka "The Uncle") becomes the next victim in The One Retirement Question Project, following the tradition of these other esteemed retirees who have given us retirement advice in the previous recordings of this Series:
I saw Uncle Carl this summer at a family reunion in Illinois and made a recording of his retirement advice at the end of our last evening together.  The two Carl's are circled in the family photo below:
The Uncle's Personality
As I think back over the interactions I've had with Uncle Carl over the years, the four attributes of his personality which first came to mind are:
Curious
Intelligent
Humorous
Caring
Curious:  Uncle Carl is perpetually exploring new things, new hobbies, new ideas.  I recall one point in my childhood when we were visiting their home in Chicago, and Uncle Carl showed us his new loom.  He was curious about weaving and decided to give it a go, so he bought a loom.  That's Uncle Carl, and I've always admired his innate curiosity.  Fortunately, it's a trait I seem to have inherited (the curiosity, that is, not the desire to weave.  Haha).  Be curious, and never stop learning.
Intelligent:  Uncle Carl went to graduate school in Geneva, Switzerland.  He's a man of the world, and he's brilliant. He's a great communicator with a quick wit, and an evening spent talking with him in a treasure for all involved (hint: that's a foreshadowing of what's to come later in this post). He's got an amazing intelligence and successfully applied his education in a long business career, from which he retired 14 years ago at the age of 65.  He's one of those rare breeds with a strong intelligence and a great approach to people.
Humorous:  It's simply impossible to spend more than a few minutes with Uncle Carl without laughing.  He's the life of the party and will stop at nothing to make a room laugh.  His horrendous fashion statement at one of our family reunion dinners is just one of many examples (I could also tell the story of both he and I "dropping our pants" in front of the entire family during a little skit, but I'll forgo that one out of respect for the reader.  We DID make the room laugh, however…).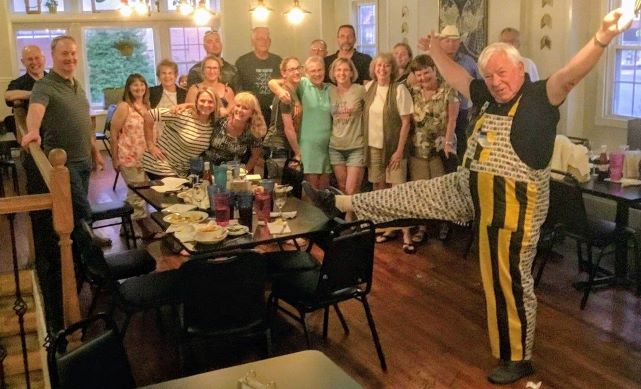 Caring:  Perhaps most importantly, Uncle Carl cares deeply about folks.  Aside from his class clown antics, when you have a serious one-on-one discussion with him his care shows through his eyes.  He's sincere in asking questions that really matter, and taking the time to truly listen to your response.  He and my Aunt Judy raised four lovely daughters, and he cares deeply about each of them and their families.  He cares about me, and he cares about what's going on in my family.  It's a special trait, and the trait I most admire.
---
The Last Supper
Through an unplanned twist of fate (or, perhaps, it was just meant to be?), only three people from the reunion spent the Sunday night at the State Park where the reunion was held.  While others raced home to face the Monday Morning grind, the three remaining members had a memorable meal together.
I know, because I was one of the three.
My wife and I had decided to camp one extra night at the State Park (ah, retirement!) and were surprised to learn that Uncle Carl had also booked his room until Monday (ah, retirement!).  The three of us shared a special meal together on Sunday night, and the evening is one I'll treasure for years to come.  The conversation was far-ranging and personal, from the recent loss of his wife (she died, unfortunately, just a few weeks before the reunion), to the importance of friendships and relationships, to retirement housing decisions, to our adjustment in retirement and what we had planned, to our daughter's pregnancy (yes, we're going to be Grandparents!).  As I mentioned, he cares and it shows.  It was a special night.
An important sidebar:  one thing special about my relationship with Uncle Carl is the reality that we don't share common political views (a topic I generally avoid on this blog, since I don't see it as particularly relevant to creating a Great Retirement).  However, unlike most of society these days, we can comfortably agree to disagree and love each other nonetheless.  We laugh, we smirk, we hug. Society could learn from listening in to our conversation sometimes.  A sidebar, but an important point.
Bottom Line:  It was a night of real conversation, with a man I've long admired.
My Uncle Carl.
The One Retirement Question:  Uncle Carl's Response
During the course of the dinner, I explained to Uncle Carl my One Retirement Question Project and asked if he'd be willing to participate by giving his retirement advice.  As you'll hear below, he agreed (to the benefit of all of you who are about to hear his advice firsthand.  BTW, does he have the PERFECT radio voice, or what?):
Uncle Carl's Recording:
Please take 2 minutes, 7 seconds to listen to Uncle Carl's response (as a special treat, you'll get a quick hello from my wife, Jackie, at the 2-minute mark!).  His personality shines through his words, and his advice is worth noting:
"Be Passionate About Something":  Your work is now being set aside, so you need to find what you're going to be passionate about in retirement.
"Develop That Passion As Much As You Possibly Can": Now that you have the time, find something to be consumed by.  It may be something you weren't even thinking about during your working years.
"Get 2 Or 3 Passions":  Make sure you pursue them, don't just think about them, Do Them!  Be Eager, and Teach.
Be Passionate About Something, And Develop That Passion As Much As You Possibly Can. The Uncle.
Click To Tweet
---
Conclusion
The One Retirement Project started when I was photographing a barn, and it's evolved into my favorite series on this blog.  From the comments I've received, it seems to have become a favorite of yours as well, and for good reason.  I'm continuing to hunt for victims, and hope to continue this series as I speak with folks who have valuable retirement advice to share.
We should all take time to listen to folks who have things to teach us.  Folks who have walked the path before us.  Folks who have valuable things to share.  Folks like my Uncle Carl, who encourages folks who are entering retirement to Be Passionate About Something, Develop The Passion, and Do Something with that passion with your newfound freedom.
Take the time to listen, and apply the lessons learned.
Especially if they're from someone you're named after.
Like Uncle Carl.