In the North Georgia mountains, about 5 miles south of the Tennesse/Georgia border, a bench lives in the woods: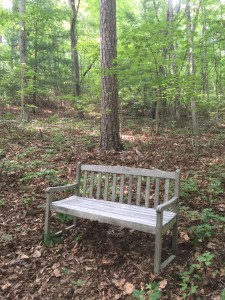 That bench is my respite.
Respite: noun, a short period of rest or relief from something difficult or unpleasant.
I could argue that I'm not resting from "something difficult or unpleasant" (the official definition of "respite"), so perhaps it's not a perfect definition.  It is, however, the way I view that bench.
We had an old bench that had sat in our backyard for several years, essentially unused.  I can't think of the last time I sat on that bench.  Seemed a waste of a perfectly good bench.
So….we brought it to the mountains this past weekend when we came up for an 8 day vacation to our cabin in Blue Ridge.  I hauled that bench down a private trail I'd built through our woods (by the way, benches gets heavy after a couple of hundred yards).  It was fun to be on the lookout for "The Spot", where I knew that bench would likely live for years.
"The Spot" had to be relatively level, but that wasn't the main criteria (I knew I could level out a place on which the bench would live).  No, the main criteria was more subjective: a place of tranquility, a place where the view would instill an environment of calm.
About 3/4 of the way down the big hill, I found it.  The Spot was almost level, but something about the view grabbed my attention.  Down below, you can see a small ravine where a creek starts life on it's way to the ocean.  Leading down to the ravine, massive trees.  Everywhere.  An ocean of green.  Across the ravine, sunlight streaming through the overhead leaf canopy, creating piercing rays of sun through the green oasis.  Birds chirping.  Otherwise:  quiet.
Perfect.
For the past 3 days, I've taken my dogs down that trail several times a day.  Each time, I stop for my respite.  A few minutes to take in the view.  Ponder.  Contemplate.  Meditate.  Listen.
Find a respite of your own.  You won't regret it.
By the way, there won't be another post this week.  I'm at my cabin.  With my wife.  And my dogs.
Enjoying my respite.