As I approach retirement, I'm realizing more and more the value of family.  The value of relationships.  The value of lessons taught, and lessons learned. The purpose of this blog is to "Help People Achieve A Great Retirement", which extends far beyond finance.  It's important to take a holistic view as we plan for our retirements, and that clearly includes relationships and lessons we learn along the way.
More importantly, I feel it's time to let someone very special in my life know how I feel about him, and to give gratitude for the lessons he's taught me.  Therefore, today, I offer….
A Tribute To My Dad
Are there any lifelong relationships more cherished than those with our parents?  One could argue that our spouse is the major relationship as we age, and I would tend to agree with that.
However,  I'd argue that throughout our entire life, there are few relationships that have a bigger impact on who we are than the relationship we have with our parents.   For better or worse, the relationships we have with our parents has a major impact on who we become.  Unfortunately, my Mother passed in 2001, and my memories of her are all I have left.  However, my Father is very much alive, and to that I owe much gratitude.
Many have told me that I've become my Father. If that's the case, I'm sincerely honored.
Click To Tweet
For those of you that have lost your parents too early in life, I'm sincerely sorry.  In my case, I've been blessed to have my Dad play a major role in my life for 53 years, and counting.  I talk to him every week, and I consider that a true gift.  I'm pleased to know that my Father will read these very words.
He's my biggest fan.
Always has been.
Always will be.
---
18 Lessons I Learned From My Dad
When we think of our parents, we most often think of our relationship with them during childhood.  My childhood is filled with positive memories of my time with my Dad, and the lessons he's taught me through my life.  My Dad always had time for me,  and for that I'll be eternally grateful.
I've decided to boil down two decades of childhood memories into an insufficient bullet list. I've added "18 lessons" in highlights that I now realize he was teaching me through the years:
---
Lessons Learned Through A Lifetime With Dad
Looking back, I now realize he was intentionally teaching me lessons at every stage of my life.  Below are stories told, from various ages, with a summary of the lessons he taught me as I faced life.
We'll start at Age 5:
Age 5 – playing "Flying Eagle" atop my Dad's legs as he lay on his back, with me "flying" above his head.  His feet on my hips, our hands entwined.  With his encouragement, I'd release my hands from his, and I'd spread my wings and "fly".  Little did I know that would be symbolic of my Dad's philosophy in raising me.  Encourage, then let me fly.
Encourage Them, Then Let Them Fly
Click To Tweet
Age 8 – My dreams of being an NFL Kicker encouraged by my Dad, as we spent countless nights on the quiet street in front of my childhood home kicking a football back and forth.  He taught me to punt (and I was pretty darn good at it).  Perhaps, the NFL was a real possibility.  "You can be whatever you dream", my Dad would say. He always had time for me, in spite of his heavy workload as a University Professor.  Many nights, in spite of what I now realize was a heavy schedule, he took the time to patiently improve my kicking technique.  Make time for your kids, they won't be with you for long.
You Can Be Whatever You Dream
Click To Tweet
Age 9 – Monday Night Football, and the joy of being able to stay up through "Half Time Highlights", when the biggest plays of the previous day's games were replayed in splendid slow motion at 10:00 pm on Monday nights.  Yes, I was tired on Tuesday mornings, but all I remember are those marvelous Monday nights, sitting with my Dad in his private study.  Sometimes you have to foster special moments with your children, even at the expense of sleep.
Foster Special Moments With Your Children, And Make Time For Them. They Won't Be Here Long.
Click To Tweet
Age 10:  Watching NFL games in his study, as our hometown hero Chester Marcol became the NFC Rookie Of The Year as kicker for the Green Bay Packers. To think, only a year earlier, I had been catching punts from Chester when he practiced on the field as a Hillsdale College kicker, the very school where my Dad dedicated 35+ years of his life as a "Professor Of The Year" historian.   I still have my much treasured trading card of Chester during his time with the Packers.  More important than that card are the memories I have, with my Dad, of watching Chester on the TV, in a study that will forever be a special place in my mind.
Age 13:  On a special Spring Break trip to see some battlefields, just Father and Son, we traveled the Natchez Trace from Nashville to Natchez, MS.  For years we've laughed over recollections of the, um, "uneducated" road crew member who, when asked how far we were from Natchez, replied "Oh, Man, I ain't never been 'dat far before"….I started gaining an appreciation for the gift of Travel Lust my Father was instilling in me.
Traveling is a privilege. Never miss a chance to experience the world.
Click To Tweet
My Dad was a Civil War expert, and has written books on the subject (click here to see them on Amazon!).  He's passed "The Writer's Gene" on to me, just as his Father did to him.  Yep, three generations of writers in the family.
I'm proud of that.
So is my Dad.
Find Your Passion. For 3 Generations, Ours Has Been Writing.
Click To Tweet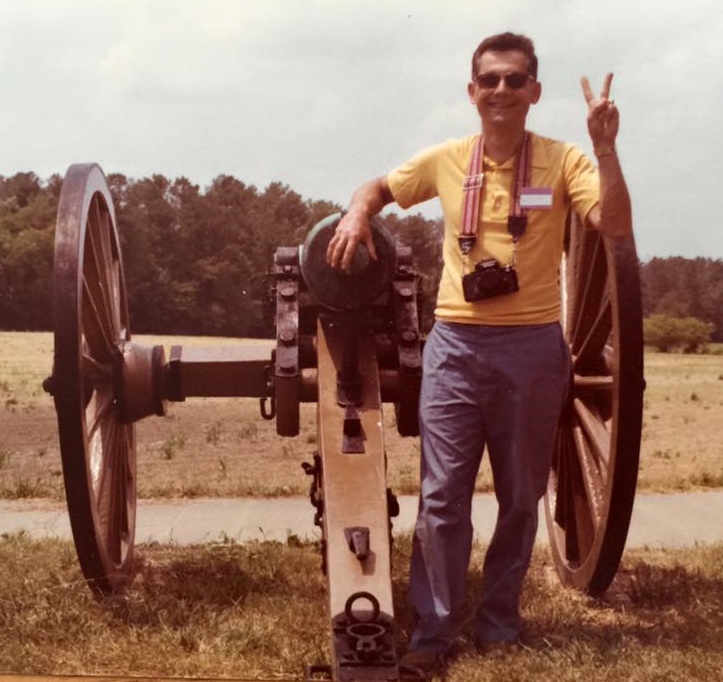 Be An Example To Your Kids. Instill Good Habits, Early On.
Click To Tweet
Age 15:  Summer nights in our Michigan cabin, a second home on a nearby lake.  Though earning a modest income, my parents had good financial discipline, and instilled the same in me.  My parents had the screen porch converted into a bedroom to accommodate the needs of our 3 child family, and I got the porch.  The side door allowed a "quick exit" escape into a summer night, and created memories of 1:00 am rendezvous at the beach with other kids from the lakeside community.  I have fond memories of pushing my 100 cc "Road Toad" motorcycle down to the beach to avoid waking my parents in the middle of those summer nights.  I suspect my Dad always knew I slipped out at night, but he never said a word.  Transition from childhood into adulthood takes risks, and smart parents know when to loosen the reins.  My father was a smart parent.  Let them learn to fly.
Transition To Adulthood Takes Risks. Loosen The Reins As Your Kids Mature.
Click To Tweet
Age 17:  A car crash at 1:00 am, while I was out "having fun" with friends.  The car was totaled, and my parents didn't push on what really triggered the crash (dodging a deer, really?)  Now, for the world to know, I was actually chasing a buddy's car down a dirt road at a speed well beyond reasonable, and lost control.  Dad, now you know "The Rest of The Story".  My parents had purchased a used 1972 Olds Cutlass for my sisters, and it had now been passed down to me.  However, the next car was 100% on me, no more financial help from my parents on the replacement car.  Take responsibility for your actions, and own the consequences of your behavior.
Take Responsibilty For Your Actions, And Own The Consequences Of Your Behavior.
Click To Tweet
Age 18: First week of college, a panicked call home as I tried to figure out what I wanted in life.  "Call it quits, if you'd like", said my Dad, "but you'll be on your own from this point forward".  A stern hand, but always with my best interest in mind.  There comes a time when the Boy must become the Man.  This was that time.  I stayed on, and graduated with Summa Cum Laude Honors 4 years later.  Did he know that would be the outcome?
There Comes A Time When The Boy Must Become The Man
Click To Tweet
Age 20:  A summer job in Yellowstone National Park, working for a concessionaire.  In spite of the lower wages, my Dad encouraged me in my pursuit of an adventure out West, realizing the adventure was worth more than money.  My parents made the effort to come out and spend a week with me in the park, and the picture of my Mom and I on a trail near Old Faithful has always been one of my favorites.
Pursue Your Dreams. Life's About More Than Money.
Click To Tweet
Age 22:  First real job.  A month before I started, my parents and I drove through the town which would become my first "professional home".  It was a depressing, Midwestern, industrial town.  Sacrifice is often required to get ahead, my Dad would remind me.  I started saving 15% from my very first paycheck, thanks to the lessons of frugality I'd received throughout my childhood years.
Sacrifice Is Sometimes Required For Success, especially early in your career.
Click To Tweet
Age 23:  A family trip to Cedar Point, an amusement park half way between my "I'm now an adult" home in Ohio and my childhood home in Michigan.  Memories of me talking my Dad into riding on the "circling swings" (see pic below).  My Dad always encouraged my sense of adventure, even though I'd led him astray by saying the swings were tame.  He was sicker than a dog for the rest of the day.  But he trusted me, just as I trusted him.
Live A Life Of Adventure.
Click To Tweet
Those swings symbolize a lifelong relationship with my Dad;  thru ups and downs we rely, trust, and respect each other in spite of whatever circumstances life throws our way.
Through Life's Ups & Downs, My Dad's Always Been There For Me. And Me, For Him.
Click To Tweet
---
Impacting A Life
I could fill pages of the memories I have with Dad, and the lessons he's taught me over the past 5 decades.  More important than the memories is the impact my Dad has had on my life.  Today's "keep it concise" blogging world doesn't bode well with the lengthy tribute my Dad truly deserves, and which fills my mind as I type these inadequate words.
Suffice it to say, there are many more memories which could fill this page, all of which would demonstrate a broader understanding on behalf of my Father of the need to develop your children into the adults which you wish them to become.
He's a master of the art, and these words fall woefully short of demonstrating his true expertise.
I've learned a lot from my Dad, and I've attempted to apply these learnings in my own role as the Father to my Daughter.  If I've achieved half the success my Father has had in raising me in my role as a Father to my daughter, I'll consider myself a success as a Father.
My Dad Is The Master, I'm The Student. And Forever Will Be.
Click To Tweet
---
Time For My Dad
My Dad has always had time for me, and I've made it a priority to always have time for him.  6 weeks ago, my wife and I drove back to Michigan for a week to help my Dad.  He had decided to sell his house, as it's now time to move out of his home with too many stairs, and into a downsized, single level home.
We had a great week together, and I'll cherish the memories forever.  We had lunch with one of his closest friends (hey, John, I'm still waiting for your Guest Post – hint hint!).  We took some nice walks around the Hillsdale College campus, where he had spent his working years.  He sat on the beach and watched as I took a cold water swim in the lake of my childhood.
Your Parents Made Time For You. Now, Make Time For Them.
Click To Tweet
The highlight to me was the chance finding of a baseball while walking across the college baseball field. Recognizing an opportunity to capture a memory for eternity, I flipped on my iPhone's video while we re-lived our earlier years, and had an impromptu game of catch on the field.
This video is one of my all-time favorite "electronic images" I have of my Dad, and I'm honored to share it with you today (click picture to launch short video):
---
Heirlooms From My Father
As we were wrapping up our visit, my Dad took me into his study.  He told me he would be honored if I'd take a few of his cherished momentos home with me, as heirlooms. Words cannot express the significance of the items chosen.
Find A Special Way To Remember Those You Love
Click To Tweet
The first is a bronzed Eagle Head sculpture, given to my Dad as a gift for a speech he made at the unveiling of a massive eagle statue on the campus of Hillsdale College, "his" college. For me, it brings back childhood memories of the "Flying Eagle" trick my Dad and I enjoyed, and symbolizes the respect he had earned from the college where he taught for so many years.
Respect Isn't Given Freely, It Must Be Earned
Click To Tweet
The second is a set of Gettysburg paintings which have special meaning to both my Dad and me.  Gettysburg has always been my Dad's favorite battlefield.  It is truly sacred ground. In 2009, I took my family there for a full week.  I studied the battle in detail prior to our visit, spent hours on the battlefield (many of those hours alone, in respectful solitude), and can appreciate every detail of that incredible battle.  Gettysburg is now, also, my favorite battlefield.
Below is a picture I took at Gettysburg which captures, in small part, the special nature of the place:
The First painting, "Saving The Flag", by Don Troiani shows the 4th Michigan Infantry Regiment in the maelstorm that was the Wheatfield, site of some of the most gruesome fighting of the entire Civil War.  The fighting was brutal, hand to hand combat, and marks the only time a Colonel (Jeffords) was killed by a bayonet during the war. Jeffords is the main "character" in the painting, which depicts the moment just before he was killed by the Confederate soldier (seen preparing to plunge his bayonet in the right center of the painting).
My Dad wrote an entire book  about the role that Hillsdale College students had in The Civil War (
Hillsdale Honor: The Civil War Experience
), which sent a higher percentage of students into the war than any other college. Many of the students from Hillsdale College fought in The Wheatfield, and the print has special meaning for my Dad and me.  A Hillsdale College student, Lt. R. Watson Sage, can be seen behind Jeffords in the print, and it makes it particularly poignant to me.
(Click here if you'd like to get a sense of the role Hillsdale students played in the Battle Of Gettysburg).
Both my Dad and I have spent hours in The Wheatfield, imaging the horrors that happened on that sacred ground on the afternoon of July 2, 1863. My sisters and I bought the same painting for a conference room they named in my Dad's honor at the college, which now includes the following engraving below the pring:
---
The second print, Men of Iron, by Dale Gallon, represents fighting on Day 1 in Gettysburg by the "Iron Brigade's" 24th Michigan Infantry unit.  In the print, the 24th MI is attempting to hold off a massive charge by the Confederates on Seminary Ridge, which the Union eventually lost by the end of the day.
The 24th Michigan suffered massive casualties at Gettysburg, many of them during the battle depicted in this print. Of 496 men from the 24th MI who went into battle at Gettysburg, 363 suffered casualties (74% of the entire regiment!).  Brutal losses, and yet the North came back to win Gettysburg by Day 3, a likely turning point that led to the Union Victory of the Civil War.
The print depicts the moment when, with all of his color guards killed, Colonel Morrow took the flag to rally his men (he's holding the flag in this print, and was wounded in the head shortly after the moment depicted in the print) .
Colonel Morrow demonstrated bravery and leadership on that battlefield in Gettysburg.
My Dad Has Demonstrated Bravery And Leadership For 53 Years, And Counting
Click To Tweet
Both my dad and I have stood in the area where this painting occurred, and looked up at the cupola on the Seminary building, which can be seen through the smoke in this print. A portion of the flag depicted in this scene still exists in the North Carolina Museum of History (Why NC? The flag was captured by the 26th NC at Gettysburg).
Some day, I'm going to view that flag in North Carolina, and think of my Dad.  Until then, I'll have these prints in my office.  Every time I look at them, I think of my Dad.  Here's my home office, with treasured heirlooms prominently featured:
My Dad has had a lifelong love of The Civil War, and has now passed that interest down to his son.  These prints will forever reflect our mutual respect of that brutal war.
More importantly, they reflect the mutual respect my Dad and I have of each other.
They will be treasured by me until the day I die.
---
Conclusion
A long one today, at 2,847 words.  My Dad deserves it.  Heck, he deserves an entire book.
Dad,  thank you for a lifetime of lessons. I hope you realize how much you mean to me.
Your Son Loves You.
He Always Has.
And He Always Will.