Do you remember a time when you met a tough challenge in life?
That sense of accomplishment when you conquered something that initially intimidated you?
We're often faced with a decision: Do we accept the challenge, or not? Whenever possible, I encourage you to accept the challenge. Today I'll tell you why.
I was recently offered a challenge that seemed impossible, but I decided to "take the plunge" (literally, given that the challenge was a long-distance open-water swim) and it reminded me of a lesson I learned many years ago. While it's easy to make excuses to avoid facing a challenge, the more rewarding path is often to accept the challenge, push yourself to be successful, and enjoy the thrill of victory that comes from achieving a goal.
Accept the challenge. Embrace the resulting sense of accomplishment.
Your life will be better as a result.
When faced with a challenge, don't avoid it. Tackle it head-on. That sense of accomplishment when the challenge is conquered is worth the effort.
Click To Tweet
---
Accept The Challenge
Today's post is focused on "The Big Swim" (more on that in a minute), but it made me recall the challenges I faced in my working years and the lessons I learned as a result. I think of my promotion from Sales Director to Plant Manager as the biggest challenge of my career. I was 38 years old.
I was intimidated when offered the position but decided to face it head-on.
6 months later, I was enjoying myself more than I had at any point in my career. I was successful in my transition into the "stretch assignment," and I gained a sense of accomplishment and confidence that, even today, makes me look back at that Plant Manager job as the one I most enjoyed throughout my entire 33-year career.
I learned a valuable lesson from the experience:
Meeting a challenge brings a sense of accomplishment that's proportional to the amount of stretch represented by the challenge.
Click To Tweet
From that point on, I made a habit of embracing new challenges.
Now that I'm retired, I've realized my eagerness to "Accept The Challenge" is my means of fulfilling that sense of accomplishment I once received through work. And that realization is the reason I wrote this post.
Important stuff, this.
---
Finding A Sense of Accomplishment After Work
I've written how work brings many positive attributes into our lives beyond a paycheck, a fact that many folks fail to realize until they face an unpleasant shock in retirement. These "soft side" benefits were a major focus of my book, and my advice is to recognize and plan for the loss of these soft benefits:
Sense of Identity
Purpose
Goals
Structure
Relationships
A Sense of Accomplishment
I've consistently encouraged folks to think about how they're going to replace these "soft benefits" in retirement.
Those who do tend to have a much better transition into retirement. Those who don't often struggle. The items on that list are intrinsic needs and finding ways to fulfill them when your working days are over is a critical element of a successful retirement.
"Accepting The Challenge" can be a rewarding source for fulfilling your sense of accomplishment in life. I've found physical challenges to be particularly rewarding, but I encourage you to seek out challenges in all facets of your life. Writing my book would be an example of a "mental challenge", learning to be a woodworker an example of the creative side.
Your sense of accomplishment will be rewarded regardless of where you find your challenge. I encourage you to seek out a new challenge in whatever area of life appeals to you.
Search far. Search wide.
Make it a habit to Accept The Challenge!
I just completed my latest challenge, a long-distance open water swim across Lake Blue Ridge, and it was the sense of accomplishment I felt in conquering the challenge that led to the writing of today's post. I hope you enjoy the story…
---
Can You Swim Across Lake Blue Ridge?
(3 miles and 2+ hours of non-stop swimming!)
---
When my friend Adri heard that I liked to swim, she excitedly stated, "You should join us in our annual swim across Lake Blue Ridge!"
When she told me it was 3 miles (5 km), my initial thought was "no way!" As an experienced swimmer, I knew the significance of that statement. A 3-mile swim would mean I'd be swimming non-stop for 2.5 hours, a feat well beyond my capability.
But…the seed was planted.
Could I really swim that far? What would it take to accept the challenge Adri had presented to me?
Normally I build up to a 1 hour non-stop swim by the end of the summer. It's "far enough" for me, provides a great workout, and is a nice compliment to my "normal" exercise routine (Spin, weights, and hiking). What would it take to build that up by 150%, to a 2.5-hour non-stop swim?
When I heard that the swim was scheduled during the time we were planning to be on our annual RV trip, the answer seemed obvious. Since I would be in Ohio, there was no way I could participate in the swim. So, I kept to my "normal" routine of one swim per week until the first week of August.
Then, COVID hit.
---
Training For The Swim
On August 12 we decided to cancel the entire RV trip due to the lingering effects of COVID.
The Good News: I would now be in town for the big swim on August 26th.
The Bad News: It was only 2 weeks away, and my longest swim of the year was 1 Hour.
I was 90% recovered from COVID and decided to "Accept The Challenge". Knowing I had only 2 short weeks until the race, I hit it hard. I didn't know if it was even possible to ramp up my endurance in 2 short weeks but decided to give it a try. My new goal was to swim 2 hours non-stop prior to the event, hoping the adrenaline would push me for the extra 30 minutes during the Big Swim. I did my first training swim the very next day.
Here's my actual ramp-up for the event:
August 13: 1.6 miles in 1 H 15 M
August 15: 2.1 miles in 1 H 38 M
August 18: 2.4 miles in 1 H 56 M
August 20: 2.5 miles in 2 H 1 M
August 23: 1.2 miles in 1 H 0 M ("taper")
August 26 = The Big Swim (results announced below…)
(Note: I was in pretty good shape when I designed that aggressive "ramp-up" training plan, and have learned to listen to my body. I would never encourage a reader to be as aggressive, and always recommend talking with your physician before tackling a physical challenge).
---
Here's an example of how I tracked my training swims and shared them on The Retirement Manifesto Facebook page (this one is from the 2.1-mile swim on 8/15):
---
The Big Swim – How'd It Go?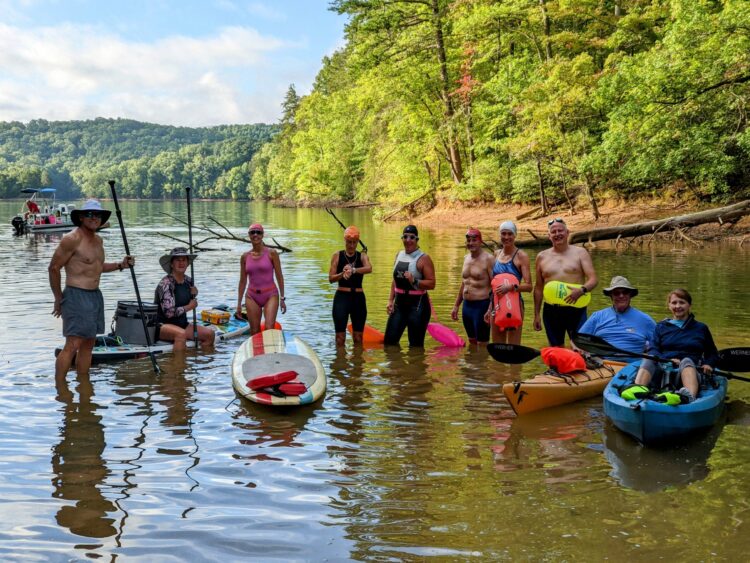 We all met up at 8:45 on the morning of August 26th. It was a perfect morning, with a glassy smooth lake, scattered clouds, and mild temperatures. You could sense the excitement in the air. The Big Day had arrived! We took a quick group shot (above) before heading out.
Adri did a great job organizing the event, with the requirement that we all have inflatable "swimmer buoys" and plenty of support personnel in case any problems arose. I was honored to have my wife, Jackie, join us in The Big Event with her kayak (though she was assigned the "sweeper" position at the back of the pack and I only saw her once during the swim, when she paddled up to my position to say hi and check on how I was doing. That was cool.)
At 9:10 am, we were off.
---
The Joy of Swimming
What do I think about during a long open water swim?
Click To Tweet
People ask me what I think about during a long swim.
It's hard to explain what it's like to be immersed in water for hours, with the only noise being the rhythm of your breathing and the water rushing over your head. With ear plugs in to block the water, you can't hear anything else.
Inhale. Exhale. The rush of water.
Over and over and over again.
It becomes hypnotic. Relaxing. Enjoyable.
If there's ever a time in life when you're going to be "In The Present," it's during a long swim. I focus on the moment. My stroke. My breathing. In the shallow water off the points, I feel like I'm flying over the rocks and enjoy looking for interesting things on the lake's floor. When I'm close to shore, I love watching the trees drift by, or the small cliffs where nature's fury has left her mark. In the open water, I love the eye-level view across the water to the distant mountains.
I savored every minute of The Big Swim, but I also realized this wasn't just a practice swim in the lake.
The presence of other swimmers added an inevitable sense of competition to the event. And that, I learned, made a bigger difference than I ever imagined…
---
The Chase Is On
Although it was "not a race," I was determined to stay ahead of "Pink", a persistent swimmer who always seemed to be 100′ behind me. I was also motivated by chasing "Orange", a faster swimmer who slowly widened the gap between us. My motivation throughout the event was attempting to reduce that gap between "Orange" ahead of me and widen that gap between "Pink" behind me.
I had no idea what impact this approach had on my performance until the end of the swim, but it was huge. I had made a conscious decision to not look at my watch until the finish, focusing instead on being Present throughout The Big Swim and enjoying every minute of the experience.
Rather than focus on time, I simply chased "Orange" and ran from "Pink".
A simple strategy, but incredibly effective.
Fatigue set in as I rounded the final point of land at the 2.5-mile mark and made the turn for the final open water swim to the finish. I'd been swimming harder than I had in any of my training swims, and I was feeling the impact. My arms were heavy, and the previous "smooth" arm strokes started to feel like I was slapping my arms forward against the water. My leg muscles were twinging and felt like lead, but I kept kicking. Pink was still behind me, and I powered on.
Focus, focus, only 1/4 mile more to go.
Knowing the swim was almost over, I gave it my all. Focus on the stroke, and keep kicking. Breathe. Breathe.
I crossed the buoy marking the swimming area, and I knew I was home free. Only 100 yards to go, and I knew I was going to be successful in my challenge of swimming across Lake Blue Ridge. Moments later, my feet hit the ground and one of the folks on the beach took the following "celebration photo" which I shared on my Twitter account:
---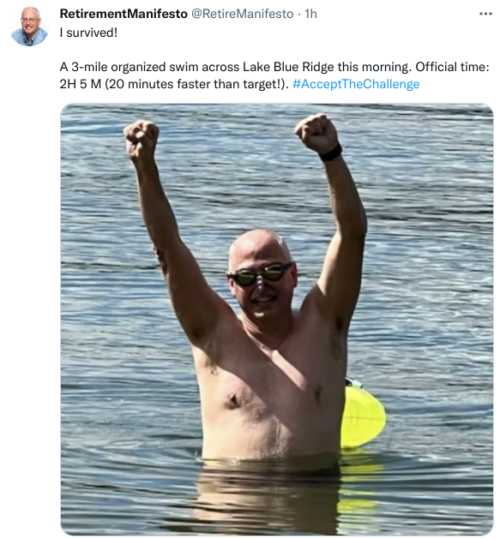 I was blown away when I looked at my watch. 3 Miles in 2 Hours, 5 Minutes! My previous long swims had been 2 hours, but they had only been 2.5 miles long. I had swum an additional 1/2 mile in essentially the same amount of time. I had no idea I had been swimming that fast in The Big Swim, and it only added to my sense of accomplishment.
This is the story of what I learned from the longest swim of my life, a 3-mile open water swim across Lake Blue Ridge. #AcceptTheChallenge
Click To Tweet
---
Celebrating The Accomplishment
To celebrate the accomplishment of swimming across Lake Blue Ridge, Adri arranged a nice lunch at the Morganton Point beach where we finished the swim:
It's important to celebrate our achievements, and the lunch was a great way to wrap up a perfect swim. I was particularly touched that several Freedom For Fido volunteers showed up on the beach to cheer Jackie and me on at the finish line. We enjoyed relaxing in the shade after the swim with old and new friends. We had decided to accept the challenge, and we were all enjoying the resulting sense of accomplishment.
Take some time to recognize the successful completion of a major challenge.
You've earned it.
---
A special note of thanks to Adri and her husband Rob for organizing the event. I appreciate you inviting me to "Accept The Challenge", and congratulate you on a successful event! I look forward to joining you for the 2023 Swim Across Lake Blue Ridge, and appreciate your continued support of Freedom For Fido!
---
Related Posts:

---
Conclusion
To "Achieve A Great Retirement" (my byline), I encourage you to think about how you're going to replace all of the "soft" benefits you once received from work:
Sense of Identity
Purpose
Goals
Structure
Relationships
A Sense of Accomplishment
For each benefit, challenge yourself to find a way to reproduce it in retirement. For me, accepting a challenge helps meet "Goals, Structure, Purpose, and A Sense of Accomplishment". Hitting 4 of those marks with one decision (to "Accept The Challenge") is huge, and the fundamental reason I wrote today's post. What works for me may not work for you, and that's ok.
The important thing is to recognize the reality that we all have intrinsic needs, and finding a way to fulfill those needs will go a long way in making your retirement years the best of your life.
Isn't that what retirement is all about?
---
Your Turn: What have you found that helps replace the "soft" benefits you once received from work? What challenges have you accepted, and what was the result? Let's chat in the comments…
---