I didn't expect to be in Cleveland this week.
She didn't expect to work 100 hours a week.
He didn't expect to retire yet.
Three unrelated stories of unexpected change, all interwoven in an unexpected dinner in Cleveland. Expect The Unexpected.
Click To Tweet
I didn't expect to write this post.
On the morning after the dinner in Cleveland, I woke up with a thought that the "Three Unexpected Stories" and the interwoven nature of the dinner interactions may make an interesting story.  At 6:30 am in my hotel room, I took out my iPhone and started to type with my thumbs.  The words flowed, and this unexpected post was finished prior to my departure from the Cleveland airport on Monday evening.  Surprise!  A second post this week.
That was unexpected, right?!
---
Expect The Unexpected
It all started a week before my retirement when my phone rang.  A friend's name from my industry popped up on the Caller ID.  I wasn't expecting the call.
I answered the phone, expecting that he was calling to wish me well in retirement. We had a nice chat.
Then, unexpectedly, he said, "Fritz, I actually did have a purpose for the call".
"Great", I thought (a bit sarcastically), "he's probably going to offer me a job or a consulting role."  I wasn't interested in either but listened respectfully as he began to talk.
What he said next was completely unexpected.
I accepted.
---
The Trip To Cleveland
After I said "Yes" an unexpected series of events followed, which led to my flight to Cleveland to attend my first quarterly Board Of Directors meeting. (Note From Fritz:  More on my decision to join a Board in a future post, perhaps. Suffice it to say I consider it a true honor and appreciate the unexpected opportunity).
An Unexpected Dinner With A Friend
Since I knew I'd have an unexpected free evening in Cleveland, I called my friend Jim at RouteToRetire.  We'd met last Fall at FinCon, and totally hit it off.  I knew he lived in Cleveland, so I decided to surprise him with a phone call and a dinner invitation.
He wasn't expecting my call.
He picked me up at the airport, and we had a nice dinner (A Reuben at Slyman's in Cleveland, what could be better?).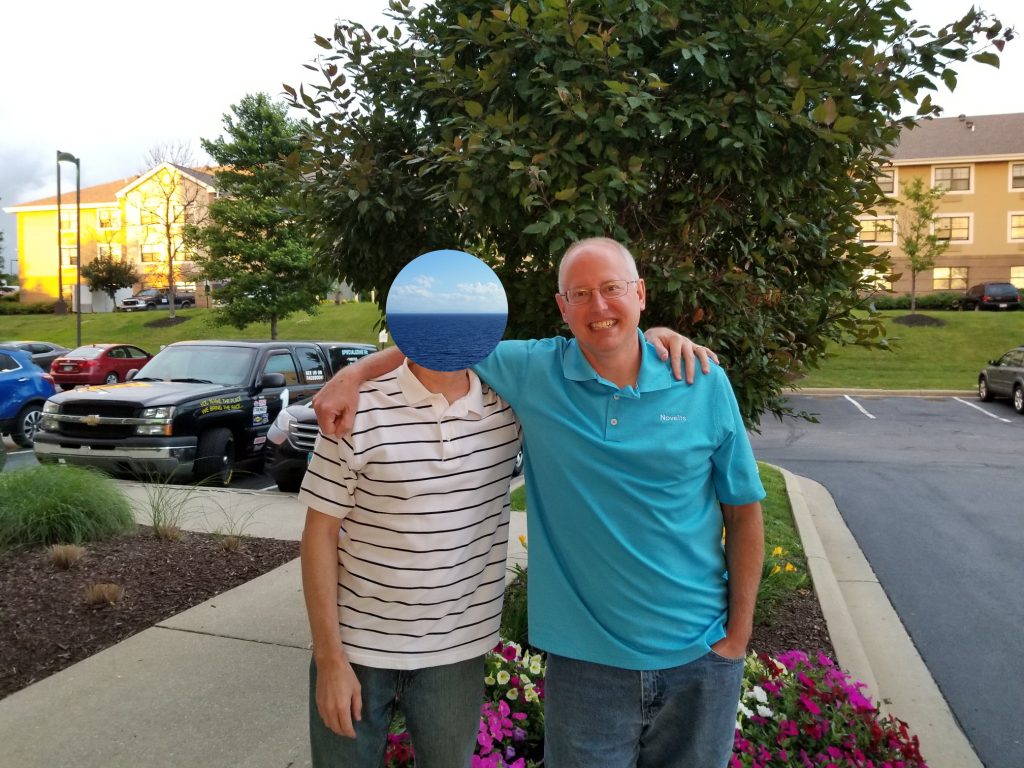 The Waitress
Our waitress at Slyman's was amazing. She had one of the best attitudes I've ever seen in the service industry, an area which is sorely lacking in folks with positive attitudes (and a personal pet peeve of mine).
She asked about the permanent smiles plastered on our faces, and we explained we were personal finance bloggers who were celebrating my early retirement, and Jim's planned early retirement later this year.
She said, "My husband retired last year, and he's only 56."  No tone of regret, and no indication of where this was heading.
What She Said Next Was Unexpected
Jim and I sat in awe as she continued the story. With that (oh so rare) positive attitude, she told of his unexpected retirement due to a disability suffered on the job, and his inability to work. He'd been a Union worker in a physical pipefitter job and had two injuries which took him out of the workforce.
It was unplanned and unexpected.
Sure, he was getting disability payments from the Union, but it was well below his working wage and was mostly consumed by his $900/month insurance payment.
Turns out, our friendly waitress was working 2 full-time jobs at different restaurants to make ends meet. 100 hours a week serving tables, in her mid-50's, with no end in sight.  And, amazingly, with a smile on her face. I'll never forget that waitress, and I'll never forget her story.
She never planned to work 100 hours a week, and he never planned on getting injured. Expect The Unexpected.
Click To Tweet
I tipped her well.
She deserved that.
Be Thankful.
The unexpected can be either positive or negative, and Jim and I both recognized at that moment how fortunate we are that our surprises went in a positive direction. So many folks have negative surprises outside their control, like our lovely waitress.
There's good reason to be humble.
There's good reason to be thankful.
---
He Didn't Expect To Retire Yet
The third of the three interwoven stories of unexpected changes in life revolves around my friend, Jim.
During our dinner together in Cleveland, he explained his decision to retire One Year Earlier than originally planned. Most folks struggle to retire by their targeted date. Yours truly, for example, worked "One More Year" to ensure the numbers would work.
In Jim's case, he paid for a pro and realized he was being too conservative with his analysis. After some serious discussion, he and his wife realized they would be able to leave one year earlier than planned, and he recently told his employer he'd be retiring in December 2018.  They're planning on moving to Panama in the summer of 2019 (check out his blog for more details on his story)
Jim, I could tell that you enjoyed making the announcement to your boss – there was a glimmer in your eyes as you told me the story.  The glimmer was there for good reason.  Jim's going to have an unexpected extra year of Freedom than he thought he'd have just a few short weeks ago. Congrats, Jim, I'm happy for you.
---
The Lesson Of 3 Stories
So, there you go. 3 stories of unexpected twists Life, all interwoven around one unexpected meal in Cleveland.
The reality is that all of us face unexpected things in life, some good, some bad. Expect The Unexpected. Stay Flexible.
Click To Tweet
Expect The Unexpected.  Don't be so rigid in your life that the unexpected changes knock you off course.  Unexpected things will happen in your life, so build them into your planning process and don't be surprised when an unexpected change affects your plans.
Some examples:
Have an emergency fund for that unexpected hot water heater going "On The Fritz" (side note: I never understood that phrase. What do folks have against Fritz?)
Have a plan for your life, but accept the unexpected. Watch for opportunities in unexpected places.
Take that unexpected phone call, and think about the opportunities that develop as a result. You can always choose to ignore the opportunity, but keep your options open.
If you get dealt a bad hand, keep a positive attitude about it. Trust me, if our waitress can smile given what she's been through, so can you.  Choose now to have a positive attitude, and choose to be content regardless of your circumstances.  Who knows, your next unexpected twist may lead to a better outcome.  If not, at least you'll still enjoy your life to the extent that your circumstances allow.  That sure beats being downcast and depressed through the limited days you have on Earth.  Got lemons?  Try to make some lemonade.  At the very least, don't go around trying to squirt lemon juice in other folks' eyes.  They won't like it much, and you'll be the one who suffers in the end. 
Intentionally adopt as cheerful an attitude as possible.  You've only got one life, so live it fully.
---
Conclusion
No one's Life follows a straight path. Be prepared for some unexpected twists in the road. Embrace the curvy road with open arms, and keep a positive attitude regardless of your circumstances. Your circumstances will change, and they'll most likely change in a way that you weren't expecting.  Keep a smile on your face.
Who knows, you may end up having a memorable meal with a friend in Cleveland. That unexpected meal may lead to an unexpected blog post. That post may impact folks in an unexpected way.
Life brings unexpected twists and turns.
Enjoy The Ride.
Expect The Unexpected.
---
What About You?
What things have happened in your life that were unexpected?  Were they positive or negative? What suggestions would you give to others about how to handle the unexpected changes in life, or to keep a positive attitude in spite of your circumstances?
Let's chat in the comments…