Have you ever wondered how to be a guest on a podcast?   What it's really like "behind the scenes"?  How you communicate with the podcast hosts?   How you handle the podcast interviews, technically.  What role Social Media plays in the equation?
I used to wonder about all of that.
In the past few years, I've been through quite a few podcast interviews (8, at last count, see P.S. below), and I've learned some things along the way.   Recently I was talking to Mr. & Mrs. Groovy about our mutual experiences on podcasts, and they suggested I write this post.  I've thought about it and decided to give it a go.  Please accept this post with the humility with which it is intended, I simply hope to share some tips on the lessons I've learned along the way to help make you a great podcast guest.
For those of you who will likely never appear on a podcast, consider the following a "Behind The Scenes" look at what goes into the production of a podcast.
How To Be A Great Podcast Guest. The Lessons I've Learned.
Click To Tweet
Today, I'll walk you through a few basic concepts that will help you to be a guest on a podcast.  They're based on my experience, and they've worked for me.  Apply them as appropriate for your situation, and have some fun along the way.
How To Be A Great Podcast Guest
I've loved podcasts for years.  During the 2+ hour Atlanta commute I endured daily for 6 years, I devoured podcasts (2X speed, please. That's 4 hours worth of podcasts, EVERY DAY for years). I even completed a podcast-based MBA, and think I may have concluding my Doctorate Degree.  All for free, and all because of podcasts.  Try them, you'll love 'em!  If you like listening to podcasts, you may love participating in one.
My first podcast appearance was in 2014.  I've learned a lot in the 3 years since that first podcast, and share with you below some of the lessons I've learned.  Modify them as you see fit, but they should give you some ideas on how to prepare yourself for becoming a podcast guest, and what you should expect.  Be curious, and have fun exploring in the realm of "audio" vs. "written".  It's exciting, and I encourage you to give it a try.
---
Lesson 1:  Enjoy The Excitement
First, you have to feel a bit of a "Buzz" when thinking about being a guest on a podcast.  You've got to have some excitement for the prospect.  It's scary.  It's exhilarating.  It's intimidating. It's challenging.  It's A Blast.  You've got to have a sense of adventure, and look at Podcasting as simply an experiment in a new medium.  If you don't have that, don't read any further.  If you do have that excitement, however, read on….
I Got The Buzz Today. My #Podcast on @ChooseFI went live.
Click To Tweet
Regardless of how many podcasts you've done, there's still something exciting about the day your podcast interview "Goes Live".  That date is the culmination of the entire podcasting process, and it's rewarding to listen to your podcast for the first time.  My podcast on ChooseFI (click to listen) came out earlier today
It's been a really great day.
I'm enjoying the excitement.
Editor Note:  I write a week in advance, so the podcast came out on Oct 2, which is when I'm writing these words.
---
Lesson #2 – Equipment Requirements
When Stacking Benjamins approached me to be a "Roundtable Guest" on their chart-busting Podcast (see the story of that podcast here),  Joe Saul-Sehy suggested that I buy an audio-technica – ATR2100 microphone prior to the date of our interview.
I immediately complied (see Lesson #3), and I've been happy with the suggestion.  While you CAN do a podcast with a simple cell phone (see Lesson #7), there are advantages to "doing it right".  I bought a windscreen for my fancy new microphone that eliminates the terrible "Breathing Into The Mic" problem that I've had with previous phone-based podcasts (see Lesson #10).
The microphone was a major "Step Up" in my podcasting career.  Trust me: spend the $80, and get yourself a good microphone. Throw in another $20 and get a windscreen and mic stand. The headset doesn't matter much, I simply grabbed an old Sony headset that we had laying around the house for my interviews, and it's been fine (that's me at the top of this post with the complete setup in my "Apartment Studio".  Pretty slick, right?).
---
Lesson #3 – Remember You're A Guest
If the host suggests you buy a specific microphone, buy that microphone.  If he wants to do the podcast at 10:00 pm, agree to be available at 10:00 pm.  If she wants you to talk about a specific topic, talk about that specific topic.  Don't promote YOUR stuff on the host's program.  Most hosts will carve out time somewhere in the podcast to let you share how listeners can connect with you, and most will include some backlinks to your site in their show notes.  Leave it at that.  You're a guest.  You're in your host's house.  Act like it.
---
Lesson #4 – Be Natural
Most importantly, Be Yourself.  No attempts at a "radio voice", please.  Just….ya know……TALK.  Everyone's nervous the first time, but most hosts will spend some time talking with you before they start recording.  The good ones also encourage you to stop if you mess up, and will instruct you to simply pause for a few seconds, and start over again.  They'll fix it all in post-production editing (pause long enough to make their job easy, I've even used the "3-2-1" phrase before starting again).
Think about what you're saying, but pretend you're talking to your best friend.  If you stumble, laugh it off, and repeat the phrase (correctly this time, please.  Don't try the host's patience.  Smiles).  After a few podcasts, you'll feel as natural talking on a podcast as you are in "real life".  After all, you are.
Relax.  Enjoy The Excitement.
---
Lesson #5 – Find A Quiet Space
Don't underestimate the value of a quiet space.  I try to conduct all of my podcast interviews at my City Apartment, in large part because of the reality that we have 4 dogs at our retirement cabin, and silence from dog noise is far from guaranteed if I'd do the podcasts from The World HQ Of The Retirement Manifesto.
My wife and I have joked that I'm going to build a treehouse for my recording studio if I end up launching a podcast post-retirement (still thinking on it, but the odds are against taking on the time commitment).
The treehouse sounds fun, even if I don't launch a podcast.  Hmm….it's possible that I may have a Pinterest page full of treehouse plans.  Kudos to Mr. Money Mustache for planting a seed in my brain when he built his Fancypants Detached Studio.
But I digress.
Bottom line:  be aware of the need to have a quiet space in which to conduct your podcast interviews.  Set everything up well in advance of your scheduled interview.  Finally, go there 15+ minutes before you podcast is scheduled, and relax.  Think about what you're going to say, and be calm.
Be there when the host calls, and answer promptly.  Don't keep the host waiting.  You've had 15 minutes to get ready.  Now's the time.  BTW, Skype is the "Go To" medium for most podcast interviews.  Make sure you've connected with your host on usernames, etc, and accept their Skype invite before the call.  Use audio only, unless the host instructs otherwise.  Video is normally avoided to keep the wifi band clear for the best possible audio signal.
---
Lesson #6 – Grab Opportunities
Don't be afraid to approach a podcast on which you'd like to appear.  Be courteous, and don't pester.  Get engaged with their podcast before you approach them, and let them know how what you have to say will contribute to their message.
Ask once, then leave it alone.
Don't be offended if you never hear back, everyone's busy these days.  In the case of my latest appearance, I was honored to be mentioned by Big ERN on his podcast with ChooseFI (see Lesson #9, that lesson extends to fellow bloggers as well), and decided to grab the opportunity.  Soon after hearing Big ERN during his podcast, I reached out via IM to ChooseFI on Twitter and told them I'd be honored to appear on their show if they'd be willing to have me.  IM led to IM, and soon we were recording what would become Episode 43, a discussion on my Retirement Drawdown Strategy.
Be fluid, and grab the opportunities as they present themselves.  But don't go overboard.
---
Lesson #7 – Be Prepared…Things Will Go Wrong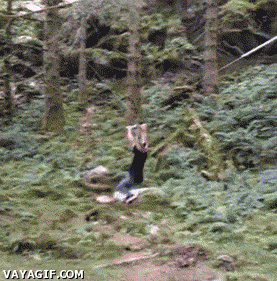 Murphy LOVES to pester podcast guests.  I know.  He's a good friend of mine.  I've got numerous stories to tell, but I'll limit it to one.  If you ask nicely in the comments, I may add another story down below (hint, the second story has to do with my Guest Appearance On Stacking Benjamins).
ANNOUNCEMENT:  The "Featured Image"  at the top of this post is A FAKE
While the photograph appears to show me being "all Controlled & Dapper" during a podcast session, it's simply NOT TRUE (at least I'm honest when I "lie"…what a strange oxymoron).  I took that pic (a selfie, via the timer on my iPhone) when I had completed my setup the day before my podcast with ChooseFI, thinking it might come in handy if I ever wrote a post about podcasting.
I didn't look like that during the podcast with ChooseFI.
Murphy intervened.
I hate that guy.
Here's how it REALLY went down:
The Skype call rang in at the appointed time, and I was ready!  I answered, and heard Jonathon saying "Hi Fritz", to which I replied with an amazingly eloquent speech about how honored I was to be on his podcast.
Halfway through my speech, HE INTERRUPTS ME with "Fritz?  Fritz?  You There".
"Yeah, I'm here", I answer, only slightly peeved off that he interrupted my amazing welcoming remarks.
"Fritz?"
They couldn't hear me.
That's a bit of a problem when you're supposed to be TALKING on a podcast.
Long story short, it turns out that it was the first podcast I'd done with my Chromebook, and it's not compatible with my mic (or, more likely, I need to take time to work on the settings).  I'd gotten "lax" since I'd done so many podcasts, and never thought to test my mic on the Chromebook. Several "panic" IM's later, we did a few quick tests with my phone, and the host said, "Ok, it sounds better if you remove your earbuds and speak directly into your iPhone."
So….I followed Lesson #3 and For TWO HOURS held my cell phone to my head as I walked casual laps around my apartment living room (BTW, I think better when I'm pacing.  Am I the only one who does that?).
Adapt, And Overcome.
(Sure hope I don't get brain cancer from that interview).
---
Lesson #8 – Know Why You Do It
Figure out well in advance of your first podcast Why You're Doing It.  Find a Purpose for your work.  For some, it's monetization.  For me, it's to Help People Achieve A Great Retirement.  I don't monetize my site (yet, may do something post-retirement, we'll see).  I get a strong sense of personal reward when I hear from readers and podcast listeners that my efforts are making an impact on their lives.
I've shared below two of the messages that I received after the ChooseFI podcast. (Editor Note: I've had numerous more that have come in since I first drafted these words last week, but will share the two below as examples.)  
Messages like these are the reason I do what I do.  Share what you've learned, and be generous.  Life's somehow better that way.
---
And, Below Is One Of The BEST Comments I've Ever Received (from @ChooseFI FB Group)
Click To Tweet
---
---
Lesson #9 – Share The Love
Your host went out of his way to have you on his show, so go out of your way to support him after the podcast is published. I've spent hours this evening interacting with the listeners of ChooseFI as they've posted comments on his website, Twitter, and Facebook about my interview.  I've scoured each site regularly and tried to be prompt to every comment raised.  The listeners asked some really good questions, and I took the time to give very specific answers.
Show gratitude to your host by supporting their podcast, by being kind to their listeners, and by supporting them across any and all social media platforms you follow.  Also, if you have a chance to give a "Shout-Out" to a fellow blogger (like Big ERN did for me on his ChooseFI podcast) take advantage of the situation to share the love.  It's a small token, but it's surprising to me how few folks actually take the time to do this step.  Don't be one of them.
Share The Love.
---
Lesson #10 – Hone Your Skill
After your podcast is over, and the excitement has died down, take some time to analyze your interview.  Ask for sincere feedback from a few close friends.  Listen to the podcast again with a discerning ear, and look for areas where you feel you communicated well, and areas where you can improve.  As you listen to other podcast guests, think about what you like about "their voice", and continually seek to improve your delivery.
Do you say "Um", or breathe too heavily into the mic?  Did you stammer a bit, or were you pithy and clear?  Did you explain your concept in a way that the majority of the listeners could easily understand?  Did you say "That's a good question" too many times (my feeling from my @ChooseFI podcast, as I always look for ways to improve)?  Did you respect the host?
After you've thought through areas for improvement, think about what other podcasts you'd like to appear on as a guest.  Think about whether launching your own podcast is something that interests you.  Begin to establish a "network", and begin to grow your reputation.   Never stop learning, and never stop improving.
---
Conclusion
Podcasts are an amazing medium for communicating thoughts and ideas (thank you, Dave Winer, for the invention!).   If you're intrigued by the prospect of appearing as a guest on a podcast show, apply as many of these lessons as possible and get started.
Podcasts a lot of fun, bring a new medium into which you can explain your ideas, and (most importantly?) add a bit of excitement to life.
Try it, you just may like it.
Note:  If you've been a guest, or currently host a podcast, I'd be especially grateful if you could leave a comment below.  Let's build on this together to make this post the "Ultimate Guide" for those who follow in our footsteps as future podcast guests.
---
P.S.   My Podcast Appearances to date: