Ok, I'll admit it's a clickbait title.  It worked though, right?  Sometimes it's ok to have a little fun, and I'm doing that with today's post.  But, as is the case with all of my posts, there's a method behind my madness.  Trust me when I say that you're going to get a huge dose of help today.  (And by huge, I mean HUGE.  This one ended being my longest ever post, perhaps even "Epic", at 4,595 words!  Please give it a scan, or at LEAST look at the pics!  🙂 
What you do with it is up to you, it's all only a click away (as you'll see at the bottom of this post).
My Nerdy Friends Can Help You
Today I'd like to introduce you to a bunch of nerds.  They're really cool nerds, though, and I consider them friends.  I should add one word to their description – they're MONEY nerds, and they're not all that nerdy (is nerdy even a word?).  Most of them are actually very cool.  And, very smart.
And very good with money.
The Nerds I Know Are All About Helping People! #FinCon17
Click To Tweet
I made a decision when I started this post which I now regret.
I decided to write two sentences about every friend I spent time with last week.  It was a brilliant idea.
It was an idiotic idea.
I got in over my head but pulled it off a bit late in the race.  It's a long one, but it's worth it.  My purpose for this blog is to Help People Achieve A Great Retirement.  I can guarantee you that my nerdy friends will help you to accomplish this goal.   The nerds I know are all about helping people.  It's what they do.  Today, I'm proud to introduce them to you.
To help you get to know them, I've linked to 46 of my money nerdy friends at the bottom of this post (trust me, it took me FOREVER to put that list together, I hope it benefits you!).  Look it over, I'm sure you'll find someone who creates content that you'll benefit from.   They're my friends, and I'd like you to meet them.  Click on a few when you get to the bottom, ok?  (Just don't go there yet, there's some good stuff in between 🙂
The Bottom Line:  We all want to help people.  As an example of what we do, witness the following event that happened when I was with my nerdy friends, which was promptly announced to the world via Twitter (thanks, Pete, ha):
Changing A Life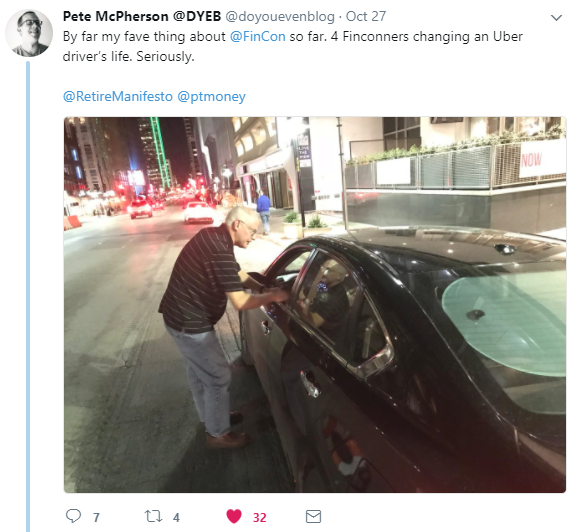 The story behind the picture:  Pete, me and 2 other nerdy friends were intent on helping an Uber driver get his life together.  The guy picked us up after dinner, and we had an awesome chat with him about how to get his money life right.  Bottom line – we gang tackled the poor guy, but with the best of intentions!  I think he liked it (either that, or he was just scared to death of us and trying to be nice to get us out of his car.). We gave him our cards, and I really hope to hear from him soon (Hey Uber driver, if you're reading this, send me a note, please?)  
PS: If you want to read another conspirator's account of the alleged events, click here)
Trust me, all of my nerd friends love to help strangers, and they'd be more than happy to help you along your path.  I'll introduce them to you below, along with links to their sites.  Check them out, you won't regret it!
FinCon17 (aka "A Group of Nerds Does Dallas")
I kind of like this section's title, and considered putting it way up top where everyone would see it.  Too Racy, I decided, so I went instead with the nerdy clickbait for the headline.   Best to bury this dangerous one down here where no one's reading anymore (hey, you still reading? Just a pop quiz! "Epic", right?).  But I digress…..
I've been blogging for 2 1/2 years, and in all that time I've only met two bloggers in "real life".  A reality virtuality of the blogosphere is that most of us are "virtual friends".  The blogging community is hard to understand unless you're a blogger. It's something I had no idea existed before I started to write, and it's one of the surprised I've liked most about blogging.
It's cool.
While we're "virtual friends", we're also "real" friends.  I know these people, and they know me.  I know what they're going through in life, and we're sharing our journies along the way.
On Oct 25-27th, I met my nerdy virtual friends in real life, for the first time.
1,700 of them, Live And In Person!  Yes, overwhelming.  But also, and more importantly, exhilarating, stimulating, supportive and thought-provoking.  For 3 days we talked ourselves hoarse about all things $$ and blogging (literally, just ask my wife, who tolerated my hoarse whisper when I called home). Yep, 3 intense 15-hour days of energizing (and exhausting) talks about money, about life, about stuff that matters.  Helping People.
I met my nerdy money friends for the first time at #FinCon17, and we're changing the world!
Click To Tweet
The Man Who Made It Possible
My first shoutout is to PT Money, the man behind FinCon.  This guy had a vision, and he took action.  For too long, blogger friendships were "virtual", and he saw fit to make it real.  Back in 2011, he came up with the idea of putting on a financial bloggers conference, and it's exploded in the years since.
Thanks, PT, for making it happen.  We owe it all to you.  It was great meeting you by the escalator, and being able to tell you in person how much your efforts mean to our community.
---
Rockstars Vs. Rookies
Like all cultures, there's a fascinating and informal sort of class structure in the blogging world.  Many are newbies, just starting out (I met a guy who started his blog THE DAY BEFORE FinCon.  Keep at it, my newbie friends, and keep cranking out great content.  Someone besides your Mom will, at some point, read your posts!).
Some are "teenagers", and they're starting to drive.  Some are more laid back, and content to just stroll in the garden, using their blog as a creative outlet. Some are hustling and making a living at it, and have actually quit their jobs to write full time.  
And Some….Are Rockstars. 
The ones who are crushing it are retiring to blinding Airstreams at the Age of 35 (Hey, Steve!).  Some get all their income online, sport Mohawks and lead tribes (Hey J$, more on you in a sec…)
We All Get Along
The awesome thing about the community is that we all get along.  It doesn't matter your "class" status, your nationality, your political beliefs.  It's one of the few remaining non-political places in the world where folks can honestly disagree, yet still get along.  Ah, if only our world could learn from this community.
Rich or Poor, Black or White, Young Or Old. We All Get Along. The World Could Learn A Lesson.
Click To Tweet
I hope the World can.
I'm hoping it will.
There's no bigger Rockstar than J$, the man behind Rockstar Finance and Budgets Are Sexy.  He's the dude everyone knows, is ALWAYS surrounded by a crowd, and sports a Mohawk which other bloggers have been known to replicate – hi RouteToRetire!).  He's also one of the friendliest folks you'll ever meet.  It was so cool to have him hang with us for a few hours one afternoon at FinCon: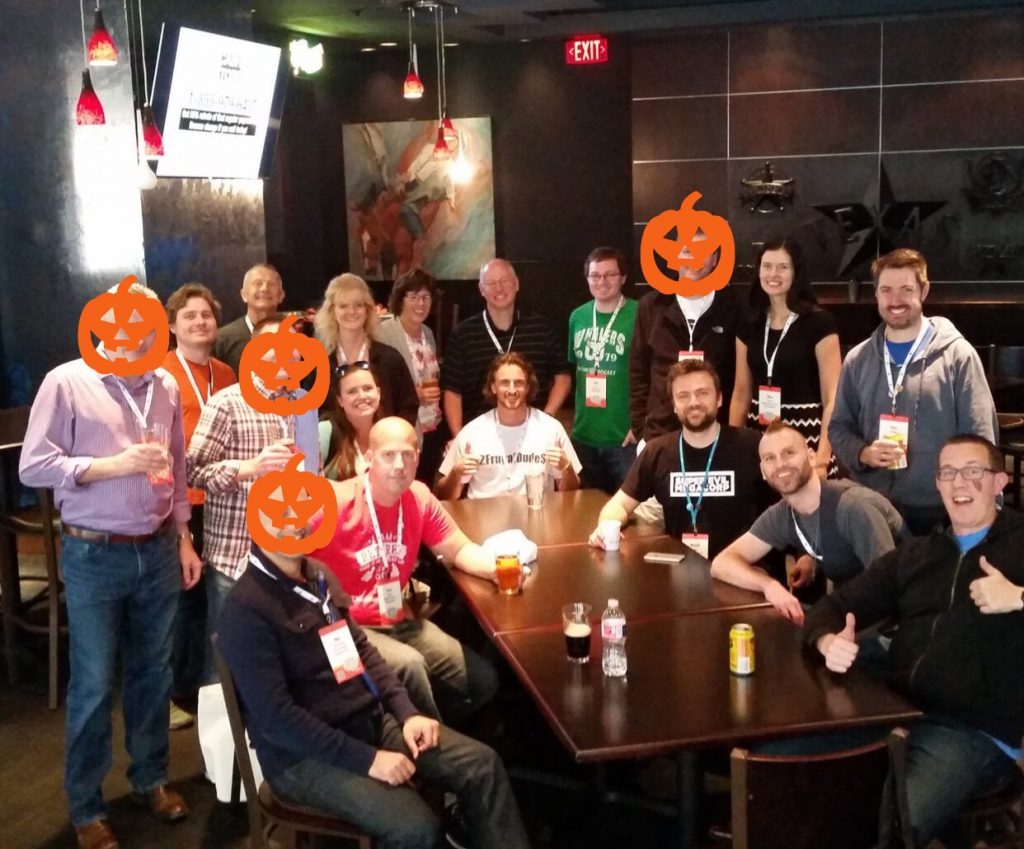 Another Rockstar I had the privilege of meeting was David Bach, author of nine consecutive New York Time bestselling books on personal finance with over 7 MILLION copies in print!.
This guy is HUGE, and yet he's amazingly humble.
He had "his people" line up a few 1-on-1 half-hour sessions, just so he could get to know some blogging folks. I'm sincerely not bragging, but just saying I was BLOWN AWAY when I got an email asking if I was available for a private meeting with him!   Without having any idea of his agenda, I strolled into our meeting and was immediately enchanted by his style.  There's a reason this guy is huge, and I feel privileged beyond words to have had the opportunity to chat with him in a relaxed environment.  It demonstrates his humility, and his desire to connect with people. He's encouraging and sincerely wants to improve peoples lives.  He's impacting millions.  He's impacted me.  Read his stuff, and he'll impact you.
Do me a favor, click this link and buy at least one of his books (I'd suggest The Automatic Millionaire).  You won't be disappointed, and I get no compensation from the click.  It's just a small way to say thanks to David for his time, and to help you, the reader,  on your journey through your lives.  I hope the ideas David and I discussed come to fruition, and am honored beyond words to have made his acquaintance.
By the way, David was a Keynote speaker at the event and absolutely blew everybody away with his presentation.  This guy REALLY wants to change the world and motivated us all to do the same.  For fun, he took this selfie from the stage, and blasted it out on his Twitter account:
The Biggest Rockstar – A Reader Named Sri
One of the highlights of my week was having a reader come up to me and express how much my work meant to him.  His name was Sri, and we spent a fair bit of time together.  I wish I'd have taken a pic with him to share with you (Hey, Sri, if you read this, can you pls send me the selfie you took with me?  I'd love to have it!).   Sri doesn't blog but bought a pass to FinCon just so he could hang out with some of the bloggers he follows.  How cool is that?  Sri helped me more than he likely realizes, so I'd like to say "Thanks, Sri" for the impact you had.  (Post-production update – I just got an email from SRI!!  He sent me the selfie!!  Thanks, Sri – included below, with the ever-stylish pumpkin head as requested!  Thanks for responding, and thanks again for your support!)
Darren Rowse, you'll be glad to hear that I now know my Reader Avatar, and I've decided to name him Sri.  For those who don't know, Darren's ProBlogger podcast is an amazing resource.  I've listened to his podcast for years, and he's had a huge impact on my blog (thanks, Darren, for the 30 Day Challenge!).  Darren absolutely blew away everyone at FinCon with his Keynote address on Day 2 of the conference.  Thanks for coming over, Darren, you're making a difference in the World!
Every time I write, I think of my readers.  One of the things I love most about blogging is knowing that I'm actually making a difference.  Thank you for that, Sri.  And thanks to each of you, my readers.  I can't express my gratitude for the encouragement I get from all of your notes, emails, and comments about the difference these words are having in your lives.  It's why I write, and it's why Sri was The Biggest Rockstar.
Lessons Learned
In addition to the networking, there was an overwhelming selection of education sessions aimed at helping folks improve their blogs.  I attended the ones that interested me the most but missed some when I got caught up in great conversation with my new friends (I took newbie advice to prioritize the conversations, I'll catch the sessions I missed when they come out in video!.).
I took notes on my phone via the Google Keep app and wrote 20 specific actionable items over the course of the conference.  The biggest score was a breakfast chat with Max Your Freedom & Route To Retire, where I logged 5 action items in 30 minutes,  consuming the awesome advice those two guys were spewing alongside their bacon.  Things like why bloggers should set up an LLC, and how to go about it.  Things like the importance of disclaimers (which I just added to my site today, 1 item checked off my list!).  I even ordered a book about video editing on the spot (gotta love hate Amazon's "One Click" buy!) when it was suggested by Waffles On Wednesday (I also put a date on my calendar, but more on that later, thanks WOW.)
Great lessons, great resources, great growth in my blogging knowledge.
---
The Money Nerd Directory
As I started working on this section, I realized I'd made a mistake in today's blog.  I was in over my head, but I had no choice but to hike forward, the path was clear:
About halfway in, I realized I really didn't want to attempt this, but I was committed.
Click To Tweet
The result of the nonsensical self-imposed work is a  ~2 sentence summary of each of the bloggers/podcasters who I spent time with.  Just look at the length of the list and you'll get an appreciation for what FinCon is all about.  I've counted 46 links in this article, and those are just the folks that I felt I really connected with during the conference.  Amazing, right?
Apologies in advance for the many bloggers I WILL miss in this list, forgive my early onset Alzheimers.  I tried to capture only those I had significant talks with, and somehow I omitted you from my list.  You're still my friend (please?), just appreciate that my brain went into overload when tried to think of everyone I met.  There were  MANY others where we just say "Hi", and I sincerely enjoyed meeting you.  (I should have grabbed cards from each and every one of you!  If you're offended tag me in a Tweet and I'll add you to the list!).
Click a few of the links to my nerdy friends, and check them out.  Trust me, you won't regret it!
The Blogging Nerds
The Podcasting Nerds
I've enjoyed podcasts for years, and owe much of my financial education to the folks below.  What an honor to meet each of them at FinCon, and spend time chatting with the folks who have impacted my life.  I've enjoyed being on each of the podcasts shown below (see links to my podcast episodes here), and look forward to my episode with Rocky in the coming weeks.
If you'd like to read what other bloggers had to write about their FinCon experience, click this link from my friend Physician On Fire for a complete listing of ~30 articles written to date. It's a long list, this conference impacted a lot of people.
Conclusion
Whew, this one's BIG.  At 4,595 words, it's my longest post to date.  As my friend said, it just may be "Epic.   I'll boil it all down into two key takeaways:
# 1:  There are a lot of great bloggers and podcasters out there. Explore, find a few that fit where you're at in life, and continue to expand your knowledge.  They're smart folks, even if they are nerds.
# 2: Find something you can start working on before you retire that will provide you with a sense of "community" after you've left the workplace.  If you're already retired, never stop working to build social connections.  They're important.  I value the community of bloggers.  I value my friends.
I hope you benefit from the words of others, together we can all learn to Achieve A Great Retirement.