I read an article last week about how many folks believe "I'll Never Be Able To Retire".  The topic's been stuck inside my head ever since, so I decided to do some research.
How bad is it, really?
Today, I'll present what I've found.
Google 'I'll Never Be Able To Retire', and you'll get 26 Million hits!
Click To Tweet
26 Million Hits!!  Don't believe me?  See for yourself…just click this link and you'll see the results.
It's a HUGE topic, and well beyond the scope of one article. There is a LOT written on this subject (scan a few pages from the link above and pick a few articles to read, fascinating stuff).  By the way, thanks to a reader, John, who sent me Angst In America:  Retiring Broke.  Ironically, it's on the same topic.
It's clearly a "Hot" issue.
Today, I provide a "compilation" of highlights I've found during my research, focusing on charts, to give you all you need to draw your own conclusions from the data.
The best of the best is below!
---
"I'll Never Be Able To Retire"
To get to the Facts About Retirement Readiness, I've focused this article on highlights pulled from credible surveys, with thousands of respondents helping to insure the validity of the findings. I've boiled down hours of research into "the best I found" to save you the legwork.
Plot Buster: The Facts On The Lack Of Retirement Readiness Are Concerning.
Click To Tweet
You're reading this, so chances are good that you're on solid footing.
Regardless, this topic is worth your attention.  If things are as bad as the numbers indicate, it's worth considering the possible implications for all of us.  We're not going to let folks go hungry, and there will likely be growing political pressure to address the situation.  (e.g., Higher Taxes?  Means Testing for Social Security? Higher insurance premiums if you have $?, etc. etc.).
Pay attention, folks.
The Facts….
With that….here's the best research I've found.  I've added a header for each study, followed by key findings.  I'm including a lot of charts, as I think they're effective in sharing information.
---
CareerBuilder Survey:
CareerBuilder conducted this survey in March 2017, the results are summarized below:
Half of workers >60 can't retire until Age 70 at the earliest.
Click To Tweet
Half of workers Age 60 don't think they'll be able to retire until Age 70 at the earliest:

30% don't think they'll be able to retire untli Age 70 or later.
Another 20% don't think they'll ever be able to retire.
---
Employee Benefits Research Institute
I found this report from the Employee Benefit Research Institute particularly relevant.  Highlights:
24% of workers have less than $1,000 saved for retirement!
Click To Tweet
Nearly half have saved less than $25k for retirement.
24% have less than $1,000 saved for retirement.
Only 18% feel "very confident" about their ability to retire comfortably.
40% feel "not too" or "not at all" confident about their ability to retire.
Half of those who have under-saved plan on working in retirement.
Following are several charts from the EBRI study, which I thought were relevant to the discussion.
First: the confidence level for those that have a retirement savings plan vs. those that do not. 71% of those with a plan are very/somewhat confident, versus only 33% for those without a retirement plan.
Next, 31% report being "very/somewhat" stressed about retirement preparedness:
Next, it's interesting to see what folks think they'll need for retirement.  Folks need to learn about the 4% rule (those thinking "<$250,000 would have to live on $10,000 per year)!  Um….I don't think so: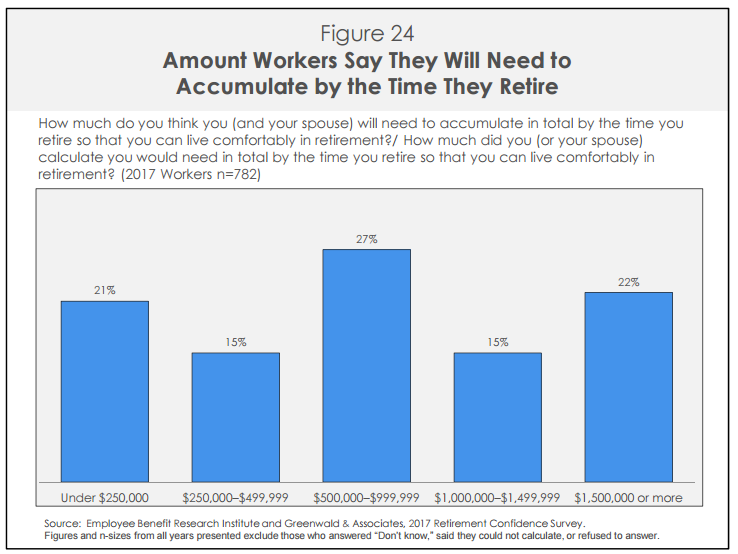 Finally, do you think you'll work in retirement to make ends meet?  So do lots of others.  The reality, most retired folks don't work.  Hmmmm, those retirement jobs may not be as easy to find as you think (or maybe those lucky retirees all have pensions, weren't those were the days?):
---
The State Of American Retirement
This study, by the Economic Policy Institute, is a comprehensive view on retirement readiness, presented in a "Chart Book" format.  It's worth a look.  Charts that I found interesting:
Only 53% of workers participate in any type of retirement plan (!!):
---
Avg Retirement Savings for Age 50-55 is $125k. At 4%, that's $5k/yr of retirement income!
Click To Tweet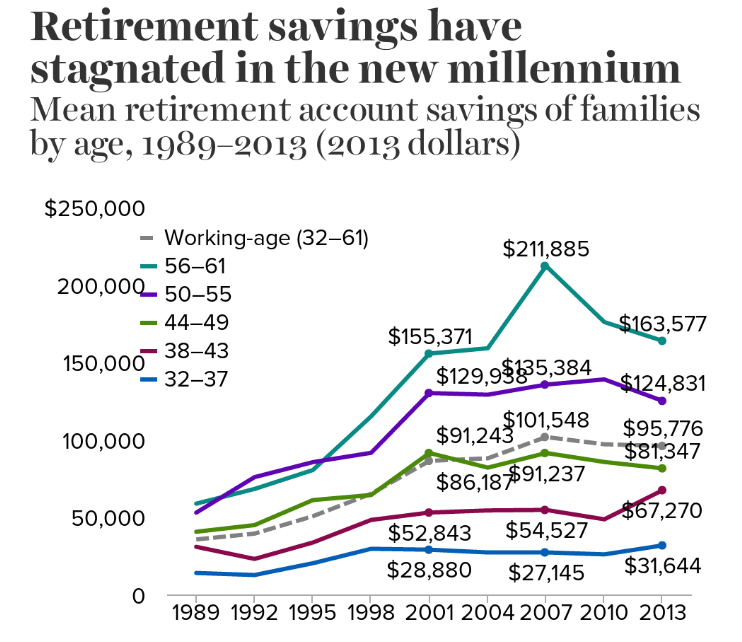 ---
College Matters!
---
Social Security is Majority of Income for > 60% of People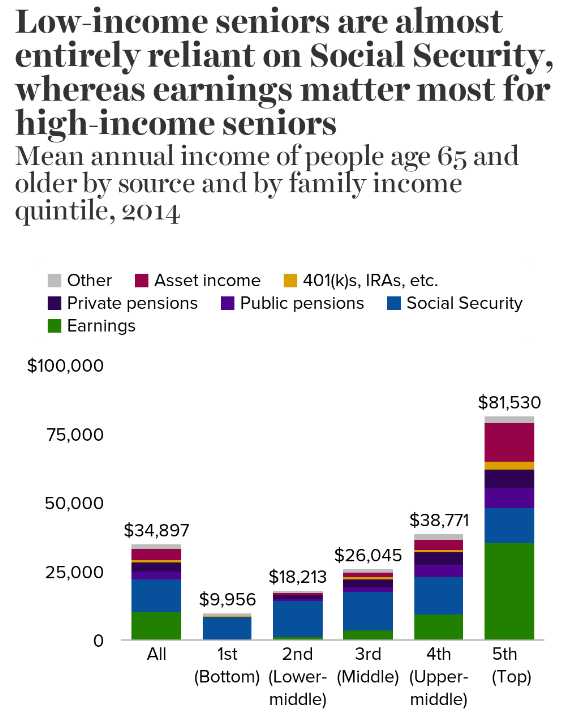 ---
I could go on….and on….and on.
However, this post is getting long, so I've decided to add links to a few other studies I found which are worth your time.  I'll add only one chart per study to give you a sense of their content:
---
The Insured Retirement Institute
Their Boomer Expectations For Retirement In 2016 is worth a read.  The basic conclusion is that confidence levels are falling, and many Baby Boomers have low or no savings.  Boomers will face tough choices ahead.
---
Gallup Poll
Gallop conducted this Retirement Poll, which focuses on projected retirement ages.  Their conclusion:  the age at which today's workers expect to retire is significantly older, on average, than the age current retirees left the workforce.
---
Conclusion
While one could debate the details, there's little doubt that the Baby Boomer generation faces a serious Retirement Readiness gap.  Study after study confirms the macro trend, and we're running out of time.  A significant portion of folks in their 50's and 60's simply have not saved enough money to pursue a "typical" retirement.  Many are starting to face the reality that they'll have to work much longer than planned.  Unfortunately, the reality is that many will have to leave the workplace earlier than they think (see Will You Be Forced To Retire Early?).
As millions of unprepared Baby Boomers face a looming crisis, I worry about the consequences.
For them.
And for all of us.
Now It's Your Turn:  What do you think about the state of Retirement Readiness?  Does it concern you? Let's have a discussion in the comments below.
.