Is there's anything about your life that you don't like? Something that could be made better?
If so, this post is for you. We're going to look at 8 Steps To Improve Your Life's Landscape.
The Steps Work.
I know.
I just followed them and will be sharing the results with you today.
8 Steps To Improve Your Life's Landscape. They Work. I Know. I Just Did It.
Click To Tweet
Improve Your Life's Landscape
Today's post is an analogy. I like analogies. They help me to provide some ideas on how to "Achieve A Great Retirement" (my byline) in a way that's fun to write. Hopefully, in a way that's also fun to read.
Today's analogy is about a landscaping project I've been working on. The steps I followed will be the basis for the 8 Steps which can improve your life's landscape, regardless of what it is that you're hoping to make better. In my case, it was a driveway.
In your case, it could be your financial situation. Or your job. Or your weight.
Or, or, or…
You get the point. This process will work for ANYTHING you want to improve in your life. Interested? Read on…
---
Today's story starts two years ago when we decided to move our retirement From Good To Great. I wrote a 6-part series on our move to a new "Great" retirement cabin. That series is one of the most popular I've written to date.
But I left something out.
There was something about our Great cabin that's always bothered me…
8 Steps To Improve Your Life's Landscape
As I worked on my driveway, I thought about this post. I actually "wrote it in my head" while I was swinging a pickaxe. From my experience during my landscaping project, I came up with these 8 Steps which can be used to improve your life. With that, here we go…
Step 1: Identify An Area That Could Improve Your Life
In my case, the area I wanted to improve was our driveway. I've been wanting to widen it since the day we moved in. At the bottom of our circle driveway, a hill limited the width of our driveway. It was ugly and created a tight squeeze whenever a car was already parked by the cabin.
What Do You Want To Improve?
In the case of improving your life's landscape, the thing you want to improve could be just about anything:
Increasing Your Savings
Increasing Your Spirituality
Earning More Money
Changing Your Job
Making More Friends
Getting on track for retirement (like Susan & Norm did)
Getting In Shape
Losing Weight
You get the idea. Identify an area where you'd like to improve your life. Figure out why you want to improve it, and the benefits you'll see in your life if you take the time to make this aspect "better". You've got a big project ahead of you, so it's important to pick what area you really want to focus on for Improving Your Life's Landscape.
---
Step 2: Take Time To Plan
I'll admit it. I took a long time to complete Step 2.
For the past 2 years, I'd grumble as I squeezed my truck past my wife's parked car, and I'd wander around that hillside from time to time thinking about what I was going to do to improve my landscape.
I went through various ideas in my head and decided it was time to get serious after my retirement last year. I developed my plan.
In improving your life's landscape, take time to think about HOW you're going to attack the item you identified in Step 1. Get specific, and think of the detailed steps you're going to follow to improve your life.
It won't get better by itself.
Make A Plan.
---
Step 3: Dig Out The Bad Stuff, And Make A Firm Foundation
The hardest part of my driveway project was digging out the hillside. Here in the mountains of North Georgia, the ground is full of shale rock. I dug/hacked/pick-axed so many rocks that I ended up with a large pile that I'll be using in the future for a fire ring (See Step #8). It was back-breaking work, but it needed to be done.
Unless I had good, level ground on which to build, I knew my railroad tie wall wouldn't hold up over the years.
As you start the process of improving your life's landscape, recognize that digging out the bad stuff and building the firm foundation may well be the hardest part of your journey.
Want to improve your finances? Better get a system in place to track your expenses. Analyze all of the things you're spending money on, and start chipping away at the bad rocks. Level out that ground, and put in the effort required to give yourself a strong base on which to build.
You want these changes to last a lifetime.
Take the time to build a solid foundation.
---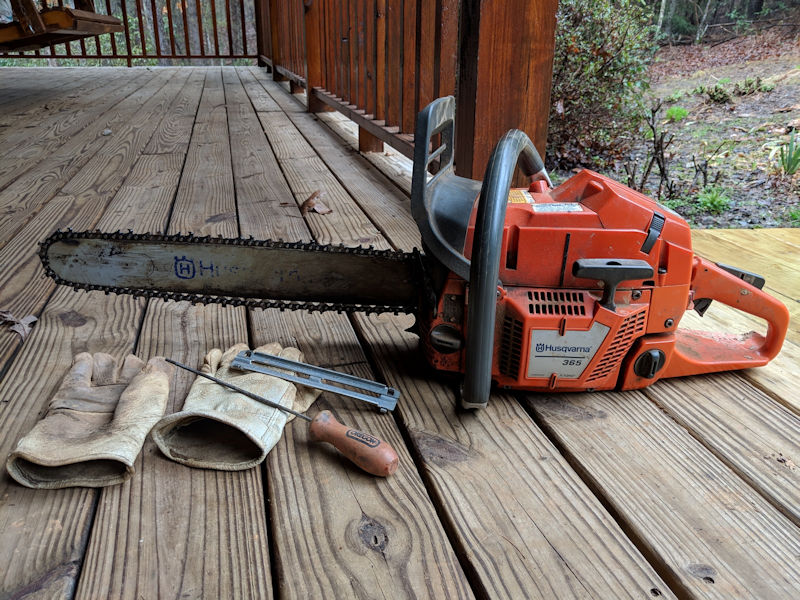 Step 4: Use The Right Tools, and Keep Your Chain Sharp
I really, really love my chainsaw. A few years back, I was in the market for a "real" chainsaw and took some solid advice from my brother-in-law. He's a farmer and knows what he's talking about.
"Buy a commercial grade saw", he said, "and keep the chain sharp".
I went with a Husqvarna 365, a commercial grade beast you won't find at your local DIY hardware store. It works like a champ, and I've never regretted spending the money to buying a high-quality tool. It's perfect for cutting those railroad ties, something a lesser machine would balk at. However, it only smiles when it's got a nice, sharp chain. Unfortunately, the creosoted railroad ties take the "sharp" out of that blade faster than Usain Bolt runs the 100 meters.
I spend a lot of time sharpening that blade.
The same principle applies to your "Life Project". For example, if your chosen project to Improve Your Life is to get a new job, use the right tools and take time to sharpen your chain. Figure out what you need to achieve to earn that new position. Make the effort to earn that required certification. Build a relationship with a mentor. Take someone to lunch once a week. Attend a conference.
Keep your blade sharp.
It works a lot better that way.
---
Step 5: Be Willing To Work Hard
At 200-300 pounds each, moving those railroad ties is hard work. I've done 100% of my landscaping project by myself, and I've got the aches and pains to prove it.
I pace myself, but I keep at it. After I unloaded the 8 railroad ties shown above from the bed of my pickup truck, I called it a day. But…I was back at it the next day. Digging rocks, cutting the ties to the required size, and moving them into place.
Realize that improving your life's landscape doesn't come without some hard work.
Things of value seldom do.
Be Willing To Work Hard.
---
Step 6: Pay Attention To Details & Be Patient
Cutting those diagonal corners "Just Right" in my landscaping project can be a bit tricky. Building those fancy steps also took some creative "chainsaw carpentry". I don't want to waste any railroad ties, so I always "measure twice, cut once". I find that when I'm getting tired and trying to rush things, I tend to screw up.
Don't screw up.
Take your time and be patient. Get the details right.
In your project to improve your life, focus on the details. If your goal is improving your Net Worth, review the details your Net Worth statement. I had been tracking my Net Worth for over 20 years when I decided to do a complete overhaul of my net worth statement. Why? I realized I was missing an important detail. It's critical for retirement planning to break down our assets by tax status (Before-Tax, Roth, After-Tax). If you look at the Net Worth template in that link above, you'll notice it now includes the detail of tax status.
---
Step 7: Enjoy The Process, And The Results
I love working outside. When I'm getting tired and the sweat is dripping down my glasses like rain, I'll take a few minutes to sit on the wall. I'll have a drink from my ice cold glass of water, and I'll smile.
I love this stuff.
The journey to improving your life's landscape is a long one. Find a way to enjoy the journey. If you're working toward Financial Independence, don't sacrifice that all-important time with your kids. Take a break, and admire the progress you're making. When your landscaping is done, you'll enjoy the results of your hard work for years to come.
Pat yourself on the back.
You did this. It feels good, right?
I felt so good when I finished the project that I sent the following on Twitter showing the Before vs. After comparison, quite the contrast. I'm pleased with the results and will enjoy the benefits of my hard labor for as long as we live in our cabin.
In the case of my landscaping project, I've taken some time to stop and think about the benefits I've received as a result of my work. I've…
…Widened my driveway, the original goal. But I've also…
…Gotten in better shape (I've even lost 10 lbs!)
…Increased our cabin's resale value
…Gained Personal satisfaction
…Found a cool analogy for my blog (tee hee)
As you tackle your project to improve your life's landscape, you'll likely find that you receive more benefits than you originally expected. Take time to savor the reward.
You've earned it.
---
Step 8: Never Stop Improving Your Life's Landscape
As I write these words, I've just completed "Phase I" in my little landscaping project. While I've been working on improving my landscape, I've been thinking about what I'm going to do next. I'm planning on building a nice path up to the center of our driveway circle, then leveling off a big circular section. I'm going to build a custom fire pit (I've certainly got enough rocks!). I might even build a nice pergola with some benches. I think some raised beds to plant flowers would look nice, just behind the wall. I may continue the trail up to where we park our RV. Perhaps I'll build a deck as a "porch" outside the door of our 5th wheel.
I've got more ideas than time (and I'm retired!).
As you finish your first project on improving your life's landscape, don't settle for "Good Enough". Go For Great. Identify the next area you want to improve, and apply the same process.
Do it long enough, and you just may end up with a great life.
---
Conclusion
It may seem a stretch to consider that my little railroad tie wall could lead to the improvement in other peoples' lives. However, if I hadn't tackled my project, I wouldn't have written this post. You wouldn't be reading it. I wouldn't have thought about the process I went through to improve our driveway. I wouldn't have developed these 8 Steps To Improve Your Life's Landscape:
Step 1: Identify What You Want To Improve
Step 2: Take Time To Plan
Step 3: Dig Out The Bad Stuff, Make A Firm Foundation
Step 4: Use The Right Tools, Keep Your Chain Sharp
Step 5: Be Willing To Work Hard
Step 6: Pay Attention To The Details, Be Patient
Step 7: Enjoy The Process, And The Results
Step 8: Never Stop Improving Your Life's Landscape
I sincerely hope you identify something that could improve your life. I suspect you've already thought of an area that you'd like to work on. If not, take a second to identify it now. What's the first area that comes to mind? Consider yourself on your way with Step 1.
Don't stop now, you're on a roll.
Your Turn: What Are You Going To Do To Improve Your Life? Do these steps apply?