How much have you thought about inflation as you prepare for retirement? If you're like most folks, probably not enough. Today, we're going to address the silent but deadly risk that inflation presents to your retirement.
Today, we're looking at Inflation: The Silent Killer Of Retirement. Don't plan for retirement without recognizing it's impact.
Click To Tweet
Inflation – Why It Matters
For a little fun, we're going to start today's post with a quiz. Later in this post, I'll provide the answer and demonstrate why inflation matters as you prepare for, and live through, your retirement.
First – A Quiz:
Imagine for a moment that you retired on January 1, 1970. Your annual spending for 1970, based on your previous year's history, was planned at $60,000 per year. Now, let's jump ahead and guess how much money would be required to have the same standard of living in 1990 (20 years later), considering inflation during the same timespan. Enter your guess below:
[Total_Soft_Poll id="2″]
(Please answer the quiz above before proceeding. It took me a while to figure out to add that cool little poll to my site, I hope you enjoyed the quiz!)
Since you took the poll, you've seen what others have "voted". As I'm writing these words, I don't know what folks will pick, but I do know the correct answer. In a moment, I'll reveal the answer. More importantly, before I reveal the answer I want to share some facts on inflation which you should consider as you plan for your retirement.
Inflation: The Silent Killer Of Retirement
In my view, there are three Great Unknowns as we prepare for retirement:
Investment Returns
Annual Spending Needs (driven, in part, by a 4th Unknown: Health)
Inflation Rates
It seems odd to me that we talk a LOT about expected Investment Returns and our Annual Spending Needs. We study Safe Withdrawal Rates ad nauseam, and we worry if we'll have enough money to cover our spending needs until we die. Inflation, however, is not a major topic in the discussion.
Sure, Safe Withdrawal Rates have a lot to do with Inflation, but it's not often the primary thing people think about as they work to determine their SWR. Heck, even I've been negligent on the topic. To date, I've written 256 posts (wow!), but today's is the first post specifically addressing inflation. Tsk Tsk.
Why Today?
A few weeks ago, I wrote How Much Can You Safely Spend In Retirement, and got some blowback in the comments about my hypothetical example of Jane. In my example, Jane's safe spending level increased from $35k at Age 65 (before Social Security kicked in) to $123k at Age 95 (with Social Security increasing with inflation, and her RMD's allowing a higher withdrawal rate each year).
The following comment is the reason I wrote today's post:
---
---
In response to Rick's comment, I left a long comment on the impact of inflation and developed the following table to show it's impact on the Cost Of Living under various inflation rates. I also decided to write today's post.
Inflation's Impact On A $50K Lifestyle
While Rick was critical of Jane "wasting her youth" and having "too much to spend in the later years", the reality is that her $50k lifestyle will cost $100k+ by the time she's in her 90's, so her Safe Withdrawal Rate of $123k doesn't mean she's going to have a higher standard of living on an inflation-adjusted basis. Sure, she may be spending less in her later years, but on an inflation-adjusted basis, she'll still be likely to spend more actual dollars than in her younger years. In an environment with higher inflation, her spending could approach $200k (and just wait until you see the answer to the quiz! It's coming, I promise…).
By the way, that Tesla that Rick was joking about? Let's have a quick look:
How Much Will That Tesla Cost?
Let's assume that Tesla costs $65k today. By the time Jane is 90 years old, that same Tesla would cost $158k at a 3% annual inflation rate, so Rick was a bit short in his estimate of Jane's ability to buy one (hey, she shouldn't be driving at Age 90, anyway. Right, Rick?).
---
Inflation – The Facts
Inflation is real, and it's something that each of us needs to consider as we plan for retirement. As the cost of living increases every year, the reality is that we'll need to spend more money to maintain the same standard of living. Seems obvious, but it's a fact that many of us miss in our retirement planning.
Inflation WILL force you to spend more money every year to maintain the same standard of living. Does your retirement plan address the risk?
Click To Tweet
Let's start with a few facts.
In researching this post, I found this fantastic chart on inflationdata.com which helps put inflation into some longer-term perspective: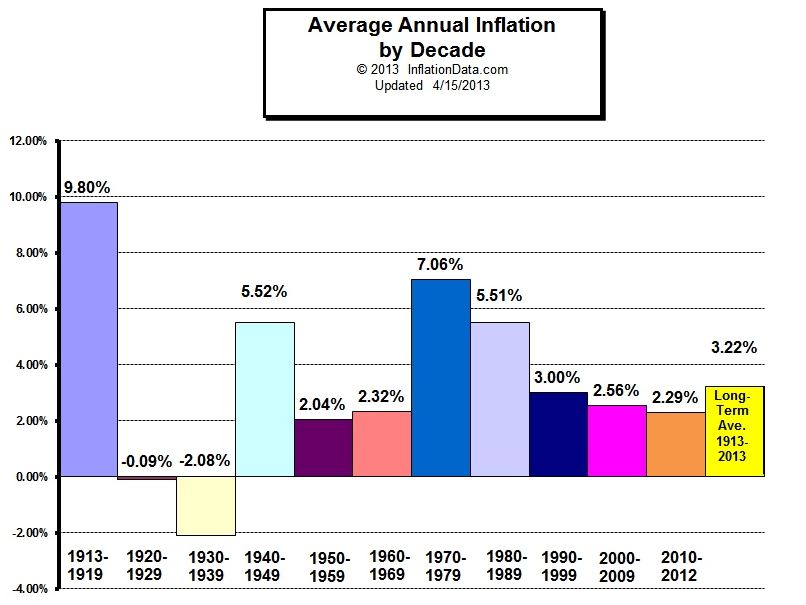 What I find of particular interest in this chart is the spike from 1970 – 1989 (hence, today's quiz, which covers that exact time period). Given that we've had 30 years of low inflation, many folks forget the impact of living in a high inflation environment. If you've only been paying attention since 1990, it's hard to appreciate the reality that 50% of the decades before that had inflation above 5%. With a long-term average of 3.22%, is it possible that a future "return to the norm" will require inflation levels higher than we've experienced in the recent past?
There are some folks today who are warning of potentially devastating inflationary impacts of governments around the world spending more than they receive in tax revenue. In a recent excellent podcast on the issue titled "Federal Debt: The Ticking Time Bomb" by Radical Personal Finance, the host points out that only 3 levers are available to, ultimately, manage government debt:
Raise Taxes
Cut Spending (including, potentially, Social Security)
Inflation (as Governments "print money" to solve the problem
While I'm not a doomsday prophet, the podcast makes some excellent (and concerning) points and is well worth your time as you evaluate the situation for yourself. As you prepare for or live through retirement, it's important to keep your eyes on the macro-economic impacts which may impact your journey. There are certainly some storm clouds on the horizon, and they're worth watching.
---
Here's another interesting chart I found from Mark Perry:
Obviously, not everything "inflates" at the same level. Some things (like electronics) actually go DOWN in price. Other things (like health care) inflate at a rate higher than average. It begs the question: What will you be spending your money on in retirement, and how will those areas be impacted by price increases over time? In a minute, I'll address a method I've used which builds this variability into your retirement cash flow plan.
---
The Answer To The Quiz
Ok, it's time to grade your quiz. Do you remember what you answered? Here's a refresher:
You retired on January 1, 1970.
Your annual spending for 1970 was planned at $60,000 per year.
How much money would be required to have the same standard of living in 1990?
To answer the question, I've put together the following table which increases your $60k of spending each year by the actual inflation over the same timeframe. For example, in the first year, with inflation at 5.7%, you'd need $63,432 to have the same $60k standard of living a year earlier:
The Answer: $213,379
I'll admit, I was shocked when I put that table together. $213k!? That can't be right. As you can see by looking at the table above, it most certainly is. The 70's and 80's were a period of high inflation, and this example serves as the best illustration I could come up with on the very real risk that inflation represents in retirement. Notice how compounding works against you in an inflationary environment. As year after year of high inflation compounds over a 2 decade period, it's easy to underestimate the cumulative impact. Hence, the quiz.
Sure, the inflation you experience won't line up exactly with the CPI inflation average. It could be higher (remember that healthcare has gone up faster than overall inflation, and it's likely a high % of your spending in your 90's).
The Bottom Line: To live the same lifestyle that $60k would provide in 1970 would cost you $213k in 1990, a 3.5X multiple of your first year's spending. Ouch.
While you were prepared to spend $60k a year, you're now spending $213k to maintain the same standard of living!
Click To Tweet
Did your retirement plan account for that increase?
---
Inflation – The Solution
Hopefully, my little quiz served as a good example of the direct impact Inflation can have on your retirement. The strange thing about inflation is that it's a "Silent Killer". You don't really see it on a daily basis. You may notice the price of gas when you fill up your tank, but does your retirement plan take a holistic look at the very real risk of inflation over the decades of your retirement?
Don't let the silence of inflation lull you into ignoring the risk. As you plan for retirement, it's critical that you've considered the risk and built it into your retirement plans. It's important to think beyond a simple "Safe Withdrawal Rate" calculation and ensure you've spent some time thinking about the risk in detail and putting some defenses in place.
Here's how we did it…
---
The 3 Things Your Retirement Plan Must Include
As we planned our retirement, there were three main areas where we addressed the risk of inflation. I'll comment on each of these three areas below, along with some suggestions for your retirement plan.
1. Inflation Assumption By Spending Category
After we tracked our actual spending for a year, we built a retirement spending spreadsheet and entered our estimated post-retirement spending for each category. I then added a column to be able to play around with various inflation rates for each category, which automatically calculated future spending based on the assumed rate of price increases. Here's what it looked like in my base case scenario:
Note that "housing" was only 1% due to the fact that we own our retirement outright (we're assuming some increase in our annual property tax bill). If you plan on renting in retirement (e.g., a winter place in Florida), I would suggest a higher rate as your assumption. We also assumed 5% for health care, which may end up being on the low side. Tricky stuff, this retirement planning…
As a "Stress Test", I played around with alternative scenarios at higher inflation assumptions. Don't scare yourself out of retirement, but recognize various scenarios that could unfold and have contingency plans in mind in the event we see a return to the days of high inflation.
---
2. Asset Allocation – Keep Some Inflation Hedges
As you develop your asset allocation targets for retirement, keep inflation in mind and ensure you've got some asset classes which can act as a hedge against the risk. According to Investopedia, the 9 Top Assets For Protection Against Inflation are below:
TIPS
Leveraged Loans
Barclays Aggregate Bond Index
Real Estate Income
S&P 500
REIT's
60/40 Stock/Bond portfolio
Commodities
Gold
I certainly don't recommend owning all 9 of these asset classes (simple is better), but make sure you've got adequate exposure to some inflation hedges. In our case, we own TIPS, REITS, Bonds, Stocks and Precious Metals. If you'd like to read more detail, check out my post: A Simple Guide To Targeted Asset Allocation.
---
3. Investment Return Assumptions
It's not enough to simply assume that stocks will earn a rate of return sufficient to keep up with inflation. You also need to recognize that historically stocks have only beaten inflation over a long period of time. If you're forced to sell in a bear market, you've lost your hedge. Ben Carlson recently shared some very cool charts in "Averages Are Clean, But Actual Results Are Messy", such as the one below which shows the 5-year average "Real" returns (after netting out the impact of inflation):
Notice that ugly period in the 70's and 80's, when the 5-year average return of stocks did not keep up with inflation (of note, in every 20-year period stocks DID outpace inflation, so the longer you can hold them, the better the hedge).
To avoid selling stocks at the wrong time, we spent a lot of time setting up our Bucket Strategy, which I wrote about in detail in the post: How To Build A Retirement Paycheck From Your Investments. We've filled Bucket 1 with 3 years of cash, Bucket 2 with 5 years of "income & stability", and reserved Bucket 3 for stocks. In a worst-case scenario, we could hold off on selling any stocks for a period of 8 years.
Make sure you've built a plan to allow your inflation hedges the time required to do their work.
---
Conclusion
Inflation is a significant risk to your retirement. Make sure you've taken adequate precautions to build some defenses against this Silent Killer. Develop a targeted asset allocation which includes the appropriate asset classes to hedge against inflation, and build in strategies to give them the time they require to serve as adequate protection.
The risk of inflation is not too big to keep you from retiring.
It is, however, too big to ignore.
Your Turn:
Is inflation something you've thought about as you've planned for your retirement? What precautions have you taken to ensure protection, in the event that the days of high inflation would return? Let's chat in the comments…