I recently had a great discussion on the lessons learned on the path to retirement.
Fortunately, the discussion was recorded.
The conversation wasn't scripted, and it evolved into a deep and free-flowing conversation on how my wife and I are preparing for our retirement.  Turns out, there were 11 lessons in the discussion, and I've decided to extract them for you in this post.  I ran the idea of this post past Dennis & Joe, the guys who did the recording, and they graciously agreed.  Thanks, guys, it was an honor being a guest on your Retirement Wisdom podcast (To listen to the recording, simply click Retirement Wisdom podcast).
For those of you who prefer the written word, I've summarized that podcast into 11 Lessons Learned On The Path To Retirement, which is laid out for you below.
Enjoy!

---
11 Lessons Learned On The Path To Retirement
As I listened to the recording of our discussion, I realized there were some valuable lessons which I could share on this blog.  I felt it was worth sharing with you, my reader.  With that, following are The Lessons Learned On The Path To Retirement, as discussed on my recent podcast with Retirement Wisdom.
---
1. Retirement Is Freedom
Retirement is, indeed, Freedom.  How we choose to use that Freedom is up to us to decide, but for the first time in 51 years, we have the Freedom To Decide what we want to do.  We've done what we've "HAD" to do, but now we're Free to do what we "WANT" to do.  Money is no longer the primary factor in our decision matrix.  Now, what we really want to do dictates our days, but it's up to us to decide.
What excites me most is having Freedom to do what we Want, without having the #PursuitOfMoney as a primary factor in the decision.
Click To Tweet
We are facing a Freedom that's rare in life.  Treasure your retirement, and use it for good.  Decide today what you'll do to ensure your retirement is Great.  Don't settle for Good, Go For Great.
---
2. You Are Responsible To Fill Your Day
Find a purpose, and spend some time thinking about the "soft stuff".  What do you want your life to be after retirement?  Ultimately, how well you handle the "soft stuff" will dictate how great your retirement will be.
It's the Soft Stuff that dictates how successful your retirement is going to be.
Click To Tweet
Choose something you feel passionate about, and dedicate some time to making a difference. Choose wisely.
Choose you must.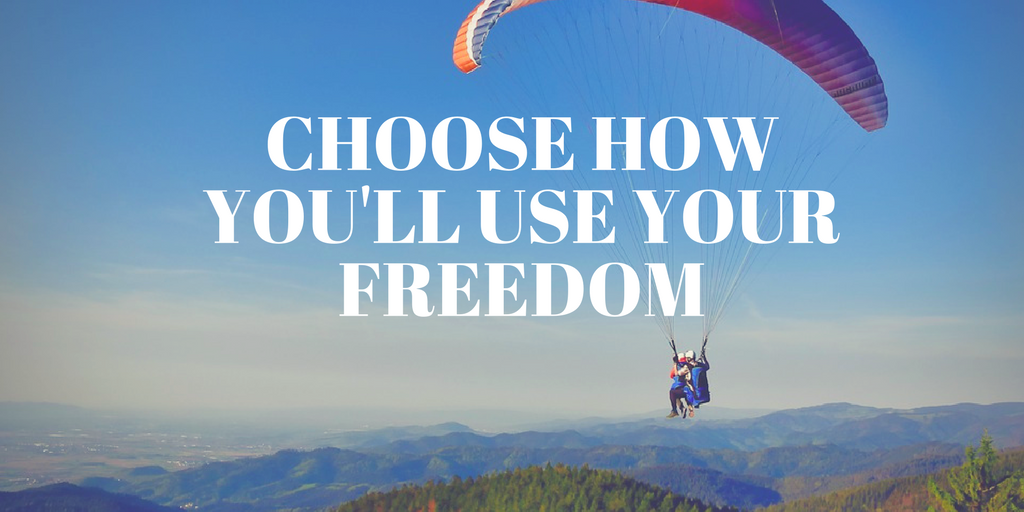 ---
3.  The Common Signs Of A Failed Retirement
There are some common signs that warn of potential difficulty during the transition into retirement. The most common thing I've seen is when Type-A, hard-driving types (you know, those folks who have been "Crushing It" their entire careers) keep running right up until the date of retirement.
They Run Until They Hit The Starting Line Of Retirement, And Then They Struggle.
Click To Tweet
Unfortunately, folks with this personality trait often give insufficient attention to the reality of the adjustment they are facing in retirement, and they often suffer the consequences.  If you're keeping that frenetic pace run right up until the day you leave, you're exhibiting a key characteristic for a retirement which struggles.
Take the time to intentionally "ramp down" at the end of your career, and think about what your life will be after retirement, while you're still working.
---
4.  Learn From Those Who Have Gone Before
In the podcast, I speak about a boss I used to work for.  His name is Curtis, and he had an enviable work/life balance and a lot of hobbies as he approached retirement 15 years ago.  He's since retired, and he's having a great retirement.  I'm still in contact with him (he's in his 80's now), and he reads this blog (Hi, Curtis!).  He's my retirement idol, and I'll be happy if my own retirement is 50% as successful as his.  Ironically, he also retired in the North Georgia mountains, and I see him from time to time.  How cool is that?
I've known others who were the "driven right to the end" types, and while their approach to retirement varies, in general, their retirements don't seem to be nearly as great as the retirement my boss mentor friend Curtis is enjoying.  Develop some interests outside of work.  Develop a Purpose, or risk the chances of Depression weighing down your transition into retirement.
Depression is a real issue in retirement. Odds of depression are 40% greater in retirement than in your working years.
Click To Tweet
The lesson I've learned is this:  The best path to a great retirement, based on learnings from those who have gone before, has been to put the same amount of energy that you put into their work into something outside of work that gives you a greater sense of satisfaction, of Purpose.  Pick your cause, carefully.  People that have found a true cause are typically the people that have been the most successful in coming through the retirement transition.
In my case, my Purpose is going to be writing.  And Dog Rescue volunteering. And mountain biking.  And involvement in our local church. And cold water swimming.  And camping.  And hiking.  And fly fishing. And Spin Class.  And photography.  And drones.  And video editing. And….
And And. And.
Fill your life with Purpose.  Learn from those that have gone before.
---

5. Adopt A Perennial Mindset
As I wrote in Be A Perennial, you should define yourself by the mindset you take in life.  Your mindset is more important than the year in which you were born.  A baby-boomer was born between 1946-1964, but a Perennial is one who has the mindset to always bloom, year after year.  You're challenging yourself, you're curious, you're growing, and you're trying new things.  You're pushing up new flowers every year.
Being defined as a Perennial is a much better definition than being a "Baby Boomer", in my book.
Even better is the fact that anyone can be a Perennial.  It doesn't matter the year in which you were born.  What matters is your mindset, and each of us is free to choose the mindset with which we live life. Choose to have an intentional approach to life, and decide to become a Perennial.  Your retirement, and your life, will thank you.
---
6. Keep Your Spouse In Mind
Retirement is a partnership and should be approached as such.  Make the time to have some honest discussion with your spouse about your mutual expectations of retirement.  Plan ahead, and respect the changes that each of you will go through.  The reality is that both spouses are going through a major life change.  Talk about it, and adjust together.
Recognize the reality that you're both making major life adjustments, and work together to make your retirement great for both of you.
Click To Tweet
Be proactive, and agree on some things you can put into place to ease the adjustment.  Two of the tools we're using are:
A retirement activity jar, with ideas from both of us, which we'll pull (and do) weekly for 2 years.
A weekly retirement calendar, with time together, and time alone.  We'll adjust as necessary:
My wife loves pottery, and I love writing.  We've carved out time for each (see "Tuesday" in the schedule above), and we'll do things that bring Purpose to each of us, individually.  We're also carving out time each Saturday for a Purpose we both enjoy – volunteering together at The Barking Lot, a local dog rescue that sets up downtown each Saturday to try to get some of our rescue dogs adopted.
Carve out time for spontaneity, and be flexible.   Have time for "Me", and have time for "Us".
---
7. Have Fun
Figure out what "Fun" means to you, and take the steps necessary to position yourself to do fun things.  We consider camping "Fun", so we bought a 5th wheel travel trailer six months before our retirement date (more on that in a future post, but here's a preview of the camper we recently purchased for having fun in retirement!).
Make it a habit to try new things. We're going camping, and he we've made reservations in State Parks sporadically through October to facilitate our transition into retirement.  You might find something "Fun" that you'd never tried before. In my case, I took a free Spin Class at our local gym, which we joined a month ago as part of our retirement strategy.  We love the gym, and all of the free classes they offer.
It turns out that I really like Spin.  Though I'm not sure I'd classify the activity as objectively "Fun", the intense physical activity is something I value.  It's on our retirement calendar now (see Monday and Friday in the calendar above), and I just "discovered" it a month ago.
Trying new things is what Fun is all about. Some will score, and some will bomb. Grab those that score, and have some fun.
Click To Tweet
Bottom Line:  Adopt a mindset of experimentation.  You've got Freedom now, so try new things.  Who knows, you just might find something that's fun.  Like a Spin class.  Yeah, that's "fun", alright….
---
8.  Let Things Go
You're Free Now!  Are you really going to let things that don't matter bother you?  Get A Life!
Do politics really matter all that much?  Facebook spats, really?  You're retired, my friend.  Get out there and enjoy life!
Don't Let The Idiots Sap The Joy From Your LIfe. Let The Things Go That Don't Really Matter!
Click To Tweet
Decide in advance the things that you're not going to let bother you. The transition to retirement will be hard enough, don't add any unnecessary baggage by worrying about Political Correctness, or other things that don't matter in the Bigger Picture of Life.
The baggage fees on The Retirement Airlines are expensive, and they're not worth paying.
Leave the baggage in the closet, where it belongs.
---
9. Write Your Own 10 Commandments For Retirement
I wrote my personal 10 Commandments for retirement, and I'm pleased to have them taped to my office wall in our mountain cabin. I put a lot of thought into "my" commandments and I'm going to try to live by them in retirement. Read my article, "The Ten Commandments Of Retirement", for more insight on the commandments.
At the end of the podcast recording, the hosts suggested that everyone should write their own 10 Commandments.  It was beautiful insight and a great recommendation, so I'm including it here as Lesson #9:
Write your own 10 Commandments For Retirement.
Post them on your wall.  Live by them.
---
10. Raise Your Children To Fly
Last July, I walked my daughter down the aisle on her wedding day.  It was a milestone in my life, and something I'll remember for the rest of my days on this little marble we call Earth.
Marriage is a celebration, a celebration of raising your child to fly.
On the podcast, we talked about this picture and the emotion I was feeling as I walked my daughter down the aisle.  It was a big moment in my life, the life of my daughter, my wife, and my son-in-law.
To me, it was a moment of celebration, a true milestone as my daughter and her husband spread their wings together, and took flight.
Your kids will be leaving the house.  Every day that your child is with you, is one day closer to the day they'll fly.
Your job is to raise up your child to become an individual adult.  Our responsibility has to be to prepare our childen for ever increasing roles of autonomy, of responsibility.
Train Up Your Child In The Way He Should Go, And In The End, He Will Not Depart From It. Proverbs 22:6
Click To Tweet
The walk down the wedding aisle was, in my mind, the epitome of achieving Free Flight. Sure, it was sad to know our daughter was no longer entirely "ours" (was she ever?).  Instead of focusing on that, however, I took pleasure in knowing our daughter and her soon-to-be husband were launching their lives on the 6′ wingspan of Eagles. I chose to celebrate the fact that they are flying.
Our Mission Here Is Complete.  Our daughter has learned to fly, and she's pretty good at it.
Raise Your Children To Fly.
---
---
11.  The #1 Thing To Do When You're Preparing For Retirement
The most productive thing we did during our preparation for retirement was to take a 10-day mini-retirement. We "pretended" we were retired and took time to think about what our life would be in retirement.  We forced ourselves to think about what life is about after retirement.  It was a valuable experience.  The exercise of a forced "mini-retirement" drove us to do the very thing which has been most correlated to a great transition into retirement.
That "thing"?
Thinking about your retirement before you get there. 
Live retirement for a week (or two, if you can swing it with the boss).
Don't make it "just another week of vacation".  Make it a Mini-Retirement.  Try new things that peak your interest. Pretend you're retired. Be introspective.  Have some real discussions with your spouse.  Take a day trip together to a nearby destination. A mini-retirement, with focused introspection, is the best thing we did in preparation for our retirement.
Who can't do that?  We can all take a week off work, right?  I can think of no better thing as you plan for your retirement.
For that reason, I consider taking a mini-retirement as my #1 recommendation for those preparing for retirement.
Click To Tweet
Put your mind into retirement mode.
Prepare yourself for the reality of "Life, Retired".
Write your 10 Commandments during your mini-retirement, and post them on your wall.
---
Conclusion
---
What Did I miss?
Which Lesson most resonates with you, and why?  What lessons did I miss that you've learned on your journey to, or through, retirement?
Let's chat in the comments (my favorite part of blogging, but you already knew that…).