I asked you to respond, and you did.
In Living Life At The Limits (Part 1), I told the story of a recent mountain biking adventure, and how it pushed Kirk and I to our limits and beyond (his ribs have healed nicely, by the way.  Thanks for asking).  I also encouraged you to chime in with stories of how you're doing it.  How you're Living Life At The Limits, and what it means to you.
The response has been amazing.
As promised in that first post, today I present Part 2, with a total of 7 stories including a few of my personal stories and others selected from the many inspiring stories provided by you, The Reader.  I hope you enjoy.
How Are You Living Life At The Limits? Murder, Cold, Waterfalls & Wheels. All with One Common Theme.....
Click To Tweet
Living Life At The Limits
A quick briefer on "Living Life At The Limits" for those who missed Part 1.  Living Life At The Limits refers to the mindset of continually challenging yourself, in whatever way that works for you.  It doesn't have to be high-risk, and it doesn't have to be big.  It's the mindset that matters.
Curiosity.  Challenge. Trying New Things.
Do you look for ways to keep life exciting, or do you settle for something less?
Click To Tweet
Today, we'll look at the variety of ways that folks pursue Living Life At The Limit.  Each story is brief but gives an example of different approaches that accomplish the same goal.
Keep Life Interesting.
Live Life At The Limits.
---
Story 1:  The Murder Of A Drone
---
---
She was a dear friend, for the brief moment we lasted.
She took me aloft and showed me things I'd never seen before.  Her lens showed me views of the world I've always dreamed of.  Up high, with her head in the clouds.  Flying free.  Haven't we all wanted to fly since our earliest years?
She lived that dream, and she saw the world from a perspective unobtainable to us mere mortals.
I liked her.  A lot.
But, it wasn't meant to be.  It ended suddenly. It ended harshly. I stood by, helplessly, as she died.  In a violent, "ain't coming back from this" – type of way.  I watched her die, plunging lifelessly into the cold, unforgiving water.  Into the depths.  The land of no return.
My Drone Was Dead.
In fairness, it wasn't her fault.  She was simply doing what I told her to do.  In reality, she's pretty stupid and unable to think for herself.  She did whatever I'd say, whenever I said it, whether it made sense or not.  (Side Note: Maybe "She" was a "He".  How do you tell drone sexes apart?  No offense to my lady readers for using the vernacular, I trust?  It just seemed right to call her a her…)
Given the reality that she was only doing what I told her to do, is there anyone to blame but myself for her death? I caused her death.
I'm A Drone Murderer.
I was, at last, able to acknowledge it publically:
As I've processed my mourning about the death of my friend over the past few weeks, I've realized I have no one to blame but myself. I killed her, and I did it myself.
I'm Glad I Killed Her.
I killed her because I flew her a tad beyond my limits.  I could have stayed well above those trees, well within my comfort zone.
Or I could drop below the trees and buzz those rapids. 
You know what I chose.  It was a great video, too, and I'd be sharing it with you today if only she hadn't taken that CF card with her to her watery grave.
I may have killed her, but I'd do it again in a heartbeat.
Don't Be Afraid To Crash Your Drone. Live Life At The Limits!
Click To Tweet
Kirk and I now use that "Don't Be Afraid To Crash Your Drone" phrase often, it's surprisingly appropriate for a lot of situations when you're living life at the limits.
Is there any other way?
Live Life At The Limits.
---
Story 2: A Swim In Really Cold Water (49f/9c)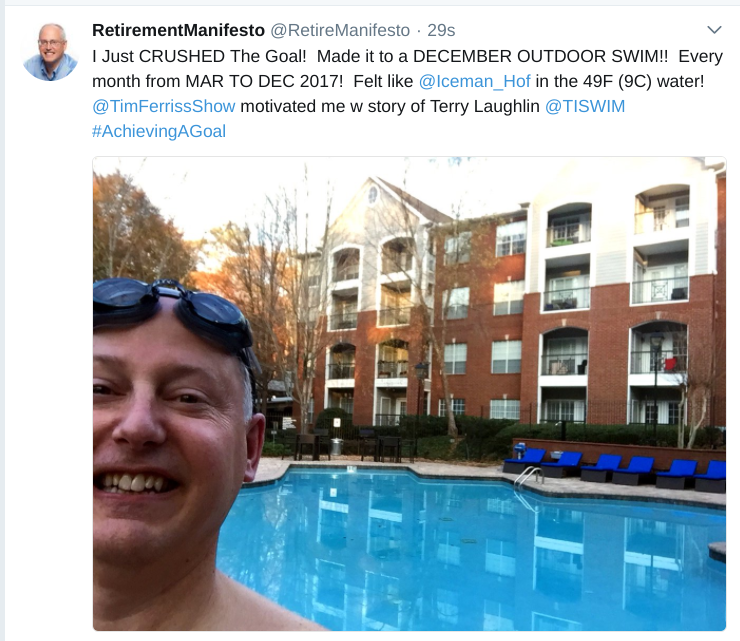 I've written a lot about my love of swimming in cold water (London, Lake Zurich, Lake Michigan).  I'm not going to belabor it here, other than to say it was entirely a "Live Life At The Limits" mindset that pushed me to make my final swim one Monday night, Dec 4, 2017.
It was the coldest water I've ever swum in.  And probably always will be.
49F.  9C.  
I challenged myself, and I succeeded.  I thought that achievement should get a short blurb on my blog, so I just gave it one.
Live Life To The Limits.
---
Story 3:  A Potter's Wheel – Mrs. Retirement Manifesto!
A few months ago, my wife didn't know a thing about pottery.  Now, she's creating masterpieces like the birdhouse in the photo above.  Amazing, right?!  When I posted that pic on Facebook, we got 159 Likes! 159 Likes!  We also got 38 comments from friends asking about buying one or suggesting she open a booth at the numerous local Art Fairs in our area.  She's good.  Really good.
Looks like folks recognize talent when they see it!  (BTW, I promised you'd I'd have some pottery pics!  Promise fulfilled.  She's good, right?).
She had an interest, and she decided to pursue "Life At The Limits".  She took the plunge and signed up for a lesson.  She started with the potter's wheel and brought home some gorgeous bowls and pitchers.  She liked it so much, she signed up for another class in Birdhouse making.  Now, she's on to another class, learning yet another new pottery technique.  She loves it!
Turns out, my wife is a natural when it comes to pottery.  She's really good, and I'm proud of her.  She went out of her comfort zones to take a class in an unfamiliar place.  She's made friends, and she's discovered a love of pottery.
Because I'm proud of her, I'll share another of her birdhouses.  She built this one for our daughter, as a Christmas gift.  Our daughter loves sunflowers.
Live Life At The Limits
---
Story 4:  Giving The Gift Of Experiences
My friends Mr. & Mrs. Waffles On Wednesday weighed in with a trick that they use to pursue Living Life At The Limits.  Mr. & Mrs. WoW are intentional in "Giving The Gift Of Experiences", and they make the pursuit of experiences a priority in their lives vs. material possessions.  In fact, they're in Cambodia right now, having another experience.  How cool is that?
In their words:
We much prefer spending $ on giving experiences, rather than tangible gifts that will gather dust. @WafflesOnWed
Click To Tweet
They've certainly had more than their fair share of experiences.  The pic above is Mrs. WoW rappelling down a waterfall in Iceland.  How crazy is that?  They've also gifted each other trips like white water rafting and going to a New Orleans for The Big Football game.  I love their site name,  "Waffles On Wednesdays", which is an analogy they've come up with to describe what Financial Independence means to them.   Being free to eat Waffles at home, at your leisure, on a Wednesday morning.
Cool, right?  (for the record, I have an appointment to eat Waffles on Wednesday on a particular Wednesday in June.  Just sayin'….).
They know how to live life at the limits, and they know what I'm talking about with the June waffles.  Rumor is, they may be "volunteering" to edit a "Day 3 Video" of the event.  Wink.
Live Life At The Limits
---
Story 5:  Forcing Yourself Outside Your Comfort Zone
My friends over at Adventure Rich demonstrated Living Life At The Limits by forcing themselves outside their comfort zone.   They chose to tackle their fears and addressed head-on one of their biggest anxieties:   Public Speaking.  They chose to read publically during a recent service at their church.  It wasn't something they were comfortable with, but they intentionally pushed the limits.
As Mrs. AR writes, "I promptly felt my stomach contort itself into a nervous knot."
The experience went "better than I thought it would", and gives yet another example of intentionally pushing yourself into an area that you're not comfortable with.
Living Life At The Limit 
---
Story 6:  Starting A Blog – FI Ideas
Susan is a mid-50's retired engineer and was motivated to push herself to continue growing after reading my "Living Life At The Limits" post. As a result of that post, she launched a blog titled FI Ideas, and wrote her first article on "Standing Out".  I don't know why, but it thrills me to know that my words have lead others to start blogs of their own.
Living Life At The Limits.
---
Story 7:  Spending The Night In The Grand Canyon
One of my favorites "reader stories" was this one from "JK".  No need for further commentary, his comment on the first post in this series tells you everything you need to know:
Living Life At The Limits.
---
Conclusion
As these stories illustrate, there's no limit to how you choose to Live Life At The Limits.  The important thing is to be intentional, to adopt a mindset of curiosity, and to find a way to push yourself …..
…To Explore
…To Discover New Things
…To Test Your Boundaries
…To Try New Things
…To Live Life, And Live It Fully.
Try it, your life just may be better as a result.
Living Life At The Limits.