On Feb 23, we accepted an offer on our "primary" home, as we implemented a major step in our downsizing strategy for retirement.  The offer was higher than our asking price.  It was also only 7 days after the listing went "live"!
Today, I'm going to tell you how we did it, with the goal of sharing our learnings in the event your future plans include downsizing and the sale of your primary home.
How To Sell A House In 7 Days, For More Than Asking Price!
On January 26, we decided to list our house.  After the listing hit the market, it sold in 7 days.  Above our asking price.  Did we just get lucky?  I'd argue that having a long term plan that allowed us to get the house in top shape before the sale was the primary driver.  You be the judge. Here's how it happened:
Last Summer:  Knowing we may be selling our house in winter months, I decide to take some pictures of the pool while it was open in the summer.  We also took some pictures of our basement rec room before selling our pool table and treadmill, figuring it would make a better presentation if potential buyers could envision themselves playing pool in the their new basement.  Pictures end up being used in the listing, 6 months later.  Plan ahead!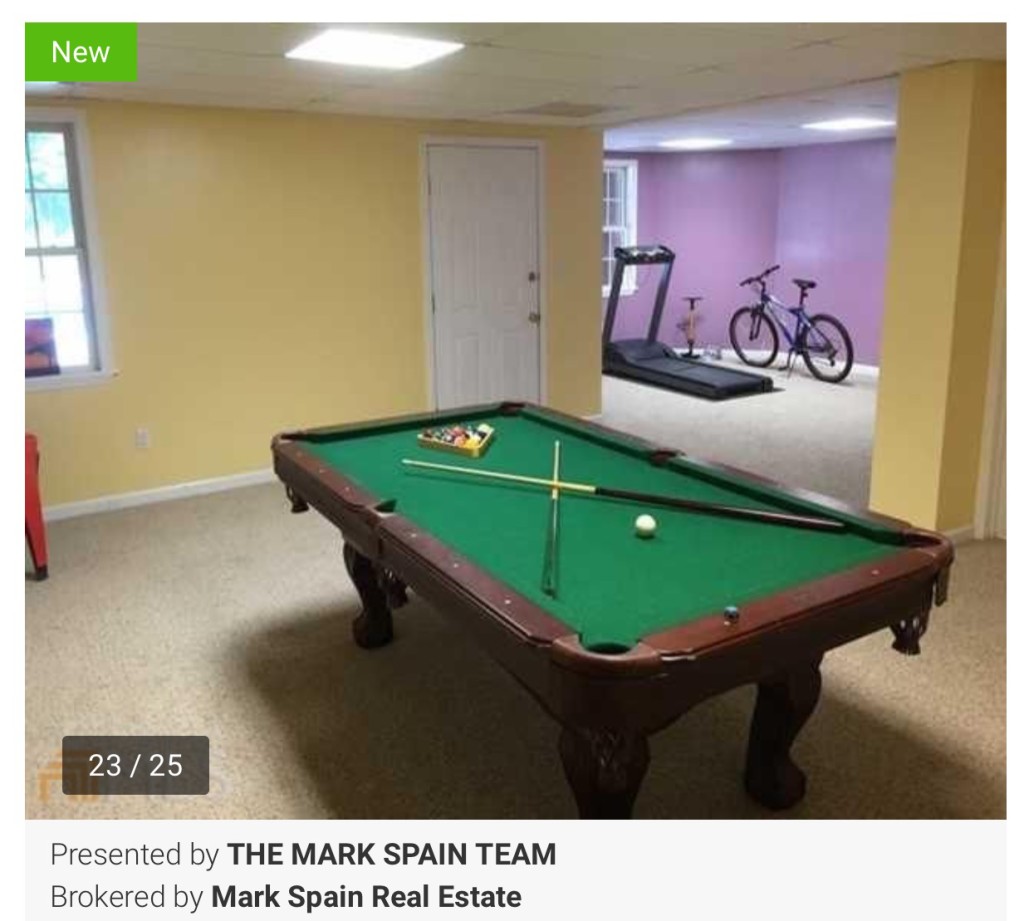 Last Fall:  Knowing a sale was planned "within the next two years", we started doing maintenance projects that had a "shelf life" of more than two years. We got rid of our goats, and did a massive cleaning job on the barn.  We repainted the interior of the garage.  We replaced a broken garage door opener.  Knowing we'd want a great first impression, I spent a weekend sanding down our front entry door and restaining it.  I then sealed it with 4 coats of varnish to "make it pop".  This stuff all takes time, and there's no need to wait until the last minute to make the fixes that you know need to be made.
Mid-December:  Seeking to find a realtor, but not really knowing how to select the "best" one, I reached out to Casey Lewis, who has an algorithm that picks the "best" realtor in your market at no cost to you (he gets a referral fee from the realtor, but swears it doesn't affect the way he's built his algorithm.  Based on our experience with him – I believe him).  I contacted him after hearing him in this podcast interview on Radical Personal Finance.  Selling your house?  Seek out Casey.  It worked for us, and I'd recommend it for you.  (By the way, Radical Personal Finance is the same podcast that interviewed me recently.  If you missed my interview, click here.)
January 26:  Potential realtor selected, we scheduled a late January meeting.  (By the way, our realtor's name is Heather Hall from Mark Spain Realty, and I highly recommend her if you're trying to sell a house in the Atlanta area!)  The original intent of this meeting was to decide what we should do to "spruce up the house" for potential listing in 2017.  However, our plans changed, and the meeting becomes a "We've changed our mind and want to sell now" meeting after my mother-in-law got transferred to a nursing home near our cabin, which required us to move earlier than initially planned.
Jan 27:  Blitz effort begins on prepping the house.  I've only got 8 days until I leave on an international business trip, so we hit it.  Hard. Rooms repainted ("Go Grey", said our realtor, it's THE color right now), piles of stuff taken to trash or given to charity.  Decluttering begins in earnest.  8 Straight days of nonstop working prepping the house for the photographer and potential buyers.  Daughter comes home from college to help with her stuff. Exhaustion, but well worth it in the end.
Jan 30:  On the advice of our realtor, we pay for a formal appraisal.  Our house is a bit unique (6 acres, large square footage, in the country) and "comps" are hard to come by.  Appraiser starts the process of valuing our house.
Feb 4 – 8:  I have to travel out of the country for 5 days due to business meetings in Dubai, significantly hampering the time we have available to prepare the house for the "listing photographer".  This dynamic of "blitz effort", then "work interference" continues throughout the entire sales process.  It's reality.  Deal with it.
Feb 11:  House Photographed For Listing.   Pictures came out beautifully!!  A realtor friend who looked at the pictures said "You can tell the folks who really put in the effort to make their houses shine for the listing photos, and their homes always sell the fastest."
Feb 15:  Pictures complete, and appraisal returned, we decided on a listing price 0.25% below appraised value, then a large "Below Appraised Value!!" statement was placed prominently across the listing.
Feb 16:  HOUSE LISTED!
Feb 19:  First Offer Received! It's a lowball, but it eventually led to a bidding war!  We kept the bid in play.
Feb 21 – 26:  I'm out of town all week at a "Global Meeting" with the top management from my company.  I had no idea we would get into a bidding war while I was on the road.
Feb 23:  Second Buyer Makes Offer.  My wife and I have a conference call with realtor (my wife from our mountain cabin near her mother's nursing home, me from a hotel at my business meeting).  We agree on a plan.  Our realtor works a few details, and we're where we want to be.  By 7:30 pm on Tuesday, Feb 23rd, it's official.
Feb 23:  Final Offer Accepted – Over Asking Price!
We couldn't be happier with the process thus far.  However, the acceptance of offer was only one step in a very long journey.  Things really got crazy after we accepted the offer, and realized we had to be out of the house by the March 24th closing.  Originally, I had included a "How To Downsize In 24 Hours" within this post.  However, the article became much too long and a bit unfocused with two topics consolidated into one article.  Therefore, I'm breaking this down into two articles, and will share the "downsize" portion next week.  Suffice it to say, accepting the offer was only 1 step in what has been a ridiculously crazy month in our lives.  Next week, I'll write about what we've done to deal with the reality that we have to get rid of all of our stuff in 30 days.  Hint:  The title of that article will be "How To Downsize In 24  Hours".
Lessons Learned:
Have A Plan:  We've had a downsizing strategy for several years as part of our "Red Zone" plan for retirement.  We knew it was coming, we just didn't know when.   Having this longer term plan gave us the time to make longer term maintenance improvements to the house before the "rush" of last minute preparation.  It also gave us the luxury of time to sell stuff we didn't need on Craigslist (like an old aquarium, an old refrigerator, etc).
Think Ahead:  I'm convinced that having pictures of our pool from the prior summer helped sell the house.  The pool is one of the "marque features" of the home, and it just wouldn't show well with a winter tarp over it.  Also, an empty basement rec room is far less appealing than the visual of a pool table and treadmill.  Both of these pictures improved our listing, but neither would have been available if we hadn't thought ahead.
Prepare Early:  If you think you'll be selling in the next 1-2 years, start working toward it NOW.
Reach Out To Experts:  We didn't know how to pick "The Best" realtor, so we reached out to someone who did.
Focus on NAILING the "Listing Photographs".  They are the KEY to selling your house at a solid price.  Don't sleep, if necessary, until your house is as perfect as it's ever been.
Get An Appraisal:  At the advice of our realtor, we paid $500 for an appraisal.  Happy with the results, we listed the home at a price 0.25% below the appraised value, but ended up actually selling it for a price slightly over the appraisal.  $500 well spent, with a great "return on investment".
Entertain All Offers:  The driver for our "above listing price" offer was the fact that we had a competing bid.  The "other" bid initially came in as a lowball offer, but we kept them in play long enough to create an honest bidding war.
In Closing
We're very pleased with the results we've seen thus far in our home sale process.  We're hoping all goes smoothly toward our March 24 closing.  We're confident that we've done as much as we can do to maximize the value of our home, and will now trust that the pieces of the process which are outside our control are handled well by the experts.  If all goes well, by the end of this month we'll have made one giant step in our long term plan toward retirement.
If your plans include selling a house at some point in the future, I'd love to hear any other ideas you're considering to maximize the value of your home.  If you've sold a home recently and have other tricks to help increase value, please share as a comment so all of The Retirement Manifesto readers can benefit from the experience!
Helping People Achieve A Great Retirement,
The Retirement Manifesto