In a strange twist of fate, I live in the most expensive neighborhood of a major metropolitan city.
It's a really, really expensive neighborhood.  What am I doing here?
This isn't me.
(After all, I'm a Green Acres type of guy!)
A bit of background for my newer readers is in order (thanks to the hundreds who have joined in the past weeks.  January was a crazy month for The Retirement Manifesto, and a lot of new folks have "discovered" this site.  Thank you!  Also thanks to J$ for letting me guest post on How I Became A 401(k) Millionaire, and for Physician On Fire for the awesome deep dive profile!).
In April 2016, we sold our house in the city and moved to our cabin in the mountains.  It was part of our downsizing strategy for early retirement, and it's working.  Unfortunately, I still have to work, and it's unrealistic to commute the 100 miles from our cabin on a daily basis.  So, for now I'm renting a small apartment near my office, and I stay there ~3 nights per week.
So, I'm now surrounded by wealth.  And it's…
All.
Around.
Me.
Big Money.  
It's been interesting to experience it, and to think about wealth.  So today, I'm going to outline what I've been thinking about, as I witness the insane display of conspicuous consumption on a daily basis.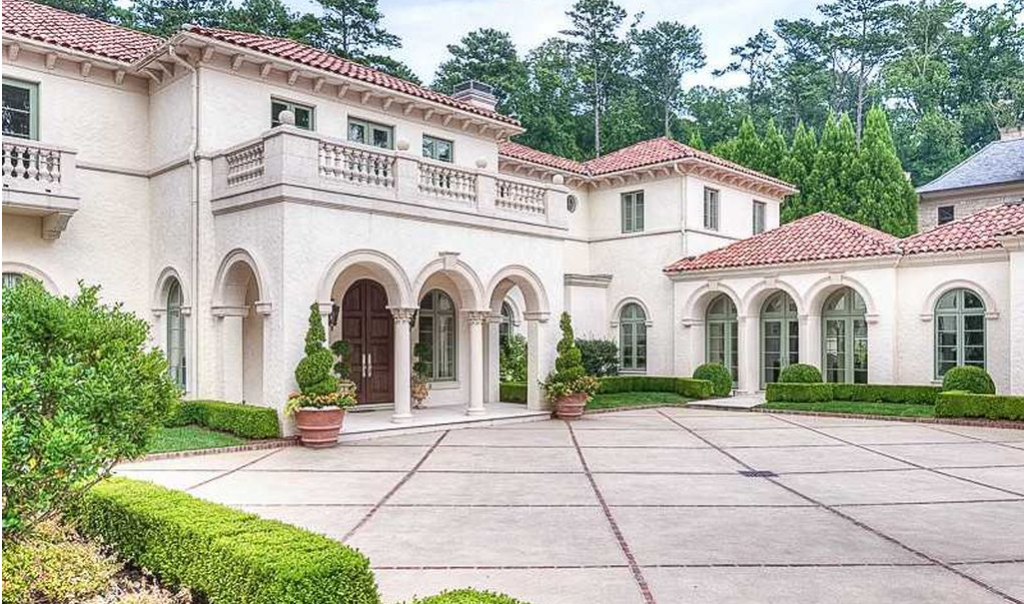 Obscene Wealth
I went for a 5 mile run last night, and really started paying attention to the wealth on display.  For mile after mile, I noticed:
Multi-Million dollar homes, everywhere.
Uber-wealthy shopping venues at every turn.
High end restaurants on block after block.
Porches, Jaguars, Teslas & Land Rovers fighting for position at the stoplights.
Ferrari's and Lamborghini's routinely sighted, hardly turning heads in this town.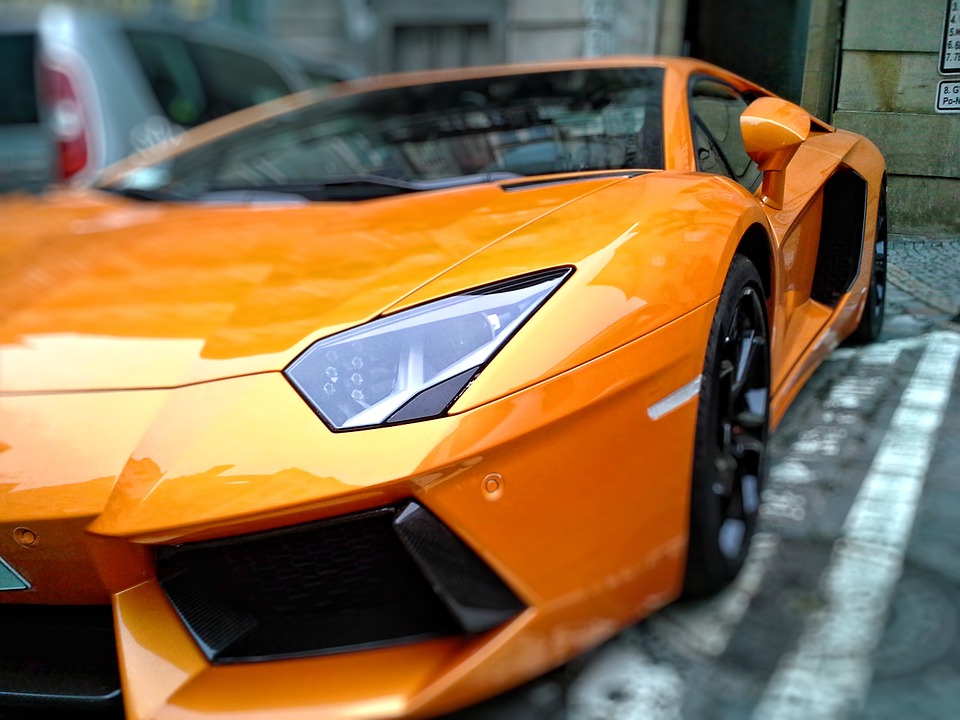 We're talking real, real wealth.  These folks are paying $30,000 / year or more in property taxes (yep, that's $2,500/month, forever!).
> 1%'er Wealth
My neighbors are the 1%'ers.  Heck, they're probably the .5%'s.  These folks are rich. (or, really deeply in debt)
Want some proof?
Below is a Zillow Map from a random part of my running loop.  It's absolutely typical of the "middle class" part of this town.  Also relevant, it's the location in my run tonight where the seed for this post was planted, so it has a place here.
It's interesting to look at the home values.  Here's what you'll see:
Homes on the map:  36 homes (yes, I counted!)
Most Expensive Home:  $4.9 Million (there on the right, top 1/3 of map)
# of homes > $3 Million:  7   (19%)
# of homes > $2 Million 16 (44%)
# of homes > $1 Million:  33 (92%)
Yes, you read that right.
92% of the homes in my neighborhood are > $1 Million!!
Click To Tweet
Here's a close up view of a few of the typical houses along my running route: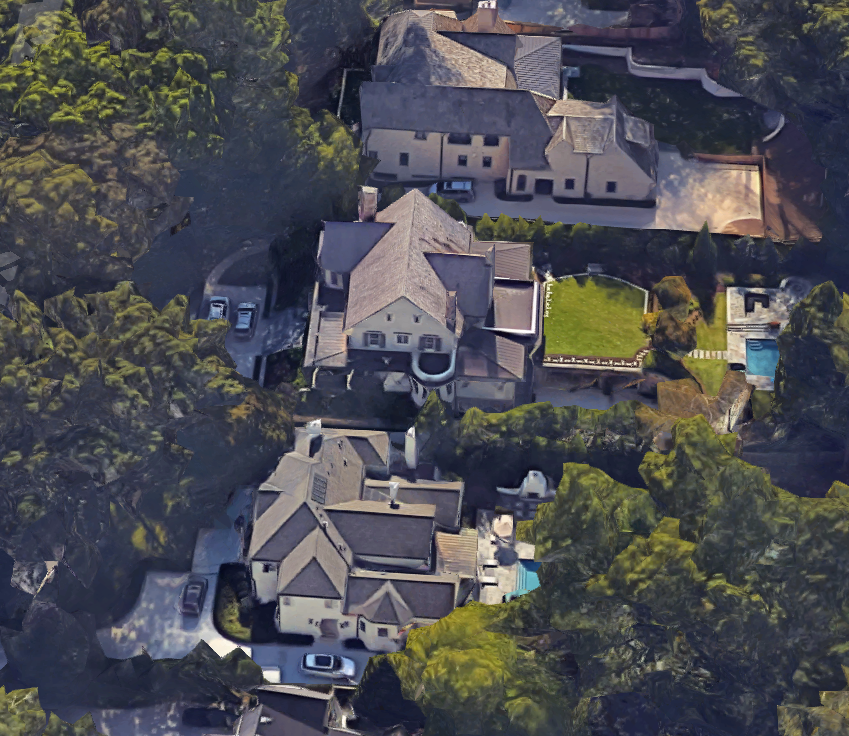 ---
Stealth Wealth
While my neighbors all live in "Million Dollar Mansions", I chose the simplest, cheapest 1 bedroom apartment I could find.  664 Square Feet. It's still costing me $1500/month, but it's nice to have a two block, walking (!!) commute. For now, it beats my "next best option" of commuting 200 miles a day in a city notorious for it's gridlock traffic.  Besides, I won't be here long.  FIRE (Financial Independence, Retire Early) is on the horizon, and I'll be leaving this city for good.
I live a life of Stealth, in a land of Wealth
Click To Tweet
While I'm here, I'm happy that the apartment complex has an awesome pool.  I consider it my "free entertainment" 9 months out of the year (I know I'm really paying for it, but it makes me giddy to think of it as a free perk).  9 Months of swimming?  Yes, I swam as late as November in this pool, with the water down to 48 degrees!.  I'm hoping to get back in at the tail end of February, if I can muster the courage for the cold water.  My neighbors think I'm nuts.  Maybe I am.
While my neighbors in the complex (Millennials, all) appear to dine out or hit the bars almost every night, I jump in the pool after work (or, the on-site fitness center), then cook up a quick Budget Gourmet dinner in my microwave. As the skies get dark, I kick back and work on my blog.  I'm writing these words at 9:00 pm on a Tuesday night, from my humble little apartment. Stealth wealth in action, no need to "Be Seen" in one of the hundreds of crazy expensive restaurants nearby (besides, I've got a FREE POOL to use!)
---
Living A Life Of Stealth Wealth
I also drive a 2010 Nissan.
My wife drives a 2011 Hyundai.
We save over 25% of our pay.
We quietly support our church and causes which are important to us.
We are 401(k) Millionaires (Thanks, J$, for letting me write the Guest Post, that was a fun one!).
We enjoy great vacations, every year (Norway, most recently, and The Caribbean this July).
Our house is a modest, but comfortable, cabin, which we bought for $180,000.
Our House Is Paid For.  In Full.
As of April 2016, we're entirely debt free!!  Stealth Wealth.
---
Stealth Wealth Vs. Visible Wealth
There are, of course, obviously differences between "Stealth Wealth" and "Visible Wealth".  I'm not judging between the two, I'm just comparing.  It's OK if folks decide they want to live a visibly wealthy life.  I firmly believe everyone has the right to determine how they want to live, and I applaud those who choose to spend their money in ways that they've deemed important.  It's just a comparison, is all.
Visible Wealth is, um, visible. Stealth Wealth is stealthy.
Click To Tweet
Stealth Wealth, like the Stealth Bomber at the top of this post, is designed to be invisible.  Visible wealth, while it looks good on the surface, may not be a true indication of real wealth.  Wealth is not defined by possessions. Even if you're talking exclusively about material wealth, a better definition than "posessions" is Net Worth.
While you may have a $2M house, what if you bought it for $2.5M and have a $2.1M mortgage?  Your Net Worth, with the decline in your home's value, would actually be a negative $100,000.
Is that wealth?
Conversely, that $2M house may have been purchased with cash, and the owner may have a Net Worth of > $10 Million. It's impossible to know by simply looking at the house.
Who's Wealthier? The Stealthy, Or The One With The $2M Mansion?
Click To Tweet
It is, of course, impossible to determine who has greater material wealth.
Who's wealthier:  My "neighbor", in that $2M Mansion and driving that awesome Lambo?  Or me, who humbly drives his 2010 Nissan in and out of his nondescript apartment?
I don't really care.  I'm fine with folks living in $2M mansions and driving nice cars.  Knock yourself out.  Personally, I could never accept paying a $2500 monthly property tax bill forever, but that's me.
For now, we're still living in a free country, and you can live your life however you choose to live it.
I've made my choice.  And you've made yours.
The Purpose Of Material Wealth
Each of us must decide, for ourselves, the purpose for our material wealth.
For some, they may get pleasure from conspicuous consumption, and use their wealth as a means to buy stuff.  If that's what makes you happy, I'm happy for you.  Just realize that you're likely handcuffing yourself to that desk for at least 10 years longer than necessary. Is the stuff really worth those 10 years of your life? (I hate to tell you this, but The Jones' really aren't that impressed by your stuff.  They're too busy worrying about their own stuff).
Your life, your call.
For others, Wealth Is A Tool To Gain Freedom.
As Rob Berger says on his DoughRoller podcast, "The Most Important Thing Money Can Buy, Is Financial Freedom".  He's clearly in the "Wealth For Freedom" camp.  (He retired early last year, by the way.)
So is my friend, Steve @ThinkSaveRetire.  He's crushing it, and just retired last month at the age of 35 (!!).  In his latest article "The Best Advice I Can Give About Retiring Early", he makes the following statement.  It's a perfect example of someone who is using their wealth for freedom, instead of material goods:
---
"I learned the expensive way that buying stupid crap doesn't bring me happiness."  Steve (Retired at Age 35)
---
How I'm Using My Stealth Wealth
I may live here (temporarily), but I don't fit in among this extreme display of conspicuous consumption.    I've made different choices than those around me, and my choices are not the choices that society deems "normal".
I'm an alien, in a foreign land.
And Yet, I'm Not.
In many ways, I'm the same as that guy with the Lambo.  It's just that my wealth has a different purpose, and is displayed in a different way.  Rather than buying stuff, my wife and I are using wealth as a tool to achieve freedom.
Stealth Wealth has given me the freedom to:
Start a blog at 52 years old, in spite of some potential career risk (If you don't know, it's strangely Politically Incorrect to talk about retirement in Corporate America).
Be Generous, and contribute to causes my wife and I feel are important. We tithe to our church, and support various other charities and Missionairies.
Sell our house and make a downsizing move to the mountains, while still working. Even now, I'm spending 4 nights a week in the mountains, while still working full time.  Not a bad transition plan!
Walk to work, and live in paradise on the weekends. (I also work from home on Fridays)
Soon, I'll never have to work again, and will be traveling the country for 6 months each year with my wife in our 5th Wheel.
(Sorry boss, not saying "When", even though I think I know the date.  Please don't fire me before I'm ready!  I'm glad I crushed that presentation to our CEO in The Boardroom last week, I think hope I'm safe for a while longer…When At Work, I Work!)
---
Conclusion:  Stealth Wealth
PERSONAL Finance is just that.  It's personal.  Each of us can decide if we want to spend less, or if we want to spend more.
Just because you choose to spend more doesn't make you "wealthy".
Just because I spend less doesn't make me "poor".
Whether you pursue Stealth Wealth or Conspicuous Consumption, I don't care.  I do encourage you to recognize the trade-offs of your choices, and think about what you're doing.
Life's about decisions, and money's no different.  Choose how to manage your money, choose how to display your wealth (or not).  Just realize that every thing you do with money is a decision.  Decisions have consequences. Spend like there's no tomorrow if you like, but realize you're chaining yourself to that desk in the process. I hope you like the feel of those handcuffs.
For my wife and I, Stealth Wealth Is A Path To Financial Freedom.
Our handcuffs are about to come off.
We can hardly wait.