For those of you seeking the Top Secrets To Retire Early, today is your day.  Below, I "bare all" in this overview of the 5 Top Secrets that allowed us to retire early.  Follow these secrets, and you'll be well on your way to following us into the Freedom that is Early Retirement.
Ignore them at your peril.
---
The 5 Top Secrets To Retire Early
Not to burst your bubble, but the secrets to retire early aren't secrets at all.  Rather, they're well-known techniques used by millionaires everywhere.  Many of the "secrets" are well documented in my post on The Millionaire Next Door.  The trick isn't in knowing the secrets, but rather in applying them in your own life.  Today, I outline the top 5 secrets to retire early, along with some tips to encourage you to apply them in your situation.
---
1.  Practice Forced Scarcity
We all know we should spend less than we earn, but how do you do it?
For us, our secret was "forced scarcity", where we automatically increased our savings whenever I got a pay increase.  For example, if I got a 3% raise, we'd increase our savings in our 401(k) by 2%.  Our take-home pay increased by 1%, so we felt like we had a bit more, but our savings increased even more.
When The USA Today wrote the story about how we became 401(k) millionaires, they included the following summary of Top Secret #1: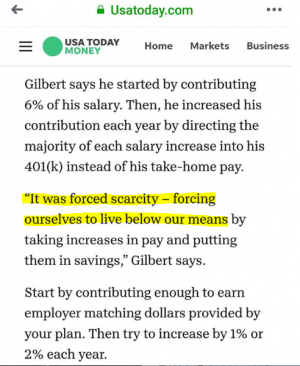 Force yourself to live on less than you earn by automating your savings, and increasing your savings by the majority of your annual raise.  Repeat annually, and you'll "automatically" avoid lifestyle inflation.  When you get that next promotion and a hefty 10% raise, follow the same principle and increase your savings by at least 70% of the raise. When you've maxed out your annual contributions to your 401(k), set up automatic ACH transfers into the mutual fund of your choice.  Don't accepting "maxing out your 401(k)" as an excuse to not continue to increase your savings with each pay increase.
Automate it, and Forget It.  It's one of the most powerful secrets to retire early.
---
2. Maximize Your Income
The second of the secrets to retire early seems obvious, but for some reason, most folks focus on Spending Less, rather than Making More.  You can only reduce your spending so far, but there's no ceiling on how high you can increase your income.  Make it a focus, and be intentional on increasing your income.
Crush Your Career.
In my guest post on Budgets Are Sexy, I included the following summary of my earnings during my first 6 years out of college.  Note that I doubled my salary in the first 5 years.  More importantly, I focused in that guest post on how I did it.
Bottom Line:  Go above and beyond, and demonstrate your worth to your employer.  Take on additional responsibilities, and show initiative that makes you stand out from the pack.  If they don't see your value, get introspective instead of placing blame on your boss.  If you're really as good as you think you are, seek out opportunities where your true value will be recognized.  Consider a side hustle while you're still working.
I doubled my salary in the first 5 years of my career by focusing on demonstrating my value. Secret #2: Maximize Your Income.
Click To Tweet
---
3. Practice Stealth Wealth
The third of the secrets to retire early involves a well-worn phrase, but it's important:
Don't keep up with The Jones.  
The Jones are too busy trying to impress YOU than to be impressed by what kind of car you drive. Secret #3: Practice Stealth Wealth.
Click To Tweet
The Jones are also too busy worrying about paying their huge mortgage to think about the house you live in.  They're also too concerned about keeping their grass green to notice how much water you waste watering your yard.  Water less, mow less, and never hire a yard service.
Buy less house than you can afford.  Period.
Drive an older car.  A trick I used throughout my career was to challenge myself to "Drive A Car For Less Than $1k Per Year".  For example, I bought a used Miata for $12k, drove it for 5 years, and sold it for $8k.  $4k of depreciation / 5 years of ownership = $800 / year.  It's VERY difficult to do, but it will force you to practice stealth wealth and drive older cars for a long time (it's the only way I know of to achieve the $1k/year challenge).
Manage your house and your cars well, and you're 80% of the way to living a life of Stealth Wealth.  Cars and homes are two of the biggest wealth destroyers, be VERY careful when you're facing a decision on purchasing either of these two items.  Restrain yourself, and be content with what you have.
In the conclusion of my article on Stealth Wealth I had the following quote, which is worth repeating here:
Just because you choose to spend more doesn't make you wealthy. Just because I spend less doesn't make me poor.
Click To Tweet
---

4.  Balance Your Sacrifices
The race to early retirement is a marathon, not a sprint.  If you focus exclusively on saving, saving, saving, you run the risk of burning out well before you've achieved the point of Financial Independence. Conversely, if you spend everything for the enjoyment of today, you'll never be able to retire.  The fourth of the secrets to retire early, Balance Your Sacrifices, may seem counter-intuitive, but it's aimed at creating a sustainable journey.
If you sacrifice everything today for the sake of tomorrow, life isn't much fun. If you sacrifice tomorrow for the sake of today, retirement is impossible.
Click To Tweet
Focus on a few things which you truly enjoy, and make room for them on your journey.  Sure, you may retire a few years later by spending a bit more today, but it's a tradeoff which we chose and would recommend for others.  You must decide for yourself what balance is appropriate, but decide you must.
We took wonderful vacations every year while our daughter was growing up, and have built a pile of memories which will last a lifetime.  Sure, we did it with frequently flier miles, and we kept our vacations reasonably affordable, but we used every bit of our vacation time.  Don't leave vacation time on the table.
Enjoy today, while saving for tomorrow.
Live a life of balance.
---

5.  Measure Your Progress
We all know the saying "What Gets Measured Gets Done".  If you're serious about retirement, there are some key measurements which you must put in place.  The 5th secret to retire early is to Measure Your Progress, and I'd suggest the following metrics are essential to achieving early retirement.
Note:  If you're not yet using Personal Capital, I'd encourage you to check it out.  Their dashboard will include all of the metrics shown below and more.  It's free, though they will call you a few times to try to get you to let them manage your money.  Just say no.  In full disclosure, the link above is an Affiliate link, and I'll get some revenue if you sign up.  Just trying to make a living….smiles.
Net Worth
If you're not yet tracking your Net Worth (tsk tsk), I strongly encourage you to read How Much Fuel Is In Your Tank.  That post explains what Net Worth is all about, and why it's important.  If you haven't built a Net Worth spreadsheet yet, feel free to use mine (just make do "File / Make A Copy" before you enter your numbers).  The value in tracking your Net Worth is the recognition that you're making progress.  The steps you're taking ARE increasing your wealth.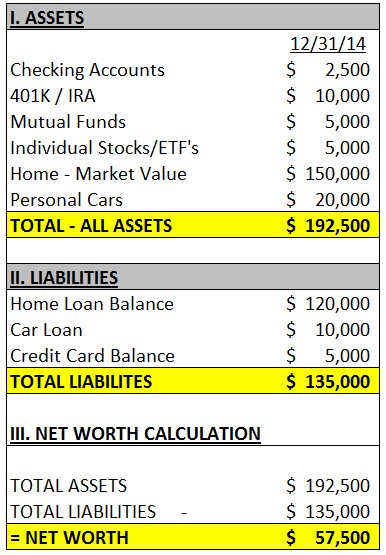 Be patient, and recognize that it takes a long time for compounding to kick in.  Stay at it, and enjoy watching your Net Worth increase year over year.  I've been tracking mine for 26 years, and I still smile when I update my numbers every December 31st.  If there's ONE metric you need to track, it's Net Worth.
Asset Allocation
As your investments grow, it's important to monitor your Asset Allocation to ensure that the risk your taking with your money is aligned with your personal risk tolerance.  I use Personal Capital to monitor my Asset Allocation, and every year-end I review the allocation and determine what adjustments I want to make over the coming year.
That's my Asset Allocation as of December 31, 2018.  Do you know yours?
Retirement Calculators
Since we're sharing secrets to retire early, I'd be remiss if I didn't encourage you to begin tracking a few retirement calculators as you get closer to retirement.  In my case, I used several which I outlined in The Best Retirement Calculator.  Every year, after I updated our Net Worth, I'd run a few of my favorite retirement calculators and save the output in a spreadsheet.  I compared the results year-over-year, and made sure we were getting a "green light" across multiple calculators before we pulled the plug.  I also developed my own Retirement Cash Flow Model, which projected our spending/investments/balances out to Age 95.  Feel free to use it (just do "File/Make A Copy" before inputting your data).
Retirement Spending Projection
Finally, as you approach retirement, it's critical that you develop a realistic estimate of your spending requirements in retirement.  You can't retire without knowing your spending needs. In our case, I tracked our actual spending for a year while we were still working, then modified it based on changes I expected in retirement (more spending on health insurance, less on commuting, etc.).  I also inflated each of the categories in future years to ensure that I was adequately addressing inflation risk.
I used this Spending Tracker to track our actuals, then input my adjusted retirement spending forecasts into the Retirement Cash Flow Model to ensure that our investment portfolio was sufficient to cover our spending needs in retirement with a safe withdrawal rate (see Early Retirement Now's Safe Withdrawal Rate series).
---
Conclusion
The secrets to retire early aren't really secrets at all.  However, beyond knowing the secrets, the real challenge for someone seeking an early retirement is to apply them in their everyday life.  Hopefully, today's post will give you some ideas on ways you can incorporate some of the 5 secrets on your journey.  In summary:
The 5 Secrets To Retire Early
Practice Forced Scarcity
Maximize Your Income
Practice Stealth Wealth
Balance Your Sacrifices
Measure Your Progress
I challenge you to "score yourself" based on the 5 secrets to retire early:
A+ You practiced all 5, and you've already retired!
A:  You're practicing all 5, it's just a matter of time.
B:  You practice 4 of the items.  (Time to get serious about the 5th one)
C:  You practice 3.  Time to step up, but retirement is within reach.
D:  You practice 2.  Retirement is slipping.
F:  You practice 1.  Don't you want to retire someday?
If you're practicing all 5, congratulations.  You're well on your way.   If my words help just one reader incorporate 1 additional item into their lifestyle, I've accomplished my mission of…
…Helping People Achieve A Great Retirement.
Your Turn:  What grade did you get?  Any secrets that I missed that have been important in your journey?  Let's chat in the comments…