The bear has come out of the woods.
The question is: were you prepared? We implemented the bucket strategy as our defense when I retired 4 years ago, and this year we're facing our first real test of the bucket strategy in a bear market.
After averaging a ~15% return for the first 3 years of my retirement, the market is undergoing a correction phase. Given the above-average returns in the market since 2009, it's not surprising that we're facing a reversion to the mean. Sequence of Return Risk is real and defending against it must be a fundamental part of your withdrawal strategy as you position yourself for retirement.
I've been vocal about our use of the Bucket Strategy, and have written a series of posts on the topic. Today, I'm adding the latest article to the series, "The Bucket Strategy In A Bear Market," to explain how the bucket strategy worked for us during this year's bear market, including the steps we've taken to manage the buckets throughout the year.
The entire series is outlined below:
---
The Bucket Strategy Series:
---
As outlined in the first two posts of the series, our main purpose in implementing the Bucket Strategy was to build a defense against Sequence of Return Risk, simplify our retirement withdrawal process, and develop a system that would allow us to sleep well at night regardless of market conditions.
The Big Question: How is The Bucket Strategy holding up in the bear market?
Today, I answer that question.
How is The Bucket Strategy working in the current Bear Market? Today, I answer that question.
Click To Tweet
---
The Bucket Strategy In A Bear Market
The bucket strategy series has been one of the most popular series I've written on this blog, and I've had numerous readers ask whether the Bucket Strategy in a bear market is meeting my expectations.
"What are you doing with your buckets?" is a common question.
The Bucket Strategy is designed for years like this, with "Bucket 1" holding 3 years of liquidity (primarily cash) to fund retirement spending without being forced to sell equities in a down market. As a quick refresher, below is a summary of each of the three buckets from the original post:
As I outlined in that original post, our strategy has always been to refill Bucket 1 when markets are good, and draw it down when markets are bad:
"Several times per year (I'll target quarter-ends) look for any asset class which has performed well, and sell portions of those investments to refill the cash in Bucket One. If (more accurately, when) we enter a major bear market, draw down the level of Bucket One for 1-2 years to allow time for your riskier assets to rebound."
And that, essentially, is exactly what we've done. It's always good to have a plan in place before a market event occurs, then simply review your plan and implement what you designed during calmer times.
If you're alert, you noticed the word "essentially" in the previous paragraph. In fact, we have done a few things that are worthy of sharing. I'll touch on those in the next section.
PS – I recently came across Ben Carlson's "How Should You Choose Your Asset Allocation?", and was pleased to see a very similar strategy outlined by a reader named John. That article is worth a read if you want another point of reference for the strategy I've implemented.
---
Bucket Strategy Actions Taken This Year:
Following are all of the steps we took while managing the bucket strategy in this year's bear market.
Click To Tweet
January: On January 5th, we topped off Bucket 1 bucket per our Year-End Financial Review protocol. On that date, the S&P 500 closed at 4700, near its all-time peak. We sold some mutual funds in our after-tax account and moved the proceeds to cash in the amount necessary to fill Bucket 1. The date of the sale/refill is highlighted by the red dot below: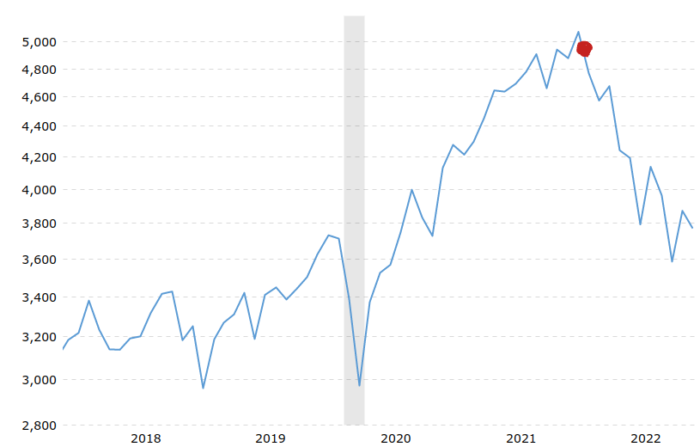 S&P 500 5-year history – last Bucket refill executed Jan 5th.
Note: We refilled Bucket 1 quarterly from 2018 through January 2022 to ensure it was always "full".
---
March / April: Unfortunately, my Dad passed away on February 22, 2022. He had two life insurance policies he had maintained for years, and my sisters and I each received a payout from the policies. The payout exceeded our YTD spending, so we refilled Bucket 1 and kept the surplus in our CapitalOne360 Money Market Fund until we could decide what to do with it.
---
May / Sept: Given the fact that we had "excess cash", we followed a similar strategy I had used successfully during the 2020 market downturn, as outlined in A Strategy For Buying Into A Bear Market. We executed two purchasing tranches on May 20 (S&P @ 3901) and Sept 27 (S&P @ 3630) to consume the excess cash remaining from the insurance payout. The purchase dates are shown as green dots on the following S&P 500 price chart:
---
June: We turned on the "drip refill" I had outlined in How To Manage The Bucket Strategy, summarized below:
A note about dividends. You could choose to redirect any dividends into your MMF rather than having them automatically reinvested. This could serve as a slow refill of Bucket 1, reducing the amount of refill trades required. We've not yet taken this move, but I've considered it.
Throughout my career and first 4 years of retirement, we had automatically reinvested dividends back into the mutual fund they were generated from. Given the ongoing bear market, we finally decided to pull the trigger on the drip refill, and now have the dividends deposited automatically in our MMF rather than being reinvested. This reduces the amount of selling required to refill the buckets, and I suspect I'll keep it in place from this point forward.
---
August: We executed what I'll call a "Roth Fungible Exchange" in August. Bear with me as I attempt to explain. We had some cash in our Roth accounts that I was considering Bucket 1, but didn't want to pull any funds from the Roth if we could avoid it. Based on a review of my Dad's (now our) holdings at his broker, we found an after-tax mutual fund he had owned that didn't match my investment criteria (higher expense than we could get at Vanguard). I instructed the broker to sell the mutual fund and transfer the cash to our checking account. On the same day, we invested the same amount of cash from my Roth account into some Vanguard mutual funds (being careful to ensure they were sufficiently different than the one that was sold to avoid the IRS "substantially identical" rule, since this was a form of Tax Loss Harvesting).
Essentially, the "fungible" move allowed us to maintain the same asset allocation, but "virtually" move the cash from a Roth to an after-tax account (and, at the same time, move the mutual fund exposure from an after-tax to Roth account). I trust that's clear. While it didn't increase the cash allocation in our buckets, it did move the cash from a Roth to after-tax, allowing us to access it from after-tax funds without reducing our Roth holdings. It also "moved" the stock exposure from after-tax to Roth, where it will grow tax-free for years to come.
---
September: We executed our annual Roth Conversion in September. While not a component of The Bucket Strategy, it's important to highlight that managing our Withdrawal Strategy is more comprehensive than simply managing the buckets. To optimize taxes over the duration of our retirement, we've been aggressively converting pre-tax IRA money into Roth accounts every year. 2022 was particularly attractive for conversions given the bear market (more shares moved for the same $ amount) and the potential 2026 expiration of our current favorable tax laws. We conducted a 6-figure conversion in 2022 and are planning to do the same for the next few years (at 59, I'd like to convert as much as possible before IRMAA premiums start being impacted 2 years before we begin Medicare).
Also worth noting, in the event the bear market continued to the point where Bucket 1 was dangerously low, a contingency plan was to skip the Roth conversion for a year. The conversions cause significant tax expenses (paid via Estimated Quarterly Tax Payments), and skipping a conversion in any given year would dramatically reduce my short-term expenses, extending the effective duration of the $ in Bucket 1.
---
November: I'm developing a new relationship with my Dad's broker, and we've had occasional phone calls since my Dad passed. We're considering keeping my inherited assets with the broker as a bit of a "test" in the event I no longer wish to handle my investments, or as a contingency plan for my wife when I pass away.
On November 4th, he suggested we consider selling our Lockheed Martin holding that was in my Dad's account. As shown below, the stock was at an all-time high and the analysts' ratings had moved from "buy" to "hold/sell." Given the counter-cyclical rise of the LMT stock, we decided to sell it at $479/share, as shown with the green dot below (LMT stock price history from macrotrends.com):
I instructed my broker to maintain the cash in our account until early January when we'll complete another Year-End Review and make our decision on how best to utilize the cash. It was a sizeable holding, and I suspect we'll use any remaining cash (after ensuring Bucket 1 is full) to complete our mountain homestead expansion project. (BTW: A quick update on that project: the excavation was started earlier this week…we're officially underway!)
---
Spending Pattern In A Bear Market
Finally, a note about our spending pattern during this year's bear market.
While it wasn't intentional, our spending has come in below the forecast we used in our retirement cash flow projection. Given that our RV trip was canceled due to COVID, we spent far less on travel than the $10k/year we budgeted. Add in the fact that our cost for health insurance is also below budget, and we're spending more low-cost time at our paid-for second home, and the result is that we're pulling at a Safe Withdrawal Rate of less than 3% based on our 12/31/21 account balances (in spite of inflation's reappearance).
Realizing our net worth has decreased* since 12/31 (and SWR has, as a result, increased), we're comfortable with the reduced spending. Of course, there is that homestead expansion, but since that is being funded by an inheritance we hadn't planned for, I'm excluding that from our "traditional" spending calculation.
For now, we're comfortably enjoying life and not worried about the recent market performance. I'm looking forward to doing a deep dive analysis during our once-per-year financial review in early January. I expect we'll return to our focus of spending vs. saving in January, but I'll wait to run the numbers before finalizing next year's retirement paycheck.
* NOTE: I have no idea how much our net worth has been impacted – I only check it once a year as part of our Annual Financial Review.
---
6 Lessons Learned About The Bucket Strategy In A Bear Market
Following are 6 lessons we've learned about the bucket strategy in a bear market.
Click To Tweet
So, what have we learned about The Bucket Strategy in a bear market? Below is a summary of my thoughts based on our personal experience this year:
1) It's Working
We're well into our first major bear market since retirement, and the bucket strategy has met the objectives we were striving to meet. We're sleeping well at night, and don't worry about the daily gyrations in the market. Apart from the sale of the Lockheed Martin stock at record highs, we've not sold a single equity that's declined.
A Note About "What If": What if my Dad hadn't passed away, and we didn't have any options to refill Bucket 1 during the year? I'm convinced we'd have been calm and patiently allowed Bucket 1 to "do its job" by allowing us to avoid selling holdings in a down market. We're comfortable with Bucket 1 getting down to <12 months of spending, if necessary, before considering selling something that hasn't fully rebounded. The plan is in place, it's simply a matter of emotionless execution. It's a nice way to live life in retirement.
2) Fill It Before You Retire, And Keep It Full (when possible)
Develop your strategy, then implement it.
I always encourage soon-to-be retirees to ensure they've filled bucket 1 prior to the date of their retirement. Sequence of Return risk is too significant to take a chance and assume you'll be able to put it in place after your retirement date. Folks argue that keeping 3 years in cash represents an opportunity cost ("you can make better long-term returns in stocks"), but I firmly believe that the real value of the cash is as an insurance policy against market downturns, like the one we've experienced this year. I'm willing to absorb that opportunity cost for the peace of mind I've had throughout the current bear.
Once it's in place, keep it full as long as the markets are participating. Our quarterly refill process worked well through our first 3 1/2 years of retirement and provided protection in the event the bear market appeared late in the year.
3) Don't Panic.
Once the bear market appears, don't panic. Realize you have 3 years of cash set aside and you'll likely have sufficient liquidity to avoid selling stocks before a recovery. Have a plan in place, then follow the plan. It's reassuring to run this calculator at officialdata.com and realize the market has returned an annualized 8.24% since we retired, in spite of this year's bear market. As Ben Carlson points out here, the 10-year average return for a 60/40 (stock/bond) portfolio is also at 8% in spite of the current bear.
Returns will always be volatile, but two things really matter:
Avoid selling stocks after a downturn.
Focus on long-term (not annual) returns.
The bucket strategy has allowed us to do both, and the long-term returns since our retirement date are still sufficient to provide long-term growth and protection against future cost-of-living increases due to inflation. Build an asset allocation that you're comfortable with given your risk tolerance, then get on with living life.
4) Use unexpected cash inflows to refill the buckets.
In spite of the fact that both stocks and bonds are down this year, Bucket 1 remains full as we approach the end of the year. Our unexpected cash was the result of my Dad's passing, and I miss him every day. Regardless, the reality is that in spite of planning $0 income in retirement we've had unexpected inflows every year (I wrote a book, make a bit of $ from this blog, and serve on a Board). There's value in planning conservatively, and having some surprises to the upside.
5) Look for counter-cyclical winners
We had expected to use bonds to fund our retirement spending in the event of a bear market, but they haven't been cooperating this year. Fortunately, my Dad invested in individual stocks and we were able to find a "winner" (LMT) in spite of all the carnage in the streets. In the worse case, we would have continued to draw down Bucket 1 for two more years, and I fully expect we'd have been able to find something to sell to refill the bucket before it was entirely depleted. As a last resort, we could have sold whatever had "declined the least" to generate cash if required.
6) Don't Be Afraid to Buy Stocks
When you find yourself in a situation with "excess cash", recognize that buying in a bear market can be a viable strategy. Purchasing stocks after a decline actually reduces your risk of loss and increases your odds of greater long-term returns. Make sure the money invested is not money you'll need to cover your spending for at least 3 years and recognize there could be further losses before stocks ultimately recover. It's not for everyone, but I've done it for the past 35 years and my risk profile supports the strategy. If you're thinking about it, make sure you recognize all of the risks and implement a system rather than relying on instinct.
I've outlined our system in A Strategy For Buying Into A Bear Market if you're interested in the details.
---
Conclusion
With almost a year of actual experience, the bucket strategy in a bear market continues to meet the objectives we were targeting when we put the plan in place. We recognize there's some opportunity cost in holding 3 years of cash, but view that as an insurance expense that's paying us back in spades during this year's bear market.
Having some cash is an effective approach to avoid the damage sequence of return risk can have on your ability to fund your remaining years of retirement. Don't panic and sell stocks (or bonds) after they decline, but rather develop a long-term strategy and focus on emotionless execution.
If you've been uncomfortably nervous this year, re-evaluate your asset allocation and strategy for funding your retirement expenses. The bear will go back into the woods soon, only to reappear again in a few years. Look for opportunities to build your defense, and design a plan to deal with the bear.
The bear may hide from time to time, but he'll never go away.
Don't let him spoil your retirement.
Your Turn: Did you have a plan in place prior to this year's bear market? How has it worked out? In hindsight, what would you have done differently? Finally, what advice would you give to someone on the cusp of retirement? Let's chat in the comments…