For most of us, retirement is a time of life to look forward to. The land of milk and honey!
For others, it's not.
Today, we're going to look at some of the issues that bring out The Dark Side Of Retirement, and give you tips on how to mitigate the risk of these darker issues negatively impacting your retirement.
For most, retirement is a wonderful time of life. For others, it's not. Today, The Dark Side of Retirement.
Click To Tweet
While the majority of content about retirement focuses on the positives, the reality is that many folks struggle with retirement. Unfortunately, those who struggle often suffer in silence and the dark side of retirement is often under-reported. It's important to provide information to folks who may be facing some challenges in retirement and let them know they're not alone. It's also important to share resources where folks can get some help, which I've done at the bottom of this post. If I reach one person who needs help, the effort in writing this post will be time well spent.
Financial Realities
According to this article from The Balance, only 17% of companies offer pension plans, down from 62% in 1983. The burden for retirement planning has shifted from employer to employee and many folks have not taken their responsibility to plan for retirement seriously. Some other facts from the article:
1/3 of Americans have less than $1,000 saved.
56% of workers don't know how much they need to have saved for retirement.
35 Million Americans pay only the minimum every month on their credit card bill.
A shocking 80% of Americans cannot afford to retire at all.
Throw in the 2008 market crash and the reality of today's low-interest-rate environment, and it's no wonder that many folks have struggled to save enough for retirement. For some additional facts on the woeful state of retirement preparedness among today's Baby Boomers, see my article "Are Baby Boomer Retirements Doomed".
It's no wonder, then, that 65% of people who say retirement is less enjoyable than their working years cite financial concerns as their primary issue:
---
Source: AgeWave/Merrill Lynch study
---
Even more concerning, 73% of folks don't plan to retire until Age 65. However, as I wrote in "Will You Be Forced To Retire Early", fully 60% of people retire earlier than they had planned. Half are driven to retirement due to health problems or disability, while another 25% had to take care of their spouse or family member. Finally, only 20% were forced into retirement due to downsizing at their companies. Only 7% of retirees were able to retire because of good planning (though I suspect that number is much higher among my readers, and I congratulate you for taking your responsibility seriously).
If you're late in saving for retirement, realize there is hope. If you read through the two case studies I've published previously (Starting Late, But Retiring Early and It's Never Too Late To Start Saving For Retirement) you'll find details on the steps people who have been in your shoes have taken to rectify their situation. Don't put off saving for retirement any longer. Read those posts, and start implementing some corrective action. When it comes to The Dark Side of Retirement driven by lack of financial savings, only you can improve your situation.
---
Will Retirement Be Depressing?
Every day 10,000 baby boomers turn 65, and many of them will struggle with their transition to retirement.
In addition to financial concerns, many folks struggle with depression or other psychological problems when moving from pre- to post-work life. In my article "Will Retirement Be Depressing", I noted a study that cited retirement increases the probability of depression by about 40 percent. Others suffer from a loss of identity, particularly when their response to "What do you do?" has been answered for decades by focusing on what they did for a living.
For others, retirement diminishes their sense of well-being by reducing the social contact previously enjoyed at work. When people have spent the majority of their time fostering relationships with co-workers at the expense of people outside the workplace, there is a natural sense of isolation following the move into retirement.
I've known people who have dropped into the depths of depression and alcoholism following their retirement, and it's a truly sad thing to see. After working for so many years, no one should have to face their final years of freedom dealing with the dark side of retirement. It's one of my primary motivations for writing this blog, and the reason I've chosen the byline of "Helping People Achieve A Great Retirement". It's also the primary focus of my upcoming book.
If you're struggling with depression or other "dark side of retirement" symptoms, there's nothing worse than hearing someone say "Hang in there, you'll be fine after some adjustment". For many folks, it's not that simple. Below are some suggested steps:
First, spend as much time as possible before retirement planning for your life after work. Research has found that this is the single biggest factor between those who have a successful retirement versus those who struggle. As you're thinking about your life in retirement, begin to intentionally accelerate your development of interests outside of work. You should begin this effort in your final 3-5 years in the workplace. Begin to "ramp up" your external life as you approach retirement, and be intentional in "ramping down" how much time you think about your work.
Second, begin developing alternative means to replace the socialization and self-esteem that work brings, and begin that development as early as possible in your retirement planning process. 25% of retirees return to the workplace at some point in their retirement, and most do it for non-financial reasons. I've got no problem if that's what you decided to do, but I'd encourage you to attempt to find non-work related activities to meet your needs as an initial step before jumping back into the world you just escaped. That said, if you do choose to return to work, make sure you do it on your terms and only into a situation that you believe will improve your life in retirement. Since you're no longer driven by financial needs, put a priority on the things you're seeking to escape from the dark side of retirement, and don't accept anything that falls short of your expectations.
Third, focus on your physical fitness. As I was working on this post, I had a nice chat with a guy who lives a mile down our dirt road. He walks by our house every day on his 2.5-mile loop and I see him frequently. He's suffered a bit with depression in retirement and was explaining to me how much better he feels since he's starting his walking routine. Ironically, I was on my way home from the gym when I saw him, and told him that his experience mirrors the finding of the researchers, who recommend getting outdoor exercise as one of the best things you can do to battle depression.
Fourth, begin populating a list of bucket list of things you'd like to do in retirement. If you're already retired, but struggling, identify a future date to do something you've always wanted to do. Look forward to it with anticipation, and have it be a bright spot in your dark days. Keeping busy in retirement is the best way to ward off the dark side of retirement that "boredom" represents. For the first time in your life, you're 100% responsible for filling your day so start planning what you'll do to fill that time long before you reach The Starting Line.
Finally, do some soul searching on what really matters to you in life. Think about your attitude, and whether you want to focus on the bright side or dark side of retirement. Now that your days of working are behind you, what do you want to do that's truly important? Finding a Purpose that motivates you in retirement is the most important thing you can do in your Golden Years, and those that find "it" are the ones who experience the best retirements.
Focus on all aspects of life including spirituality, and hone in on those areas that may allow you to "give back" to others. Being generous and making a difference in people's lives is the best way to ward off the dark side of retirement, and it's one the primary reason I write this blog. Try anything that may interest you, and seek out those things which will provide mental stimulation and social interaction. Don't think too hard, just focus on taking those first few steps and see where things lead. Be curious, and be willing to fail. If you're lucky, you'll find something that clicks, like my wife did when she started her non-profit Freedom For Fido, which has become a major Purpose project in her retirement.
---
It's Not All Darkness
There is some good news amongst the darkness. As shown in the AgeWave study cited earlier, it would appear that the dark side of retirement is the exception rather than the rule. The majority of people find retirement to be a fulfilling stage in life. Realize that the transition from work to retirement is a process that often takes several years to complete. Be patient and take some steps to find the Bright Side Of Retirement. Speaking as one who's living in the light, I can assure you it's out there. Sometimes, it just takes some time to find.
Based on the data, a large majority of retirees experience a sense of wellbeing in their senior years which exceeds any other period in their life, as demonstrated by these following charts: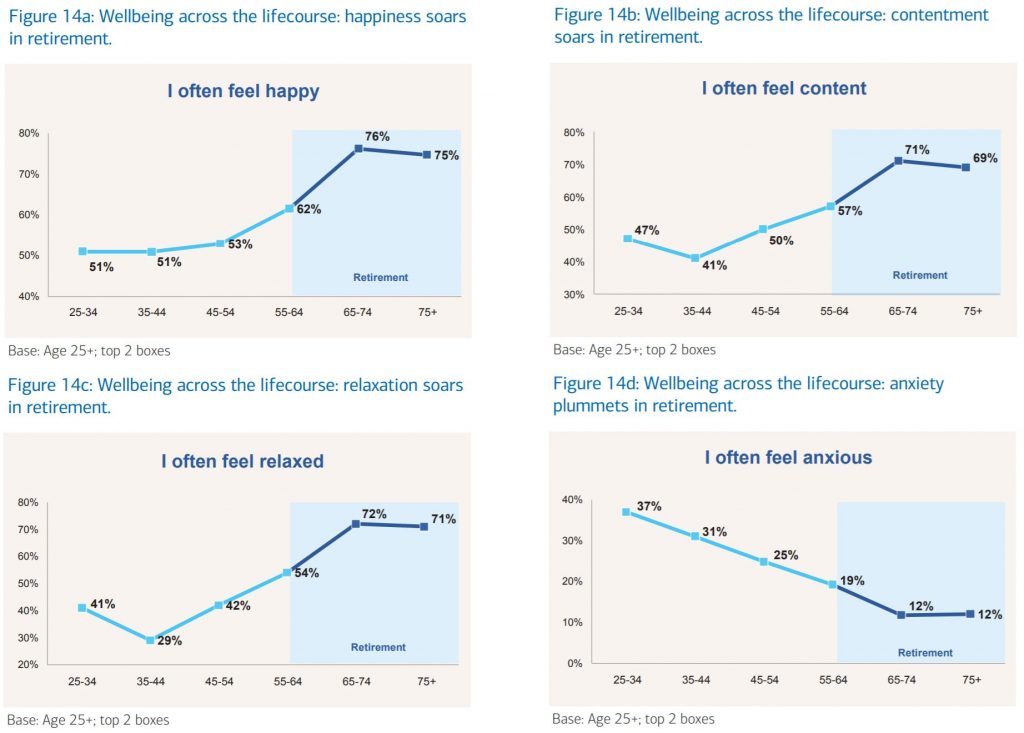 For those of you who are dealing with the dark side of retirement, there is hope. If you're struggling, please read through some of the other articles linked throughout this post. Most have recommended action steps that you can incorporate into your life to help smooth out your transition into retirement.
If, however, you find yourself facing more serious issues of depression, please don't suffer in silence. Below are some resources which are available to help. These licensed professionals dedicate their lives to helping others who are struggling, and they're available to help you. Don't be afraid to ask. Just click on a link below, and take action to improve your situation.
---
Resources
SAMHSA: The US government's Substance Abuse and Mental Health Administration. Call (800) 662 HELP (800-622-4357) or find them online.
BetterHelp.com: Affordable, private online counseling utilizing licensed, professional therapists.
Alcoholics Anonymous: A national organization that has helped thousands overcome alcoholism.
HelpGuide.org: An online mental health resource providing empowering, evidence-based information that you can use to help yourself or your loved one.
Mental Help America: A non-profit dedicated to promoting mental health.
Christian Counseling: A link to the top online Christian counseling sites.
---
Conclusion
While retirement is a positive experience for most people, there is a significant minority who suffer in silence. If you're one of these people, don't let the dark side of retirement consume your life. Try applying some of the suggestions which resonate with you in this post, and never be afraid to reach out if you need professional help. In time, you can work through the difficulties. Identify one or two things you'd like to change, and take that first step.
Your Turn: Have you suffered from The Dark Side Of Retirement? If so, what have you found to be helpful? Let's share ideas for others who may be suffering the same fate.