I never thought I'd write these words, but we just bought a second home in retirement!
Today, we're making the official announcement.
More importantly, we're sharing the logic behind our decision.
We just bought a second home in retirement! Today, we share the logic behind our decision.
Click To Tweet
Why We Just Bought A Second Home In Retirement
Have you ever noticed how often things come out differently than you expect?
Shortly before I retired, we sold our "City House" and moved full-time to our retirement cabin in the mountains. We thought we were done with owning a second home.
We were wrong.
On December 22, we plunked down some cash and walked out of the closing with a new set of keys to a second home in retirement. We spent the week of Christmas enjoying our new home, a tidy 1,350 sq ft "cottage", with 3 bedrooms and 2 baths.
Huh, what?
---
Why We Bought A Second Home In Retirement
Ok, some explanation is in order.
After all, Fritz is a planner, right? Heck, he writes all the time about how important planning is to a successful retirement. He'd never just spontaneously plunk down a pile of cash and buy a second home, would he?
No, he wouldn't. (and neither should you).
The decision to buy a second home in retirement was driven by an unplanned life change, a lot of soul searching, and some serious discussion between a husband and his wife. In short, a lot of thinking about the things that matter.
And, the things that don't.
A Thing That Matters: Spending time with our two-year-old granddaughter.
My wife and I have looked forward to being grandparents. Two years ago, our daughter and her husband had a beautiful baby girl, Octavia Rose. Unfortunately, they lived 2,500 miles away in the Pacific Northwest.
Our decision to buy a second home in retirement all started when we received word that our daughter and her family were moving from Seattle to Alabama. After 3 years in the Pacific Northwest, they were going to be "just down the road" in Southern Alabama. We were thrilled. We were going to be given the opportunity to spend a lot of quality time with our granddaughter during her critical developmental years.
Heck, we even had an RV we planned on parking near their town as our "base" for visits.
Therein lies the problem.
Turns out, there aren't any RV parks nearby that offer long-term seasonal rental. Well, there are several, but they aren't any place you'd want to spend your time. We're easy to please, but I don't particularly want to live amongst old trailers where the inhabitants are more likely to be cooking meth than chicken in the kitchen. Yeah, they were THOSE kinds of RV parks. There was only one we seriously considered, but it was too expensive ($6k/year), and not terribly convenient.
---
What If We Could Stay For Free?
After several visits to our daughter's "new" hometown in Southern Alabama and researching the available RV options, we decided to have a look at real estate.
What if we could find a place that would pay for itself?
A place that would provide the option of generating rental income to offset our ownership costs? A place with a fenced in yard so we could bring our dogs? A place with an HOA that took care of all external maintenance?
Rental Potential:
Nearby Fort Rucker is the largest helicopter training base in the country. Pilots routinely cycle through the base for 2-week training sessions to maintain their flight readiness. Too long for a hotel stay, but perfect for a 2-week stay in a nearby rental. With our experience renting out our retirement cabin before retirement, we're comfortable managing a short term rental property via AirBnB.
The bonus for us?
With tenants only staying 2 weeks at a time, we're free to use our second home in retirement for frequent visits with our granddaughter. Potentially a zero-cost option! In addition, since our daughter lives in the same town, we have "feet on the ground" if there's ever a need to pay a visit to the property.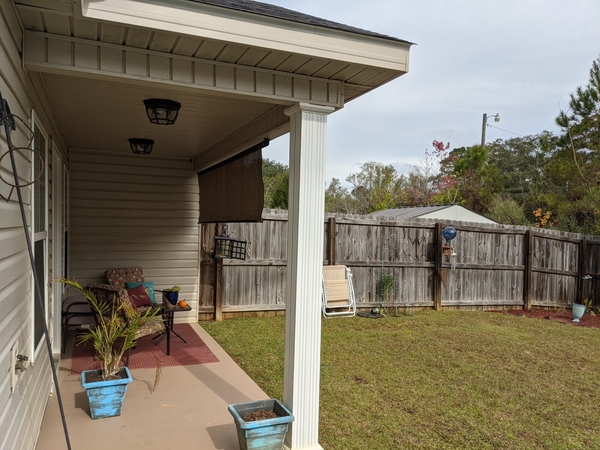 Maintenance Free:
Unlike the secluded setting of our retirement cabin, our second home in retirement is located in an HOA-managed townhouse development. It's a stand-alone "cottage", and a perfect match with our needs. Even better, the development takes care of all external maintenance, keeping us free from having to worry about mowing the yard at our second home.
---
Financial Considerations
Since this is a personal finance/retirement blog, the financial aspects of buying a second home in retirement are important to discuss.
First, what were the other options we considered prior to buying the home?
Stay With Our Daughter: Free!! Unfortunately, both of our families have 4 dogs. Putting 8 dogs together "detracts" from the enjoyment of our time together. In reality, staying with our daughter isn't a viable option.
Hotel: On our last visit, we stayed 4 nights at a local hotel. We couldn't bring our dogs along, so we paid a house sitter $50/day to watch our dogs at our retirement cabin. Add in $452 for 4 nights in the hotel, a few meals out (since we can't cook in the hotel), and you're over $700 / visit. We're planning on visiting a week per month, so that would add up in a hurry. There's got to be a better way.
Haul The RV: We could haul our RV the 300 miles (each way), but we don't want to put up with that hassle every time we visit them. Hauling a 35′ fifth wheel through downtown Atlanta every month isn't appealing. Add the gas costs of a 600-mile drive (~$150), plus the campground fees (~$250 for a week), and we're still looking at a $400 bill for our weekly visit. Add the inconvenience of transport/set-up, and hauling the RV becomes a less than optimal solution.
AirBnB: We'd love to stay at AirBnB's with our dogs, but we've yet to find a "dog-friendly" rental in the area that would welcome our 4 dogs (Ah, a marketing opportunity, perhaps?). Try as we might, the AirBnB's in the area don't allow dogs. It appears they don't have to, given the plethora of pilots passing through during flight training…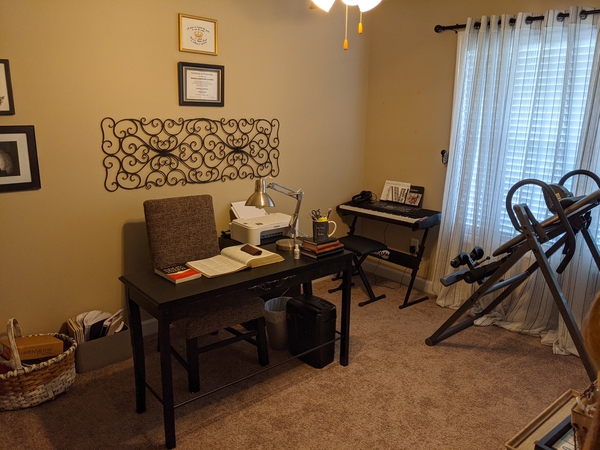 Once we decided on the route of buying a second home in retirement, the focus shifted to the financial implications. First, we set a low target price for our home search and kept our focus on the type of home known to have a quick resale near the military base. We also wanted a home that would be appealing to short term renters, increasing our odds of generating rental income with the property.
We view our second home as an asset allocation decision. At any point in time, we can choose to sell it. We don't need it to live. Therefore, unlike our primary residence, we will count its value as part of our retirement portfolio. Since we hope to cover the "carrying costs" (e.g., utilities, insurance, etc) via rental income, it shouldn't increase our retirement living expenses. To be cautious, we ran the numbers to ensure we could cover the operating costs in the event rental income falls short. Worst case, we can cover the costs while staying below a 4% Safe Withdrawal Rate, so we're comfortable in the decision. On the upside, it could actually result in income if the rent exceeds our expenses, especially considering potential appreciation on the property over time (inflation hedge?).
To pay for the second home in retirement, we sold some of the stocks that I bought at the market low back in March. They've had a nice runup since that fortuitous purchase (+100% for the Small Caps), and we decided a reallocation from equities to real estate was a reasonable move. In addition, we drew down the excess cash we've been carrying and sold some bonds for the balance of the purchase price. We continued to maintain a 3-year cash position in Bucket 1 of our Bucket Strategy.
In summary, we increased our real estate allocation and reduced cash, bonds, and equities. Our Targeted Asset Allocation continues to be a conservative blend, and we find comfort in the increased diversification the real estate investment brings to the portfolio. To keep things simple, we decided to pay cash for our second home. Sure, interest rates are low, but we didn't want to deal with the hassle of going through the process required to secure financing. Ah, the convenience of financial independence. We've purchased 11 homes in our lifetime, and we've never had a closing process go so smoothly.
Bottom Line: The decision to buy a second home in retirement was driven by our preference to spend a lot of time with our granddaughter during her early years. Thinking through the pros and cons, buying a second home best met our objective, with the added benefit of providing the best financial solution to our needs. We're tweaking our asset allocation slightly, and we're maintaining plenty of liquidity to fund our retirement lifestyle. In the worst-case scenario, we're comfortable that we can cover 100% of the expense. On the upside, we may actually make a little money out of the deal. From a planning perspective, we're expecting to break even, and have a place to stay for free whenever we decide to head to Southern Alabama.
Most importantly, we're going to savor every minute we're able to spend with our granddaughter. Building the life of your dreams is what a successful retirement is all about. We're blessed to see this dream come true.
---
Conclusion
Money isn't the goal of retirement. Money is only a means.
The means to live our dreams in retirement. Our dreams include spending quality time with our granddaughter and her parents. After much thought, we're 100% comfortable with the financial and risk elements of buying a second home in retirement. If all goes well, our little Alabama cottage may actually generate a bit of excess rent income. If all goes poorly, we can handle the costs.
The value?
Priceless.
---
Your Turn: Have you ever considered buying a second home in retirement? Are you interested in renting a cabin in Southern Alabama for vacation? It's only 40 miles from Florida, and I know a guy…