555 Days ago, we sold our "big house" in The City and moved to our retirement cabin in the mountains.  As soon as the proceeds from the sale of the "City House" landed in our bank account, we wrote the biggest check of our lives, paid off the cabin mortgage and became officially 100% DEBT FREE!!  (I was so excited that I wrote about it here).
---
How then, are we now $171k in debt?
"What went wrong?" you ask.
---
It's all part of the Plan.  It wasn't part of our original plan, but Our Plan Was Wrong. We Planned Anyway.  One of the things we've learned during our Final Approach into retirement is that you have to remain flexible. Plans change, and that's ok.  As long as you're making improvements to move From Good To Great, it's fine to change the plan as the situation changes.  It's part of life, and it's easier to swim with the current (just make sure you're steering the boat).
We were Debt Free! Why, then, are we now in debt? What went wrong?
Click To Tweet
This post is part of an ongoing series Moving From Good To Great, which is documenting our last "Working Year" and our final adjustments for a Great Retirement.  A summary of the series to date:
The Good To Great Series:
---

---
Why We're Taking On Debt To Move From Good To Great
Is all debt bad?  Not in my mind, and not in the view of Investopedia.  It's important to know the difference between "Good vs. Bad" debt, and think through the implications before you intentionally incur ANY debt.  Once you understand the power that Good debt can provide (and the cost required to obtain that power), it's worthwhile to look at debt a bit more strategically.
When does it make sense to intentionally take on debt?
In our case, it made sense as part of our move from Good To Great.  Today, I'll tell you why.
---
Reason 1:  Low-Cost Debt
When we thought about moving from the "Good" to the "Great" cabin, we had a variety of decisions to make:
Is the "Good" cabin "Good Enough", or do we want to make a move for "Great"?
If we move for "Great", do we buy the "Great" cabin before or after we sell the "Good" cabin?
If we buy before we sell, do we have the liquidity to pay cash?
What's our best option to finance this "Move To Great"?
The answer to the first 2 questions was a resounding "Yes".  We paused on the third question regarding liquidity and gave it deeper thought.  While it was possible for us to liquidate some investments to pay cash for the new "Great" cabin, was it necessarily the best course of action for us?  
That question led naturally into Question #4 – What's our Best Option To FInance All Of This?
We locked in a $171k 15-year mortgage at 3.5%. The benefits were worth the cost.
Click To Tweet
The primary driver behind the decision to take on the mortgage was today's historically low interest rates.  As you'll see shortly, there are additional reasons why we chose to take on the debt, less than a year from our planned retirement.  Those factors, however, would have been outweighed by a more "historical" (e.g., higher) interest rate.  We looked at it as a pure cost-benefit calculation, and I'll be the first to admit that cheap money drove our final decision.  I'm not alone, as some CFP's are now recommending folks shouldn't pay off their mortgages due to current interest rates.
We've thought it through, and we're comfortable with our decision.  Had it not been for the historically low interest rate we were able to secure, the decision would have likely been different.  I continue to ponder on it and may change my mind again in the future.  The Plans Always Change…..Plan Anyway
---
Reason 2:  Build Low-Cost Options
In my "Day Job" as a commodity trader, I'm always looking for low-cost options for the benefit of my employer.  In my view, it's the primary value I bring for the salary I'm paid. I create value for the company, for a cost lower than the value of the option.  Easy, right?  Free options are even better than low-cost options, but most counterparties in my trade are on to that game and realize the value of the offerings they provide.  If you want optionality, you typically have to pay for it.  But, if you know where to look, you can sometimes find it for a price that makes sense.
Options have value in business and in life.  In our personal case, we were looking for Flexibility and wanted to build some low-cost options to provide the maximum flexibility at the lowest cost.  Having choices provides value.  The trick is to find options which cost less than the value they provide.
In Business or in Life, Options Have Value. Sometimes they're worth more than they cost.
Click To Tweet
As we approach our final transition into retirement, the option of flexibility has value.  And today's low-interest environment provides that value at very low cost.  In our situation, the cost was less than the benefit that the flexibility provides.  For us, it made sense to exercise our option.  We took on the debt.
Reason 3:  The "Easy" Button To Freedom
While it was, technically, possible to liquidate enough of our investments to pay cash for our "Great" cabin before the sale of our "Good" cabin, it wouldn't necessarily have been easy.  There would have been tax consequences of "selling some winners", and we would have had to re-invest the money after we completed the sale of the "Good" cabin.  Risks of price movements during the gap were real, and our asset allocation would have been "off-kilter" for the period of time required to sell the Good cabin.  It was possible, but it wasn't Easy.
Another factor in our thinking was that we wanted the freedom to move at our own pace.  We had decided to take our time and move everything ourselves from the "Good To Great" cabin and knew it would take some time with our little utility trailer.  It was a crazy 7 Day Move, And We Learned A Lot about Moving From Good To Great.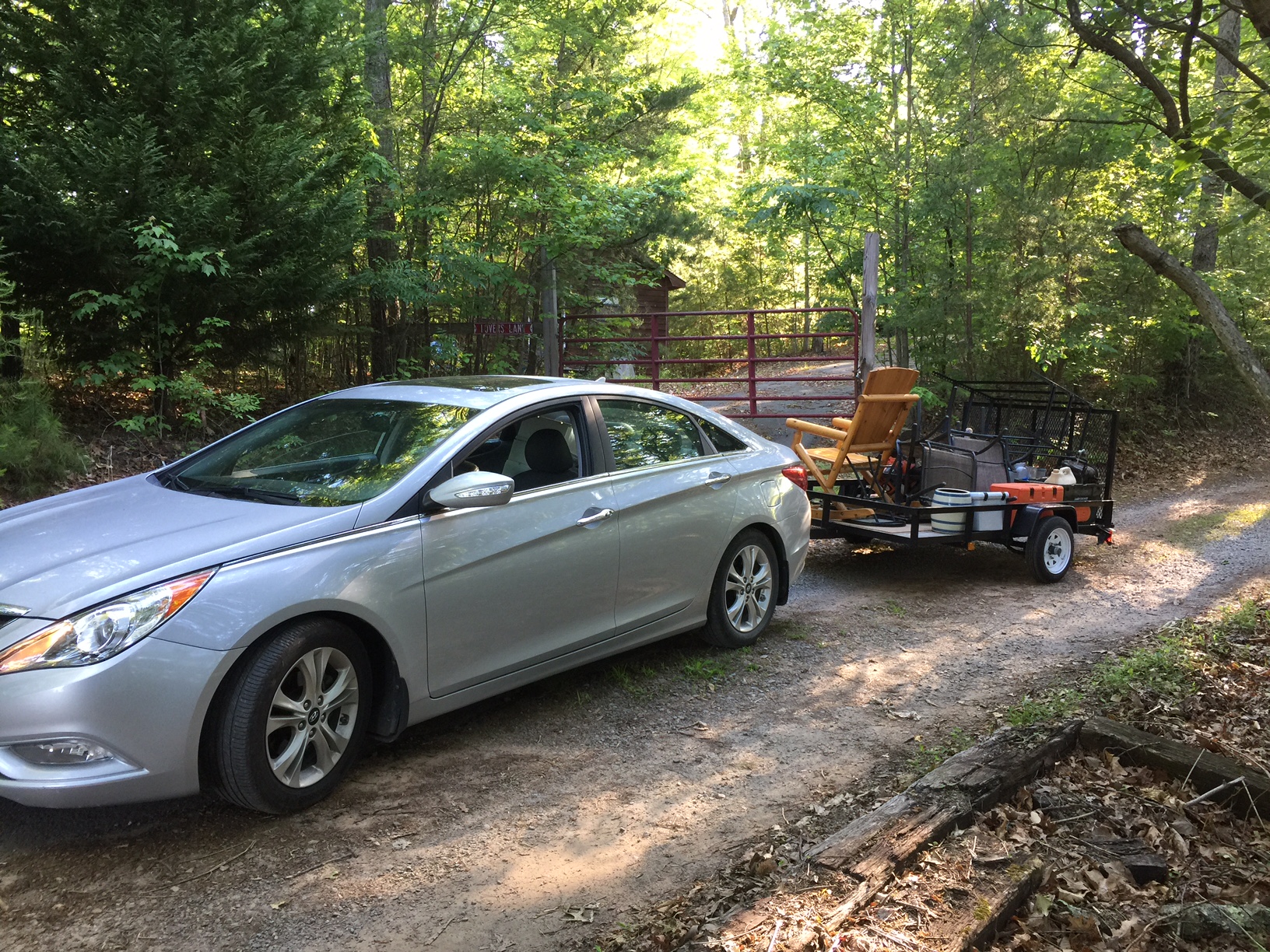 Knowing that we had the luxury of time to complete the relocation was worth a lot to us.  We've moved 9 times in our lives, and every single move had been done under the rush of a home sale prior to a home purchase.  It's stressful, and we don't like it.
We wanted to do it differently this time, and having a mortgage made it easier for us to be more relaxed in our timeline. We built great memories as we worked for several days weeks months on getting ourselves relocated to Great, and we had a lot of fun. We wanted to do it this way, and we enjoyed it.   The mortgage made it less stressful. The peace of mind was worth the interest expense.
---
Reason 4:  Lifelong Cash Flow Thinking
If you listened to my recent podcast interview on ChooseFI, you know that we're likely going to defer my pension for ~2 years after my retirement date.  My pension grows at 6% per year if I defer, and will remain at that higher level for the rest of my life.  Having the mortgage makes it easier to fund the two year "gap" period, and grow that pension at an attractive rate.
6% growth in pension.  3.5% interest rate on the mortgage.  Kinda makes sense in my mind.
I'm still doing some analysis on the pension deferral, and I won't have to make a final declaration until ~March 2018.  Until we know exactly what we're going to do, taking on the mortgage makes the potential deferral of my pension a more viable option.  We have $170k of additional short-term liquidity that we wouldn't have if we'd paid cash for the Great cabin.  If we defer the pension, we'll have to live 100% off of our savings during "The Gap" years.  Until I know definitively if we need the extra liquidity, it seemed wise to pay for the option.
---
Reason 5:  After-Tax Interest Rate Arbitrage
Given that our mortgage interest is tax-deductible, it's important to look at the "true" net cost of the mortgage interest on an "apples-to-apples" After-Tax basis.  We also have to realize that the $$ received via a mortgage will be generating a return while it rests inside our investment portfolio.   Here's our thinking on the math.
Those proceeds from the mortgage are being held primarily in conservative bond funds (Vanguard's Municipal Bond Fund, VWITX, if I were guessing), and earning a ~2% TAX-FREE Yield.  Since the 3.5% mortgage tax is (for now) tax deductible, our net after-tax cost of the mortgage is closer to 2.5%, so in essence, it's costing us < 0.5% to borrow the money.
2% tax-free yield.  ~2.5% after-tax mortgage interest.  Gee, that mortgage just got pretty cheap
On an apples-to-apples basis, we're paying something like 0.5% net cost, after-tax.  Not a bad price to pay for the flexibility it'll provide as we phase into retirement.  The low-cost option just got cheaper.

Reason 6:  We Can Always Pay It Off
This decision isn't non-reversible.  We'll have the liquidity set aside from the "Sell For Cash / Buy With Mortgage" transaction.  Once we finalize the sale of the "Good" cabin for cash, the entire net proceeds from the sale will be sitting in our investment accounts, awaiting my final analysis of the pension deferral.
We'll most likely pay off the mortgage after my pension starts paying us after our 2-year deferral, though in reality we can pay it off any time we choose.  For now, we choose to keep the debt, as the flexibility it provides is worth the cost of the option.
The equation will change, & the Flexibility won't be worth it. Then, we'll pay off the debt.
Click To Tweet
Disclaimer:  In the event interest rates have increased dramatically by ~2020, we'll revisit the interest rate arbitrage and potentially decide to NOT pay it off.  For example, if we can earn 4% in a CD while paying 3.5% for the mortgage, we'll pursue that plan rather than paying off the mortgage.   Ah, the Freedom that Financial Independence brings!
---
Reason 7:  Other Considerations
In addition to the reasons which make sense for our situation, there are other considerations where taking on debt may make sense for you.  In the case of my friend Jim at RouteToRetire, he may be able to look at debt as an alternative to dealing with Rule72(t). In the case of my friend Nords at The Military Guide, he made a public declaration last week at FinCon that he intentionally took on ~$600k of mortgage debt well into his retirement!!  Why??  In his case, it's interest rate arbitrage, and he's written a ton about it here and here.  Nord's a really smart guy, and it felt good knowing he and I had made the same decision about assuming more debt in retirement.
Never rely strictly on "Rules Of Thumb" (e.g., "Pay Off All Debt Before Retirement").  Evaluate your situation, and make your decision based on what makes sense for you.
---
Reason 8:  What If I'm Wrong?
But what if….I'm wrong?  Traditional logic says you should pay off a mortgage before you retire, and we most certainly could do that.  The brain-twisting mathematical models that my rocket-scientist friend "Big ERN" published argue that it's best to pay off the mortgage.  (Love ya, ERN!)  So….what if Big ERN is right, and I'm wrong?
Our situation throws a variable into Big ERN's mathematical equation.  That variable is the value which we place on Flexibility.  It's worth a lot to us, and it won't cost much.  It tilts our decision to "Take On The Debt", for the 7 reasons outlined above.  Even if we're "wrong" and our situation is sub-optimized from a purely financial sense, we won't be off my much, and we'll enjoy the benefit of flexibilty which our decision provides.
To us, it's worth the risk.  If we're wrong, it won't cost us much.  If we're right, it'll turn out that it was worth the cost.
---
Conclusion
Not all debt is "Bad" debt.  Sometimes, the flexibility that debt provides is worth the costs involved.  In our case, our decision is that taking on Debt is OK in our move from Good To Great.
What about you?
Don't be a blind buffalo following the herd over the cliff.  Think for yourself, and realize sometimes it's OK to go against the herd (they're all dead at the bottom of the cliff, remember?).  Look at each of the financial decisions you face as you approach your retirement through a clear lens.  Apply the filters that matter to you, and think through the cost/benefit equation in each decision you face.  Sometimes, the "Rule Of Thumb" doesn't apply.
Make sure you understand the risk if you're wrong, and minimize your downside.  Do it right in the majority of your decisions, and you're well on your way to Achieving A Great Retirement.