Two of the most popular posts I've ever written are about The Bucket Strategy, and how we're using it to fund our spending in retirement.
But…you still have "Bucket Strategy Questions". Today, we're answering specific questions raised by the readers regarding the bucket strategy, and how it actually works in retirement.
If you're considering the use of The Bucket Strategy for your retirement, today's post is for you!
This is Part #3 of The Bucket Strategy Series, the previous posts in the series are below:
The Bucket Strategy Series:
If you've not yet done so, I encourage you to read both of those posts before you get into the detailed Bucket Strategy Questions below. In summary, The Bucket Strategy involves 3 buckets, with each bucket representing a different time period of spending needs. Bucket 1 (cash) covers the first 3 years, Bucket 2 (income) the next 5-8 years, and Bucket 3 (growth) covers the rest.
We're using The Bucket Strategy to fund our retirement. Today, I answer your specific Bucket Strategy Questions. How does it REALLY work in retirement?
Click To Tweet
Your Bucket Strategy Questions, Answered!
I was honored when Wade Pfau invited me to be a guest host on a recent Retirement Researcher webinar. The topic was "The Ultimate Pre-Retirement Checklist", and focused on the checklist I developed in my original article on the topic, including details about setting up The Bucket Strategy. The response was overwhelming, with demand exceeding capacity. For those of you who missed it, you can view this replay on Vimeo (link may expire, so watch it soon).
Fortunately, the folks at Retirement Researcher captured every question raised during the webinar and shared it with me after the webinar. Those questions form the basis of today's post. The majority were "Bucket Strategy Questions", so I decided to write a post to answer the questions.
---
The Bucket Strategy Questions:
Below are the key questions I selected from all of the bucket strategy questions asked, along with my response:
Q: How often do you check your investments and rebalance?
A: My goal with the bucket strategy is to keep Bucket 1 "full" (3 years of cash), so I've been refilling every 3-4 months in light of the strong stock market. I initially considered doing only an annual "refill" at year-end but decided to do it throughout the year to minimize the sequence of return risk. Consider a scenario where the market tanks in November and you've depleted 11 months of Bucket 1. Better to keep it full while the market is in your favor, which results in 11 additional months of protection in this example.
By simply subtracting my CapitalOne360 balance at any point in the year from the January starting balance, I can see how much we've spent YTD. This is the amount I target for a refill, using whatever asset class has performed the best YTD. Primarily, I've been selling stocks from my after-tax accounts and moving the $ into cash. I could go into detail about tax management and the "fungibility" of funds in different tax structures, but that's beyond the scope of this article. If the markets have declined, I'll pass on the refill to avoid selling after a market decline.
In addition to the small stock sales, I'll also review my Asset Allocation using Personal Capital (affiliate link) every 3-4 months. If my Stock allocation has fallen out of my 50 – 60% target range, I'll rebalance. In addition, every January I conduct a portfolio review, which includes a detailed rebalancing and refilling of the buckets.
Three relevant articles are below:
---
Q: How do you estimate the bridge you'll need – funds to cover between retirement and when you may access retirement accounts at 59 1/2?
A: When I was deciding when to retire, I spent a lot of time estimating our retirement spending requirements (see the When Can I Retire Series for details of the process I used). I then built an annual Retirement Cash Flow projection, showing how I would fund the first 5 years of my retirement (from age 55 to 60), including which accounts I planned to pull the funds from to cover the spending. While we could have used the "Rule of 55" (one of the reasons I waited One More Year to retire at age 55), we had sufficient after-tax funds available to build the bridge without the need for tapping retirement accounts.
---
Q: For retirement accounts, do you take the current value or discount it for taxes?
A: Perceptive question, and a good reminder of the importance of including your tax obligations in your retirement planning. In our case, I use the current value of the retirement accounts, but I include the estimated tax burden in our spending plan (including the additional taxes caused by annual Roth conversions, which I'm doing every year to the top of our marginal tax bracket). You could certainly discount the retirement value by the tax burden, but you'd have to ensure you still capture any other taxes in your spending calculation. Bottom line, don't forget about taxes. Plan for them, and build the expense into your forecasts.
---
Q: How do you figure in pensions and SS in your planning?
A: To determine the amount of money needed in each Bucket, I look only at the "gap" remaining between estimated spending and income. For example, let's assume you're planning on spending $100k and expect $20k in SS and a $30k pension. The "Gap" would be $50k (100k – 20k – 30k = 50k), and Bucket 1 would be $150k (50k x 3). To address another question raised, make sure you know whether or not your pension is adjusted for inflation, most aren't (unlike SS, which is). If you're lucky enough to have a pension, but it's not adjusted for inflation, make sure you're reflecting an increased need for withdrawals as your spending increases over time due to inflation (all else being equal).
---
Q: What about "lumpy" spending (e.g., every so often the roof needs replaced)?
A: I discussed this extensively on the webinar (and in my book, Keys To A Successful Retirement), but this is one of the most common bucket strategy questions I receive so I'll include it here. I explain my process in detail in Our Retirement Drawdown Strategy, which includes the following table of estimated "lumpy" spending: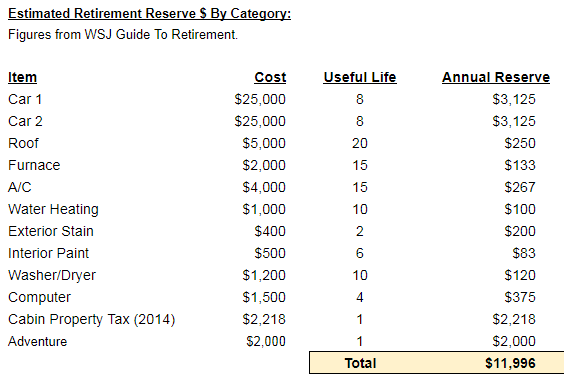 Every January, I add $12k of cash to a sub-account in CapitalOne360, which I then use for "lumpy" spending. This $12k is included in my Safe Withdrawal Rate calculation. If no "lumpy" spending happens in year 1, I add another $12k in January of year 2. In theory, this balance should build until a large "lumpy" expense happens, and it should avoid the need to overspend my SWR target due to unexpected (and yet, expected) bumps. I call this type of spending "Expected Unexpected Spend" because you should expect it, but you just don't know when it will occur. I'm now three years into retirement, and the approach has worked well to date.
---
Q: What should I do if I have 80% of my retirement investments in Before-Tax accounts (IRA, 401k)
A: Welcome to the club, having "too much" of our money in pretax is a common problem for baby boomers, who were encouraged to invest in those Before-Tax 401k's to reduce the tax bite in our earning years. Unfortunately, the Roth concept wasn't available in our early careers, when our marginal tax rates were lower due to lower earnings. As a result, many of us have a large % of our retirement savings in before-tax. I'm with you, as I demonstrated in our Retirement Drawdown Strategy with this chart of my tax allocation one year before I retired: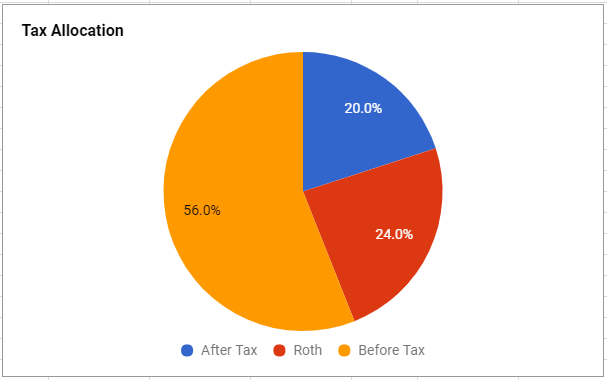 Rather than wait until you're mandated to take your Required Minimum Withdrawals at age 72, I encourage folks to plan for annual Roth conversions once you've retired and you're in a lower tax bracket. I've been doing this every year since I retired, and outline the process I'm using in How To Execute A Before-Tax Rollover Into A Roth. By controlling the amount of your conversion to the top of your current marginal tax bracket, you can gradually reduce your before-tax amount, and (hopefully) reduce your tax obligation over time.
On a related topic, I often get Bucket Strategy questions about how you manage the buckets given the various tax structured accounts. In it's simplest form, I keep Bucket 1 in After-Tax accounts and Bucket 2 – 3 divided among Roth and Before-tax, though I also have some stocks and bonds in after-tax which make managing the refills a bit easier in my early retirement years. It's helpful to realize your money is "fungible", and focus on the appropriate asset allocation for your portfolio as a whole. In theory, you may have cash in an IRA and equities in after-tax, then sell the equities to raise cash in after-tax and buy stocks with the cash in your IRA. You'd accomplish the goal of replenishing Bucket 1 cash without having to withdraw from your IRA. Read it twice and it might make sense. Wink.
The bottom line: In the withdrawal phase, you have flexibility to determine how you'd like to manage your withdrawals, and can use that flexibility to accommodate the Bucket Strategy as required (another example: RMD's from an IRA can be diverted into after-tax cash, if required). I could write an entire post on this topic, but trust that this short explanation will suffice for today's discussion.
---
Q: What is your Asset Allocation, and how does that fit with the Bucket Strategy?
A: This is another of the frequent bucket strategy questions I receive, and the answer is pretty straightforward. If you go strictly "by the math", you can calculate the asset allocation that would result from a typical implementation of the bucket strategy. Let's assume, for simplicity, that Bucket 1 is 3 years of cash, Bucket 2 is an additional 8 years of bonds, and Bucket 3 (everything else) is stocks.
If you have 30X your annual spending (which equates to a 3.3% SWR), your asset allocation can be calculated as follows:

Let's look at Cash (Bucket 1) as an example. Since you're targeting 3 years of spending, and you have 30 years' worth of spending in your portfolio, your cash allocation would be 10% (3 years / 30 years). Using the same methodology for Bucket 2 and 3 results in a 63% stock / 27% bond / 10% cash allocation.
While this serves as a reasonable "rule of thumb" (I hate those), you should never determine your personal asset allocation target on a rule of thumb. Think through your personal risk tolerance, and adjust as appropriate. For the record, I target 50 – 60% in stocks (I've found a range is easier to use as a rebalancing strategy, and I rebalance whenever I fall outside my targeted range). I also include 10% as "Alternatives" since I like the additional diversification it provides (REITS, precious, etc). From a simplistic standpoint, we target 60% Stocks/30% Bonds-Cash/10% Alternatives.
I map every asset to what I feel is its appropriate "bucket", and it works well (for the record, I include REITs in Bucket 2). Do what works for you, there are no hard and fast rules in how you decide to set up your Bucket Strategy, so long as you follow the general guidelines. I use Personal Capital (affiliate link) to track our asset allocation – here's an example of their Asset Allocation dashboard (NOTE: not the author's data, this was pulled from a demonstration screen shot I found online):
Finally, one of the bucket strategy questions received was regarding HSA's, and how I view them as part of the bucket strategy. I do have an HSA, which I keep in cash and include in Bucket 1. Others may choose to invest their HSA in stocks (tax-free growth and withdrawals), at which point I would include it in Bucket 3.
---
Q: Did you ever consider annuities? How would they fit into The Bucket Strategy?
A: Annuities are certainly one of the tools in the retirement toolbox and should be understood by everyone as they develop their retirement withdrawal strategy. In return for giving the provider a lump of cash, you get an income stream for life, starting immediately ("Single Premium Immediate Annuity"). Alternatively, you could give them a lump of cash, but wait for 20 years to start your income stream ("Deferred" Annuity). There are a lot of derivatives, but I'd encourage you to stick with the basics to avoid paying higher (and hard to calculate) fees. With the basic model, the amount of income you receive is a function of the interest rate (lower interest = lower monthly payout for the same lump sum).
I've avoided annuities thus far for two primary reasons: 1) I have a pension, so I don't feel the need to build a "floor" of known income for life and 2) low-interest rates, which reduce the return on your lump-sum payment. I am considering a potential deferred annuity at some point over the next 10 years or so, with a payout starting at ~age 85. I view this as a longevity hedge, and am patiently waiting for interest rates to increase before doing a deep dive on the market.
As far as the bucket strategy questions about how they fit, I'd view them the same as any other known income source – they would reduce "the gap" that you're funding from your other investments. So, using the example from earlier ($100k spend – $20k SS – $30k pension = $50k of annual spending), and assuming your annuity generates $10k/year in income, your known income would increase to $60k ($20+30+10) and your annual buckets would reduce from $50k to $40k.
---
Conclusion
Thank you to all of you who attended my webinar with Retirement Researcher, it was one of the highlights of my blogging career. I was overwhelmed by the positive response, and welcome all of the new readers who found my blog as a result. I expect there may be more collaboration with Wade Pfau and his team in the future – stay tuned.
For those who are new to my blog, my main goal (and my byline) is "Helping People Achieve A Great Retirement". I hope these answers to your bucket strategy questions have delivered on that goal. I've been using the bucket strategy for 3 years of retirement, and I'm pleased with how well it's worked. We don't spend much time thinking about money, we know what we can spend, and we enjoy our life within our defined spending limits. Having the automated monthly paycheck transferring into our checking account from our CapitalOne360 account makes the process easy, and maintaining the buckets has been easier than I imagined.
Your Turn: What other Bucket Strategy questions do you have? Are you using the bucket strategy in retirement, or have you found a different system that you prefer? Let's chat in the comments…