i attended a most unusual wedding shower today, and I suspect it will be remembered for the rest of my life as the best I'll ever attend.  As a matter of fact, I don't think men are even supposed to go to wedding showers, so it may well be the ONLY wedding shower I ever attend. A good friend is getting married in her home in a few weeks. Instead of a traditional wedding shower, another friend suggested a group of us shower the bride in a non-traditional way.
At 9:00 am, over a dozen of us rolled into the bride's driveway, tools in hand. From pressure washers to power saws, garden rakes to hedge trimmers.   A few guys headed inside to finish updating a bathroom with wainscoting, while a crew of ladies heading toward the bushes, trimmers and pine straw in hand.  I fired up my pressure washer and did a number on the lawn furniture, while another crew tackled the deck.  The bride and groom pitched in wholeheartedly; lending a hand here, directing a crew there.
After an hour or so of pressure washing, my wife and I assembled a beautiful arbor under which the bride and groom will exchange vows in 2 weeks' time. I really enjoyed assembling the arbor, thinking that in a few weeks I would be watching my friends getting married under this very arbor which at this particular moment was in pieces all over the deck.
Smiles were everywhere.
So was sweat.
It was great.
Around noon, well worn and dirty, we were all pleased to see yet another friend pull into the driveway with a lunch she offered to prepare for all. We sat in a random collection of makeshift seats,  in a big circle in the driveway. A blessing was offered to the new bride and groom.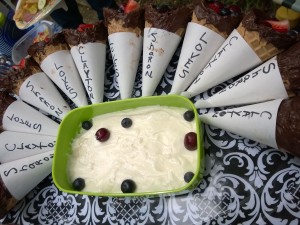 You could feel the love.
How much more appropriate is that than a traditional shower?  I struggle to find words to describe. I can think of no better way to show friends that you really care than to commit yourself to helping them. One thing I know; it sure beats a material gift.
When presented an opportunity, think outside the box. Invest your time. Invest your energy. Share your love.
I'm looking forward to the wedding. All of us who were there today will feel an especially close bond to each other. To the bride and groom. To the wedding. To the marriage.
All because of the simple fact that this morning, a dozen of us showered them in love.
To Sharon and Clayton – our sincere best wishes to your life together.  Thank you for letting us all be a part of it.
In a special way.