Welcome to The Retirement Manifesto, a canvas for "Helping People Achieve A Great Retirement"! I focus on practical Financial Independence and Retirement Planning issues for folks within ten years of retirement. If you're new to the site, I'd encourage you to read "The Ultimate Retirement Planning Guide", a compilation of my best work, organized by stages in your journey to retirement.
My wife and I achieved early retirement in June 2018 at the age of 55, and are sharing the lessons we're learning along the way. We sold our primary home "in the city" and moved into a cabin in the North Georgia mountains as part of our downsizing strategy for retirement:
I enjoy helping others on their journey to and through retirement. My byline is "Helping People Achieve A Great Retirement", and that's my goal with The Retirement Manifesto.
I'm appreciative of the recognition this blog has received:
Winner of the Plutus Award (blogging's "Academy Awards") for Best Retirement Blog.
Selected one of the Best Retirement Blogs of 2020 by Smart Living.
One of the 10 Fastest Growing Personal Finance Blogs on the planet by MoneyMow.
Ranked #4 of "10 Retirement Blogs Worth Reading" from The Balance.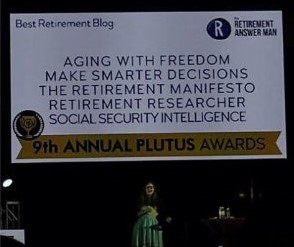 My goal is to educate, challenge and encourage each of you to take the steps necessary to achieve success on your journey toward retirement. In other words, this is my "Manifesto":
Manifesto: noun; man·i·fes·to: a written statement that describes the policies, goals, and opinions of a person or group.
If you're new to the site, you may want to scroll through HERE to view a summary of everything I've written since this blog started in April 2015. If you'd rather "meet" me and hear me talk about our transition into retirement, click here for my YouTube appearance on The Money Guy Show. I also have a Resource page that offers free tools and links to other helpful sites.
If you like what you see, join my mailing list to receive a once-weekly email with new posts (no spam, ever!).
My background: I worked for 33 years in Corporate America, in various roles within the aluminum industry. An aspiring philosopher and a lifelong financial "hobbyist", writing has become a passion of mine in retirement. I've had the same great wife for 33 years and a wonderful 26-year-old daughter who I walked down the aisle at her wedding in July 2017. I've learned a bit along the way, and hope you can benefit from some of my experiences.
In addition to this site, I have been published or profiled on:
I have also been interviewed on the following podcasts:
I invite you to join me on the path to a great retirement! Together, we can achieve the goal of:
Helping People Achieve A Great Retirement!
Fritz Gilbert – Founder, The Retirement Manifesto
CONTACT INFO:
e-mail: Fritz@TheRetirementManifesto.com
Twitter: @RetireManifesto (Click Here)
Facebook: TheRetirementManifesto (Click Here)
Instagram: The_Retirement_Manifesto (Click Here)
Pinterest: TheRetirementManifesto (Click Here)
Snail Mail: P.O. Box 2864, Blue Ridge, GA 30513
"Each one should use whatever gift he has received to serve others, faithfully administering God's grace in its various forms." 1 Peter 4:10
Note: Please read my important disclosures and other legal stuff HERE. Thanks!