I'm sitting in the heart of London as I type these words, having just concluded a week of intensive business negotiations in one of the world's most international cities.  I've had some Lessons Learned this week, which I'll be sharing with you today.
In the past 60 hours, I've met with folks from The Middle East, Russia, India, New Zealand, France, Switzerland, Turkey, England, Germany, Norway, and The Netherlands.  Sprinkle in a few Americans, and I've "seen" quite a bit of the world in the past 2 1/2 days.  I've known most of these folks for years, and consider all of them colleagues, and friends.  I know about their families, their vacations, their homes, and their work. I am, indeed, blessed.
We're All Different, But All The Same
I love interacting with people from other cultures; it's what I enjoy most about my job as a global commodity trader.  I suspect it's the piece of my work that I'll think about most frequently when I look back at my working years from a future post-retirement perspective.
After years of working in a global environment, I've learned:
Folks Everywhere Are More Alike Than Different. Seek Out The Similarities, and Learn...
Click To Tweet
The more time you spend with people who are "different" than you, the more you realize the differences are less than you'd originally suspect, and the similarities are more common than you'd imagine.  Spend time in real conversation with folks from around the world, and it's fascinating what you can learn.
One thing I've learned is that most folks, regardless of background, heritage, and ethnicity, have the same basic wants, needs and desires out of life.
We love our families.
We work.
We worry.
We laugh.
We enjoy time with friends.
We think about eternity.
We have hobbies.
We seek financial security.
An Evening Alone In London
Upon completion of our business schedule this afternoon, my European colleagues departed to the airport for an evening flight home.  I was left alone for the night, awaiting my flight back to the USA tomorrow.
I had a nice 3 mile run through Hyde Park to Buckingham Palace.  I watched the guards doing their synchronized "march", protecting the queen (though the policeman with the AR-15 guarding the gate looked significantly more intimidating than the guys in the fuzzy black hats).  "The Queen's in there", I thought.  I wondered what she was doing as I stood, sweating, in front of her house.
As I ran back toward my hotel at 6 pm, I thought about the hundreds of commuters whizzing past me on their bikes through the park.  Thousands of Londoners commute via bike, making an amazing spectacle of lights as they zip past with their flashing strobe lights in the early November darkness of London's Northern night. All of them, I suspect, have thoughts going through their minds.  Things to do, worries, job tasks, family, finances.
In spite of the upheaval caused by the recent "Brexit" vote, they were going on with their lives.  It was the first of my Lessons Learned during my time in Britain:
Lesson 1:  In spite of major changes, life goes on.
I'm writing this ahead of the USA Presidential election results.  Regardless of the result, approximately half of the USA is going to be very upset by the time the election results become official.  If your candidate lost, realize life will go on.  If the UK can handle the impact of Brexit, the USA can handle the impact of having a clown for a President for a few years (I think I'm safe saying "clown" regardless of who wins.  What a mess…..).
Showered up after my run, I decided to enjoy a private dinner in a most British way.  I googled "Pubs Near Me", and set out to observe the British culture in a tradition that's eminently British.
Thoughts From A British Pub
The Barley Mow, shown above, is a fascinating pub, built in the 1700's.  During World War I, it was the home of the Japanese ambassador to Great Britain, and reportedly has an underground tunnel to the nearby Japanese embassy. After the war, it was converted into a pub. A terrorist attack of a neighboring hotel in 1976  (IRA, I suppose?) launched stray bullets into the pub's windows, and a bullet hole can still be seen in the paneling.  Quite a history, this.
Today, it's a neighborhood gathering spot, where many of the Mayfair residents relaxing after a long day of work with friends.
Alone, I decided to observe.
Lesson #2:  Take advantage of opportunities to observe, to learn.
I eavesdropped (yes, and I'm admitting it here…I'm always transparent in my articles!) on the three men standing at the table to my left as I waited for my meal to be delivered.  They seemed to be successful attorneys who had spent the day working on a commercial development project, including a 300 page Terms & Condition document which was running into snags.  Given that I negotiate global contracts as part of my job, I could empathize with "T&C's" running into snags.  Indemnification clauses, ugh. One of the parts of my job that I won't miss!
To my right, three younger men laughed as they told stories I couldn't fully hear.  Consultants, it seemed, working with a major corporation on some type of restructuring.
As I focused on the atmosphere in the pub, I noticed some very relevant realities, and started thinking. Perhaps there was a blog post unfolding around me…perhaps "Lessons Learned From A Pub"…
6 Lessons Learned While Sitting In A British Pub
Click To Tweet
Folks everywhere in the pub were together.  Some in seemingly serious discussions.  Some sharing a good laugh.  Some lamenting on a hard day at work.  The guys on my left seemed to have known each other for years, the lads to my right were just getting to know each other.  I suspected they were recently assigned to the client as a team, and were in the "bonding" phase of their work.  It was fun to watch, to listen.
Lesson #3:  Put Away Your Phone
As I observed, I noticed something striking.  None of the folks in the pub were staring at their phones.  A striking difference for anyone who has ever spent time in an American restaurant, where seemingly everyone has their eyes glued to a screen.
In a British pub, the priority is given to real people.
It's been that way for hundreds of years, and I'm proud to report that in at least one pub (and, I suspect, in most) it continues on today.  Watching, it brought a strange envy into my American mind.  The Brits have this one right.  We should learn from them.
Lesson #4:  Make Time For Friends
As I watched, I noticed something else.  I sat in the pub for ~ an hour, and I only saw one table get a refill of British ale in their pint glasses.  Across the bar, almost every glass sat on a table (not in a hand), untouched for long stretches of time as they engaged in earnest conversation with friends.  The focus of a pub is not the beer, it's the time with friends. Perhaps that's why British beers are served noticably warmer than American beers – they're going to get warm sitting around, anyway!
Lesson #5:  Take Time To Laugh
Focusing with all of my senses, I noticed something else.  Every few minutes, uproars of laughter would erupt from various groups around the pub.  One group in particular was have a spectacular time, and seemed to break into laughter every 5 minutes or less.  They were having fun.  They were taking time to laugh.  Alone in my observation post, I smiled in my mind.  This was how life was meant to be lived.   Together.  Laughing.
Lesson #6:  Take Time To Love
Tomorrow, after a 7:00 am swim in the 48 degree waters of Serpentine Lake in Hyde Park (a future post, I promise!), I'm heading to the airport.
By tomorrow night, I'll be home.  Within a few days, my friends from around the world will also be arriving at their distant corners of the globe. While I love my time with interesting folks from around the world, there's no place I prefer more than my mountain home, with my wonderful wife and our 4 crazy dogs.
Take time to enjoy your life.  Take time to observe.  Take time to learn.
But most importantly, take time to love.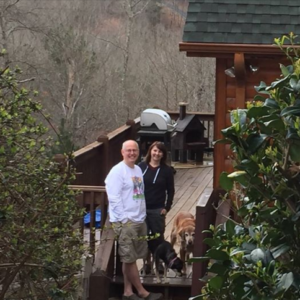 Conclusion
After 3 days of 16+ hour work with folks from around the world, my real "Lessons Learned" came from a quiet hour of sitting alone, watching, listening and observing in a British Pub.
6 Lessons Learned In a British Pub:
In spite of changes, realize life goes on.
Take advantage of opportunities to observe, to learn.
Put away your phone.
Make time for friends.
Take time to laugh.
Take time to love.
What "Lessons Learned" strike a chord with you?  What others have you learned that you're applying in your life?