My Secret Is Out!  Up until a few days ago, only a handful of my closest friends at work knew I was retiring early.  Yesterday, over 10,000 people learned my secret in a formal announcement via the "People News" at work.  What A Blast!!
Today, we're going to take time to celebrate a very significant event on our journey toward an early retirement.  On February 1, my retirement was the top story in the "People News" email.  That formal announcement represents a major milestone in our journey, and now the world knows…..
…My Last Day Of Work Will Be June 8, 2018!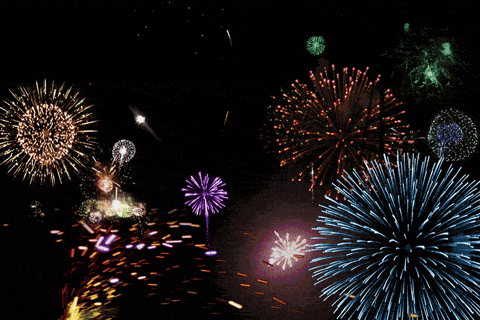 It's Official!!
The response to that "People News" announcement was amazing and immediate.  Within minutes of its publication, my inbox started to ping.
It seems "People News" is one e-mail which everyone in the company reads.
My e-mail has BLOWN UP since the announcement, and I've had fun responding to the well-wishers over the past few days.  It's amazing how many folks you know after working 3+ decades in one company.  I've moved 9 times over those decades and worked in many of our locations, with many of our employees.
While I'm now based at our global HQ office in Atlanta, my current role is "Global" in scope, and I work with folks all over the world.  Add to that the thousands of folks I've worked with throughout my career, and it's a bit overwhelming to realize how many individuals I know.  I consider many of them my friends, and their emails have been inspiring.
Most of them didn't know I was planning on retiring early, until last Friday.
Now, My Secret Is Out.
It was exhilarating to see the announcement in People News, and it's been even more exciting to hear from so many friends since.  In the past few days, I've gotten notes from Europe, Brazil, Asia and all over North America.  It's been a constant stream of contact with friends I've known for years, and it's been a true joy to respond to each and every email.  This moment has been a long time coming, I've worked hard to put the pieces in place, and I'm intentionally enjoying the milestone that this announcement represents.
In full transparency, it's also a strange transition.  Over the past few years, I've KNOWN I was going to retire by 2018.  In the past few days, however, EVERYONE in the company now knows the same secret (I guess that means it's not a secret anymore?).
One Day It's A Secret. The Next Day 10,000 People Know I'm Retiring Early. What A Rush!
Click To Tweet
It's interesting to see how the dynamic changes when folks suddenly find out you're retiring early.  I haven't changed, but I can see a change in the faces of folks I pass in the hallway or chat to in the coffee break room.  Perhaps a tinge of envy, perhaps mere curiosity.  From most, a sincere respect for my ability to put myself in a position to retire early, while many are facing the reality of having to work well into their 60's.
"How are you getting out so young?" seems to be a common question.
If only they knew.
The answer to that question has filled hundreds of thousands of blog posts, from hundreds of bloggers over the years.  How do you answer that question in a 30-second "elevator speech"?  I'm open to your suggestions (please comment below).  For now, I just kind of ramble through a few sentences about it being something I've worked toward for years, and smile.
If only they knew.
---
One group of folks who know what it takes to retire early are my friends in the "FIRE" Community (Financial Independence Retire Early).  Over 11,000  of them hang out on the ChooseFI Facebook Page, where I posted my big announcement an hour after it happened last Thursday.  The response has been amazing (416 Likes and 61 Comments!?  Wow!):
---
My successor has been named (also in the People News announcement), and my focus for the next few months is transferring my 30+ years of "Institutional Knowledge" into the shoes I'll no longer wear.  I'm going to enjoy the ride.
It's going to be a very unique 4 months in my career, and I'm going to enjoy every minute of it.  I like to teach, and am actually looking forward to doing my very best in transferring my years of knowledge to the man who will now be carrying "my" torch.  I want the company to do well, after all, since my pension depends on it!
Most importantly, perhaps….I've also decided to start whistling whenever I can get away with it.  A small symbolic gesture to remind myself to celebrate the achievement of this milestone.  We've worked years to arrive at this point, and it's important to find a way to celebrate.  To me, whistling represents a mini-celebration.
I celebrated whistled on my way down the elevator this week (yes, I was the only one in there, wouldn't want folks to think I'm weird!).
I suspect I'll be whistling a lot between now and June 8th.
I think I've earned that right.
Take time to celebrate the milestones on your journey.
Take time to whistle.