We all know about Vanguard's low-cost mutual funds, right?
However, have you ever spent time looking around Vanguard's site to see what's available for free?  After all, since they keep their costs so low, they probably don't provide much in the way of free information, right?
Wrong.
Vanguard offers a wealth of free tools in their Retirement Planning section. Today, I give you an overview.
Click To Tweet
I spent a few hours on Vanguard this week, and I'll admit it's the first time I've really had a hard look at what's available.  I've been an investor with Vanguard for ~25 years, ever since our company moved our 401(k) over to Vanguard (thank you, employer!).
25 years, and I've never really had a look at what they offer.  What?  Sure, I've spent hours on their site managing my investments, but I've never really looked at their educational offerings.
How About You?  Have you ever looked at the educational material they offer for free? If not, today's post is for you, as I'll give you a guided tour of what's available.
Vanguard's Retirement Academy
If you click over to Vanguard's Retirement Page, you'll discover a treasure trove of well organized and professionally written educational material on retirement planning.  I went down a rabbit hole there this week, and it led me to write this post.  As readers of this blog, I suspect most of you are self-educating yourselves on personal finance (yay, you!), and I wanted to make you aware of this valuable resource.
BTW, I've named this section of the Vanguard site their "Retirement Academy" (it's not the "real name", but it seems to fit).
(Full Disclosure:  I'm not getting any compensation from Vanguard for this post.  In fact, they don't even know I'm writing it!  Also, I'm not sure if the information is available to everyone, or only to Vanguard investors.  Apologies if you're not a VG investor and unable to access the link above).
Here's a glimpse, organized by Age Group:
---
---
Let's have a quick look at what's offered by Age Group:
Ages 20 – 49  "Saving"
Click on the first link under your age column (Learn The Basics Of Saving For Retirement), and you'll see the following listing of interesting topics, which Vanguard claims are "the most common things people ask us about retirement savings: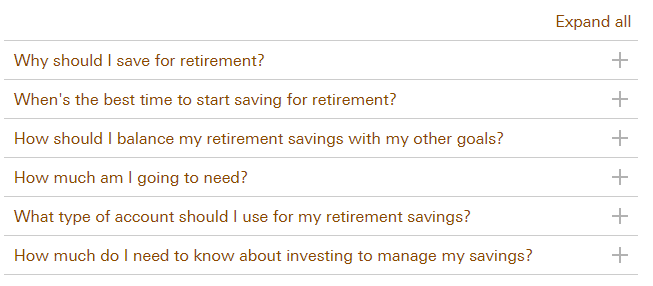 For the sake of brevity, I won't go through each of the topics.  Suffice it to say that if you click on any of the topics, it'll take you down a trail of relevant content on the topic selected.  It's well organized, clear, and a great place for folks to go who are interested in learning more about a particular subject.
---
Ages 50 – 64  "Getting Ready"
Since the majority of my readers are in this demographic, I'll spend a bit more time on this section of the Vanguard Retirement Academy.  Below is the overview tab for this age group:
This section is summarized as "You're in the homestretch!  The 5 to 10 years before you retire is a critical time for planning to meet your goal."  I couldn't agree more and spent a significant amount of time putting together my Ultimate Pre-Retirement Checklist to help readers through this critical time period. If you click on Vanguard's "Learn the basics of planning for retirement", you'll be given the following choices (again, for the sake of brevity I'm only touching on the content, visit yourself to dig deeper):
See when you can realistically retire (a link to Vanguard's retirement calculator).
Learn how medical expenses could affect your expenses.
Learn how Social Security timing will affect your income.
Make a plan to pay off your debt.
Keep your plan on track.
Will I Have Enough To Retire?
This section of the Vanguard site also has a link to their Retirement Income Planner, a screenshot of which I've attached below: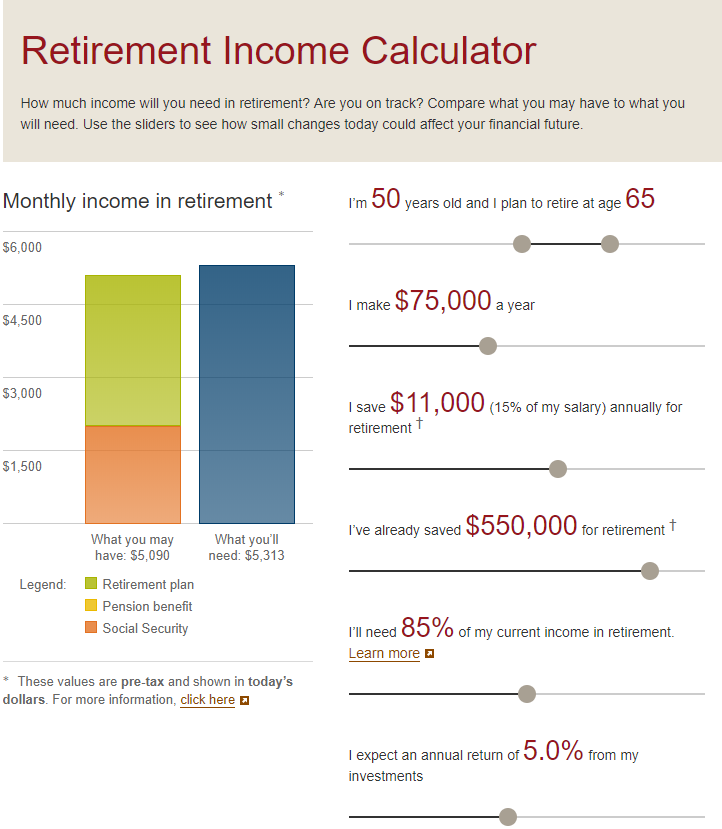 ---
Get Your Retirement Plan From Vanguard
For those who are intimidated by "Do It Yourself" retirement planning, Vanguard offers a retirement planning service from their Vanguard Personal Advisor Service.  I've instructed my wife in our "Love Letter" (In Case Of Emergency) to turn our investments over to this service in the event of my untimely demise.  Their 0.30% charge is a reasonable cost for those who aren't comfortable managing their personal finances, and I have no issue recommending them to folks as a viable option vs. Do It Yourself planning.
---
Age 65+ "Living It"
The final section of the Vanguard Retirement Academy is for those already in retirement:
The first link will bring you to an interesting section titled "Living In Retirement: How Much Do You Know"?  This section is worth spending some time in, as it includes a comprehensive section on myth vs. reality of retirement planning, with links to dig as deep as you'd like into relevant topics.
The "Get Your Finances In Order" section is also worth your time, as it includes links to calculators to help you determine:
Your retirement expenses (worksheet here)
Your retirement income (worksheet here)
Guidelines to calculate your safe withdrawal rate (here)
---
Conclusion
This blog's purpose is to Help People Achieve A Great Retirement.  As I come across resources which can help folks achieve this goal, I feel it's appropriate to share them here.  Vanguard's Retirement Academy is one such resource.  Again, I don't know if this is available to folks who aren't' invested with Vanguard, and I apologize if the links don't work for non-investors (there's no way for me to check this since I'm a Vanguard investor).  I'm sharing this purely as a Public Service Announcement, and am receiving nothing from Vanguard for this post.  I hope the resources prove helpful to those of you seeking information to help you plan for your retirement.
By The Way, if you're looking for additional resources, feel free to check out The Retirement Manifesto Resources Page, it's packed full with useful tools to help plan your retirement.
I Need Your Help:  If you have other links to great resources you've found for retirement planning, please share them in the comments below.  If you are a Vanguard investor, were you aware of the great resources they have available?  What other resources do they have which I may have missed?  I look forward to continuing the discussion in the comments…
Together, let's help folks Achieve A Great Retirement!