I don't normally schedule my posts to publish on Friday, but today is a special day for The Retirement Manifesto.
Today is April 12th.
As of this morning, I've been blogging for four years!
On April 12, 2015 I wrote my very first post on this blog, stating at the time that I was writing this blog as "The story of my journey, told in The Present before it becomes The Past" (my favorite line from that first post, btw). I've written every week since, and you've been along for the ride as we've moved through the retirement planning stage and into our early retirement in June 2018.
It's been a heckuva ride.
We've attracted a few readers along the way, and I offer a sincere "Thank You" to each and every one of you. You're the reason I continue to peck away at this keyboard, publishing 259 posts in the 209 weeks since that first post on April 12, 2015.
I've Learned Some Things Along The Way.
Today, I'm sharing what I've learned in 4 years of blogging. It's been a heckuva ride preparing for, and entering, retirement. Here's what I've learned....
Click To Tweet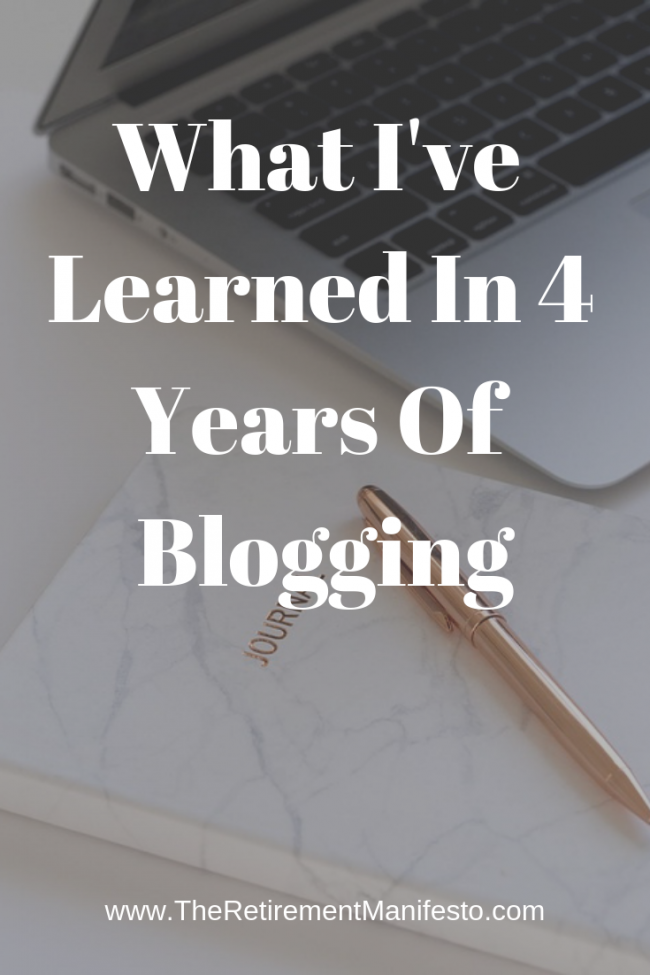 What I've Learned In 4 Years Of Blogging
For my Blogversary, I've decided to share what I've learned during in 4 years of blogging. What I've learned is more important than "the numbers", though I have decided to share a snapshot for those who care about such things. The numbers aren't important to me (though, admittedly, they're fun to watch). For those who care, here they are:
I continue to be surprised by how many folks are reading my words each week, and I thank you for your loyalty. I particularly appreciate the 4,209 of you who receive my words every week via email subscription. You're the most loyal of the loyal, and I thank you for letting me touch your inbox each week.
More important than the numbers, however, are the lessons I've learned through the past four years of blogging.
Here's what I've learned:
---
1. Motivation Matters
For a blog to be successful, there must be a real passion behind your writing. This blog has become a Purpose in my post-retired life, and it means a lot to me. I've discovered that I love to write, and I love to help people. These past four years of blogging have allowed me to do both, and it's what motivates me to continue to write.
I suspect many folks start a blog for the wrong reasons Many, for example, may think it'll be a nice "side hustle" to pull in some extra cash. After months of frustration that the revenue doesn't meet expectation, they become de-motivated and their blog suffers. I've seen many blogs fall by the wayside during my years of blogging. For those who care, I cleared a grand total of $376, after expenses, in 2018. I'm fine with that, my goal has been to generate enough income to offset the cost of running this thing. If I make more, fine, but it's not why I write. Don't make "the money" your primary purpose for writing a blog.
Find a deeper Purpose.
I did a lot of research before I retired, and a key finding was the importance of finding a true Purpose in retirement. Find something you love, preferably something that can also make the world a better place. Find a way to help others, and don't focus on yourself.
In my case, my byline of "Helping People Achieve A Great Retirement" is my core motivation for writing. Sharing the lessons we're learning in a form that helps others learn from our experience is rewarding beyond description and a worthy pursuit for my retirement years. I hope to continue many years of blogging.
Knowing that the words I write are making an impact on the lives of others is humbling, and I take seriously my role of helping each of you along your journey.
It's My Purpose.
It's My Motivation.
---
2. Focus On Creating Great Content
The biggest lesson I've learned from my years of blogging is that the focus must be on creating great content. I often interact with new bloggers, and my message is always the same:
Focus on creating great content. Then, Repeat. Repeat. Repeat.
Click To Tweet
It takes years to develop a large following, and you'll have new readers stopping by all the time. Your latest post should always be the best content you're capable of creating. I'm not always successful at achieving it, but creating great content is always my goal. Creating great content with the reader at top of mind is the formula for a successful blog. If you do nothing else, focus on creating great content.
Week after week after week after week.
Do it right, and the growth will follow.
Don't focus on the numbers, don't focus on money, don't focus on yourself.
Focus on great content.
Period.
---
3. The Reader Must Be The Focus Of Your Writing
In my humble opinion, there are too many narcissists in the world, and I doubt I'm alone when I say that I really don't care for them. Most folks have enough challenges in their own lives to worry all that much about what you're facing. No one really wants to read about you, you, you.
I think about the reader with every post I write. I think about what you're struggling with, what questions you're likely asking, what you worry about, what you want to know. Sure, I tell our story, but my purpose in telling it is to give you an example that you can apply in your own life.
I write so that the reader can learn from what we're going through as we all figure out this retirement thing together.
Click To Tweet
My wife and I are not alone as we walk this journey to, and through, retirement. We're all walking it together. Finding a way to write about things we're experiencing in a way that can help you on your journey (hopefully) makes this blog worth your time to read.
It's Not About Me.
It's About You.
BTW, I love interacting with the readers of this blog. You may have noticed that I'm very active in the comments which flow after my posts are published. I do that on purpose. It's my chance to talk directly with you, and I respond to almost every comment (though it's getting more challenging as this blog continues to grow, no promises that I can keep up the pace). Every day that a post comes out, I carve out several hours to interact with the reader comments. It takes a lot of time, but it's one of my greatest joys of blogging.
There's nothing more rewarding than getting notes from readers with some specific ways my blog is helping them on their journey. I received a great email a few weeks ago, and was so excited that I couldn't help but send the following tweet (if you're not already, feel free to follow My Twitter Account):
---
4. This Community Is A Great Source Of Social Connection
As I did my research about how to have a successful transition to retirement, the issue of social connection was a common theme. When we retire, we leave behind our work colleagues, and folks who don't find a way of building new social connections often struggle in their transition.
In my years of blogging, I've made some great friends in the blogging and reader community. I now have hundreds of friends who pound away at their keyboard every week, or read the words we're publishing into the blogosphere. We all have a lot in common (personal finance, early retirement, blogging), and that seems to lead to natural connection. We've had blogging friends stay at our retirement cabin, and I've had countless phone calls with folks I've yet to meet.
I look forward to the FinCon conference in September, where I'll get the chance to once again spend some time with my "virtual friends", who are anything but virtual. They're real people, just like me, and I enjoy spending time with my blogging friends.
I've also been fortunate to have met numerous readers over the years, and count many of you as friends. If you're ever in Blue Ridge, let me know. I'd love to meet you, and I may even buy you a coffee. 🙂
Find a way to build social connections, then nurture the friendships that develop as a result.
Your retirement (and your life) will be better as a result.
---
5. Expect The Unexpected
I had someone tell me early in my blogging career to expect the unexpected. "You'll be surprised how many opportunities arise that you never saw coming", they said. I never realized how accurate that statement was, but in my years of blogging, I've realized the wisdom of those words.
There have been many opportunities that have come up when I was least expecting them. Some examples: An invitation to appear on a YouTube video, an interview with The Washington Post, the chance to appear on dozens of podcasts, and a TV interview that led to a chance meeting with Governor Huckabee, to name just a few.
I love the unexpected surprises that have developed as a direct result of my years of blogging.
They keep life interesting.
Life's more fun that way.
---
6. Have Some Fun Along The Way
Speaking of fun, sometimes you just have to smile. I don't take myself too seriously, and I tend to view the glass as "half full". Inevitably, in my years of blogging some things have come up which I could lose some sleep over. Or…I could just have a little fun.
Take, for example, "The Haters".
Every blogger who's been around a while has them. Personally, I find them to be amusing. My skin's pretty thick, and I don't take much of what they say to heart. I will stop and consider if their comment has merit, and reflect on any changes I may want to implement if I think the criticism is reasonable.
Most often, it's not. That's when I try to have a little fun. I try to come up with witty, yet respectful, responses. I may share the hater's comment on Twitter, along with my response and my favorite #LoveTheHaters hashtag.
And then I move on.
Life's too short to not have a little fun along the way.
Don't let the idiots rain on your parade.
Instead, pull on some rubber boots and go play in the puddles.
---
Conclusion
Four years of blogging. Wow. Back on April 12, 2015, I never imagined that this blog would become what it has. I've enjoyed the ride and sharing the lessons we've learned as we prepared for, and entered into, our retirement.
I hope I'm not the only one who has learned a few things over the years, and that my words have had some impact in "Helping People Achieve A Great Retirement".
Thanks for being along for the ride.