What comes to mind when you think of the term "Prepper"?
I'd expect most folks would have some type of "extremism" perception, along the lines of the "Doomsday Preppers" show that aired on the National Geographic channel from 2012 – 2014.  Unfamiliar with the show?  Have some fun by watching this short trailer….
Am I A Prepper?
By now, you're probably wondering where this is going.  Is Fritz A Prepper?  I'll have to admit my wife and I have watched a few episodes of The Doomsday Prepper (downright scary, right?), and the thought of increasing our preparedness has crossed our minds.  However, I can assure you, I am not a "Prepper" in the traditional definition.
Not A Prepper, But Prepared
Ok, plot buster:  I'm not a prepper.  However, my wife and I ARE prepared.
We've prepared for the most likely outage scenarios in our environment.
Click To Tweet
With all of the destruction in Houston this week, it seems an appropriate time to talk about preparedness.  Not "TEOTWAWKI" (The End Of The World As We Know It) level hysteria, but rather a discussion on some practical steps you should consider to prepare for the most likely scenarios you may face in your environment.
What, exactly, does a "most likely outage scenario" look like?  It depends on where you live. Spend a few minutes thinking about it.  Talk with your family, and imagine what natural disasters you could potentially face. You'll likely come up with 2-3 scenarios that are most likely as a "Preparedness Scenario" for your situation.  If you're in Florida/Texas, think Hurricanes.  If in the Midwest, think Tornado.  In colder climates, think severe winter storm.
Here's what we see as the most likely scenarios in our environment.
Power outage for 3+ days due to a hurricane sweeping up the East Coast?  Check.
No heat for a few weeks in the winter due to infrastructure disruption?  Check.
No water since our well went dry?  Check.
No utilities due to tornado or ice storm taking down power?  Check.
The Big 3 (Water, Food, Power)
As you think through potential scenarios, focus on the most critical elements of water, food and power.  I'll address each briefly below, as well as explain what our strategy has been to prepare in each of these areas.
Be prepared to cover your water, food and power needs in the event of a natural disaster.
Click To Tweet
Water
As you likely know, the body can go weeks without food, but only days without water.  In our case, we found a low-cost and practical option for backup water supply, as shown below:
We bought this 330-gallon water tank for $75 on a local Facebook Yard Sale site.  It had been used in a water treatment plant to mix chlorine and water, so it wasn't contaminated.  I spent an afternoon constructing a simple base and rerouting our gutter, and voila…hundreds of gallons of backup water.  We'd have to boil it to drink it, but we can manage that (we have a propane camp stove, a gas BBQ grill, and a wood fireplace).  Also, the rainwater supply could come in handy for flushing toilets, which would also be impacted if we lost water.
Fortunately, I bought two tanks and will be doing a similar installation on the back of the shed at our new "Great" cabin.  We'll also use the tank to water our garden, which will help to rotate the water and provide free rain water to the plants in our garden.
Food
A lot of folks go crazy on storing food.  We've chosen a simpler route – we have a shelf in our basement with some canned goods on it.  We try to "buy what we eat, and eat what we buy", rotating through the cans as they near their expiration date.  We also decided to buy a few boxes of freeze dried food, which last for ~25 years.  Buy it once, and forget it.  For food, we should be good for ~a month, which is the longest we can imagine in any of the most likely scenarios we'd face.  We'll also be putting a garden in at our "great" cabin after I retire, and are planning to learn how to can produce as a retirement hobby.
Power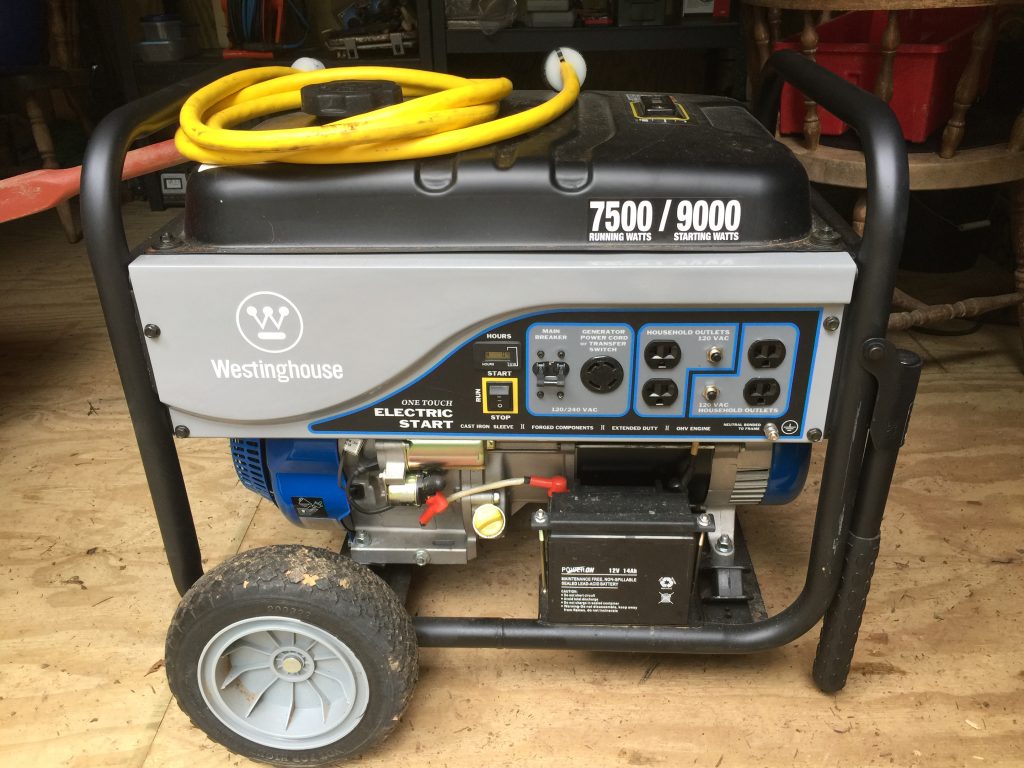 I had a friend who lived in Charlotte many years ago when a hurricane hit the Carolina coast.  He was without power for 6 weeks!  6 Weeks!!  He lived on a small dead-end road with only a few houses and was one of the final power lines repaired in the triage that followed the storm.  His life was miserable for a long time, and his story impacted me.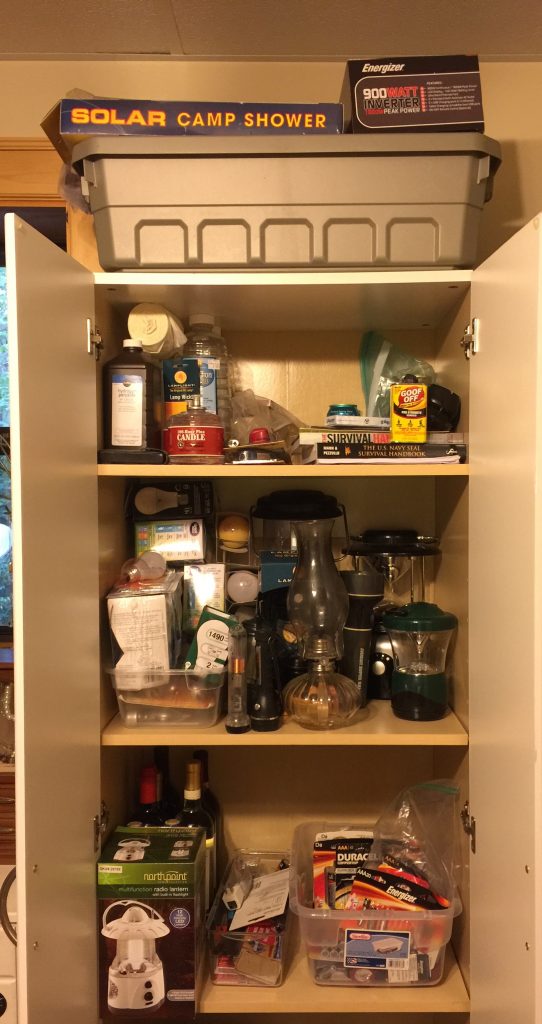 Like my friend, my wife and I also live on a small dead-end (dirt!) road, with only a few houses.  It's possible that we could be without power for up to a month in some "within the realm of possibility" scenarios.
To address the risk, we've taken a fairly aggressive approach.  About a year ago, we purchased a serious 7500-watt generator.  Our logic – we wanted it portable, and we wanted it big.  This was the largest one we could find which was still portable.  Good thing, since we moved from Good To Great a few months ago, and were able to move the generator with us.
At our "Good" cabin, we had an electrician wire up a generator hookup system, where we could run ~1/2 of the cabin from our portable generator.  We're going to do the same at our "Great" cabin before winter arrives.
We have six 5-gallon gas cans, which we rotate on a 6 month basis (dump the "old" one into your car, and refill the can).  With 30 gallons of gasoline in reserve, we'll be able to run our generator for several weeks before having to worry about fuel.
In addition, we have a healthy collection of flashlights, spare batteries, candles and lanterns (see the pic to the left).
We also purchased a 900 watt inverter, which allows you to charge your cell phone and run small electrical appliances off your car's battery (you can see it in the upper right of the picture above).
We also decided to address a few "creature comforts", and bought a small camp shower (see above on left) and portable toilet.  For us, the minimal cost was worth the security of knowing we'll be (relatively) comfortable in the event of a prolonged power outage.
Finally, one of the things we like about our "Great" cabin is the fact that it has a wood burning fireplace.  Before winter arrives, we'll have some wood split and stacked nearby, ready to go in the event a power outage kills our furnace.  No power outage, no problem.  We'll enjoy a few romantic evenings in front of a crackling fire.
Getting Home
One other area where we've prepared is a scenario where I'm "In The City" and my wife is at "The Great Cabin". We'd be about 100 miles apart, and would obviously want to reunite.  To manage that risk, I keep a small backpack in the trunk of my car with ~3 days of supplies (water, snack bars, shelter, clothing).  I also keep a bike at my city apartment and would plan on riding my bike North to the cabin.  Have a plan to "get home", keeping in mind your daily commute and what you'd do if you had to walk home.
How Prepping Is Similar To Financial Independence
If you're reading this, there's a good chance that you're responsible with your personal finances.  Are you also responsible for non-financial risks which your family faces? A small amount of planning now could make a huge difference in the event of a natural disaster.
Don't think it can happen to you?
The folks in Houston were likely thinking the same thing.
---
Conclusion
Unfortunately, the word "Prepper" has become a stereotypical phrase which seems to ridicule those who take steps to protect themselves from potential natural disasters.  Take a fresh look at the concept, and think about your situation.
Do you have life insurance?  Why?  It's unlikely you'll die early, but you're prepared for that scenario.
I'd argue you have a higher likelihood of being impacted by a natural disaster than you do of dying young.  Have you taken steps to mitigate this risk?  If you're interested in learning more, I'd encourage you to listen to The Survival Podcast,  by Jack Spirko.  It's a practical podcast focused on things you can consider for your situation.
Your Turn
What have you done to prepare for natural disasters?  What do you think of our plans?  Have we done too much? Too little?  What are we missing?
Leave a comment below (one of my favorite aspects of blogging is interacting with you through these comments), let's have some discussion on "What is the appropriate level of preparedness for your situation?"
What's the most realistic outage scenario you could face? What are you doing about it?
Click To Tweet
P.S. The Chain Gang
6 weeks after I published this story, a fellow blogger friend lost his home (and almost his life) in the Napa Valley fires.  His is a harrowing story, and evidence of why it's important to be prepared.  From his experience, I'm adding a more complete "Go Bag" to our preps.  We've also decided as a blogging community to build this chain of blogging articles on the importance of being prepared.  Check out the "Anchor" for a mind blowing story of what it's like to race out of a wildfire in the middle of the night.  Glad you're ok, Dad!