The moments in our life when we are actually building a dream are few and far between.
Fortunately, my wife and I just started building a new one.
Today, I'll share the dream we're building. These are exciting times and will culminate in the relocation of both The Retirement Manifesto's World HQ and the base of operations for Freedom For Fido (my wife's charity)! Exciting times, indeed, and I'm pleased to be able to share our dream with you today.
We don't get too many chances in life to build a dream. Retirement is one of them. Don't waste the opportunity.
Click To Tweet
---
Building A Dream
I can think of few better times in life for building a dream than retirement. While far from being the only time in our lives to build a dream, retirement is a unique time in life. A time you've worked so hard to achieve. A time to do what you want to do. A time to achieve your dreams.
Don't miss the opportunity.
My wife and I just started building a new dream. Literally.
As you'll see shortly, the dream we're building is setting the stage for an even better life in retirement. We're building a dream based on our passions and purposes in retirement, and we're going to enjoy the result for years to come. We've spent hours thinking as we've been building a dream, and we're building it exactly as we want it.
If you haven't started building a dream for your retirement, I hope our current dream inspires you. Focus on what you want your life to be in retirement and take the steps you need to take to begin building a dream. Dreams don't happen on their own, it takes intentionality and planning to move from vision to reality.
Is there a better time than now to start building a dream?
What's holding you back?
---
Why Now?
We've just celebrated our second anniversary of retirement, and we've learned what motivates us in retirement. As our focus on Purpose becomes more clear, it's become evident that building a dream to support these passions will provide benefits for years to come. To fully achieve our dream retirement, it's time to take some action.
It's time for us to build a dream.
For background, it's worth mentioning that we're experiencing some "growing pains" as Freedom For Fido continues to expand (to see pics from all of our recent fence builds, check out the Freedom For Fido Facebook page). We expect the growth will continue, and it's time to prepare. As the following two pictures demonstrate, we need more room to realize our dream:
It's important to ensure that your dreams are built on the right foundation, and we're confident that our passion for charity work and writing will continue throughout our retirement. It's time to take the steps required to let our retirement passion flourish for years to come and we're excited about the dream we're building.
---
The Name of Our Current Dream Project
So…it seems we should name this little dream, right? I've struggled with that challenge and considered, but discarded, the following ideas before settling on the final name revealed below:
The Workshop of Passion: Hmm…could be taken the wrong way. Perhaps…
The Dream Workshop: Hmm…sounds like a sleep therapy clinic.
The Workshop on Purpose: Sounds like a self-help conference.
The Purposeful Workshop?
I'm liking the sounds of that one. I like it even better with an extra "l", as in The Purpose Full Workshop. Let's go with that. We're building a dream to pursue the Purposes we've established in retirement, so Purpose Full just seems to fit. It's official. The name is declared. As it is written, so it is done. The Purpose Full Workshop.
Now that we have a name, it's time to explain the dream we're building.
We'll start with the map of our retirement homestead, zooming in as we go. Go ahead and browse, you'll see those amazing woods where we hike with our dogs and the Toccoa River in our "back yard" wilderness (yes, we really do live in the "sticks"). On the closer shot, you'll see our RV parked in our circular drive. You'll also notice a mysterious red box…
---
Our retirement cabin in the woods…what's with the red box?
---
The Purpose Full Workshop
That little red box represents an exciting new project at our retirement cabin. In the coming weeks, a new 20′ x 30′ building will be occupying that space and our dream will be taking shape. Below, I'll share a few pictures of the progress thus far. First, a drawing which explains the dream:
The Workshop Layout
The Purpose Full Workshop will be a 20′ x 30′ dual-purpose building, with a 20′ x 20′ woodworking shop and a 10′ x 15′ writing studio, where future posts on this blog will be written. The woodworking shop will become the operational center for future Freedom For Fido projects, as well as a few woodworking projects I'd like to tackle on my own. The writing studio will allow the world HQ of The Retirement Manifesto to relocate to a new sanctuary, opening up my existing office space in the cabin for FFF, allowing my wife to move out of the guest bedroom. (Wow, a combination woodshop and writing studio? Some would say it's the ultimate man cave…)
If you look at the drawing, you'll see a big 16′ door which will allow the woodworking shop to "open up" to the outside on nice days. My new writing studio will have double french doors leading out to a deck, with large windows and plenty of natural light.
I've always loved natural light, and we've made it a major factor as we've designed our dream.
---
Watching The Dream Unfold
It's been fun to watch our dream unfold these past few weeks. After months of planning, it's exciting to watch the dream starting to take shape. Since you couldn't be here to watch, I took some pictures for you. Enjoy as you witness the process of building a dream…
---
---
---
---
---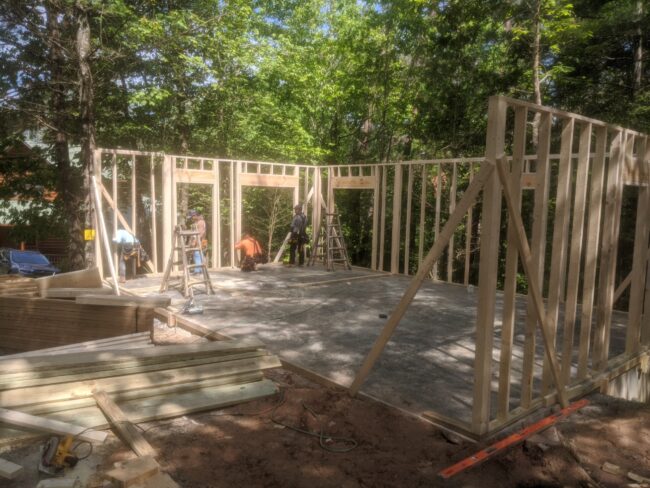 ---
---
---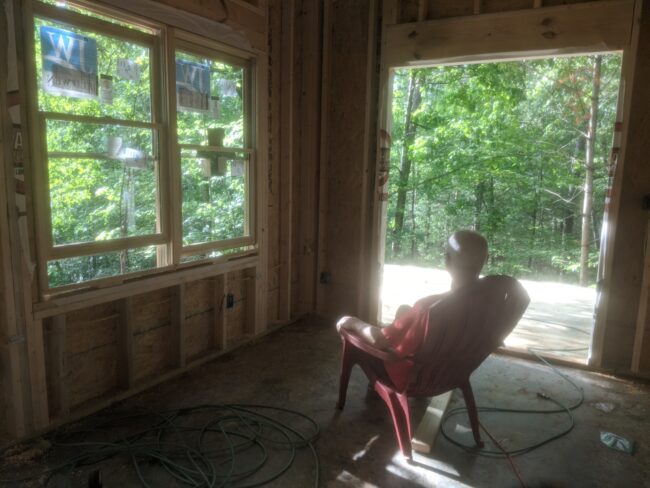 ---
---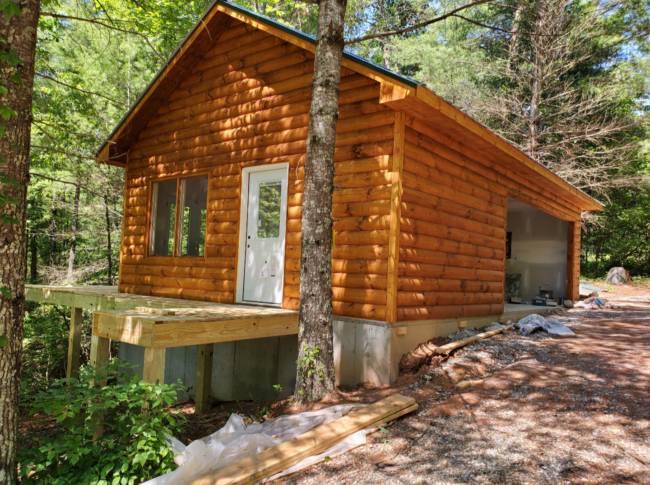 ---
The Courage For Building A Dream
Building a dream takes courage, especially in early retirement. It's hard to spend money after years of aggressive saving. As I mentioned in "It's Time To Live Like No One Else", you must be intentional to embrace "spending" in retirement. Retirement is the time to enjoy the dividends of years of living a frugal life. Do the math first (of course), but if you have it to spend, now is the time to spend it. We've done the math, and we know we can afford to build this dream. So, we're building it. #NoRegrets
If you have a dream you're considering, don't let fear become the obstacle that prohibits the achievement of your dream. Do your homework, think deeply about your motives, and run the numbers to ensure you don't stretch beyond your capability. Calculate the budget for building a dream, and proceed if:
The benefits exceed the cost.
The cost is within your means.
Building a dream takes courage. Don't let fear stop you from achieving your dreams. Develop a plan, then execute.
Click To Tweet
Figure out what dreams you want to build in your life. Refine to ensure you can accomplish the dream with the means you have available. Take your time in the design stage, it's the time in the process where anything is possible. Enjoy the process of refining your dream, but don't stop there. Once you've established the limits of the dream, get on with it. Execute the plan, pursue your dream.
The dream will only become a reality if you find the courage to execute.
Your life will be better as a result.
---
Conclusion
I struggled a bit about whether or not I should write this post. We've never been materialistic, and I was worried some readers may draw the wrong conclusion about our motives for building The Purpose Full Workshop. I've always been transparent with you about our life in retirement, so I decided to tell the story of our latest dream. I hope you benefit as a result.
To be clear, the point is NOT about what wonderful physical things we're spending our hard-earned money on. Our dream isn't about the workshop, it's about pursuing our Purpose in retirement. It's about taking steps to ensure our dreams can be fulfilled. The workshop? It's only a means to an end.
The point is this: Retirement is the ideal time for building a dream. We're building ours, and I encourage you to think about building yours.
Challenge yourself to dream. Focus on developing your passions. Many dreams can be achieved without spending money. That said, recognize that investing in a few material things is fine, you've earned that right. Ensure your motives are deeper, that your dream is built on a strong foundation. If it takes an investment in a material object to achieve your dream, don't let spending a bit of money be an obstacle.
Once you've designed your dream, find the courage to execute.
Retirement is the time to live your dreams.
If not now, when?
---
Your Turn: Have you built any dreams in retirement? Have you struggled with moving from being a "saver" to a "spender"? How did you overcome it? Let's chat in the comments…