Love him or hate him, you can't argue that Dave Ramsey's quote is one of the best-known quotes in the world of personal finance.  "Live like no one else, so later you can live like no one else."  Pretty catchy, actually.
But What Does It Mean?
The first part is pretty obvious (live below your means), but how does one go about the "So Later, You Can Live Like No One Else" side of the equation?
As you read these words, we'll be living in OUR SECOND WEEK OF RETIREMENT.  Wow, that was a fun sentence to write.  I think I'll write it again.  We'll be living in our second week of retirement.  Yep, still a fun sentence to write.
Like many of you, we've been living like no one else for a long time.  We've Made It To Retirement!
Now, It's Finally Time to Live Like No One Else, right?
But, what does that mean??
It's Time To Live Like No One Else
After focusing for the past 33 years on "Living Like No One Else", the shift to "So Later You Can Live Like No One Else" doesn't happen automatically.  It's time to think about the transition, because…
…Later Has Arrived.
It's time for an attitude adjustment. It's time to Live Like No One Else!
Click To Tweet
We've been living below our means for 33 years, with an average savings rate during my career of ~20-25%.  We've been frugal, and we've put ourselves in a position to retire early.  Modest frugality has become a habit, and it's served us well.  I know from your comments that many of you have been doing the same.
Starting with our retirement date, however, we should think about changing things up.
Later Has Arrived.
Life Without Savings?! 
Scary stuff, this.  After following the Steps To Financial Wealth and dutifully building our investment portfolio over the past few decades, we're suddenly faced with the reality that we're no longer contributing to our savings.  Even worse, we may actually spend some of our savings to cover our expenses!  Yikes, huh, what??
You know what? That's OK.
We've built a conservative Retirement Drawdown Strategy, and we know how much we can safely spend.  We don't need to save anymore.  In fact…
…We're Free To Spend It.
It's time to live like no one else, and that means we're now free to spend money (within our pre-defined limits).  The reality is that our years of "Living like no one else" should start paying dividends, right?  "So Later" has arrived, and it's time to enjoy those dividends we've worked so hard to secure.
The dividends of a frugal life are the ability to spend without worry in retirement. Enjoy The Dividends, you've earned them.
Click To Tweet
I wonder how difficult it will be to transition from a lifelong saver to a retirement spender. One thing I know, we're going to do our best to spend what we're "safe" to spend. We're only two weeks into this retirement thing, and time will tell, but (as my regular readers would suspect) we have a plan, and we're planning to spend (within our limits).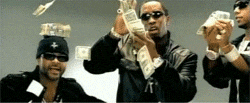 Spending In Retirement
We've been lifelong savers, but it's time to change that habit.  It's time to spend! Old habits die hard, but we're going to do all we can to put this old habit to rest.  We want to avoid the under-spending dilemma faced by so many retirees.  We're going to spend!
GASP!
BTW, I suspect some of you are shaking your heads at this post.  SPEND?  In Retirement?  Has poor old Fritz lost his mind now that he's retired?  Bear with me, folks, there's a point to be made.
For folks who have been frugal throughout their life, spending in retirement doesn't come naturally.  Kiplinger's recently wrote a great article about the phenomenon, titled Retirees, It's Ok To Spend.  The unfortunate reality is that many retirees UNDER-spend in their retirement.  In a quote from the article:
"The wealthier the retiree, the bigger the gap between income and spending, and the more the savings pile up."
---
Avoiding Under-Spending In Retirement ("Automated Spending")
I have no idea how things are going to work out in retirement, but I a plan.  I've been studying this "under-spending problem", and I want to make every effort to avoid it in our retirement.  Therefore, we're going to…
Automate Our Spending
Huh?
After years of Automating Our Savings, It's Time to Automate our Spending In Retirement.
Click To Tweet
In an attempt to break our frugal habits, we've decided to take a different approach.  It's Time To Live Like No One Else.  So, we're going to attempt an "Automated Spending Plan".  Allow me to explain.
We've recently topped off of our "Bucket One" in our Retirement Bucket Strategy, and have 3 years of cash tucked safely away at CapitalOne.  Starting in July, we'll have Automatic "Paychecks" transferred from CapitalOne to our local checking account every month.  The amount has been pre-determined based on our safe withdrawal rate, and should be sufficient to cover our basic necessities as well as a few "wants".  The beauty of the number, once it's been carefully calculated, is that…
…We Can Spend Every Dime.  And We Will.
If we overspend, our checking account balance will fall below our pre-determined redline, and we'll cut back in the following months.
If we underspend, and our checking account balance begins to grow, we'll go ahead and take that month-long trip to New Zealand that we're thinking about.  Or we'll let it build for a while and replace my wife's 2011 Hyundai a year earlier than planned (she's been eyeing a Subaru Outback, I agree it'd be a great car for our mountain lifestyle).
Or we'll increase our giving.
However we do it, we'll automatically increase or decrease our spending to consume what's in our checking account.  We intend to consume all of it.
Every December, we'll revisit our Automated Spending Plan for the following year, and adjust those monthly transfers from CapitalOne based on how well the market has performed, our safe withdrawal rate and our updated year-end Net Worth Statement.
Our Maintenance Reserve
We'll also keep a "Maintenance Reserve", which equals two years of estimated "Oops expenses" (Hot Water Heater died?  No problem, we've built our reserve).  We've built an initial $24k reserve, using the following estimates: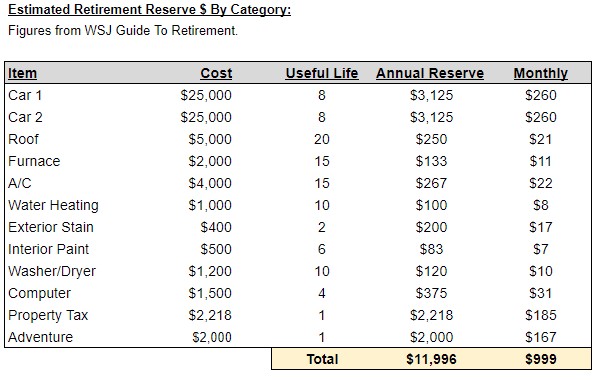 We're not going to keep a budget, and we don't have to track our spending.  Our checking account will do that for us.  Automatically.
Ah, retirement.  The life of Easy.
---
Spending Vs. Saving Mentality
In my opinion, The key to "So Later, You Can Live Like No One Else" is to reverse the lifelong habit of minimizing your spending and maximizing your savings.  There was a reason for living that way back when we were "Living Like No One Else".  There was a goal in mind that drove us to live that way.
BUT:  That goal has been achieved.  Congratulations! You've retired.  You've reached the starting line.  Mission Accomplished!  It's time to start living like no one else.
Retirement is a time to allow yourself to spend (within limits) and not feel guilty.
Click To Tweet
Challenge yourself to find a way to break your Saving Mentality.  It's ok, really, to Spend.  Just set up some pre-defined guard rails, and keep yourself in the middle of the road.
Automate your spending, and update your pre-defined spending limits every year.
It's Later.
It's Time To Live Like No One Else.
---
Conclusion
I hope you were conflicted when you read this post because that was my objective as I wrote these words.  The natural tendency of folks who read personal finance blogs is to save their money, and to live below their means.  That tendency is so strong that we tend to UNDER-spend, especially after we've reached retirement.
I'm hoping to change that in our lives, and in the lives of you readers who may be struggling with the same dilemma.  Underspending is a common problem for retirees, and we should talk about it.
Retirement should be different.  It should be about designing your life to be the life you want it to be, and then going about getting it done.  You've worried about money your entire life, and you've built the funds necessary to retire.  If you've done your homework, and you're confident in your safe withdrawal rate, it's time to Live Like No One Else, and enjoy spending a few of those hard earned dollars.
Retirement is not a time to save.  Been there, done that.
It's time to enjoy the fruits of your labor.
It's Time To Live Like No One Else.
Am I Nuts?  Chime in with your thoughts in the comments, I love the exchange of ideas that happens there.  Is it ok to spend without guilt in retirement, so long as you're within your pre-defined limits?  If you're retired, have you found yourself "under-spending"?  If so, what are you doing about it?  Am I missing anything with my "Automated Spending" approach to the problem?  Let's chat…
---
PS:  This is the second post I've written in the new HQ Location Of The Retirement Manifesto!  I couldn't help but share the excitement with a pic, taken as I wrote these words!   Yep, I'm really retired!  (still a fun sentence to write!)