Dream. Go. Do.
Three short words. 9 letters.
But their simplicity hides a power that can change your life.
Dream. Go. Do. Three short words. 9 letters. But their simplicity hides a power that can change your life.
Click To Tweet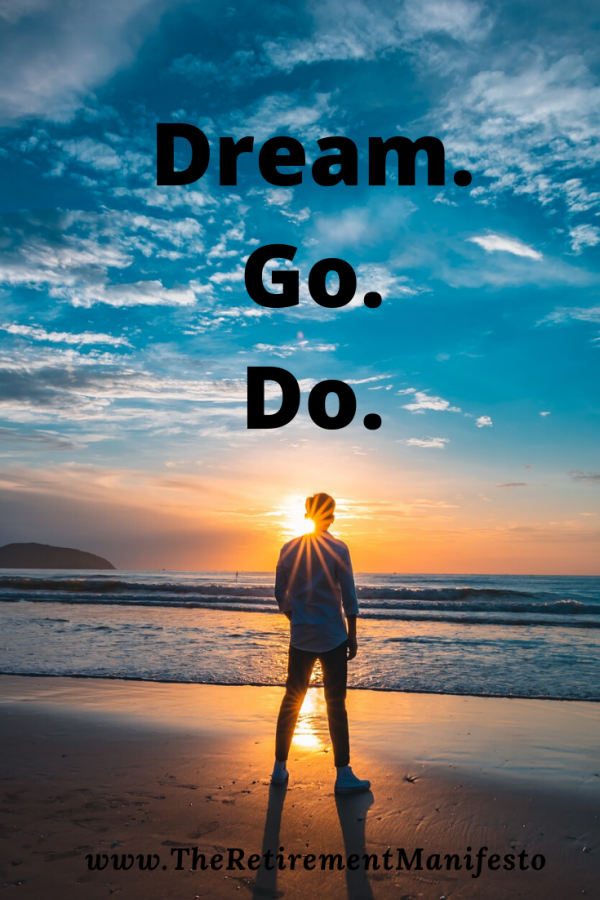 (Photo courtesy of CSG Ltd)
---
Dream. Go. Do.
Those three words are simple, yet they comprise a great recipe for a life well-lived. Today, we're going to look at how to put this recipe to work in your life. Your life may well be better for it.
First, let's think about each word and see how they can lead to places you'd never imagine. After thinking about the words, I'll share a couple of examples which highlight the power within their simplicity.
Dream.
All of us should have dreams, and I encourage you to never live life without them. Think about what you want to accomplish in life. Things you want to do. Places you want to go. Never stop dreaming, it's the essence of stretching yourself toward new horizons.
Never stop dreaming, it's the essence of stretching yourself toward new horizons.
Click To Tweet
Go.
Dreams, if left alone, never materialize. To become a reality, action must follow. That first step must be taken. Decide which of your dreams you're serious about pursuing and determine the first step. Then, take it.
Do.
Do represents the point where the dream becomes a reality. Where something you once thought impossible becomes a reality. Achieving A Dream is one of the purest pleasures in life, but it only becomes possible if you…
…Dream. Go. Do.
---
Three Examples Of Dream Go Do In Action
---
1. A Christmas Card Discovery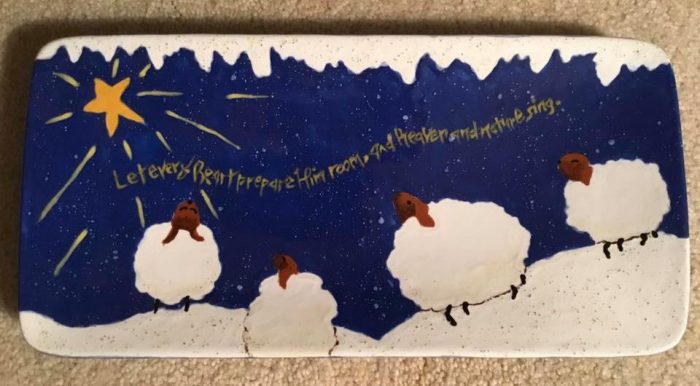 I have my sister, Angie, to thank for the title of today's article, and the story of how that title came to be will be the first example I share. While we were back in Michigan visiting for the holidays, she arranged an outing to a local pottery shop. Family members had fun painting Christmas tree ornaments and spending time together.
But Angie dared to dream.
Rather than being content painting a "simple" ornament, she decided to challenge herself by re-creating a Christmas card she loved onto a serving platter. She decided to stretch herself beyond her comfort zone, and she took the first step of drawing the card onto the platter.
When the platter was completed, she posted it on Facebook along with the story behind the platter. Most importantly, she wrote in her comment, "What a sense of accomplishment. The moral of the story, dream, go, do, and have a blast doing it!" In response to her post, I commenting,
"Dream, Go, Do. A great recipe for life."
Out of a simple dream to recreate a Christmas card, my sister experienced the satisfaction that comes from accomplishing something she didn't think she was capable of.
And….the seed for this post was planted.
---
2. Freedom For Fido
A year ago this month, my wife had a dream.
After seeing a video on a charity in Oregon that built free fences and doghouses for low-income families who kept their dogs on chains, she had a dream of establishing a charity in our mountain community to do the same. I wrote about it here if you'd like the full backstory, but suffice it to say she's moved well beyond Dream and Go and is living in Do.
Freedom For Fido has succeeded far beyond her wildest imagination and she's making a BIG impact in our little community. More importantly, she has a passion for what she's doing in retirement and her charity has become a means for many others in our community to experience the joy of watching a dog taste freedom for the first time. Her dream has become a reality, and I'm proud of her for making it happen.
Life-changing stuff, indeed.
---
3. Converting An Enclosed Trailer
A few months ago, my wife and I decided we needed to make a change.
Freedom For Fido was growing, and we needed to grow with it. We decided to purchase an enclosed trailer to use during our fence builds, a mobile fence building workshop where everything would be organized and readily available to our army of volunteers.
But there was a problem.
I had no idea how to convert the shell of an enclosed trailer into a customized mobile workshop. I'm certainly not a carpenter, but I was willing to dream. I spent some time on Youtube and Instagram vetting out my dream, and I took the first step. I decided to create a video of the entire process to help others achieve their dream of converting a trailer, and I documented every step. I encourage you to check out the short video above to watch my dream unfold. Below is a view of the finished trailer:
I dared to dream, and I stretched myself beyond my comfort zone.
Like my sister with her Christmas platter or my wife with her new charity, I couldn't be happier with the results.
I've found that tackling various "retirement projects" that are beyond my experience is a great way to live in retirement, and I plan on continuing the approach for years to come. My life is better as a result. If you're willing to apply the same recipe, I've no doubt that your life will be better, too.
---
Conclusion
Dream. Go. Do.
Whether it's your job or some other situation in your life that you're dreaming about improving, don't stop with the dream. Take a step. See where it leads. Since this blog is about "Helping People Achieve A Great Retirement" (my byline), I can give no better advice for a recipe to try during your retirement. I'm taking my own advice, and I'm stretching myself in an attempt to achieve my dreams.
It's time to dream. It's time to go. It's time to do.
If you're seeking to improve your life, give it a try.
You'll be amazed where it can lead.
---
Your Turn: Do you have a Dream Go Do story that demonstrates the power of these three simple words? Let's chat in the comments…