---
Disclosure: This post contains affiliate links and we may receive a commission (at no extra cost to you) if you sign up or purchase products or services mentioned.
---
I love hearing from readers who are living retirement to the fullest.
If you enjoy stories of retirees who are "doing it right," you're going to love today's post. I encourage you to learn from a fellow reader of this blog. His name is Brooks Firestone, and he has something to share that we can all learn from.
Brooks is 85 years old, and his story is amazing.
His story is proof that you don't need to know your Purpose before you retire. He was too busy working at Firestone Tire, establishing a successful winery, and raising 4 children to think about such things. He didn't find his Purpose until he was 65 years old, and it's taken him places he never imagined.
As you read his story, I encourage you to think about something you'd like to try. Pursue your curiosity, and take that first step. As I've written about extensively (and dedicated an entire book to), taking that first step is often the key to a successful retirement.
Where will that first step lead?
With Brooks, it started when he realized his wife was having more fun than he was. He took the first step and hired a voice coach. That first step led to an amazing story.
A story of finding a Purpose.
A story you're about to read…in his own words.
Brooks followed his curiosity and took a first step. It led to places that he never imagined. Where will your first step lead you?
Click To Tweet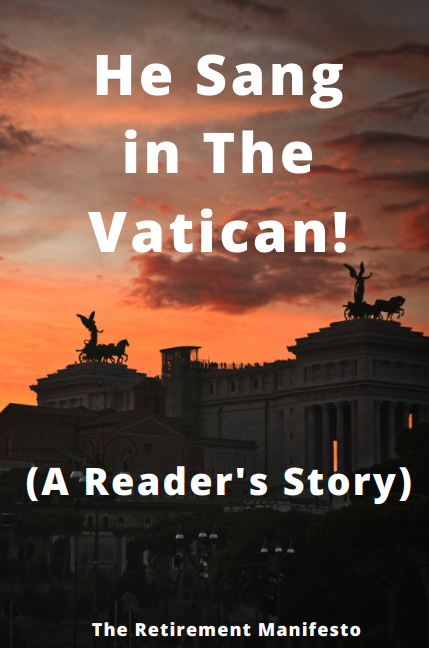 ---
He Sang In The Vatican!
In the closing pages of my book, I challenged the reader with a homework assignment. I promised to publish a post with the story of those who received an "A" on the assignment. Brooks accepted the challenge and sent me an email with an overview of his story. His email started as follows:
"Fritz, I just read your book and accept your request for some thoughts. I am an 85-year-old retiree with a passion for singing. At the age of 65, I joined an Episcopal church choir by hiring a voice teacher to help me through the anthem for that Sunday. Prior to that time I had never sung seriously outside the shower and could not read music. One thing led to another…"
He closed his email with the following:
You are truly correct when you advise a late-life retirement passion activity, and this is mine. If this reaches you and you would like me to expand on my experiences I would be happy to do so. Brooks
I responded that I would love to hear his full story, and invited him to write a guest post.
Fortunately for all of us, he accepted.
BTW, this isn't the first time he's written about his adventure. If you'd like to read ALL of the details behind his story, check out the book he published below (Amazon Affiliate link, I'll get a small commission at no charge to you if you order):
With that, here's his story…
---
Finding Passion in Retirement
At the age of sixty-five, it finally occurred to me that my wife, who sang in our church choir, was having more fun attending services than me seated on the hard benches in the lower congregation. To remedy this situation, I hired a vocal teacher in order to learn the anthem to be sung in the coming service and sneaked into the weekly rehearsal somewhat able to join the choir with friendly and understanding members of the bass section. This lasted for two years, until the vocal coach finally told me, "You could really do this singing if you want to learn." We accelerated the lessons, and I joined an amateur group who were scheduled to sing a beautiful piece by Sebastian Bach. I somehow managed the concert and was inspired by the music.
The performance was a revelation, and I have never looked back. Now in my mid-eighties, I have enjoyed a treasure of singing adventures around the world, and also learned the importance of a passion and avocation in late-life retirement.
I started with no singing experience and no ability to read a music score, but fortunately, I had an ear for tone and a strong sense of rhythm. A piece of music became natural and doable to me with practice because the learning process was enjoyable, and rehearsal was a happy occupation. As time went on my seat in the Bass section became secure and my vocal contribution a welcome addition. The fact that I had only taken up singing late in life was a curiosity in the singing world, and a source of wonder for those who, as usual, had sung in school or college, but always had some background in music from an early age.
There is no question, my experience revealed a life lesson:
---
"Many of us have abilities and talents that have been overlooked by the busy worlds of raising young families and occupations, and these latent talents can be revealed and enjoyed in our retirement years for our health, welfare, and infinite joy."
---
Back to my own singing story, after a year of working with a vocal coach and learning to read music, which all seemed like coasting downhill and never a drudgery, my wife and I auditioned and were accepted into the Santa Barbara Choral Society, a serious and able performing group of some eighty singers. Since that acceptance, we have rehearsed, performed, toured, and grown with them now over fifteen years, and the experience has been pure joy. The group regularly sings works of Handel, Bach, Beethoven, Lauridsen, and many other historic and contemporary composers. The group sings at the Santa Barbara Music Academy and Granada Theater, and a number of local churches and venues.
Best of all, the group tours internationally including two tours through Italy. Italian touring even found us singing the Friday afternoon Mass in St. Peter's Basilica in Rome, a moment that the Choral Society will never forget. Perhaps my most memorable singing experience was at the Monte Cassino Monastery.
Monte Cassino Monastery (Source: Wikipedia Commons)
Monte Cassino is situated between Naples and Rome and this famous home to the Benedictine monastic order was completely destroyed in World War II. The large and imposing monastery and abbey church was beautifully rebuilt and stands proudly as a monument of the Catholic Church. Two buses containing our eighty-member chorus climbed the mountain to the imposing monastery capped by the large and imposing cathedral church.
Since I spoke a little Italian, I ran ahead with our guide to find a monastery official.
A startled, uniformed doorkeeper agreed after seeing our music scores, hearing our earnest desire to sing in the towering abbey, and accepting a contribution to the Benedictines finally agreed to let us sing. The chorus climbed the path up the stairs to the abbey and arrayed on the chancel steps before the huge, ornate altar. We sang two renaissance and one modern piece, possibly as well as we have ever sung in our lives. Our only audience were some startled tourists who had come to see the Abbey and perhaps some quiet monks hidden from view in the monastery.
The Monte Cassino experience happened to be on my 80th birthday, and as we finished our last piece, I confessed that I lost my composure and hid in a side chapel until I could regain myself. As a coincidental benefit to me personally, I came across one of the monks who had seated himself quietly in a side chapel to hear our singing and the kindly ancient gave me a birthday blessing.
Kate's and my singing history have included performances in England, Turkey, and Germany, as well as New York and California venues. The retirement life experience that now continues into our later eighties has given us infinite joy and also provided us an important life lesson:
We all may well have unexplored potential that can fill our later years with joy and meaning.
Many people worry and plan medically, financially, habitationally, and emotionally for retirement, and my experience taught me the need and benefit of finding a meaningful avocation as well. The discovery of choral singing has added joy, meaning and occupation to our retirement years. I can only hope that everyone, in their own way of potential interest and talent, might gain a similar discovery and experience.
Brooks
---
Conclusion
I appreciate Brooks reaching out to me with his "homework assignment" after reading my book. My editor questioned my judgment in making that invitation to the reader, but I have no regrets. I enjoy reading about the journeys of other successful retirees and the lessons we can learn. I trust you agree.
Brooks, you're a true inspiration. Not only for the story of finding your retirement Purpose at age 65 but more importantly for continuing to live your passion well into your 8th decade of life. I also appreciate that the Purpose is something you share with your wife, a reality I can relate to given the Purpose my wife and I share in our Freedom For Fido charity work.
You're an inspiration to me, and I'm sure thousands of readers now feel the same. Thank you for taking the time to share your story.
Your Turn: In what areas have you "taken that first step?" Where did it lead? Have you discovered an unknown talent? Let's chat in the comments…