I've been negligent.
Let me explain…
My negligence has not been in ensuring my wife and I were covered, but rather in keeping you abreast of our final decision for how to get health insurance in retirement. A lot of you have asked me about it after reading Health Insurance in Retirement: Unsolved, the post I wrote shortly after my July 2018 retirement announcing our decision to use the COBRA extension for 18 months.
In December 2019, our COBRA would expire and our retirement puzzle remained unsolved.
We retired anyway.
Today, I pick up the story of what happened after our COBRA expired, including an update on the alternatives we considered and the ultimate route we chose. In short, we've been buying private insurance for 19 months now. For the record, I retired at age 55 and will be buying private insurance until my wife and I turn 65 in 2028. It'll cost us an astounding ~$250k to pay those monthly premiums, depending on how much they increase each year.
Ouch.
If you're struggling with how to get health insurance in retirement, today's post is for you. In addition to explaining our solution to the problem, I've included a "Resource" section to help you solve this puzzle for yourself.
Our COBRA health insurance coverage expired in Dec 2019. Here's what we did to get health insurance in retirement.
Click To Tweet
---

How To Get Health Insurance in Retirement
Health insurance is one of the biggest concerns for early retirees, especially those who retire before they become eligible for Medicare at age 65. It was a major focus of ours, and I'm sure it's top of mind for you if you're thinking about retirement.
It's essential to include a detailed estimate of your health care costs when you're projecting your retirement expenses. Fortunately, we planned conservatively and used an estimate of $2,500/month in our initial retirement cash flow model (escalating at 5% per year). Making sure you have a realistic estimate of health insurance is a key step you must take as you prepare for retirement.
Here's how our actual journey has unfolded:
---
COBRA – The First 18 Months
As mentioned earlier, we decided to take the "easy" route of going with COBRA. My employer was partially subsidizing COBRA at the time, so our actual cost was ~$1k per month. It was surprisingly easy to make the switch, I simply advised my employer and insurance provider that I'd like to transition to COBRA, and it was done.
Once I retired, the only change we experienced was the higher monthly premiums. No application process, no health screening, no change in any of our pre-retirement processes. We did receive new insurance cards in the mail, and we were set. Given all of the other issues I was dealing with during the transition to retirement, I felt this was a reasonable short-term solution. Knowing I had 18 months to sort things out bought us time to focus on the other changes retirement brought into our lives, and it worked well.
---
Due Diligence as COBRA Expiration Approaches
Knowing our COBRA deadline was approaching in December 2019, I starting looking into what plans were available in my area based on Healthcare.gov. In November 2018 I had my first look at the site, and shared my findings with the world on my Facebook Page:
---
---
The Good News: There were 8 providers offering the Silver Plan in my area.
The Bad News: My pension meant we weren't eligible for any ACA subsidies, and the average premium was $2,193/month. Knowing we had budgeted $2500/month for insurance premiums, we knew we could swallow this pill if we had to, but continued our search for lower-cost alternatives.
---
Christian Health Care Sharing Ministries
While not health insurance policies in the traditional sense, these ministries approach the problem by pooling money together from a group of like-minded people through monthly contributions, which are then used to pay the medical expenses of participants. They are very careful to clarify that they are not the same as insurance, but they are ACA compliant. This Wikipedia article provides a more comprehensive overview.
Several examples of Christian Health Sharing Ministries:
While their low cost is appealing, I have some personal reservations with this option. To keep it brief, I'll include this summary of some of the risks as cited in "The Pros and Cons of Healthcare Sharing Ministries":
Many states do not consider healthcare sharing insurance, so consumers have little or no legal protection if a claim is not paid, coverage is denied, or the ministry goes bankrupt.
There are certain restrictions and payment caps relating to pre-existing conditions.
Certain pre-existing conditions, such as diabetes, may require a member to pay an additional monthly amount along with standard membership fees.
Because healthcare sharing ministries are faith-based organizations, they can have specific rules associated with membership. For example, members might be required to attend church regularly, abstain from tobacco and illegal drugs, and attest to a specific statement of faith.
Healthcare sharing ministries cannot be used with Health Savings Accounts (HSAs) or reimbursement plans, such as the qualified small employer HRA (QSEHRA).
I had a friend who went the HCSM route but changed his mind after discovering that one of his wife's regular (and expensive) prescriptions wasn't covered by the policy. So, I may have gone into it with some bias, but my biggest concern was the fact that they aren't insurance companies, can legally deny claims, and provide no legal recourse in the event a major expense isn't covered. In short, as cited in this Doughroller article:
"HCSMs provide no legally binding guarantees of coverage."
As a conservative person, I felt the purpose of insurance is to have peace of mind in the event of a major health expense. In short, I was willing to pay a higher premium in return for guaranteed coverage. In my view, the HCSM provided a lower premium in return for some risk of not having catastrophic coverage. It wasn't a good "fit" with my philosophy on how I viewed insurance.
In short, I just didn't have peace of mind without a legal guarantee of coverage. That said, I know a lot of early retirees that use, and are comfortable with, the healthsharing approach. It just wasn't for me. Finally, my understanding is the use of an HSA is not allowed with HCSM's, and we've built up a decent balance in our HSA that I wanted to be able to tap for our medical costs.
Related: 10 Best Health Share Plans of 2021 – healthsharingreviews.com
---
Our Final Solution: An Off-Exchange Aetna Group Plan
A few months before our COBRA expired, we finally answered the question of "how to get health insurance in retirement". After looking at all of our options, we determined that our best route was to sign up for a group plan with Aetna, effective January 2020. I'd read that "group" plans can offer lower premiums than individual plans since there's an element of risk pooling, and I found that to be true as I did my research. Ours is an "off-exchange" plan, which means you won't find it when you search the ACA options in our area.
How did we find a group plan?
We were lucky. My employer used to offer retiree medical insurance but discontinued the benefit several years ago. There was a "ramp-down" period where the company subsidy declined (from 100% to 75% to 50% to 0%). What I discovered was the group plan is still available, though at 100% retiree cost. Since it was designed for retirees from my company, there were no medical exams required, and any pre-existing conditions would have been covered (fortunately, we don't have any, but still a nice feature).
Since it is a group plan, our monthly premiums are slightly below the best individual plans we were able to find with a comparable deductible and coverage. I don't know if the "group" will remain intact until we're Medicare-eligible in 7 years, but we'll ride this horse as long it's available.
Here's a summary of our plan:
Provider: Aetna
Monthly Premium: $1,900
"Silver" Level
Medical and Dental coverage
As a comparison, below is one of the comparable ACA plans which was available in our area. You'll notice the premium and deductible are both higher for this individual plan than what we were able to secure through our group plan: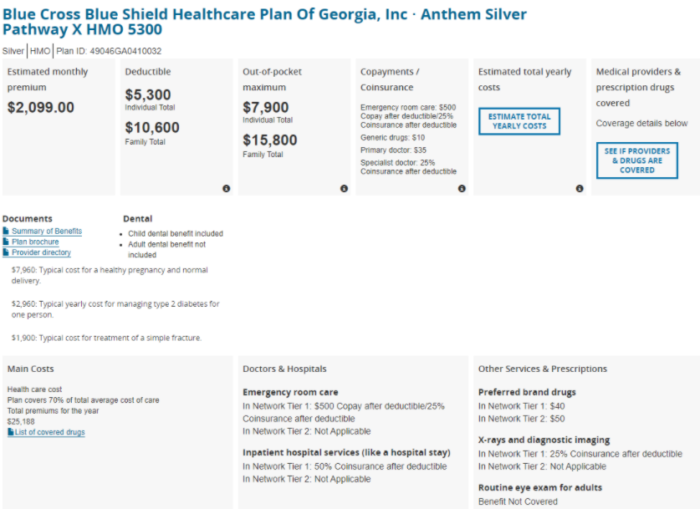 Since we went with a high deductible plan, we're able to continue our HSA, though it can't be used to cover the monthly premium. We max out our HSA contributions every year and use them to pay all of our medical bills as they occur. Since we've been paying less in medical expenses than the $8,200 allowable HSA contribution, our HSA balance has continued to grow in retirement.
We're now in our 19th month with the "new" insurance and have been pleased with how well it's worked. We're healthy, so we haven't maxed out our deductible in either 2020 or 2021. Having the dental insurance has also been convenient since many of the routine dental visits receive a lower negotiated rate. Most importantly, we found a solution that was below our $2,500/month budgeted level, and we have peace of mind that we'll have "good" insurance should anything serious develop in the years ahead.
Related: For some ideas on group plans that you may be eligible for, check out this article from ChooseFI.
---
2021 – ACA Subsidy Modification
As an example of how fluid health insurance is, there was a major change in ACA subsidies brought about by the American Rescue Plan Act of 2021.
It's time to be transparent: I totally missed it.
Having spent a lot of time finalizing our insurance decision for 2020, I was burned out on studying health insurance developments, and totally missed the change in the subsidy calculation. I won't get into the details of the change, which are best explained in this 2021 Obamacare Subsidy Chart and Calculator. I found out about the change after 2021 had begun and I had re-enrolled in my Aetna group plan. Even had I found we'd be eligible for some subsidies, I'd likely have stayed with the Aetna plan for two reasons: 1) the revision in the subsidies is only in effect for two years, and 2) I like the stability of having our 8-year solution to our health insurance puzzle.
I do NOT want to get into the hassle of changing health insurance providers every year, even if we could save a bit of money by going through that exercise. If we'd have jumped to an ACA plan, would I be able to jump back into the retiree plan if/when the subsidies were revised again? I'll never know because I was unaware of the development until after it was too late to act on it.
The lesson from this section: Keep abreast of health insurance developments, even when you think you've found your solution. Mark your calendar to do a bit of research every fall before the enrollment period closes. Lesson learned.
---
Resources – How To Get Health Insurance In Retirement
As I was working through our personal decision-making process, I came across some relevant resources that I felt would be of value in this post. Below is a bullet list:
---
Conclusion
Thanks to the many of you who have been asking "What did you do after your COBRA ran out?". Apologies for my negligence in writing a timely response, but I'm happy to report that's now been rectified.
In summary, what we learned is this:
Plan Conservatively. Use the highest reasonable estimate for your medical insurance costs as you're determining when you're able to retire. In our case, we estimated $2,500/month, and it's nice to be paying "only" $1,900 (I winced when I wrote that sentence). Surprises to the good are always preferred in retirement. Medical insurance is EXPENSIVE, and must be a major element in your retirement cash flow planning.
Do Your Research. Check out the links in the resource section above, and look at all options available to you. I suspect you'll be able to find medical insurance to cover you in your pre-Medicare years, but be prepared to pay up for it.
Stay Abreast of Developments: Don't pull a "Fritz", and miss an important update like the one triggered by the American Rescue Plan Act of 2021. I've learned my lesson, and now have an annual reminder on my calendar to review the health insurance market every Fall during the enrollment period.
Assess Your Risk Tolerance: Health Sharing Ministries may be an option for you. Ditto a "Bronze" plan, where your higher deductible will result in a lower monthly premium. We didn't do much research on a pure "catastrophic coverage" strategy, I'd be interested to hear from you if you have.
If you're wondering how to get health insurance in retirement, I hope this post has given you a place to start. Rest assured that this early retiree sorted it out, and I have confidence you'll be able to do the same. If your numbers say you can't afford at least $2,000/month, be realistic that this one issue may be big enough to force you to work for another year or two while enjoying your employer-provided coverage. Even if you think you'll qualify for an ACA subsidy, recognize the risk that these subsidies are subject to change. If you've built it into your numbers and are confident you'll be able to cover the expense, I encourage you to not let this one factor be the reason you continue to work.
There are options available.
Unfortunately, they come at a significant cost.
---
Your Turn: Did you retire before you were eligible for Medicare? What are you doing for health insurance? Also, has anyone investigated "catastrophic" strategies (e.g., you pay the first $50k, but the premium is very low? Is there a product that offers this type of option?). Finally, am I the only one who missed the update effective with the American Rescue Plan of 2021?