What is your retirement going to be like?
If yours is like the experience of others, it will likely follow one of four paths of retirement.
Which one of the four do you aspire to follow? If you're already retired, which of the four paths are you on?
Today, a fascinating review of one of the most comprehensive studies on retirement I've ever read, and their findings on the four paths of retirement. It's an excellent study on what retirement is really like, and how the realities differ between folks walking on the various paths. Regardless of which path you're on, there's value in understanding the journey of others.
I hope you find it as interesting as I did.
For those not yet retired, I encourage you to study the lessons learned from those who have walked the path before you. Your retirement will be better as a result.
Retirement tends to follow one of four paths. What are they, and which do you want to be on?
Click To Tweet
---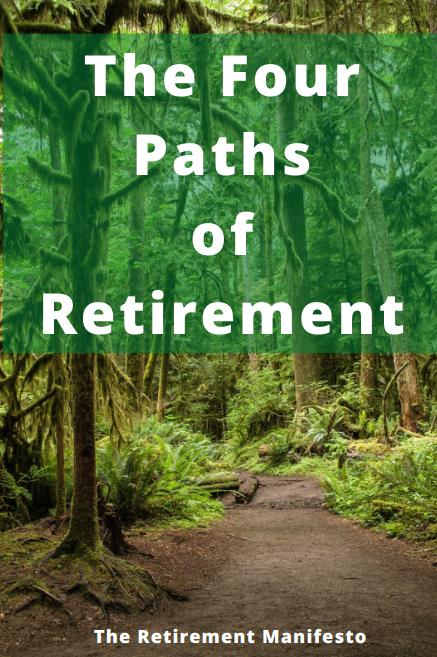 ---
The Four Paths of Retirement
As my longtime readers know, I enjoy reading well-conducted studies on retirement and sharing what I learn with you. No matter how much you study the concept of retirement, there's always more to uncover. I recently read Longevity and the New Journey of Retirement, a fascinating study conducted by Edward Jones and Age Wave Study. I suspect I'll be writing more than one post about this study, and I encourage you to read it in its entirety.
One piece of the study that most interested me was their finding regarding the four paths of retirement, summarized in the following quote:
---
"We found that survey respondents in the heart of retirement divide into four distinct groups,
characterized by their attitudes and ambitions, their circumstances and retirement preparations,
and their level of enjoyment of life in retirement."
---
Below, I present their findings on each of the paths, including highlighted comments from the report. In addition, I'll add my own thoughts on "what struck me" about each path.
The Four Paths:
Purposeful Pathfinders (23%)
Relaxed Traditionalists (26%)
Challenged yet Hopefuls (20%)
Regretful Strugglers (31%)
I'm on the Purposeful Pathfinder path but found it helpful to read about the paths that others are on. It's interesting how evenly divided the population is between the four paths and a bit concerning that those who are struggling represent the largest class. Below is a summary of each of the four paths of retirement, including some relevant commentary on each from the study.
---
Purposeful Pathfinders
As a "Purposeful Pathfinder" myself, I can relate to this path and the comments made about them in the report. The 23% of retirees on this path enjoy the greatest well-being in retirement, and I suspect they make up a large percentage of the folks who read my blog. Following are the key attributes according to the study:
Enjoys the greatest well-being in retirement.
Leading "active, engaged, happy purposeful, productive, and contributory lives."
Focused on continual self-improvement.
Doing very well "across the four pillars of family, heath, purpose, and finances."
They retired when they chose to and had the easiest transition into retirement.
They "rate themselves the happiest, most fulfilled, and most liberated among all retirees."
What struck me about this path: Age 34. That's when folks on this path started saving for retirement, the youngest of any path. As I've written many times, there's a correlation between the amount of time you spend preparing for retirement and how successful that retirement will ultimately be. This group exemplifies that reality.
---
Relaxed Traditionalists
The 26% of retirees on this path enjoy a more traditional path, with relaxation and enjoying life more important than the reinvention sought by the Purposeful Pathfinders. They're financially secure, comfortable, and see little need to change. Key attributes:
Focused on relaxing and enjoying life.
The transition into, and life in retirement, have gone smoothly for them.
Interest in travel and simply having fun.
Rate themselves as happy and fulfilled (though somewhat less than Pathfinders).
Contentment with life.
What struck me about this path: I thought of Type-A and Type-B personality types, and wonder if more Type-B's follow this path (whereas Type-A's tend to be Pathfinders)? They certainly seem to be a relaxed group, and I'm pleased to see that 49% fall into one of the first two groups, where contentment with retirement is high.
---
Challenged Yet Hopefuls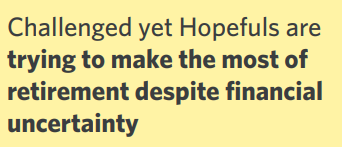 With 20% of retirees, this path represents the route least taken. They share similarities with Purposeful Pathfinders but find their options are constrained by insufficient financial preparation. Nearly 3/4's admit they have financial catching up to do and many worry about outliving their money. Key attributes:
They lead active lives and focus on self-improvement.
Focus on spending quality time with family and friends.
Financial shortcomings bring some worry and constraints.
Started saving at age 45, the latest among the four paths of retirement.
They enjoy living in the moment but worry about the future.
What struck me about this path: Starting their savings for retirement a decade later than the first two paths has consequences. While they enjoy retirement, they may need to earn extra income or spend far less to ensure they don't outlive their money.
---
Regretful Strugglers
It bothers me that 31% of retirees follow this path. I've often wondered what happens to the many folks who continually delay preparing for retirement, and now I have a bit of insight. Over half (54%) had to leave the workplace earlier than they had planned, a reality that hurts when you haven't prioritized retirement savings earlier in your career. A majority say they cannot live comfortably on the money they've saved, and overall they feel the least positive about life. Living a life with regrets is a tough path to follow. Key attributes:
The most common of the four paths, with 31% of retirees.
Only 35% view retirement as a new chapter in life, and 18% see it as the beginning of the end.
Their struggles extend across multiple pillars of life, including an inability to find purpose.
They engage in the fewest range of activities in retirement.
Many appear to have struggled with unsatisfying lives before retirement.
They rate themselves as least happy among the groups, as well as most anxious.
59% say they have many regrets.
What struck me about this path: It's sad that so many retirees follow this path. It doesn't have to be this way. I hope those still working can learn from those who have retired without adequate preparation. I also have empathy with those who find their "golden years" anything but. It's a sad way to live one's final years.
---
Comparing The Four Paths
Throughout the study, each path included "Key Points". To simplify the comparison, I created the following grid to capture the key points in a single table. It's interesting to compare the paths of retirement. To see what attributes are common between those who are enjoying retirement versus those who aren't.
---
The study also included some interesting graphics on how the various paths of retirement rank themselves on the four pillars of life:
What struck me about the above chart: I find it interesting to view the blue bars in each of the four pillar rankings above. Isn't that what we should all strive for in retirement? Don't we all want to get an "A" or a "B" on Health, Family, Purpose, and Finances? We'd all do well to study what it is that the Purposeful Pathfinders are doing differently. Their lives certainly appear to be better as a result.
We'd all do well the pay attention to the five habits shared by the successful retirees surveyed:
They actively maintain their health through diet and exercise.
They're more socially engaged with family and friends.
They have a sense of purpose by continually trying new things and finding ways to give back.
They're involved with their finances.
They're willing to make course corrections to achieve their dreams.
Why do so many people fail to recognize the need to take retirement planning seriously, while they still can? I recognize there are many who have been "dealt a bad hand" in life, but I suspect there are many Regretful Strugglers who ended up there as a result of bad choices in life. Ultimately, those who fail to plan WILL enter retirement (the majority, 54%, sooner than they'd have chosen). Isn't it better to be prepared, knowing the consequences on your Golden Years?
I hope those that need to see the results of this survey will see it. I hope they learn from it and apply some of the lessons. I hope they do it now.
Before it's too late.
---
Your Turn: What retirement path are you on? What advice would you give to those still working to avoid the path of the Regretful Strugglers?