One of my first memories of her was those amazing frozen pineapple cookies.
Heaven sent, and better than almost anything on Earth.
It was 32 years ago, just a few weeks before Christmas.  I'd only been dating her daughter for a month, and Elizabeth offered me a cookie as I picked up the woman who would later become my wife.   I don't remember what we did on that early date, but I'll never forget that cookie.  It was the first of hundreds that I'd eat over the coming years.
Unfortunately, the recipe was lost years later to the fog of Alzheimer's.  
The Long Goodbye
Elizabeth Gardner was my favorite mother-in-law.  She, like those frozen pineapple cookies, was something that, if you were able to experience, you'd never forget.  Heaven sent, indeed.  For the thousands that knew her, they know exactly what I mean by those inadequate words.
One.  Amazing.  Woman.
Elizabeth was an amazing woman. She shined a light in this world, even through the fog of her Alzheimer's.
Click To Tweet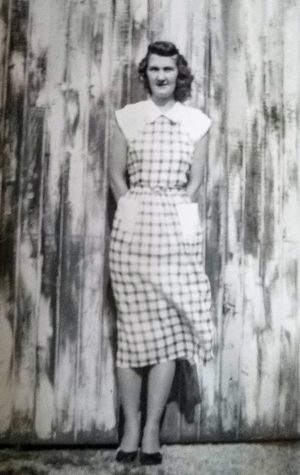 She grew up as a farm girl in rural Ohio.  Her Dad worked on various farms around the area, and they moved frequently as the work led them across the farmlands of Northeastern Ohio.
She learned to love dogs at an early age.  One of her favorite stories, repeated frequently in her later years, was of the various "farm dogs" she'd come to know and love as they migrated in those early years.  Migrating farmers, it seems, often left the "farm dog" behind as they moved on to new farms.  The incoming family would adopt the farm dog as their own, and they would love it for the time they were given.
They would love it for the time they were given.
Kind of like Mom.
We loved her and are thankful for the time we were given with her.
---
Raising A Family
Elizabeth loved few things more than her children, and she was blessed with three loving kids.  In addition, she selfishly raised numerous foster kids and shared her love freely with each and every one of them.  She often paid for kids in their town to attend a local church camp and picked up dozens of kids over the years on her way to church each Sunday, where she played piano for over 40 years..
She was a Godly woman, and she raised her three children right.  She was proud to watch those children become adults and to watch the values she had so carefully planted blossom as each child matured.  The children, like their mother, became models of all that's right in this world.  For that, they owe much to their Mother and all she demonstrated with her own life.
Her Christian faith played a huge part in her life, and she lived a life which filled the world with light.  She touched more lives than we'll ever know and made an impact on this world that few can match.  It's hard to explain in words the depth of this woman.
The genuine caring that she showed to everyone.
The selflessness with which she lived life.
The love she so freely gave.
The Joy with which she lived her life.
After decades in various retail jobs, Elizabeth retired at Age 65 and lived comfortably off her small retirement savings and Social Security.  She was truly happy and enjoyed retirement to the fullest.  I have fond memories of many visits to her Ohio home with our daughter, who (like her Mother) had a truly special relationship with Grandma.  One of Elizabeth's favorite stories was going to garage sales with our daughter, and teaching her about the value of money.  "You've only got $2", she'd say, "so make sure it's something you really want before you spend it."  I'll always treasure that Gorilla golf club cover that my daughter bought me that day.  Impacting the next generation for good, what else would one expect from a wonderful woman?
---
An Answer To Prayer
11 years ago, there was a cancer scare.  As Elizabeth waited for the biopsy results, she prayed that "God would give me 10 more years".  He answered her prayer and gave her 11.  Her Grandaughter was married 9 years later, and Elizabeth was able to join in the celebration with her favorite bride:
The Onset Of Alzheimer's
7 years ago, she started showing "signs" of Alzheimer's.  She was living in the town where she'd spent her entire life, and she started getting confused on her way to friend's homes.  We were living in Georgia, but her two sons were nearby.  They kept an eye on her, and we started talking about options.
It got serious when she forgot to eat.
Her son noticed unfinished plates around the house, untypical for a woman who always kept a neat house.  She was growing weaker, and we knew something was wrong.  After a stint in the hospital to regain her health, and the diagnosis that Alzheimer's had claimed another victim, we realized something had to be done.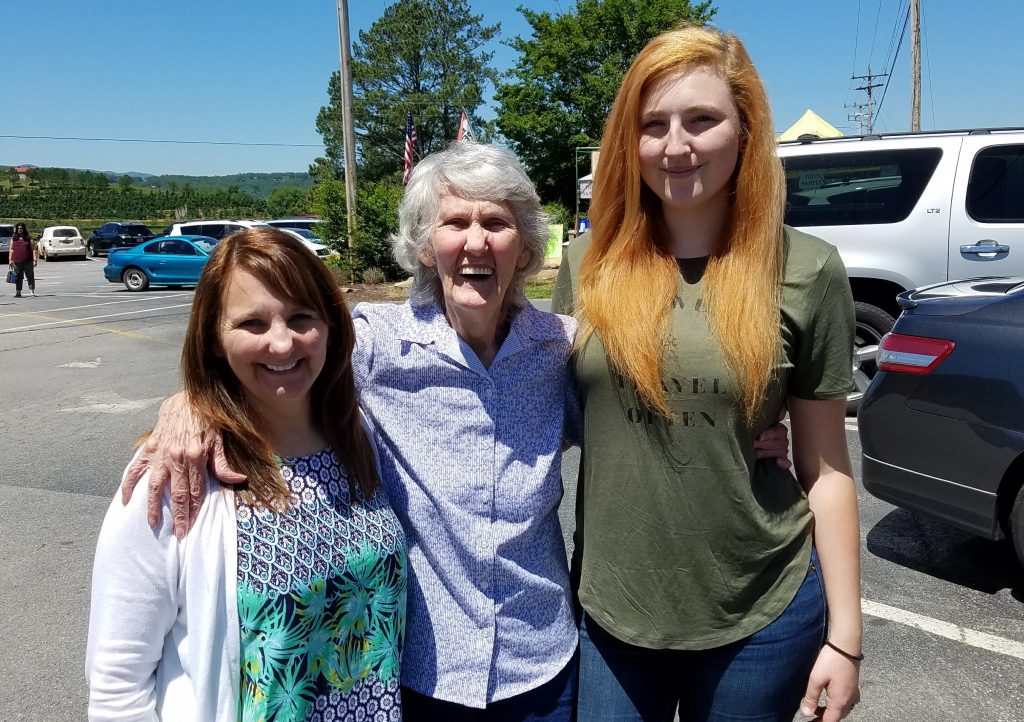 Living With Grandma
6 years ago, Grandma moved in with my family in our Georgia home.  "You see what we're doing for Grandma?", I asked my daughter.  "That's what you do for parents you love.  I hope you'll do the same for Mom if she needs help one day."  Her response was classic, "Ok, Dad, but what if it's YOU that needs the help?"  That's my girl, always wanting to clearly understand her obligation.  (For the record, I told her to just put me in a nursing home and I'd be fine!).
The Long Goodbye had started.
Mom wasn't the same anymore.  Somehow, the personality of someone who is suffering with Alzheimer's is just "different".  She was still as joyful as ever, but that deeply seeded spark, while still there, was harder to see through the fog.  She was, but wasn't, the same woman who gave me that pineapple cookie some 3 decades earlier.  She never complained, and she enjoyed spending time with her family.  We'll cherish those years that she lived with us, when we were able to return in small part some of the good she had done for so many others.
Truth be told, however, what she REALLY loved while living with us were her daily walks down our long driveway with her favorite dog, Chase.  He was her guardian, and she loved telling the story (repeatedly) of how he would always get between her and the road when she had gone far enough, letting her know it was time to turn around.  She loved that dog, and he loved her.  We all did.
The Nursing Home Decision
One of the hardest decisions caretakers must make when caring for a loved one with Alzheimer's is when it's time to take things to the next level.  A friend of mine who had cared for his mother (also with Alzheimer's) gave me some caring advice when he learned of my mother-in-law's situation.
"Take some time with your wife, and write down your criteria for when you'll make the move to a nursing home."
It was great advice, and we took it to heart.  We developed our list, and we filed it away.  As more and more of the items were "checked off" over the years, we realized the time was near.  We were struggling with the decision, and prayed that we'd know when the time was right.
The Broken Hip
Our prayer was answered in an unexpected way.  While spending a weekend at our mountain cabin, we heard a crash as we were preparing for bed.  We rushed down to the main floor bedroom to find Mom laying on the floor.  We're not sure exactly what happened (she's told several stories of the event, and given the Alzheimer's we're not sure which is correct), but somehow she had fallen as she was preparing for bed.
After a month in the hospital, the Doctor advised us that Mom had to go to a nursing home for rehab, and he recommended that she stay there after the therapy for full-time care of her Alzheimer's.  The decision was made for us.
The Goodbye Continued.
Life In The Nursing Home
For the past three years, our plans have been revised several times to support what was best for Mom.  We finally settled on moving her to a nursing home in the mountain town where we planned to retire, and have been happy with the decision.  Mom's life in the nursing home has been surprisingly good, and she's continued to shine her light in spite of the thickening fog of Alzheimer's.
"We wish every one of our residents were as cheerful as your Mom" was a refrain we heard often.
She had long since given up walking, but she was content to "walk" herself down the hallways by pulling herself along in her wheelchair with her legs.  She was quick, and in her mind she was independent.  She could go where she wanted to go, and she could visit whoever she wanted to visit (even if she didn't remember their names).
Initially, we'd bring her home from time to time to visit the dogs and enjoy a Sunday dinner.  Eventually, the anxiety of those hours away would outweigh the benefit, and we starting bringing the dogs to her.
My wife was an amazing daughter through the years.  Up until the end, she was visiting the nursing home 4+ days per week.  We modified the approach of the visits to do what we thought Mom most enjoyed and often brought old photo albums along to help reminisce on fond memories.  It's what you do for those you love.
And love her, we did.
The Long Goodbye Continued.
---
About Those Frozen Pineapple Cookies
Ironically, my wife starting thinking about those infamous frozen pineapple cookies a month ago.  We realized we hadn't eaten them since Mom had suffered from Alzheimer's, and we were afraid they were gone forever.
My wife looked EVERYWHERE for that recipe.  Somehow, those cookies became symbolic for our earlier years with Mom.  Try as she might, she couldn't find it, and we knew Mom's memory wasn't capable of recalling it.  The loss of that recipe seemed representative of the loss of the Mom we'd always known.  That woman was no longer with us.  She was here, but she wasn't.  Just like our memory of those pineapple cookies.
It was sad.  It was part of saying Goodbye.
Then, my wife thought of the old church cookbook:
Amazingly, Elizabeth had sent in the infamous pineapple cookie recipe years earlier when her home church had put together their "Good Cookbook".
A few weeks ago, my wife made the cookies.   We put them in the freezer and enjoyed a few over the coming days.  They were as good as we remembered.  We savored every bite.
For some reason, we kept the final one in the freezer.
It's as if we knew.
---
The Final Goodbye
Last week, Mom took a turn for the worse.  As my wife and I were heading to the nursing home, we received a call that they were taking her to the hospital.  Her pneumonia had gotten worse, and it was beyond their ability to treat.
We spent every day of the past week beside Elizabeth's bed.  We called the family and sat together as she suffered through those agonizing coughs.  It wasn't getting better, and other things were starting to shut down.  We were so thankful to have her son alongside when we had a tough decision to make, and agreed with the doctor that "comfort care" was the best thing we could do for Mom.
Her final few days were peaceful.
And Then We Said The Final Goodbye.
---
The Final Frozen Pineapple Cookie
On the night Mom went to heaven, my wife and I shared that last frozen pineapple cookie we'd kept in our freezer.  We cried, and we smiled as we thought of Mom in Heaven. Her battle with Alzheimer's was over, and she was once again running free.  She deserves to be in Heaven, where we've no doubt she's continuing to shine her amazing light.  I believe in my heart that Chase is up there with her, and expect they're taking their daily walks again.  Her best friend, Dorothy, is there too.  They're probably back to their practical jokes and making everyone around them laugh. We smile over that thought, and somehow suspect it's even better there than we can possibly imagine.
That final cookie was heaven sent.
Just Like Mom.
---
Mom's Frozen Pineapple Cookie Recipe
Note:  Mom left out an important bit, much to our amusement.  Roll out the cookie dough, and cut into 5″ cookies.  Put the filling on the "bottom" cookie, then cut a 1″ hole in the center of the "top" cookie and place it on top of the filling, pressing the edges together.
Also, do NOT eat these without freezing them first.   It's a rule.
Heaven sent. 
PS:  I'll be at a funeral in Ohio as you read these words, celebrating the life of a very special woman.  Apologies in advance if I'm not as active on your comments as normal.  I trust you understand.