I first noticed him as I was boarding the plane in Paris.  His hat caught my attention.
World War II Veteran
It was a white cap, with bold yellow letters proclaiming his service during the Great War.
I watched as we went through the boarding process, and struggled to make sense of the math. "This Guy's gotta be at least 90, but he looks like he's in his early 70's. He was the most spry 90+ year-old I've ever seen in my life. I was intrigued.
"I've GOT to involve this guy in my One Retirement Question Project", I thought.
As it turns out, he DID get involved, and you'll love his recorded answer to the One Question later in this post.  First, you need to hear his story.  Trust me, you won't regret reading about this true American Patriot.  I'll share his recorded answer to "The Question" shortly, but first you need to know a bit about this man, and how we came to know each other.
I passed his seat as I worked my way down the aisle. I paused, and told him "Thanks for your service". Several others joined me in congratulating him, and he lit up light a schoolboy.  He mentioned that he was turning 92 years old this summer, and we congratulated him again.
I thought about The Veteran during the first 7 hours of the flight.
As we made our way across the North Atlantic, I kept my eye on him.  At one point, he spent 10 minutes, knees on the seat, facing backward, talking to someone in the row behind him. His personality was contagious from 5 Rows away. He had a certain "sparkle", and I knew I had to talk to this guy.
But…"I'm on an airplane, and there are ~60 folks in our section of the plane. They'd all see me if I walked up and struck up a conversation.  Is this too awkward?"
Should I, or Shouldn't I?  I Should.
I Did.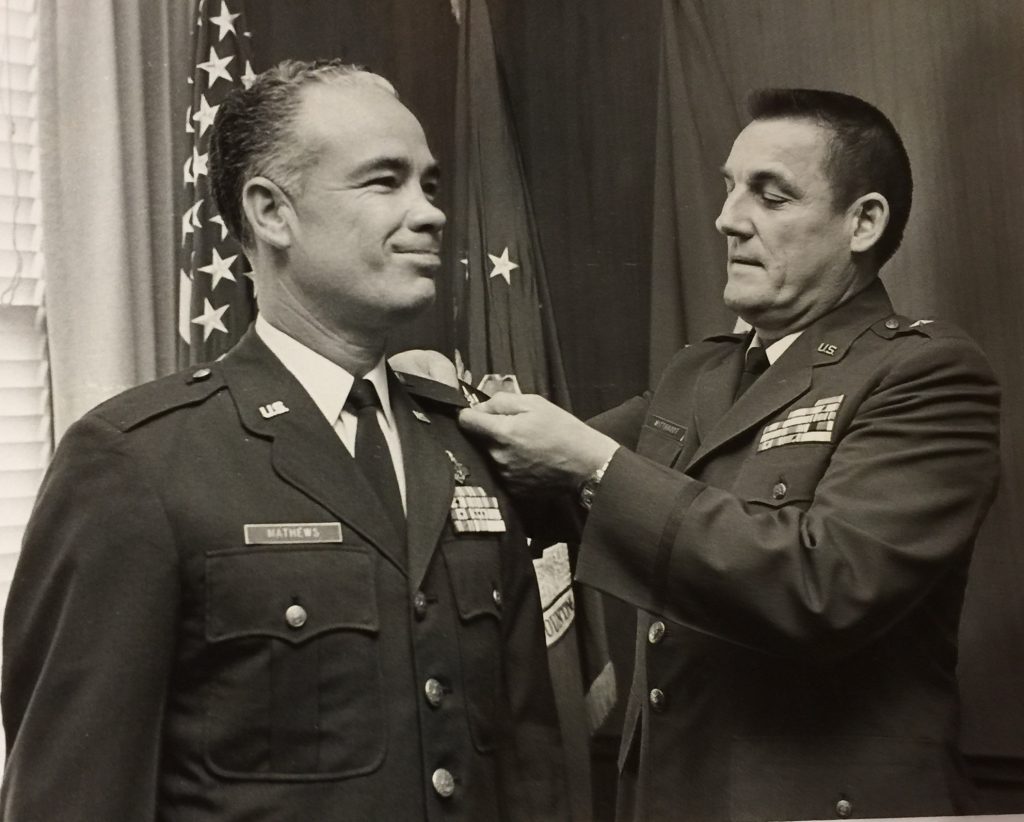 ---
The Introduction
I walked up the 5 Rows, kneeled down in the aisle beside his seat, and asked: "Do you mind if I ask you a question?"  "Of course not", he responded with a grin, "I'm not going anywhere".
I liked him immediately.
We ended up talking for more than 20 minutes, and he gave me the highlights of his career.
After we made our introductions, my new friend Don Mathews started telling stories.
A Civil War Legacy
Don's Grandfather, John L. Mathews, served in the Confederate Army during the Civil War.  He served as a Lieutenant of a Georgia regiment and was shot 3 times during the war. He survived.
After the war, he served in the Georgia State legislature and became a well-known figure in Georgia.   He was an educated man and stressed the importance of education and "proper English",  traits which have been respected by his family as a lasting legacy.
He had a Union bullet in his body from 1865 until his death years after the war.  Even though I'm a "Yankee From Michigan", Don and I became friends.
---
---
Don's War Stories
After telling me about his Grandfather, Don livened up as he started telling stories about his 33 years in the service, covering World War II, Korea, and Vietnam.  I sat in the aisle, mesmerized, as he told of his time in the military.
---
In The Air With Enola Gay:  Aug 6, 1945
Don took to heart the lessons from his grandfather and was rigorous with his education. He's very well spoken, and with a quick wit and obvious intelligence.
After graduating from high school, he enlisted in the Air Corp at age 17. He went to tailgunner school, and was trained as a tailgunner on the B29 (the same as the Enola Gay).
On August 6, 1945 history was made as the Enola Gay dropped the infamous bomb on Hiroshima.  On the same date, Don was flying for 4 hours in a B29, finishing up his tailgunner schooling.  He has the flight records to prove it, and he mailed them to me (along with a treasure trove of other documents and photos) after he returned home: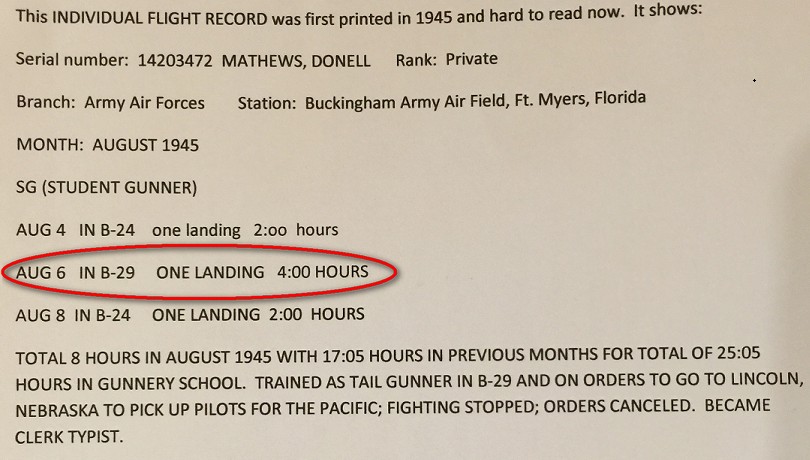 After Hiroshima, there was little need for tailgunners, so at the conclusion of his training, he re-enlisted as a squadron clerk.
At the urging of his First Sergeant (Melvin T. Lewis, "who, no doubt, had the most influence on my life"), he attended officer candidate school and was commissioned as a 2nd Lieutenant in 1946.
At 20 years old, he had already achieved the highest enlisted rank in the Army.
In 1950, he attended pilot school, with the hopes of becoming a bomber pilot. "I washed out of pilot school, so I decided to become a navigator and began working as a navigator on the B26 bomber."
---
---
Dropping Bombs Over N Korea
As a navigator on the B26 bomber, Don flew many low altitude missions over North Korea. He recalls watching the "tracer rounds" coming up from the anti-aircraft guns and passing between the engines and the side of his plane. "Both the pilot and I kinda leaned into the middle of the plane on that run", he said with a grin.
Don flew with the 13 Bomber Squadron, more commonly known as "The Grim Reapers".  He's had friends die in combat, and he's seen many a flight not return home.
He's working with Washington to attempt to locate his friend Gene Gould, who has been MIA since being shot down over North Korea on a flight piloted by Bob Newton on March 31, 1952. If you know anyone with some pull, do Don a favor and send a note on his behalf. It's the least we can do for Don, given all that he's done for this country.
Working In The Pentagon
In 1955, Don was assigned to the Pentagon and navigated many flights with dignitaries around the world.  He earned his Masters Degree in International Affairs from George Washington University in 1967 and served on the staff of the U.S. Air Force.  In the 60's, Don served as navigator on many transport flights into Vietnam.
On Sept 1, 1977, Don retired as a Colonel with the U.S. Air Force, having logged over 4,500 flight hours, many during wartime.
---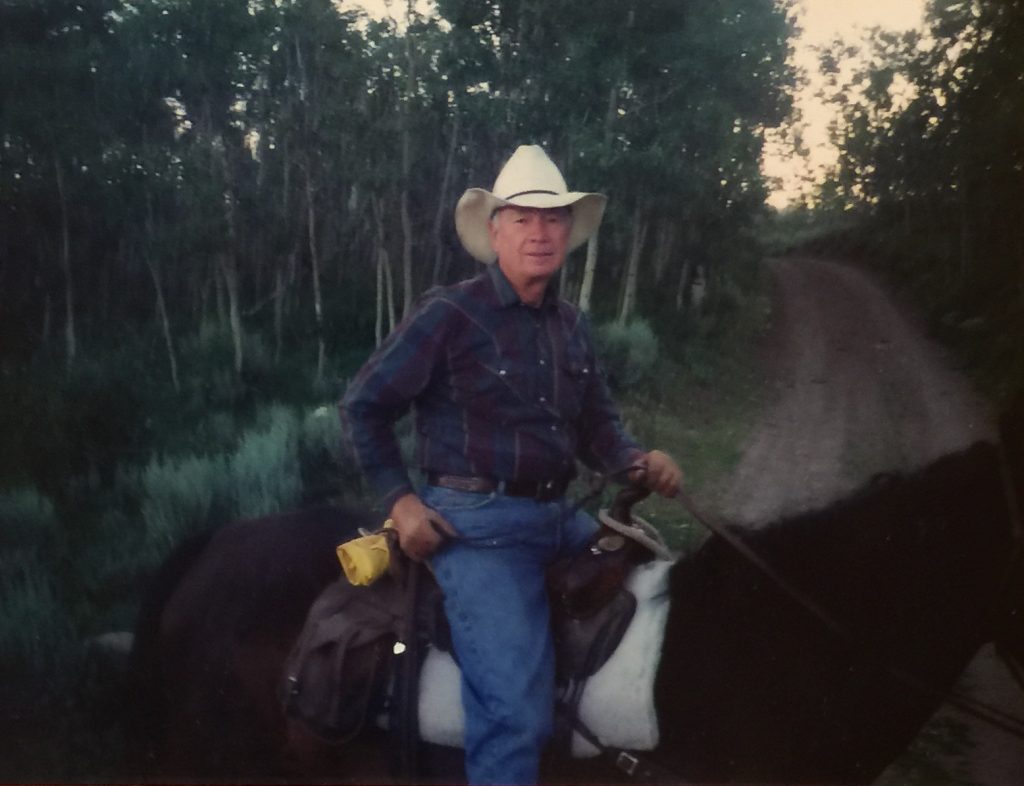 40 Years Of Retirement
After a 33 year career in the military, Don hasn't slowed down since his retirement in 1977. He went to work at Kroger (across the street from his retirement home in Florida) from 1979 – 1985, then worked for Kimberly-Clark for over nine years. Remember that when you hear his recording below…
Don still plays golf 3 times a week, and obviously (since I met him on a flight from Paris) continues to travel internationally.  He's always been energetic and doesn't appear to be slowing down any time soon. A horse lover since childhood, he's spent a lot of time riding horses in the Western USA.
A Veteran Receives His Honor
In 2011, Don was invited to the Pentagon by the Chief of Staff of the Air Force to witness his cousin, Judith Fedder, getting pinned with her third star.
In 2014, he was an honored guest on a World War II Honor Flight from Florida and toured the various war memorials in Washington, D.C.
---
The One Retirement Question
As you may recall from my original post in this One Retirement Question Project, I've been asking folks who have had successful retirements to answer one question:
"What one piece of advice would you give to someone who is 30 days away from retirement?"
I can think of no one I am more honored to have answer that question than the Patriot and my new friend, Don Mathews.  He participates today as Victim #5, and you can hear his response aboard a plane from Paris below:
I like Don.  Like the true military hero that he is, he's brief, concise, and to the point:
Plan to stay active, physically and mentally, at all times. Don Mathews - WWII Veteran
Click To Tweet
Don clearly lived his advice, from wrangling horses into his 70's, to working for the first 14 years of his retirement, to continuing to play golf 3X a week at Age 91.  We could all learn from Don's wisdom, and I intend to apply his advice in my own retirement.
Conclusion
It's not often that you get a chance to talk to a real American Patriot. The Greatest Generation deserve our respect, and my intent with this post is to do exactly that for my new friend, Don Mathews.  Take the time to reach out to people, and stop to listen when they respond.  Folks who have lived well into their 80's and 90's have a lot to teach younger generations, and we have a lot to learn from them.
If you're lucky, some of those interactions may lead to friendships.  It's happened with Don and me, and we've shared numerous emails since our encounter on that plane.  I've come to know a bit about a World War II veteran, and I'm honored to have made his acquaintance.  Today, through the wonders of the internet, you've all been able to experience just a bit of what makes Don so special.
And to think, it all started with a hat.