I've had an amazing week.  The highlight, without a doubt, has been The One Retirement Question Project.  It happened serendipitously, and it's been a blast.  This was too much fun to have by myself, so I decided to share it with you.  The story revolves around one retirement question.  That's it.  One Question.
In the past 24 hours, I've asked the exact same One Retirement Question to 4 folks who are living Great Retirements.  Then, I RECORDED their answers, which I'm sharing with you in today's post.
The One Question Was: If you could give ONE piece of advice to someone 30 days from retirement, What Would It Be?
Click To Tweet
Today, I tell the story of how The One Retirement Question Project developed, and the individual answers I received from four "happily retired people" in response to that question.
PS:  A side note: Always be on the lookout for opportunities.  Last week, I saw an opportunity, and I took it.  Here's what happened…
It all started with a photograph of an old barn. 
The darndest thing happened to me a few days ago.
It all started shortly after I had parked my new truck by a rustic old barn in the North Georgia mountains, and was taking the photograph below (I like the interplay of the dark light in that shot).  As I was shooting this pic, a white van pulled on the side of the road and stopped:
North Georgia is a friendly kind of place, so I strolled over to the van to let them know what I was doing.  I assumed they owned the barn and were wondering what I was up to.
As I was walking toward their van, I caught a glimpse of their license plate, and smiled: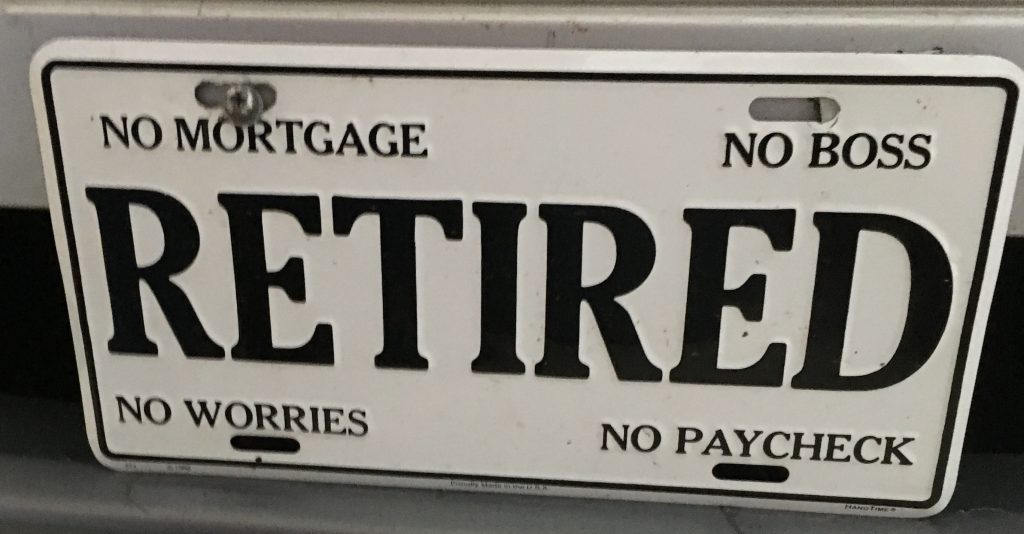 ---
My First Conversation:  Mr. & Mrs. Smith
I walked up to the driver side window and said, "Nice license plate!  I'm retiring in 40 days, I'm going to have to get one of those for my truck".
We hit it off immediately.  Turns out Mr. & Mrs. Smith are two of the friendliest people I've ever met.  We talked for almost 30 minutes, just standing on a country road (there's a reason we retired here), and really connected.  Turns out that Mr. & Mrs. Smith live a mile up that narrow road and were just relaxing watching me take the photos.  Nice folks.
As we talked, I got an idea. 
I have no idea where the idea came from, but I ran with it.
I'm going to ask them for retirement advice, and see if they'll let me record their response. They did, and I recorded it for all of you to hear.
Click To Tweet
I decided to ask The One Question and have Mr. and Mrs. Smith answer it individually.
Little did I know that this was only the beginning of what would become a fascinating project.
---
The One Question
"If you could give ONE piece of advice to someone who is 30 days away from retirement, what would it be?"
I asked them to not answer right away, but to take a few minutes to think about it.  While they were thinking, I asked if they'd mind if I pulled out my iPhone and recorded their response.
They Said Yes.
---
You Have GOT To Listen To This
I pulled out my phone, found the voice recorder, and hit "Record".  Here's how they answered the question:
Why are you reading down here already?
Come on, it's only 1m 56s long.  Go back up there and click "play".
Trust me, you won't regret it.  It's worth it.
I'll wait.
(PS – You'll love their Georgia accents, too!)
---
Mr. Smith's Answer To "The Question"
As you just heard (you DID listen, right?), Mr. Smith went first.  Short, concise and to the point.
I like Mr. Smith.
What You Don't Do Today Will Still Be There Tomorrow. Mr. Smith. 74 Years Old
Click To Tweet
---
Mrs. Smith's Answer To "The Question"
Mrs. Smith was a bit more philosophical, and waxed for several moments about the importance of Purpose and staying busy in retirement.
You have GOT to hear her answer.
If you haven't clicked on that 1m 56s recording yet, go up there and play it now.  (Are you taking the hint?  Trust me, it's worth hearing!)
Try To Accomplish One Goal Every Day. Have A Purpose. Mrs. Smith, 76 Years Old.
Click To Tweet
We talked for a few more minutes, shared some laughs, and made plans to get together in the coming months.  Mr. Smith plays golf a few mornings a week with a group of guys at a local golf course, and I think I'm going to join them one morning after I retire in June.  He's a nice guy, and I suspect we'll become friends in the coming months.
We've traded a few e-mails since our chat, and they signed up for the free email subscription to my blog.  They're reading these words for the first time, along with all of you (Hi, Mr. & Mrs. Smith.  I really enjoyed our discussion beside that old barn in the North Georgia mountains! Hope you like this post!  Looking forward to that golf).
How cool is that?

---
---
My Second Conversation: Ed Wolpert
Ed Wolpert is a good friend of mine.  He's 82, and we meet every few months for lunch together.  I met him a year ago during a chance encounter at a "Blue Ridge Writers" kiosk at Arts In The Park, a local art fair.  He's written several books about Personal Finance, including Financial Planning For Retirement and Beyond (I've read it, it's good, and I recommend it for anyone thinking about retirement).
Ed's a Veteran of the United States Army, and I appreciate his service in Europe during the Cold War in the 1950's (his hat says "Cold War Veteran", in case you can't make it out in that pic).
I've written about Ed previously in 4 Challenges To Improve Your Retirement (he's listed in Challenge #4).  I consider him a mentor, and I consider him a friend.  He's also the ONLY person in the world who I can talk options trading strategy with, and he enjoys "taking me to school" (he was a professor, and it shows).  "May All Your Options Expire Out Of The Money", we joke.  We both trade options actively, and we share ideas.  He goes for companies, I go for ETF's.  We share ideas, and we make some money.
He's taught me a lot.  And, he's made me some money.  The next lunch is on me, Ed.
Ed's also written THE BOOK on options trading, literally.  He's a smart dude, and he's a lot of fun.  He's good with money. He made a killing in 2017 on options trading.  He knows what he's doing.  Did I mention, He's good?
Really good.
I happened to be having lunch with Ed the day after my interview with The Smiths.  As Ed and I talked, I got another idea…
I Could Turn This Question Into A Series Of Interviews
Ed loved the idea of "Answering The Question", and agreed to be the next victim.  After our lunch, we stepped out on the front porch of the restaurant (too much background music inside).  Sheltered from the rain (which you'll hear in the audio), I took the above picture of Ed.
---
Then I hit "Record":
---
Ed's Answer To "The Question"
Reading down here again?  Come on, you know how this works.
Hit "Play".  It's only 3 mins long.  I'll wait…
Again…
Ed and I have spent hours talking about financial planning, so I wasn't surprised with the first part of his answer.  He threw me for a twist, though, when he finessed the second response into his "One Answer" (I told you he was good).
Stay Invested In Stocks, And Get A Hobby. My Friend, Ed. Age 82
Click To Tweet
---
---
My Third Conversation:  My Dad!
My Dad lives in Michigan, so I'm not able to visit him as often as I'd like. He recently moved into Assisted Living (My Dad Just Moved Into Assisted Living), and he's enjoyed a Great Retirement.  In spite of the distance, we maintain a very close father-son relationship via weekly phone calls (My Dad's also a regular reader of this blog, and he's reading these words today for the first time along with the rest of you.  I love our weekly calls, Dad, and want to take this chance to say, publically, "Thank You" for everything you've done for me over the past 55 years!  I love you in the way that only a Son can love his Father).
I wrote 18 Lessons I Learned From My Dad:  A Tribute to honor the man I respect and love so much.
As it happens, I was scheduled to call my Dad shortly after my lunch with Ed.  Coincidence?  Perhaps not.
I got yet another idea (yeah, I've kinda been on a roll with this One Question thing…)
I decided to include my Dad in this One Retirement Question Project.
Click To Tweet
We had our typical weekly call, and then I told him about my "One Retirement Question Project".  He agreed to "Answer The Question", so I put the landline phone (necessary here in the mountains, where cell coverage is spotty at best) on "speaker" mode, and held my iphone up by the speaker.
---
Then I Hit "Record".  
---
My Dad's Answer To "The Question"
I hope I don't have to tell you to listen to the recording again, right?  Come on, HE'S MY DAD!
Besides, he only talks for 4 minutes. And, come on, y'all.   He's My Dad. Show some respect.
Click "Play" already.
While it wasn't as "natural" answering "The Question" via phone, it worked.  I'm pleased beyond words to have an audio recording of my Dad.  A recording that will live forever in the world of the internet.
How cool is that?
Have Long-Term Goals, and have short term goals every day that keeps you going physically and mentally. Have a moral guideline. Be a Doer. My Dad.
Click To Tweet
I can't tell you how much my weekly phone calls to my Dad mean to me.  They mean the same to him.  I hope you get a small sense of our relationship through the short 3 minute audio.
He's Special To Me.
And I'm glad to share just a bit of his intelligence with you today.
Be A Doer.
Think About Other People And What You Can Do For Them.
Have Something To Do In Your Retirement.
Smart man, my Dad.  I'm happy to share a bit of his intelligence with you today.  We'd all do well to listen to his wise advice.
---
Conclusion
Learn from those who have gone before.  Folks in their 80's have some REAL knowledge to share with those of us who are just approaching our retirements.
Learn From Them.
Take the time to connect with the people who have walked the path ahead of you.  Ask them a question.
Listen to their response.
Never Stop Learning.
For the comments:  You're thoughts on "The One Question"?  How would you answer it, and what have you learned from those who have gone before?
If you're 80+. I encourage you to ask "The One Question" in the comments.
"If you could give ONE piece of advice to someone who is 30 days away from retirement, what would it be?"