Childhood Memories
Am I alone in this, or do you also have vivid memories of riding an escalator when you were a kid?
Do you remember…
…That apprehension as you approach your first encounter with the beast, wondering exactly where to place your foot on that moving belt? That fear that somehow you'll not survive if you put your foot on the seam? Squeezing your parent's hand as you place your foot on the belt, quickly followed by your second foot as the belt pulls you away? Watching, watching as that flat surface forms into a step, and thankful your feet are, indeed, solidly on the flat step section?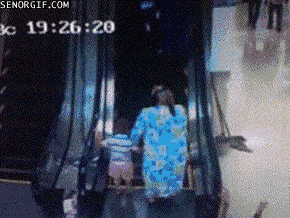 …That wonder as you move, without any effort on your part. Somehow defying gravity as the miraculous belt moves you up, up, up while you remain, strangely, in the same place on that step.
…The terror as you realize the end is approaching, and the sudden fear that your foot will get severed if you don't get it off the belt before it disappears under those man-eating teeth. Grabing your parent's hand a bit tighter, then timing your death-defying jump to safety.
What is it about that moving staircase that creates such vivid memories?
---
The Moving Sidewalk
The same wonder extends to the moving sidewalk, does it not?
In the final years of my career in international business, I found myself (too) frequently in airports. Whenever possible, I'd ride those moving belts between terminals instead of taking the trams. The fascination spawned in childhood continues with me to this day.
There's something enjoyable about walking at normal speed, but watching the world go by in double time.
Personally, I most enjoy the higher speed walkways. Especially as you approach the end of the belt…
Admit it, we all pay attention as we near the end of the ride.
At the end, there's that strange "compression effect" when you move from the speeding belt to the solid ground. It's a rapid deceleration, in spite of the fact that your legs are moving the same speed.Your knees sense the shift, your body tilts a bit as your forward momentum slows, and you adjust to your new reality.
For some reason, I like to increase my walking pace as I approach the end of the belt. It maximizes the "landing" effect, and it's kinda fun. Yeah, I'm just weird that way…
Stepping off a moving sidewalk takes an adjustment. Your body feels the compression as you adjust to your new reality. Pursue moving sidewalks in your life.
Click To Tweet
---

Pursue A Life With Moving Sidewalks
At this point, you're probably wondering where I'm going with this post. Bear with me…here's the application to our lives…
As many of you know, I've been on sabbatical for the past 3 months. My wife and I just completed a 10,000-mile cross-country RV trip (with our 4 dogs!) which we titled "The Great American Road Trip". (BTW, I appreciate the support I've received from so many of you, and the interaction to the photos I've shared on Instagram and Facebook.)
It was a "Moving Sidewalk" Experience.
A thought came to me last night when this post was born. I realized that there are moments in your life where an experience somehow alters your typical day-to-day reality. Where, perhaps, your impression of time is impacted. Where you take a break from reality. Where you face a re-entry adjustment.
Just like a moving sidewalk, only bigger.
It's a moment you've been planning for, anticipating. A moment that starts when you step on that proverbial belt at the beginning of the adventure. There's that long, fun ride in the middle where the scenery is always changing. Finally, in the end, there's that strange compression as you make the adjustment from your surreal experience back to the world of reality.
The moving sidewalk is an analogy for all of us. Regardless of where you are in life, there's value in pursuing moving sidewalks.
Click To Tweet
---
How To Find Moving Sidewalks In Your Life
A "Moving Sidewalk Experience" can be anything which takes you out of your routine. Something with a clear beginning, followed by a non-routine experience, and wrapping up with an adjustment as we return to the "reality" of our lives. A vacation is an obvious example, but there are many others. It can be as simple as trying something which is new to you or traveling someplace you've never been or joining a club you're interested in. The list is endless, but it's within your control.
What's important is that you work on becoming intentional, and seeking out experiences which…
…Bring variety to your everyday reality.
…Give an element of excitement, changing the pace of your life for a while.
…Provide a change of scenery.
…Require an adjustment as you step off the moving sidewalk and back to reality
Pursue a life filled with moving sidewalks. Savor the apprehension of stepping on and enjoying the ride. Welcome the adjustment when the ride is over.
Click To Tweet
---
I Just Stepped Off That Belt
The #GreatAmericanRoadTrip meets that criteria and I consider it a Moving Sidewalk Experience. In fact, I'm going through the "adjust to reality" phase as I write these words.
The strange reality is that a few days ago we were sleeping in a box with wheels in the Rocky Mountains, and now we're not. We've stepped off the moving sidewalk, and we're feeling that strange compression as we return to our "normal" reality.
Coming home is a big change, and it's all good. It took us a while to adjust to life on the moving sidewalk in the RV, and it'll take us a while to adjust to life back in our retirement mountain cabin.
Forcing yourself to make adjustments is a good thing.
The value that the road trip brought to our lives is difficult to quantify, but it clearly made our lives better. I suspect I'll never write words which will adequately communicate the reality of what it's like to go through an experience of RVing across the country. At this point, I'm not even sure if I'll write about it.
And, really, that's not what's important.
---
What's Important Is This…
Life is short.
Grab hold of it with both hands.
Use the analogy of the moving sidewalk to challenge yourself to find something new to mix up your routine. Every time you get on an escalator or moving sidewalk, remember this analogy and challenge yourself again. Find a way to jump on a moving sidewalk as often as you can.
---
Conclusion
It's been strange to be away from the keyboard for the summer. I've enjoyed the break, but I'm also glad to be back.
I was riding a moving sidewalk, and it made my life better. I suspect they'll make your life better, as well.
Find a way to break up your normal routine.
Find A Moving Sidewalk.
Enjoy The Ride.