Wouldn't it be great if "the experts" would share the most common financial mistakes retirees make? Experts who work with thousands of retirees, and have seen first hand the mistakes that happen frequently? While we're dreaming, wouldn't it be even better if we also had a list of tips to avoid these mistakes? Maybe even with some links for additional articles related to the most common mistakes?
That is exactly why I wrote today's post.
Avoid these 7 common financial mistakes retirees make. Here's the list, along with steps you can take to avoid them.
Click To Tweet
Even if you're not yet retired, I encourage you to read this post to ensure you're taking steps to avoid these mistakes as you plan for your own retirement. Some of them are easier to fix if you have more time (Oh how I wish I had more time to fix my own problems with #6).
Let's learn from the mistakes of others…
I recently came across this post about financial mistakes retirees make, written by financial advisors who have seen thousands of folks cross the starting line of retirement. I've added my personal commentary, highlighting some tips on ways you can avoid these mistakes in your retirement planning. I've also added links to relevant articles I've written which address some of these issues in more detail.
---
7 Financial Mistakes Retirees Make
---
1. Lacking A Realistic Financial Budget
Knowing how much you expect to spend in retirement is a fundamental piece of retirement planning. It's impossible to safely set a retirement date if you don't know how much you expect to spend, and how much you can safely withdrawal from your investments to pay for it. Make sure you consider the tax expenses you'll incur during retirement since these will also have to be covered by your investment withdrawals. This is especially true if you have a significant amount of your retirement savings in Before-Tax IRA's or 401(k) accounts. Finally, be realistic about your healthcare costs, especially if you're retiring before you're eligible for Medicare.
Once you've retired, make sure you're monitoring your actual spending versus what you had planned, and adjust accordingly if you see withdrawals edging above your targeted level. Know what spending is discretionary, and be prepared to reduce it as your situation dictates.
Tips To Avoid This Mistake: Don't retire until you've tracked your spending for at least 6 months to ensure you're using a realistic estimate for your retirement spending. If you're already retired, build a way to track your spending, even if you only do it on a high level (that's the approach I'm using, which I'll share in a future post).
Further Reading:
---
2. Having An Appropriate Respect For Risk Vs. Return
The transition from "Accumulation" to "Withdrawal" is one of the most significant financial adjustments you'll make in life. While risky investments may have been fine while you were dollar-cost averaging during your working years, the reality is that your risk profile changes once you retire. Sequence Of Return risk becomes a major consideration, and the need to avoid selling stocks during a downturn is something you need to address with your Asset Allocation. Rather than just focusing on a return ON your money, retirement is a time to also consider return OF your money.
Tips To Avoid This Mistake: Make sure you're monitoring your Asset Allocation (I use Personal Capital to simplify the process, as I explain in this article), and have a system in place to ensure you won't need to sell stocks during a downturn. (I use the Bucket System, which I explain here). Recognize that your risk profile changes when you move into the Withdrawal Phase in retirement, and have a plan in place to deal with the associated risks.
Further Reading: T
---
3. Taking Social Security Too Early
Historically, most folks have taken their Social Security at the earliest possible date. They worry that Social Security will "run out of money", so they best get it while they can. As folks study the issue in more detail, however, they recognize the benefits of delaying Social Security. Based on the data, roughly half of folks are now taking Social Security as soon as possible (down 10% over the past decade). This is a common area for debate, with folks coming down on both sides of the issue. The important thing is to make an educated decision.
Tips To Avoid This Mistake: The decision on when to claim Social Security is a very important decision. Don't make it without studying up on the issue, and understanding the pros & cons of all of your options. In our case, I'm planning on deferring to Age 70, primarily as a longevity insurance play (see my logic here). Make your own decision, but make it an educated one.
Further Reading:
---

4. Not Understanding Tax Implications
Of all of the mistakes retirees make, this is the one which I struggled with the most in my personal retirement planning. I found it difficult to model the tax implications of withdrawing my Before-Tax 401(k) funds, though I did put a general tax assumption in my Retirement Cash Flow Model. For many retirees, they see $1M of Before-Tax money in an IRA and fail to recognize that they'll actually receive much less than that on an After-Tax Basis. Taxes are likely to be one of your largest expense items in retirement, make sure you've taken them into consideration as you finalize your retirement plans.
Tips To Avoid This Mistake: If you're using something like a 4% Withdrawal Rate assumption in your planning, make sure that your spending includes the taxes you'll be obligated to pay. Don't apply the 4% withdrawal rate against Before-Tax account balances and assume you'll be able to spend the resulting funds entirely on living expenses. Also, make sure you're looking at Required Minimum Distributions, and doing what you can to minimize these in the years before they kick in.
Further Reading:
---
5. Ignoring The Effects Of Inflation
One of the mistakes retirees make is to fail to appreciate the impacts of inflation. While many assume their Safe Withdrawal Rate can increase with inflation each year, that's only true if the underlying investments you own have the potential to keep up with inflation. Many retirees are tempted to be too conservative with their asset allocations when in reality the long lifespan can support some allocation to higher growth investments, which are typically required to offset the impact of inflation.
Tips To Avoid This Mistake: Don't get too conservative with your asset allocation. You need some higher growth investments to keep up with inflation. Just make sure you've got sufficient liquidity to avoid selling equities in a downturn and limit your higher growth allocations to money you don't need for the next ~7+ years.
Further Reading:
---
6. Having Too Much Tax-Deferred Savings
I'm "Guilty As Charged" on #6 of the mistakes retirees make, a situation I suspect many baby-boomers are also facing. As I shared in our retirement drawdown strategy, over half of our portfolio in tax-deferred savings: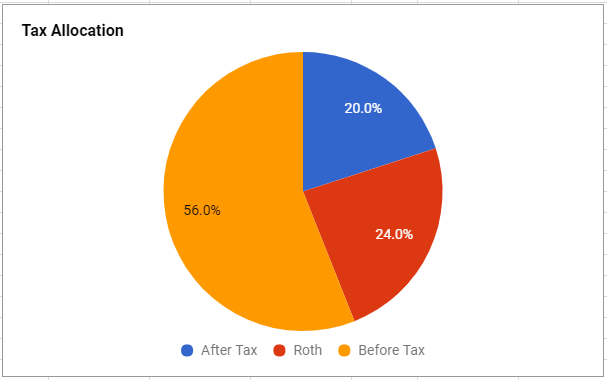 While we were working our way up the corporate ladder in the 90's-00's, it felt great to get that tax break by diverting our income into tax-deferred savings (Besides, none of us had access to Roth accounts way back then, right?). Unfortunately, we're facing a stiff tax bill now that we're in retirement and making plans to access those "not yet taxed" dollars. I'm working hard to rectify my situation before Required Minimum Distributions take a vicious tax bite out of our portfolio when I turn 70 years old, which I outline in the "further reading" links below. I encourage you to do the same.
Tips To Avoid This Mistake: If you, like me, find yourself with a large % of your portfolio in "Before Tax" buckets, don't ignore the situation. At a minimum, talk to your CPA or CFP to develop a strategy for "topping off your marginal income tax bracket" with Before-Tax withdrawals (or ROTH conversions) each year. Don't wait until RMD's kick in – by then, it'll be too late to do anything about it.
Further Reading:
---
7. Failing To Prepare For The Inevitable
Let's face it, we're all going to die. Before we reach that point, most of us will reach the point where we're unable to manage our financial affairs.
It's an unpleasant thought, but it's a reality. I'm sure many of you have watched your parents go through the realities of aging. We're naive if we don't appreciate that it'll also happen to us. Don't ignore it. Plan for it.
While you're still able, get ready for the "inevitable illness, incapacity and death" we'll face in the future. Get your health care proxy taken care of, along with the appropriate Power Of Attorney, your will, Estate Planning details and instructions on how to access your online accounts. Organize your information into a neat package so those that have to step in will know what to do when the time comes.
Tips To Avoid This Mistake: Every year, I update a "Love Letter" to my wife with all of our updated financial statements. I include a written letter with step-by-step instructions for what she should do in the event of my death. It's reassuring to both of us to know that she has that letter "just in case". We've done "the packet" of recommended legal documents, though in full transparency those items are due a review since it's been a few years since we updated everything. I just added it to my calendar for January, and encourage you to do the same. Finally, here's a relevant post on The Best 8 Online Will Makers.
Further Reading:
---
Conclusion
We're naive if we think we're above making mistakes in our retirement planning.
In reality, there are some common mistakes retirees make and we'd be wise to learn from their experience. Listen to the experts, and check each of the issues raised to ensure you don't have any blind spots in your retirement plan. If you found a few areas where you're at risk, click on the "Further Reading" links and take the steps now to minimize your risk of repeating the mistakes other retirees have made before you.
Your Turn: Have you made any of these "common mistakes retirees make"? Are there other mistakes you'd warn retirees to avoid? Let's chat in the comments…