If you're a Baby Boomer, you're either retired or rapidly approaching retirement.
Are you ready?
We've all heard about the "retirement crisis" many are confronting, but what are the facts? I've been studying the numbers this week, and they're concerning. Today, I'll present the facts and let you draw your own conclusion.
Are we facing a retirement crisis?
Today, a fact-based look at the retirement crisis many people are facing. The numbers don't lie.
Click To Tweet
Are We Facing A Retirement Crisis?
I learn a lot by reading studies, and the 19th Annual Retirement Survey of Workers conducted by the TransAmerica Center for Retirement Studies is no exception. This 222-page beauty is worth a read, but I'll save you some time. Below are some of the key takeaways from the report, including some graphics I found interesting from the survey. Today's article will also draw from a report Investopedia wrote about the study.
---
What Are The Facts?
Is there a crisis, or isn't there? To me, the facts speak clearly, so I'll let them talk:
The average amount of money Baby Boomers have saved for retirement.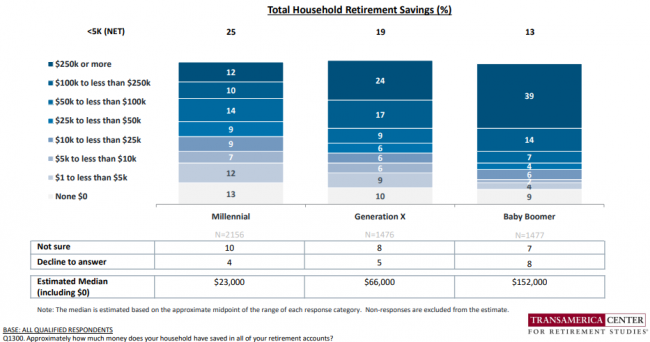 ---
Assuming a 4% withdrawal rate, the average savings of $152k supports only $6k per year of spending in retirement. Tough to live on $500/month, and a demonstration of how dependent the average Baby Boomer will be on their monthly check from Social Security. Unfortunately, 77% of workers are concerned about the viability of Social Security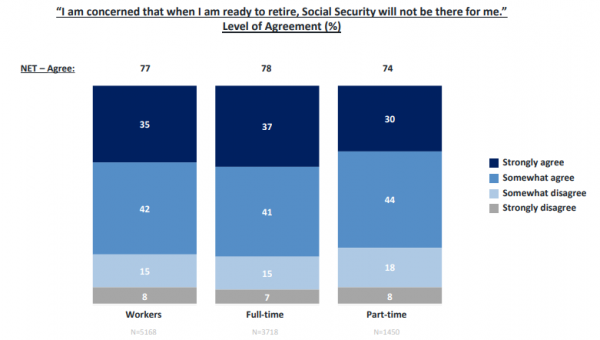 ---
The percentage of Baby Boomers who have nothing saved for retirement according to research from the Insured Retirement Institute. It's no wonder that almost half (48%) of those surveyed citing "outliving their savings" as their biggest retirement concern:
---
The percentage of Baby Boomers who carry credit card debt. Throw in car loans and mortgages, and a full 78% of baby boomers are carrying debt as they prepare for retirement.
---
The average annual spending of people between ages 65 – 74 according to the Bureau of Labor Statistics.
Given the dismal retirement savings of many workers, their debt obligations and their distrust of Social Security, it's no wonder that 78% of workers expect to retire at age 65 or later, with a full 14% never planning on retiring. The numbers are even worse for Baby Boomers, with 89% expected to retire at age 65 or later:
---
My biggest concern is that a majority of those who plan to work until a late age will likely face the reality that they may not have that luxury. As I wrote in Will You Be Forced To Retire Early, a full 60% of people are forced into retirement at a younger age than they had planned. COVID-19 has only made the situation worse, with Baby Boomers now delaying their retirements due to the Coronavirus (according to this Money article). Fear is increasing, with workers in April saying there was a 20.9% chance, on average, that they could lose their job in the next 12 months, according to a recent New York Fed Survey.
In spite of the risks, a full 62% of workers do not have a backup plan for income if they're unable to work.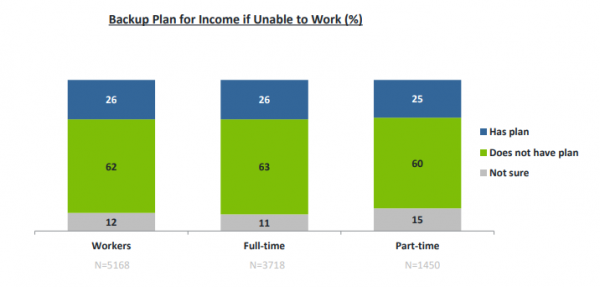 Consider the realities of…
Wage stagflation (which have hampered ability to increase savings as folks near retirement),
Low-interest rates (which have hampered returns on portfolios),
Unemployment trigger by the COVID-19 crisis (which have hampered incomes),
…and it's clear that many people will face a very real retirement crisis.
---
Finally, it's worth asking if things are more difficult today than previous generations. Do we have it tougher than our parents? It certainly seems to be the case, with the following percentage of responses believing that their generation will have a much harder time achieving financial security in retirement:
Baby Boomers: 69%
Millennials: 79%
Gen X'ers: 81%
---
Conclusion
So…are we facing a retirement crisis?
By looking objectively at the facts, we can each draw our own conclusions. Personally, I think our society is facing a crisis that is larger than currently recognized by the culture at large. I worry deeply about the millions of people who will be unable to retire and yet face the very real risk of having trouble staying in the workforce. My heart goes out to them, but I fear for many it's already too late.
Even those who have positioned themselves well for retirement (which, in all likelihood, includes the majority of readers of this blog), it's a fair warning to be prepared for potential government response as the extent of the problem becomes clear in the coming years. In my case, we're using only 75% of our "promised" social security income in our retirement cash flow forecast, and I'm doing annual Roth conversions to take advantage of historically low income-tax rates while they last. We can't control the action of those who are unprepared, but we should consider steps we can take to minimize the potential impacts that could result as the retirement crisis becomes more visible.
PS – I just got an email from Jeremy @ SimplyWise.com with a great link to their May 2020 Simplywise Retirement Confidence Index. GREAT content, I wish I'd seen it before I wrote this post. Worth a read if this topic interests you…
Your Turn: Do you think our society is facing a retirement crisis? What are you doing to protect yourself?