I've been planning the move for several years, and I just pulled the trigger for the first time in my life. I plan on pulling that same trigger annually for the next 15 years, or until there's a fundamental change in USA tax law. The trigger I pulled? A Before-Tax rollover into a Roth IRA. In my case, the before-tax money was in my 401(k). In your case, you may have before-tax money in an IRA. The same strategy applies whether your before-tax money is in a 401(k) or an IRA.
Earlier this month I executed my first before-tax rollover, and today I'm going to tell you why. I'll also explain how I executed the trade with Vanguard in the event you're considering doing the same. Given today's favorable tax rates, it's my opinion that now is a strategic time to consider taking some action to reduce your overall tax liability during retirement.
Why I just did a Before-Tax rollover into a Roth, and why you may want to consider doing the same.
Click To Tweet
---
Why I Just Did A Before-Tax Rollover Into A Roth
It sure was nice saving money in my Before-Tax 401(k) account during my working years. All of the contributions were deducted from my pay for the year, and my current year's tax liability was reduced accordingly.
Unfortunately, Uncle Sam isn't as generous as he may appear. When it comes time to access that before-tax money in retirement, Uncle Sam comes calling for those taxes he let you avoid in your working years. He'll not only tax your contributions, but he'll also be staking his claim on any earnings those contributions have earned. Here's a quick definition of both the before-tax and Roth accounts:
Before-Tax IRA/401(k): Contributions are tax-deductible, earnings and contributions are taxed when withdrawn. Required Minimum Distributions will force withdrawals at Age 70 1/2+.
Roth: Contributions are made with after-tax dollars, earnings and contributions are withdrawn tax-free. No Required Minimum Distributions apply.
Taxes are one of the major expenses we must manage in retirement and the tax expense associated with accessing our Before-Tax retirement savings can be significant. Any withdrawal from before-tax savings is treated as income in the year you make the withdrawal and taxed at your marginal tax rate. If you don't withdrawal any of your money, you'll be forced into withdrawals at Age 70 1/2 under the Required Minimum Distribution (RMD) laws of the IRS.
If you're a babyboomer who has been saving through an employer's 401(k) plan, or you've opened an IRA during your working years, chances are you have some investments in a before-tax account. Having too much in a before-tax account is one of the Top 7 Mistakes Retirees Make. I'm guilty of that sin with 56% of our retirement savings in before-tax accounts. When we were in the first half of our career, we didn't have access to Roth's, so before-tax savings made a lot of sense at the time.
The chart below comes from the article I wrote which explains Our Retirement Investment Drawdown Strategy, in which I first outlined our intention of using this before-tax rollover strategy. You'll see the problem we're facing, especially if we wait until RMD's force us to begin withdrawing (and paying taxes on) that significant slice of before-tax savings: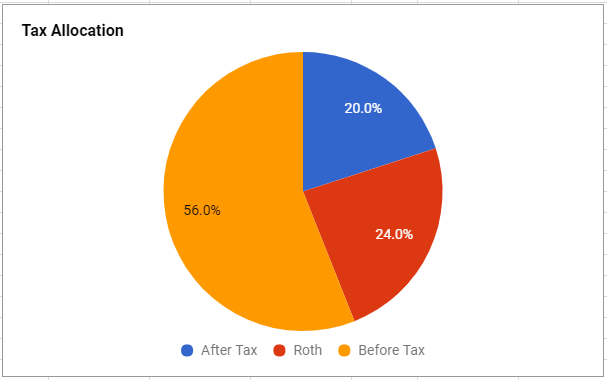 Now that we're in retirement, it's time to correct the sins of our past. There is a strategy to minimize the lifelong tax bite from excessive before-tax savings that I strongly support. I'll refer to it as the "Topping Off" Strategy, and it's an approach I'm taking in our early retirement. Fortunately, I'm able to access my 401(k) without penalty since I retired at Age 55 (see 401k Age 55 rule), so I decided to go ahead and get started on executing my Topping Off Strategy this year. I suspect it may also make sense for you, though you will have to clearly understand your personal situation before finalizing any decisions. Be particularly careful if you're eligible for ACA health care subsidies, or 0% Capital Gains, or Medicare subsidies, as the rollover will increase your income and may exclude you from those benefits.
In a nutshell, the "Topping Off Strategy" suggests that from the date you retire until you reach Age 70, you should consider "topping off" your current income tax bracket with annual withdrawals or rollovers from your Before-Tax accounts. These withdrawals will be taxed at your current marginal tax rate, which may be lower than the tax rate you'll incur if you wait until the RMD law forces you to take heavier withdrawals in the future.
---
How To Use The "Topping Off" Strategy To Determine your Before-Tax Rollover Amount
Let's work through an example of how to apply the strategy. The example will explain exactly how I used the strategy to execute our before-tax rollover, though the figures in the example are hypothetical to demonstrate the process.
First, take a look at the following graphic which explains the 2018 tax brackets for a "Married/Filing Jointly" couple from my article "The New Tax Law Loophole That Benefits Retirees" . (Note the chart was from 2018, but I'm using 2019 bracket levels in the example below. For the 12% tax bracket, the top of the bracket in 2019 has increased from $77,400 to $78,950. You can find the 2019 tax brackets here.)
Focus on the blue line and the "New Tax Law" box in the upper right-hand corner, we'll be referencing those numbers in the example below. Also note how much lower the blue line is than the red line, reflecting the new tax laws implemented in 2018, and one of the reasons why I executed our rollover this year.
Now focus in on that 12% tax bracket, which covers income from $19,050 to $77,400 (again, we'll use 2019's revised top of $78,950 in the calculation below). If your income falls into a different tax bracket, the methodology is the same, which is summarized below. The first step is to estimate your net taxable income for the current year, including any deductions you plan on taking:
| | | |
| --- | --- | --- |
| Definition | Amount | Notes |
| Retirement Income | $65,000 | Pension, side hustle income, etc. |
| + Investment Income | + $10,000 | Dividends, etc. |
| – Standard Deduction | – $24,000 | Married filed jointly |
| – HSA Contribution | – $8,000 | HSA's are deductible |
| = Net Taxable Income | $43,000 | |
Once you've estimated your net taxable income, you simply subtract that amount from the "top" of your current income bracket. In this case, you'd subtract the $43,000 taxable income from the $78,959 "top" of the 2019 bracket to determine a before-tax rollover amount of $35,950. ($78,950 – $43,000 = $35,950)
I would strongly recommend that you contact your CPA before you take the next step. In my case, I shared my calculation with my CPA and explained what I was planning to do. She immediately understood, double-checked my assumptions, and confirmed that my target rollover amount was appropriate.
BE CAREFUL if you currently qualify for ACA subsidies. Executing a before-tax rollover will increase your taxable income, and may result in the sacrifice of your subsidy. If you're receiving an ACA subsidy (see income ranges in this post from Financial Samurai), I suspect you'll find that doing a before-tax rollover is NOT in your best interest. Also, as stated above, beware if you're eligible for 0% Capital Gains, which tops out at $78,750 in 2019 for folks who are married, filing jointly. If you're over age 65 and on Medicare, beware if you're currently eligible for subsidies. It's very important that you understand the details of your personal situation before deciding on whether or not to implement the before-tax rollover strategy.
So, back to our example. Now we know that $35,950 is your targeted before-tax rollover amount. For simplicity's sake, I'd suggest you round the target down to $35,000. I prefer to keep a bit of a buffer between the before-tax rollover amount and the top of your current tax bracket, just in case some of your assumptions turn out to be slightly different than your actual year-end figures.
The next step is to implement the trade.
---
Executing The Before-Tax Rollover With Vanguard
Once I had identified the amount I wanted to rollover to "top off" our tax bracket, I called Vanguard's Participant Services @ (800) 523-1188 to execute the trade. In the case of my employer's 401(k), a before-tax rollover cannot be executed online, so a call is required. I suspect the same is true for most plans.
The Vanguard representative was familiar with what I was planning to do, and it was a straightforward discussion on the steps required. The Vanguard rep filled out some paperwork to reflect the withdrawal from my previous employer's 401(k) plan and rollover into my (existing) personal Roth IRA. If you've not yet established a personal Roth IRA, you'll need to do this simple step in conjunction with your rollover. You could roll it over into a Roth in your 401(k), if available, but I wouldn't recommend this option. Roth money in a 401(k) is subject to RMD's, whereas Roth money in a personal account is not (at least under current tax law, subject to change…).
One shortcoming: In my plan, I cannot identify specific funds to sell for the withdrawal. Rather, the withdrawal is done a percentage basis from all of my 401(k) holdings. I was able to dictate which funds I wanted to purchase when the rollover moved to my Roth IRA, and I directed the Vanguard rep to buy the following:
Small Cap Value (VSIAX) 50%
International Fund (VTIAX) 25%
500 Index (VFIAX) 25%
Since I consider these Roth funds to be part of my "Bucket 3" in the Retirement Bucket Strategy, I elected to invest them entirely in stocks. Since I knew that I needed to increase my stock allocation slightly to achieve my Targeted Asset Allocation, I was comfortable taking some of the bond allocation from my before-tax 401(k) account and reallocating it to equities as part of the rollover trade.
An important consideration is the fact that Vanguard does not withhold taxes on the withdrawal from the before-tax account (remember this amount will count as income in the current year and will be taxed at your marginal tax rate). I'm not sure if this is always the case or rather a specific detail of how our retirement plan works. If your before-tax rollover is a significant amount, you'll want to talk to your CPA about processing an estimated tax payment in the current calendar year to ensure you don't get penalized for under-paying your taxes during the year. In our example, the before-tax rollover will generate a tax bill of $4,200, which reflects the $35k rollover amount X 12% marginal tax rate ($35,000 X 12% = $4,200). In my case, I've been paying estimated taxes each quarter and had built in an assumed before-tax rollover in my initial calculation, so I was comfortable that I was sufficiently covered.
A few days after my call I received the paperwork from Vanguard via snail mail, reviewed the planned before-tax rollover details, filled in the details on the Roth IRA funds I wanted to purchase, signed the document, and mailed it back to Vanguard.
A few days later the trade was executed, and I reviewed the details in my "transactions" screen on Vanguard.com to confirm everything had occurred as planned.
I had just completed my first-ever Before-Tax Rollover into a Roth!
---
Benefits Of A Before-Tax Rollover Into A Roth
The money that I rolled over will now be able to grow tax-free for the rest of my life. I was also able to reduce my future RMD liability while knowing the marginal tax rate I was paying on the current rollover. I view the move as a diversification strategy, paying a bit of the tax at a known rate now while reducing my future tax obligation (at an unknown, but possibly higher rate, later). I also feel rather strongly that the current tax rates present a good opportunity, given that the current brackets are favorable compared to historical ranges, and there is a high probability future tax rates will increase to offset the growing government shortfalls. That's merely my opinion, but it's a consideration if you happen to share my point of view. Finally, I was also able to make a small adjustment in my asset allocation during the rollover, which helps keep me on track with my targeted asset allocation.
---
Shortcomings Of Executing The Trade With Vanguard
I prefer to do any trades immediately, and online. It's annoying to me that a phone call is required, forms are snail-mailed out to me, and then have to be snail-mailed back to Vanguard. Given the long-term nature of a before-tax rollover strategy, it's not a trade you should attempt to "time", but it's a bit nerve-wracking to wait several weeks for the trade to be finalized. Also, the inability to target specific funds on the "sell" side from my before-tax 401(k) account limits my ability to be selective in what I choose to sell. Again, given the long-term nature of this trade, those are shortcomings I can live with.
---
Conclusion
We should all seek ways to minimize our expenses in retirement, and focusing on tax minimization for our before-tax investments is important, especially if you're carrying a large balance in your before-tax accounts. If you have room in your current tax bracket, I encourage you to consider following my example and executing a before-tax rollover before the end of the calendar year (unless you receive ACA subsidies or are close to the 0% Capital Gains cap, and in all cases never without reviewing your personal details with your CPA or other qualified professional).
If nothing else, have a phone call with your CPA and see if the strategy might be worth considering in your situation. If you'd prefer to be more aggressive, you can also rollover money to the top of your next higher tax bracket, though this would be a much larger rollover amount and shouldn't be done without firmly understanding your strategy. Don't procrastinate if you decide to implement the strategy this year, it took me almost a month to execute my trade and the trade will need to be executed before December 31st.
Your Turn: Have you ever executed a before-tax rollover? Do you agree that the "Topping Off" strategy is worth considering for any retiree with a sizeable balance in their before-tax accounts? Are you worried about the impact of your RMD's when you turn 70 1/2? Finally, am I missing anything in my strategy? Let's chat in the comments…