One of the most common concerns I hear from readers is finding health insurance options for early retirement. Insurance is something most of us have received for years from our employers, and the thought (and expense) of having to replace that on our own is a major reason many people wait until age 65 to retire.
John doesn't want to wait until age 65 to retire, but his problem is even harder than most folks are facing.
Today, John comes back with his second guest post to share what he's learned working with an insurance professional to evaluate his health insurance options.
He even shares all the detail on the cost of the various options he's considering.
If you're struggling to find health insurance options in early retirement (especially if you have a pre-existing condition) today's post is a must-read.
John's wife has cancer and he's been evaluating his options for health insurance to support an early retirement. Today, he shares what he's found.
Click To Tweet
---
---
Evaluating Health Insurance Options For Early Retirement
Fritz allowed us to tell you our story back in January 2021 in "When Cancer And Retirement Collide (A Reader's Story)."
My wife is still battling cancer six years after being diagnosed. It continues to be a challenging cycle of chemotherapy, rest, medical procedures, and more chemotherapy. She was diagnosed with Stage IV, which means the cancer had already spread. Considering that diagnosis at the time, we are very thankful for the results to date and for the medical professionals and technology. While there is no likelihood of a cure currently we remain optimistic. We have not allowed this to be the center of our life, though we do have to schedule trips around her treatments.
I reached out to Fritz again. Recently I had a challenging period at work that led me to seriously look into full retirement. I have been in "pretirement" for about four years now. Financially we are in excellent shape to retire (even with the 2022 market drop). However, with my wife's pre-existing condition, health insurance would be the biggest challenge for us.
I went back to The Retirement Manifesto to re-read what Fritz had posted about health insurance. In September 2018 he posted "Health Insurance in Retirement: Unsolved." He provided an update in August 2021 when he posted "How To Get Health Insurance in Retirement (AKA: What we did when our COBRA expired…)." At the time, Fritz utilized COBRA health insurance and then moved to a group plan he was able to find through his former employer (the employer stopped paying for retiree plans but he could access a reasonably priced group plan at full cost).
---
My Thought Process
I knew COBRA insurance was an option but it would only cover 18 months. The insurance premiums for this will have an extra two (2) percent added on for 'administrative costs' and you will pay 100% of the employer cost. In 2018 when I was impacted by a reduction in force, I utilized COBRA for about six months in between jobs.
I have almost 30 years of health care experience which exposed me to the health insurance world. I knew it from the inside out on the employer and insurance company side. However, I had a blind spot on this topic from a consumer perspective. Prior to my wife being diagnosed with cancer we seldom utilized our health insurance other than for annual checkups.
I started with internet search engines, trying to research options. I utilized Fritz's list of resources from his August 2021 post. I knew the general options of a) ACA Marketplace, b) Private Market and c) Health Sharing Ministries. However, I really could not find the right details I was looking for to best understand the nuances of the scenario we are in.
Our scenario is this:
one spouse is relatively healthy,

a spouse with a pre-existing condition,

one dependent age 23 still on our plan.
---
Meeting With A Health Insurance Agent
Our neighborhood has a social media group and also another group of neighbors who have their own businesses. I was looking at that business group more closely and ran across a neighbor who runs a health insurance agency. I have never called an agent or broker before but I figured now was the time if I was going to be trying to find a serious solution. I reached out and we set up a time to talk. I was upfront with him, telling him that this was to research options and no 'sale' may come from it. He then told me that this is why he is here and even if I did not go through him in the end he relies on word-of-mouth positive comments and referrals to drive his business.
I wanted to share our perspective of the process and how a consultant assisted us, including his process of getting to know our unique family situation, our plans and goals, and the details he followed to help us research the best options to consider. He was willing to share his experience and the process he uses when working with clients.
Below is from the consultant, Travis Lamnek.
---
Thoughts From "The Expert"
First and foremost, brokers and agents should be working alongside clients at no additional charge. There is enough commission built-in to all insurance products that will compensate adequately for their time and effort. Therefore, the hesitation in using a broker or agent should simply be a question of whether or not you believe they have your best interests at heart.
Brokers and agents both must be licensed in each state they want to present solutions and be appointed by the specific insurance carrier(s) they represent. The easiest way to explain the difference between an agent and a broker is that an agent typically offers plans from a specific insurance carrier (insurance company), while a broker can offer options from multiple carriers. A consultant is an agent or broker that establishes partnerships with like-minded, fully vetted, professionals that specialize in what the original agent or broker cannot provide directly. Unlike an independent agent or broker, the consultant takes his/her specific carriers out of the equation to focus exclusively on what will be the best solution for the client, as their partnerships ensure all available solutions can be brought into the mix.
---
A Summary of Health Insurance Options
In reality, there are many categories and solutions available to those seeking the right coverage for themselves and their families – especially when it comes to retiring prior to turning 65 and being eligible for Medicare. There are so many choices that many people enter a state of "paralysis by analysis" and end up missing the big picture because of all the details. This is why a licensed professional, such as a consultant, agent or broker can be an invaluable benefit.
The following is a quick overview of health coverage options available in most areas:
All of these options have solutions where licensed agents and brokers can be found directly with the carrier and accessible through the site. However, they will most likely be biased toward the carrier they are representing directly. A consultant, independent agent, or broker may be a better starting point to understand the direct impact of any of these on you and your specific circumstances.
---
Factors To Consider Using John's Scenario
Not every situation is the same. In fact, I cannot think of any two situations that I have come across that were identically the same. Finding the right health insurance solution is really finding the best match between the person(s) with the need and the available options, and there are no perfect or "one-size-fits-all" solutions out there. Everyone has a different risk profile regarding accidents, illnesses, diseases, wellness, mental health, and more. These are determined by your genes, family, living environment, hobbies, profession, community involvement, geographic location, income level, health history, relationship history, accidents, injuries, and more. Although people are similar, and two individuals may benefit from the same plan in similar ways, there are no two situations that are identical.
In order to determine the right solution for John, we had a simple discussion that took less than 30 minutes. He shared his current needs and desires for a health coverage plan, while I asked more questions to uncover what he may not know to share. As suggested by the many variables listed above, some of the questions that will lead to the best solution are as follows:
Where do you live (residential zip code)?

Who needs to be included in the coverage (spouse, children, employees, etc.)?

How often do you typically go to the doctor?

Why do you typically go to the doctor?

Are there any ongoing health issues that need to remain covered?

Are there any concerns that we should ensure get covered?

Are there any major historical health issues (cancer, heart issues, hospitalizations, or the like)?

What medications are you currently taking?

What primary medications have been prescribed in the past 5-7 years?

What specific doctors do you want In-Network?

What hospital would you go to in case of an emergency?

What is your annual household taxable income?
This is not an exhaustive list, but it does give us a good starting point to determine what will lead us to the best solution. There are pros and cons to every available solution, and each available health coverage option will correspond to these variables.
For example, if someone is unemployed with little residual income for the tax year, they may benefit from the subsidies available from the government on the ACA (Affordable Care Act) marketplace or with Medicaid through the Department of Health and Human Services from their independent state.
If a family member is actively fighting cancer, then private coverage is not the best solution, as these have limited coverage for pre-existing conditions. And before you get upset about the "pre-existing" terminology, please note that only ACA-compliant plans must waive these. Underwritten private coverage will decline these applicants, and guaranteed issue plans through private carriers will not have any coverage for the first calendar year on the plan.
Note that Short-Term, Limited Duration Insurance (STLDI) health care plans and Health Shares (aka. "Cost Shares" or "Health-Share Ministries") will provide no coverage for these pre-existing conditions, either. Only ACA-compliant plans – mainly those through the ACA marketplace or through group coverage (what most people reference as "Major Medical") cover the conditions that were in place prior to the policy being issued.
---
Evaluating The Pros And Cons
There are pros and cons to every plan. None are perfect, but there is definitely one that will be a better fit for each specific case than the others. In John's case, he needed to ensure his wife, who is battling cancer, has her treatment covered by her preferred doctor at her preferred facility. When the people we love are sick or hurt, it affects our whole lives. The goal became ensuring that a plan was available to solve these primary concerns, ensure she was enrolled at the proper time, and then address some of the minor concerns from what remained.
According to the laws of the state of his residence, John's son was still a dependent at the time of this search. Neither John nor his son had the same needs as his wife. It made financial sense to split them into different options, but the plan for her would also suit their needs for the time being. It was easier on the family focus to keep them together.
In their case, they are currently on a high deductible/H.S.A. eligible group plan through his employer. In our conversation, he mentioned he was considering retiring early. If he makes the decision to do so, then COBRA makes his current plan available for another 18 months at his expense. Otherwise, retirement is considered a qualifying event that will allow him and his family to enroll in an ACA marketplace plan. One particular insurance carrier on the ACA marketplace, available in his zip code, grants his wife the ability to go where she wants with the doctors she wants. Therefore, there are options for John and his family. Not everyone is so lucky regarding their coverage search, as many require more research and effort to find the best plan.
Just remember, what makes sense as the best solution today does not mean it will be the best solution the next month, year, or decade. I tell my clients that is a good practice to review your policy every 6-12 months to ensure you still have the best solution in place. And if you are willing, splitting the family into multiple different plans may be a huge benefit financially, as well as from the needed benefits of each.
Find yourself a good broker or agent to work with you. A consultant, like myself, takes carriers out of the equation and focuses exclusively on what will be the best solution for the client. There are many categories and solutions available to those seeking the right coverage for their specific circumstances, needs, and budget. The right licensed professional will provide peace of mind, along with the recommended coverage, which is an invaluable benefit.
If you feel any pressure or uneasiness from any of these professionals, then just remember that they work for you. Interview one or three, and make sure you are comfortable with their knowledge, process, and personality before moving forward. Your journey with this professional should not end when you sign on the bottom line. You want to be sure they will continue to be available and guide you when you need to use the specified benefits, as well.
---
The Cost Of The Health Insurance Options:
Travis has been a big help in explaining and better understanding our health insurance options. I now know with better clarity what options are available to us.
Right now I am planning to remain employed and continue with the employer-sponsored group plan. It is a high deductible plan which allows us to put money into a health savings account. I am currently paying $6,558 for health insurance through my employer. I am also deferring $7,260 a year, my employer also provides a matching HSA contribution ($1,040 a year), which along with the catch-up provisions ($1,000 for me and $1,000 for my wife), has us reaching the maximum allowable annual contributions for a family ($9,300 a year).
There is an option Travis presented to me that we are considering. The option to remove our 23-year-old son from my group plan and find him other insurance coverage, which will lead to an overall decrease in costs of health insurance premiums. I am currently paying $6,558 a year for health insurance through my employer. If we take my son off my coverage, leaving just myself and my wife, then I would pay $3,700 a year. The estimated cost of a private PPO plan for our son would be $2,812 a year. Overall, we would reduce costs by $46. This is purely a financial thing as our son is currently healthy. I have not acted on this as of yet.
Remember to factor in deductibles and out-of-pocket costs for your health plan. Our current deductible has an Individual deductible limit of $6,350 ($12,500 family) and an Individual out-of-pocket of $6,900 ($13,800 family). This is on top of the premiums I pay. NOTE – I could pay for deductible/out-of-pocket from our HSA deferrals, however, we have chosen to pay directly and let the HSA investments grow tax-free.
As for retirement – when I do get to that point, I know with more clarity what the options are. Depending on my wife's health care needs, we may use the COBRA option for 18 months. That will provide continuity for a while as we explore in depth our options on the ACA marketplace. The cost of COBRA coverage through my employer would be $19,038 a year (if we keep our son on our plan). If I cover just me and my wife that drops to $12,692 and with the cost of a private PPO Plan for our son estimated at $2,812, total costs would be $15,504. Note – The costs for COBRA coverage is 100% of the employer cost plus a two (2) percent fee charged (allowable by law) to keep the coverage through my employer.
One note on this that is important for everyone to understand – ACA Marketplace plans are zip code dependent. If you are retiring and moving then you need to find a plan with specific coverage available in that area. An agent or qualified marketplace site will be helpful for this.
When we choose to retire before age 65, we will need to find ACA Marketplace coverage that covers pre-existing conditions for my wife. If we remain in our current zip code, the estimated cost for the family would be $14,520. If we put me and my wife on an ACA plan and our son on a private PPO plan the estimated cost would be $14,468. If we put my wife on the ACA plan and myself and our son both on a private PPO plan the estimated cost would be $21,588. NOTE – The ACA plan costs depend on assumptions of income levels – in our case we used an annual income level of $100,000 to start somewhere. We know we do not want to remain where we are currently and we know that finding a retirement location with access to decent health insurance and good health care will be a big challenge we need to address.
---
A Cost Comparison Table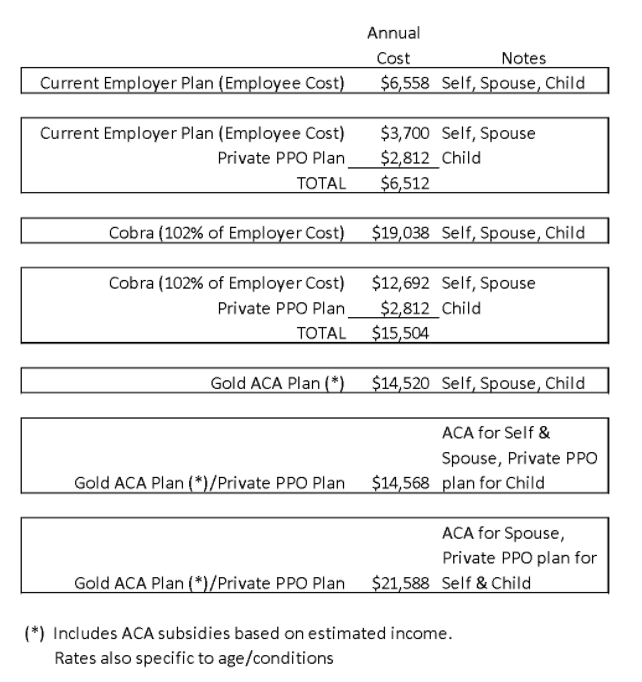 ---
Conclusion
I appreciate John sharing what he's learned during his evaluation of health insurance options for early retirement. I can't imagine the strain that cancer puts on the insurance decision, which is already harder than it needs to be, and sincerely wish the best to John and his wife. I empathize with the many who find themselves dealing with the same work frustration/pre-retirement mindset that John is facing, and hope the overview of what he is learning is helpful to all of you who are trying to understand your health insurance options.
John, I'd love to have you come back with a third guest post when you make your decision to retire. I'd love to hear the follow-up on what you decide to do in this difficult area of retirement planning.
Related Posts:
---
Your Turn: Have you experienced the challenge of finding health insurance options if you retired early? Have you run into the extra challenges of having a pre-existing condition? If so, how did you address it?