---
Disclosure: This post contains affiliate links and we may receive a commission (at no extra cost to you) if you sign up or purchase products or services mentioned.
---
I thought figuring out when to claim Social Security would be one of the more complicated decisions we'd have to make in retirement.
I was wrong.
In less than 15 minutes, we now have a strategy.
My wife will start her Social Security at 63 years of age, and I'll start mine at age 70. My wife will claim her spousal benefits at age 69 years, 11 months.
And just like that, we have a plan.
Easy.
Today, I'll share the tool I used to get our results.
If you're struggling with determining when to claim social security, today's post is for you.
I thought figuring out when to claim Social Security would be hard. I was wrong. I just figured it out in 15 minutes. Here's how...
Click To Tweet
---
---
How To Determine When To Claim Social Security
When I first started thinking about Social Security, I over-simplified things.
For my article titled Should You Take Social Security At Age 62 or 70, I did the math and determined it was in my best interest to delay claiming Social Security at Age 70, with a break-even age of 84-85. If summary, if I lived longer than my mid-80s, I'd get more in SS by delaying. I encourage you to read that post for my analysis.
But…I made a mistake.
I did a lot more work than I had to, and I still missed a hugely important factor in my analysis.
In fairness, I wrote that post way back in 2017, years before I had to sharpen my pencil for my final decision on when to claim social security. But still, I should have recognized a critical factor, yet I completely omitted it from my analysis.
That factor? How to optimize spousal benefits…
---
The Importance of Spousal Benefits
It wasn't until I read Wade Pfau's excellent book, Retirement Planning Guidebook (affiliate link), and wrote this review that I realized the importance and complexity of spousal benefits. As I cited in that book review:
"I've been of the somewhat simplified opinion that I'll defer until Age 70 to take advantage of the risk-free ~8% annual increase in the payout rate. What I missed in my article, however, was the impact (and complexity) of spousal benefits, especially where one spouse earned significantly less than the other."
Fortunately, Dr. Pfau suggested some social security calculators in his book, which I mentioned in the book review and ultimately led to today's post:
"When Wade says this is a decision you can not make without using a detailed SS Calculator to analyze your decision, I listen. I've saved those links, and plan on doing a more detailed analysis in the coming years."
---
Now I've Done It.
I've taken Dr. Pfau's advice and I've done the "more detailed analysis" using the Open Social Security calculator recommended in the book. I even went a step further and contacted the calculator's developer, Mike Piper, CPA, explained I was writing this post and asked if he'd be willing to answer any questions I have as I work through his model.
Fortunately for all of us, Mike said yes.
Today, we're doing a deep dive into the Open Social Security calculator, with Q&A from the developer, Mike Piper, CPA.
Click To Tweet
---
The Open Social Security Calculator – A Review
The Bottom Line: If you're trying to figure out when to claim social security, I highly recommend spending 15 minutes with The Open Social Security Calculator. It takes all of the complexity out of the topic and tells you, in very simple terms, when both you and your spouse should file for social security to maximize your lifetime returns.
By following 3 simple steps, you'll have a strategy. I know, because I just did it (and will be sharing screenshots with my actual results below).
Here are the three steps:
First, you must create (or log into) your mySocialSecurity account.
Second, you enter your data from that site into the calculator.
Finally, you hit "Submit" and get a clear recommendation on when to claim social security.
Interested in learning more?
Read on…below I share our actual results and screenshots from the calculator. I also share my exchange with Mike to offer you more insight into how his calculator works.
Before I go there, here's a bit of background on Mike Piper, the developer of the model, in his own words:
Q: Mike, what's your background, and how did you develop your expertise regarding Social Security claiming strategies? What lead to your creation of the calculator?
A: I'm a CPA who focuses on retirement planning. I first really began to develop an expertise in Social Security when researching and writing the first edition of my book, Social Security Made Simple (affiliate link) back in 2011-2012. (The 2022 edition is the 7th edition of the book.) And over the decade since, I've been fielding questions regularly from readers and clients about Social Security rules and planning.
As far as what led to the creation of the calculator, the primary answer is that the free options available at the time were terrible. Most didn't even account for very basic parts of the decision, like survivor benefits. None had the ability to account for the various complicating factors that can be important to a given household (e.g., the rules that come into play when you have a government pension or the earnings test that can be important if you're younger than full retirement age and still working).
---
Entering Your Data Into Open Social Security
I was impressed with the simplicity of the model. Once you click on the site, you're asked to enter some basic information, as shown below. Note, you'll need your "PIA" (Primary Insurance Amount) from the mySocialSecurity site, which is simply the benefit you'll receive if you file at your Full Retirement Age.
Following is the data I entered, which took me ~1 minute to input (birthday's omitted for the purpose of this post):
---
The Recommended Social Security Claiming Strategy:
Simply click on the "submit" button, and you'll be given the following personalized strategy:

---
As you can see above, the model quickly made the recommendation which I summarized in the opening of this post, but I'm sharing it again below so you can see the summary:
My wife will start her Social Security at 62 years and 8 months of age, and I'll start mine at age 70 years and 0 months. My wife will claim her spousal benefits at age 69 years, 11 months.
It doesn't get much easier than that, and it took me less than 15 minutes for the entire process.
But wait…there's more.
---
Social Security Payout By Year
The model presents a clear summary of how much social security you can expect per year, including the breakdown of each spouse's social security benefits. It also provides a nice summary at the bottom of the table of what happens if either spouse dies first:
---
Testing Alternative Claiming Strategies
The model presents a graphic that shows the reduction from optimal for any other scenario you may be interested in. Simply click anywhere on the graphic and the calculator will run the numbers for your payouts, including a Net Present Value calculation that you can compare to the recommended strategy.
---
Alternative Scenario: Claiming At Full Retirement Age (67)
In my case, I wanted to run a scenario where I started my payouts (and my wife started her spousal benefit) at my full retirement age of 67. Given the wide gap between my wife's benefit and mine, I wanted to understand the impact if I started my SS at age 67, which would allow my wife to claim her spousal benefit 3 years earlier than the recommended strategy. A few clicks, and I was able to see the impact by year: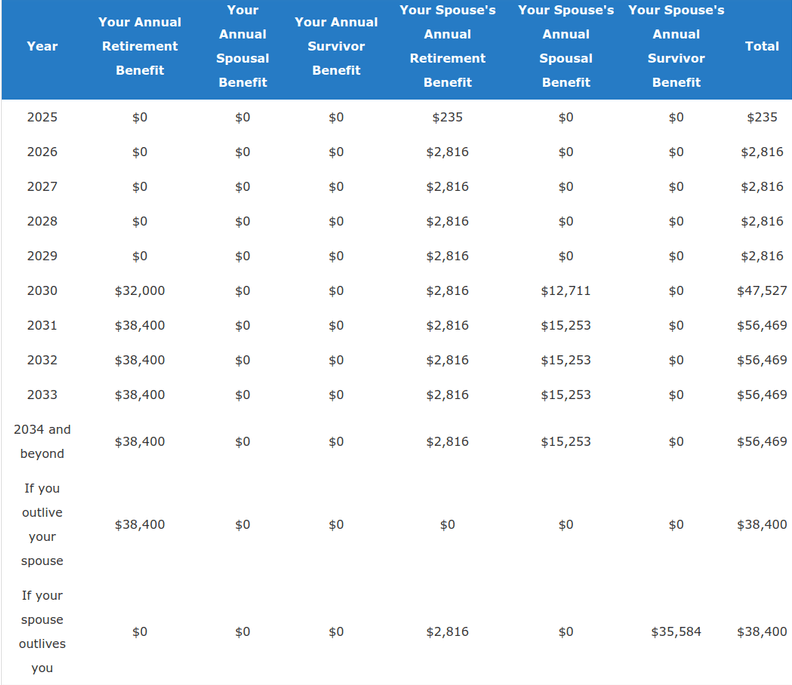 ---
Comparing The Alteratives Graphically
I've always liked graphs, so I plugged the two scenarios (Age 70 in blue vs. Age 67 in red) into a spreadsheet and built the following chart. The lines represent total annual social security for our household, and both scenarios assume one of us dies at age 90 (with the benefit dropping to the survivor benefit figure):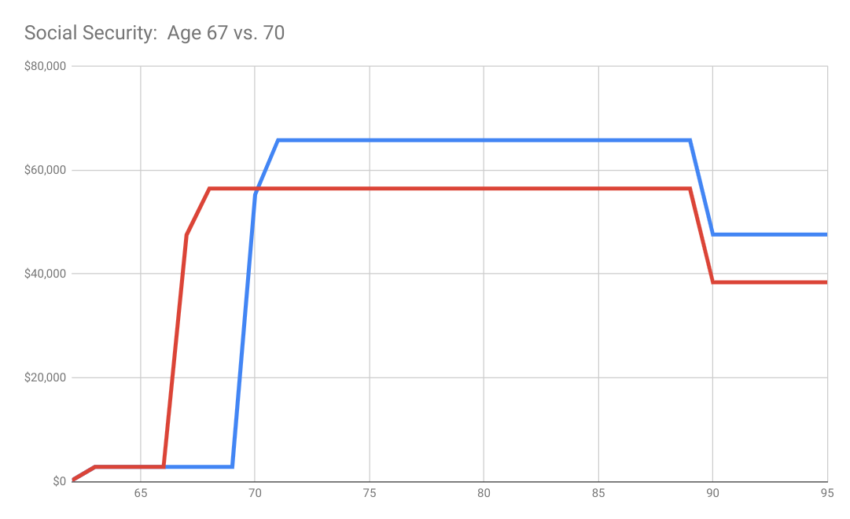 As you can see, our SS increases earlier if we claim at age 67 (red line), but never achieves the higher annual income we'd achieve if we wait until age 70. Also, the survivor benefit is lower in the scenario where we claim at age 67 instead of waiting until age 70. In both scenarios, we see some income starting when my wife claims her SS benefit at age 63.
Looking at the model's "Net Present Value" (NPV) comparison between the two scenarios, you'll find we lose a total of $35,724 in value if we claim at age 67 vs. age 70:
Age 70 NPV: $1,026,363
Age 67 NPV: $ 990,639 (3.5% below the optimal strategy of delaying until age 70)
---
Steps To Finalize Our Strategy
Based on the output of the model, I'm confident that I won't be making any decisions for at least 8 more years (I'm currently 59 years old). I'll explore more models and continue to educate myself on the topic, but at least I know where things are heading as I continue to learn about social security claiming strategies. There are also other factors I'll continue to evaluate, including:
the benefit of having more time to do our annual Roth conversions,
monitoring the annual performance of our portfolio (to fund the delay period),
evaluating annuities, and other options to provide a longevity hedge,
monitoring inflation and the best options to provide a hedge.
Inflation and longevity are the two hedges I consider to be best served by social security, and I'll be keeping a close eye on them in the coming years. It's helpful to think about major decisions while we still have plenty of time, and this calculator was useful in this stage of our decision-making process. In many ways, this reminds me of when I started using retirement calculators 5+ years prior to my retirement date, and that's a useful comparison at this stage for my preliminary work on determining when to claim social security.
---
Some Questions About The Calculator, And Mike's Response
If you've been paying attention, I'm sure you have some questions about the model. Hopefully, they're the same as mine, since I was able to send them to Mike to get his responses. Here's our exchange:
How does the calculator factor in the "opportunity cost" of waiting for the money? If we took it earlier, couldn't we reduce the withdrawals from our investments during the delay period? How does that impact the optimal solution?
Also, why do you view the results using "Net Present Value"? What discount rate are you using, and what are the implications given today's rising interest rates?
Because the calculator is doing a present value calculation, it is accounting for the investment returns that are foregone as a result of spending down the portfolio faster in order to delay Social Security. The higher the rate of return assumed (i.e., the higher the "discount rate"), the less attractive it becomes to delay filing. By default, the calculator pulls in the current yield on 20-year TIPS as the discount rate. The calculator uses this as the default discount rate for two reasons. Firstly, when doing a present value analysis, the accepted practice is to use a discount rate that reflects the expected rate of return from something with a similar risk. In this case, TIPS are about as close as you can get in terms of risk, given that both TIPS and Social Security are inflation-adjusted and backed by the federal government. The second reason is that, at a practical level, when spending down the portfolio faster in order to delay Social Security, it usually should be a person's bond holdings that are used to satisfy that extra level of spending in the pre-SS years. So in a very literal way, it is the bond returns that are being given up. (
This article
discusses those two points in more detail.)
The calculator does let the user adjust the discount rate though, by checking the box at the top of the page for additional options.
---
Mike, do you recommend folks finalize their social security claiming strategy based solely on your calculator output? If not, what other steps should they take? Also, are there 2-3 other calculators you'd recommend if folks want to run their scenario through various calculators?
One thing that is, to the best of my knowledge, unique about Open Social Security is that it lets the user use mortality tables rather than forcing the user to input a particular assumed age at death. That is, it can do the math on a year-by-year basis, accounting for the probability that the person in question is alive in that future year. Without getting too far into the weeds, I'll just note that this is very useful for married couples, because a) it allows the calculator to reflect joint life expectancies rather than individual life expectancies and b) joint life expectancies are what really matter to the Social Security filing decision for a married couple, because of the way survivor benefits are calculated. (
This article
discusses that concept in more depth, for anybody interested.)
Open Social Security does not account for taxes at all though. In many cases, tax planning considerations point in favor of delaying benefits, though it's a very case-by-case thing. When using Open Social Security, be sure to look at the color-coded chart in the output, as it tells you which range of filing dates will be comparable, from an actuarial point of view. What many married couples find, for instance, is that it's very advantageous for the higher earner to wait, and it's roughly actuarially neutral for the lower earner (that is, for the lower earner, filing earlier is neither advantageous nor disadvantageous from an actuarial point of view). When that's the case, it frees the couple up to look at the decision for the lower earner from a tax planning point of view.
---
If you wouldn't mind, could you review my summary conclusion and confirm that our recommended course is Option 1 (claim at age 70), as suggested by the model. Are there any other considerations we should factor in before finalizing that as our strategy?
Yes, the breakeven point between those two strategies appears to be roughly age 86.5, meaning that as long as at least one of you makes it to the point at which you would be age 86.5, Option #1 works out better. If you have average life expectancies as represented by the SSA's 2019 Period Life Table, there's about a 67% chance of that happening. If you have better than average life expectancies as represented by the CSO "Nonsmoker Super Preferred" life insurance table, there's about an 80% chance of that happening.
The other thing I would add is what I wrote in my prior email: that Open Social Security is doing purely actuarial-based math. It's not looking at taxes at all. Most of the time tax considerations weigh in favor of waiting, but as with all tax planning, it's a very case-by-case sort of thing.
---
Conclusion
Given the complexity of spousal benefits in optimizing your lifetime social security payout, I agree with Wade Pfau that it's critical to run your scenario through various calculators before finalizing your decision on when to claim social security. The implications on your lifetime income are significant, and shouldn't be taken lightly.
Based on my experience, the Open Social Security model is a good calculator for someone without knowledge of the intricacies behind spousal benefit strategies. The result is simple, quantified, and customized to your situation. I'll plan on running a few more calculators in the coming years, keep an eye out for future posts.
Also, if you'd like another perspective on how a blogger I admire is approaching his decision on when to claim social security, I recommend reading ESI's article A Social Security Seminar and Our Current Plans. If you'd like to dig deeper on the topic, below are two relevant articles from Kiplinger:
Finally, a HUGE shout-out to Mike Piper for all of his help as I work through this puzzle. He's been responsive to every question, and this writer greatly appreciates his help. Following are contact points for Mike, I'd encourage any of you with questions to check out his excellent work:
Mike Piper, CPA
https://michaelrpiper.com/
https://opensocialsecurity.com/
https://obliviousinvestor.com/
---
Your Turn: Have you finalized your social security claiming decision? Did you use a calculator, or take a different approach? Let's chat in the comments…