If you spend any time reading financial blogs, one of the things you'll come across is the pursuit of Financial Independence, that stage in life where work becomes optional.  Today, we're going to examine "FI" a bit more closely, and address the question:
How To Know When You're Financially Independent
I'm going to give you a free tool that will help you know when you've achieved "FI".   In a future post, we'll close out the look at "FIRE" with a focus on the "RE" (Retire Early).
For now, let's look at FI:
Achieving Financial Independence is a major milestone in life, and should be the primary financial goal for those working toward retirement.  Once you've achieved FI,  you have the freedom to decide if you'd like to keep working, or if you'd prefer to retire.
FI doesn't mean "Retirement", but it does mean that work is no longer mandatory.   A decision on "Early Retirement" cannot be considered unless you know that you will achieve "FI".
Without 'FI', there can be no 'RE'. How Do You Know When You've Achieved 'FI'?
Click To Tweet
Making work "Optional" sounds pretty good, right?
Today, we'll look at how we know when we've achieved the point of Financial Independence in our lives.
Financial Independence – Defined
First, let's have a look at the definition of Financial Independence from our friends at Wikipedia:
Let's break down the definition.
For starters, how do we know if we have "Sufficient Personal Wealth To Live"?
First, you need to define how much wealth you need.   How much will you spend as you live your retirement lifestyle?  Design the life you want, and figure out how much it will cost. It's important to get this piece right. You'll need to make as accurate an estimate as possible, and not just guess at your annual living expenses. Don't use a "Rule Of Thumb", such as 80% of your pre-retirement spending.  Be methodical, and break out the spreadsheets.  Get It Right.
My wife and I did exactly that when we were building our early retirement plan, and tracked every penny we spent for 10 straight months (ugh).  We then built a Retirement Spending Plan which adjusted our actual pre-retirement spending into a forecast for our post-retirement years (more $ on health insurance and travel, less on commuting and clothes).  If you're starting from scratch, feel free to use the Spending Tracker I've built specifically for this purpose.
Second, make sure you take taxes into consideration.  When you're working, it's easy to overlook taxes, since they come out of your paycheck before you see them.  Once you retire, you'll be on the hook for any taxes, including those on Before-Tax IRA investments as you withdraw them in retirement.  A detailed discussion of taxes in retirement is beyond the scope of this article, but make sure you've made an allowance for taxes when you're building up your spending plan.  I suspect it's an area most people don't analyze closely enough, and I encourage you to take the time to understand your tax situation post-retirement.
Sufficient Wealth To Live
In reality, the term "Sufficient Wealth To Live" is misleading.  What we're really looking for is "Sufficient Cash Flow" to live.
'Sufficient Wealth' is misleading. 'Sufficient Retirement Cash Flow' is what matters.
Click To Tweet
So, the goal is to have sufficient cash flow to live, without having to work actively for basic necessities.
"Without Having To Work Actively"
To Be "FI", we need "Sufficient Cash Flow" to live, "Without Having To Work Actively".  That definition requires our investments to generate sufficient cash flow to cover our spending needs, for Life.  The goal then is to reach the point where our Passive Income from investments is sufficient to cover our needs.  
I can hear you saying, "But I'm going to work part time in retirement!".  That's fine, but how does that impact FI? It comes down to WHY you're working post-retirement.   If you work because you'll need the money, then you're "Not FI", at least based on Wikipedia's definition.  Alternatively, if you work because you CHOOSE to work (i.e., for Purpose), then you "Are FI", and simply choosing to work for benefits beyond monetary gain.
"For Basic Necessities"
We're not talking luxury living here.  We're talking "Basic Necessities", which is something each of us interprets differently.  To me, "Basic Necessity" means the things you need to live comfortably, but not "The Extras" many of us have come to expect.  No big 'Round The World retirement road shows, no second home in the mountains.
Basic sustenance, but not too many extras.
Introducing The FI Scoreboard
To help you track where you are on the road to FI, I've created a cheat sheet for you! The cheatsheet, or "FI Scoreboard",  is one of the simple tools I'm using to track our status on the road to FIRE. Every time I update our Net Worth, I check our "FI Score" to monitor our progress. I've simplified the concept for you today, and am sharing it to help you know when you've achieved FI.
Use your FI Score To Help Determine When You've Achieved FI
Click To Tweet
First I'll talk through the concept, and then I'll share the spreadsheet with you.
---
The Concept:
Start with Your Net Worth Statement, then deduct any assets which won't be providing cash flow for retirement. For example:
Next, we calculate the Retirement Income we're able to generate from our "Available Assets" under various withdrawal rate assumptions.  Using the $600k from above, you can see how different withdrawal rates generate different levels of annual income:
3% Withdrawal Rate       =    $18k Annual Retirement Income
3.5% Withdrawal Rate    =    $21k     "        "
4% Withdrawal Rate        =   $24k     "        "
(For the record, my wife and I are targeting a withdrawal rate below 3.5%, due in part to this excellent series from EarlyRetirementNow. It's one of the best Withdrawal Rate series I've ever read.  Bottom Line:  Plan for a  withdrawal rate of 3.5% or lower.)
Finally, we add any other retirement revenue sources to calculate our total retirement income.  We then compare our retirement income to our retirement spending to create our FI Score!
Here's The FI Score, in summary:
That's the concept, now let's look in a little more detail at the spreadsheet.
---
Calculate Your FI Score!
Click here to open the Google spreadsheet to calculate your own FI Score from your Net Worth Statement.  Note the page titled "FIRE Scoreboard" in the attachment (save a copy to your own drive if you want to customize it).
It's a bit simplistic to say that this one metric can determine if you're FI, but it's a good indicator, and one you may want to consider.  It's easy to set up, and it's fun to watch the FI Score improve each year.  Just add a few rows to your Net Worth Statement, and you can monitor your FI Score every time you update your Net Worth!
What's your FI Score? Use this spreadsheet to get your number!
Click To Tweet
To help you get your score, we'll walk through the specific lines of the Scoreboard below. Then, it's time for you to calculate your own FI Score!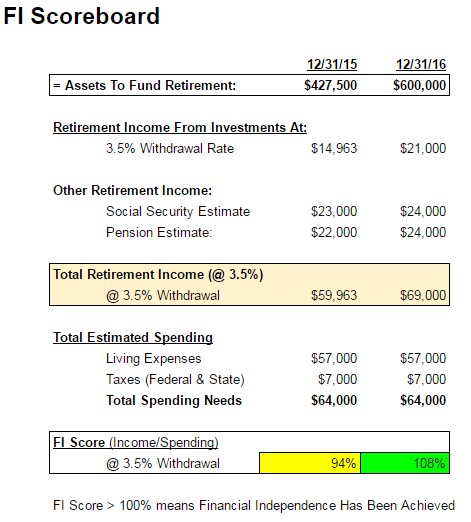 ---
Here's a description of each line, to help as you prepare your own scorecard:
Assets To Fund Retirement:  This is total assets minus non-cash generating assets, showing a growth from $427k to $600k between 2015 and 2016.
Retirement Income From Investments:  Improved from $14,963 to $21,000 one year later.  This is one of the joys of this scorecard, as you watch your retirement income grow each year.  The spreadsheet also has rows for a 3% and 4% withdrawal rate, but I've hidden them in this example for simplicity.
Total Retirement Income:  Add in Social Security/Pension/Other to calculate total retirement income.  Nice improvement from $60,033 to $65,885
Total Estimated Spending:  Living Expenses & Taxes are input, which leads to the final "Score":
FI Score:   The highlight of the Scorecard.  You can see the FI Score in this example went from 94% to 108% a year later.  This one score can give you a good sense of how you're doing on your journey toward FI.  In the fictitious case above, we could say:
"We've Achieved Financial Independence!"
---
Conclusion
Financial Independence is the state of having sufficient passive cash flow to meet your basic living needs.  Once you achieve this major milestone, work becomes optional.  As you work toward "FIRE", be aware of your FI Status, and track your annual progress. Feel free to use the "FI Score" methodology from the Google Sheet in this article, or simply adapt the concept for use with your current Net Worth statement.  The FI Score can be developed with only a few minor "tweaks" to your Net Worth statement, and it provides a new metric on your financial scorecard.  I track mine and encourage you to begin tracking yours.
Your Turn:  
Do you track your FI status?  
What tools do you use?
How does it compare with the FI Scoreboard approach presented here?  
I look forward to your comments, as always!