Regardless of where you are on your financial journey, it's possible to retire in 15 years.  While that may seem a bit hard to grasp, today I'm going to prove that it's possible.  BIG NEWS:  I've convinced a real live person to be "Test Subject #1" to prove that the theory works in real life.  His name is Roger, you'll meet him in the post below.  It's an exciting development, and I'm excited to share it with you today.
---
How To Retire In 15 Years
I'm certainly not the first to have written on this topic, and I'll be referencing some of the excellent content I've read for today's post, including one of the most-read blog posts in the history of personal finance on the internet.
Using these resources, I hope to explain how to retire in 15 years.
Regardless of where you are on your journey, it's possible to retire in 15 years. Today, I'll prove it.
Click To Tweet
The idea for this post came after I read Precisely Follow This Savings Plan and You Can Retire In 15 Years. In the article, the author John Rampton lays out the following steps on how to retire in 15 years:
Set Your Post Retirement Budget
Stop Accumulating Debt
Manage Your Career
Find Multiple Streams of Income
Review And Adjust Your Budget
While I found the above article interesting, and his points valid, it still doesn't "prove" that it's possible.
For that, we have to turn to a legend in the blogosphere, Mr. Money Mustache.
---
Proving It's Possible
One of the All-Time Classics ever written in the personal finance/early retirement space is Mr. Money Mustache's The Shockingly Simple Math Behind Early Retirement.  (if you've not yet read that post, go there now.  I'll wait….)
Mr. Money Mustache, or Pete as his friends call him, has written perhaps the best post ever published on how to retire early, based on the math.  The article has generated 6 years worth of discussion, and it's still going strong.  A powerful blog post, with unbelievable staying power.
There's a reason it's in the Hall Of Fame.  It's good.  Really, really good.
In the article, the biggest buzz comes from the following table, which shows how long it will take you to reach retirement at certain savings rates (see the article for the assumptions behind the math, they seem reasonable to me):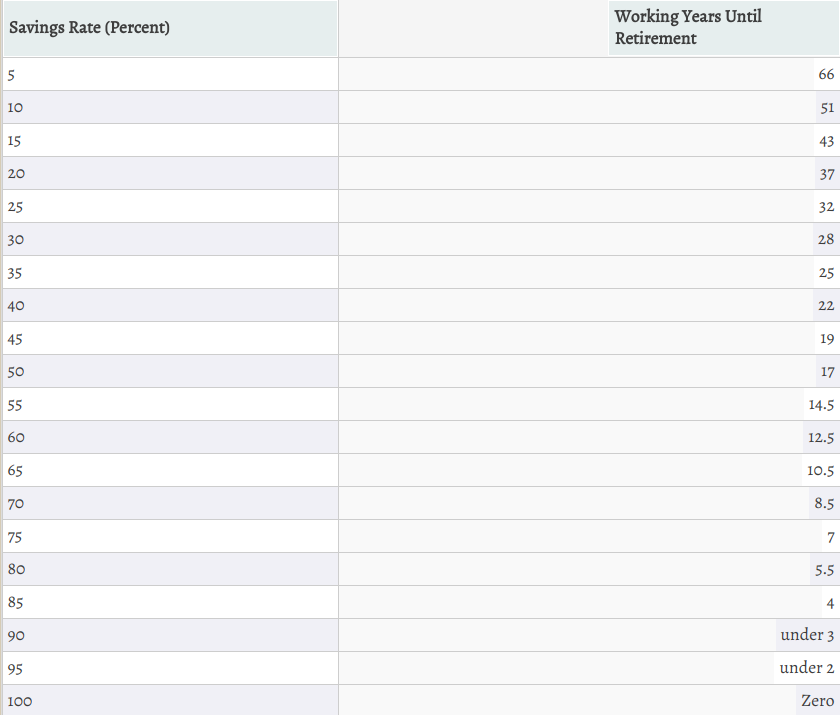 That table has generated more discussion in the blogosphere than perhaps any other Personal Finance piece ever published.
Go back and look at the table again, and take a few minutes to think. (I'll wait….again).
BTW, I'm exceedingly patient today which is a good thing given that this post is focused primarily on those patience-testing Millenials whom I treasure and adore.
Side Note About Roger, The Millenial:  Last week, I wrote "The Ultimate Pre-Retirement Checklist". It's proven to be a very popular post, but  I got some candid feedback from my Millennial friend, Roger, who you'll meet in a minute.  The feedback was given during a business conference call, with my co-workers on the line!!  He's a bold man, that Roger.  Since it appears that you Millennials didn't "get anything" from my pre-retirement checklist, today's post is for you. I hope you enjoy it, my Millennial friends, as we have a little fun together.
---
Retirement Is A Math Problem
In reality, retirement is nothing more than a math problem.
How much you've saved,
How much income it will generate, and
How much you need to spend
Those are the simple variables.  It's pretty straightforward, actually. High school algebra comes to mind, and all we need to do is solve for the X.  The math proves that it's possible.
The numbers of FIRE prove that it's possible. They are not a judge, they're just numbers. Live as you'd like, but understand the impact on retirement.
Click To Tweet
You can choose to "Live Large", and save 5% of your pay.  By looking at the table, or simply clicking on this cool interactive chart, you can quickly figure out how long it'll take you to able to retire (66 years, if you must know.  Live Large, but realize you'll likely never be able to retire).
Life's about choices, not judgment.  Just understand the consequences of your decisions when you make them, and take time to think of the impact of those decisions on the longer-term perspective of your Life.
Do you only want to save 5%? No problem, just be prepared to work for 66 more years. It's simple math.
Click To Tweet
How Long Do You Want To Work?
Another way you can use the power of math is to decide when you'd like to retire, then use the math to see how much you need to save.  Simple math.
Want to retire in 20 years?  No problem, just be prepared to save 45% of your pay.
Are you ok retiring in 30 years?  You can cut your savings to 28%.  You can spend more now, but you'll need to work an additional 10 years for the privilege of that consumption today.
Is it worth it?
Know the consequences of your decisions, especially as they relate to your retirement date.
---
Here's The Proof
The proof lies in this amazing and very cool interactive chart from Networtify that Mr. Money Mustache mentions in his post.  For today's post, I played around with some scenarios and share the results with you below.
Turns out someone who:
Has $0 Saved
Makes $80k per year
Saves 54% of their income
Can retire in 15 years.
If the assumptions in my example don't represent your situation, simply run your numbers yourself.  Enter your savings rate, and see how long you'll have to work.  I'll wait….(again.  Gees!)
I Never Said Retirement In 15 Years Would be Easy.
It takes work, an aggressive savings rate and a real commitment to your highest priorities in life.
Serious stuff, but it can be done.
Retirement In 15 Years Is Possible, regardless of your age.
---
The Ultimate Test Of The 15-Year Theory
To prove that the theory presented in this post can be achieved in the real world, we've recruited a Millennial to be a test subject.  The test subject is my aforementioned friend Roger, the guy who provided feedback on a conference call at work (with my peers) that my Pre-Retirement Checklist provided no value to Millennials (oh the boldness of those Millennials)
After some private discussion, I've convinced Roger to become our Test Subject #1, and I couldn't be more excited to be making this announcement today.
Roger will prove, through his life as a 35-Year Old Millennial, that retirement in 15 years is possible.
Click To Tweet
Here's Roger's profile, I consider him a bit of an Avatar for our stereotypical Millennial reader:
Age:  35
Long-term relationship, marriage & children planned.
Location:  Outside the USA, but somewhere in the World
Anonymous
Roger will apply the math in this post, and begin saving 55% of his income starting on July 1, 2018.  I appreciate the sacrifice that Roger is making for this experiment, and trust he'll be pleased with the results. We'll continue to monitor Roger, and will report in on his progress over the years.  I'm planning an annual post with an update on Roger, including all of his numbers.
In 15 years, when I'm writing on this blog as a 70-year old, Roger will retire as a 50-year old.  You'll watch it all unfold.
We'll follow his progress along the way.  Every year.  About this time on the calendar.
This is going to be fun.
---
Conclusion
How To Retire In 15 Years.  Today, we've proven that it's possible, though not easy.  Over the next 15 years, we'll demonstrate through the life of Roger, our Test Subject #1, that it can be achieved in real life.  Stay tuned for updates.
BTW, you may have noticed that this post was published on Sunday, April 1.  I've always enjoyed April Fool's Day, and decided to have a bit of fun with you, and my friend Roger, in today's post.  All of the math demonstrated in this post is true. However….
…What may not be quite as truthful is my claim regarding Roger's agreement to become Test Subject #1.  I made a promise to Roger during the conference call (yes, that infamous call, and his feedback, did actually happen) that today's post would be written for Millennials, and I promised to make him a subject of the post.  His involvement as Test Subject #1 was entirely a figment of this author's imagination, as I realize that April 1 coincided with my writing of this post.  Therefore, the post was scheduled, atypically, for publication on a Sunday.
Sunday was April 1.
I planted some hints of this spoof throughout the post.  I'm curious if you've been paying attention.  Roger is learning of his "involvement" at the same time as you, the reader.  Sorry, Roger, but you've earned this playful payback (looking forward to seeing you in May, btw! Hope you've enjoyed the playful jab as much as I've enjoyed working with you these past years).
Happy April Fools Day.
Fun aside, I trust that I was able to achieve my purpose of proving How To Retire In 15 Years.  It can be done, and everything else written in this post is valid.  The math works.
Understand the importance of your savings rate in determining how soon you can retire.
Save more, retire sooner.
Simple Math.