If you're worried about starting your retirement savings too late in life, this article is for you.  I just got off the phone with an amazing 82-year old woman, who had nothing saved for retirement at Age 49.   She told me a real life success story, and it's a strong encouragement for those who may be getting a late start on saving for retirement.  With that….here we go.
---
Last week was an amazing week.
For the first time ever, a reader contacted me to buy me lunch.  I had never met Stan, but he was going to be near my office, and asked if we could get together.  Of course I said yes, and soon we were meeting for the first time: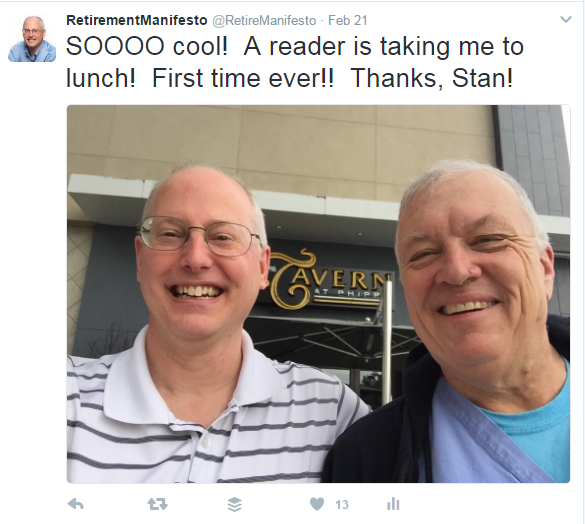 We had a wonderful time chatting about personal finance, retirement, children and parents.  I really appreciate Stan reaching out, and hosting me for a very enjoyable meal.  This guy's really interesting, with a fascinating life story (he even flies planes over forest fires to do retardant dumps, as a hobby!).
Take time to buy someone lunch, you never know where it may lead.
Click To Tweet
Then It Got Even Better
Over the course of our lunch, Stan joked that he was "giving me assignments", as ideas flowed between us for various topics I could write about.
But One Idea Stuck More Than The Rest…
---
"It's Never Too Late To Start Saving For Retirement"
---
As Stan and I talked, I mentioned that some readers have expressed discouragement to me that they didn't start saving for retirement at an earlier age.
"I'll Never Be Able To Retire",  is a comment I've heard numerous times over the past few years.
Stan replied with the following, and this blog post was born:
It's Never Too Late To Start - You Need To Hear My Parent's Story!
Click To Tweet
Stan told the story of being raised "dirt poor" in West Texas, with his parents struggling to cover the bills and unable to save into their 50's.
But I'm Getting Ahead Of Myself
Stan told the story, but I'm not going to share it (yet).
Why?
Because this story gets even better.  After telling me the story, Stan perked up and said:
"You HAVE To Talk To My Mom!"
And so it happened, that at 8:00 pm that evening, I was talking to his amazing mom.
Betty is a charming, energetic and intelligent woman, and we had a wonderful 30 minute chat.
I can still hear her 82 year old, sweet West Texas drawl, as she told me the story:
Betty & Gordon hadn't saved any money by Age 49. How did they manage to retire?
Click To Tweet
---
The Story Of Betty & Gordon
Gordon first saw Betty in a local newspaper he received via mail while serving in Korea in the 1952.  She had been chosen to go to a prestigious "Girl's State" convention in Albequerque, and the paper had written an article about her selection.
He wrote her a letter.
She wrote back.
He returned from Korea, and they first met in September, 1952.  The courting stories are hilarious, and could fill an entire blog post. (She really is a charming woman, and I loved the sound of her laugh as she told me those stories).  
They were married on August 9, 1953, and have been happily married for 63 years!
---
The Keys To A Happy Marriage
Yeah, this is a personal finance blog, but I couldn't miss the opportunity to ask someone who's been married for 63 years:  "What's the secret?".  After all, life's about much more than money, and I felt they must have some lessons we could all learn.  How often do you get to speak to someone who's been married for more than 6 decades?
Betty was happy to share.  "To be giving and forgiving", she said first.  As we talked, she encouraged married couples to "Hold the other one up, don't put them down."  "Work together."  "We're more dependent on each other now than we've ever been."  She shared that as you get older, your dependency on each other grows.  Sometimes it's the simple things, like remembering those names that aren't quite as easy to recall.  Sometimes it's the serious things that you face as you age.  Foster the relationship with your spouse, it's a key to a great retirement.
A great story of love, and an example we should all aspire to.
But I digress…back to the story
---
From $0 To Retired In 14 Years
Raising 4 children on a pastor's (Gordon) and substitute teacher's (Betty) pay didn't leave anything for savings. They met their needs, but little else.  "We didn't do without", said Betty, but you can appreciate the challenges of raising 4 kids on a modest income.  Or, as Stan says, a bit more bluntly, "We were dirt poor, but we had what we needed."
Stan started college in 1973, and every three years after the next sibling left for school.  1977, 1981, and 1984.
Then, the nest was empty.
In 1983, Betty and Gordon has essentially nothing saved for retirement, but they'd been successful in raising their children. The band director at the school where Betty worked was selling life insurance, and suggested to Betty that they should attend a personal finance class being taught at a nearby college.
Getting Serious About Retirement Savings
And so it was, that in 1983 they found themselves attending a class taught by a representative of Edward Jones at West Texas College.  They learned about investments, and they learned about personal finance. They learned a lot, and struck up a friendship with Tim, who would become their financial advisor as they started their journey.
Working with Tim, they made their first investment that year, taking the very small savings they had in a local credit union and investing it in stocks.
With their nest empty, they took the money previously used on raising their children, and began diverting it into investments.  They automated the savings, setting it up so the money came directly from their paychecks into their investment account at Edward Jones. They never saw it in their checking account, and were never tempted to spend it.
Gordon heard Betty telling the story, and piped up from across the room:
"If you get it, and hold it in your hands, it's harder than if you never see the money."
They got aggressive, and started saving hard.
Increase Your Income
Betty was promoted to secretary for the High School principle, and increased her take home pay.  Gordon moved on from preaching into child welfare.  With increased incomes, and lower living expenses (empty nest), they continued to direct those additional funds into their investments.
Live Modestly
Betty and Gordon realized they had to make up for lost time, and maintained a very modest lifestyle.
"We're kinda tight", says Betty, "and we don't spend a lot of money for extra things."
They debated about getting more aggressive on paying down their mortgage, but decided the money was best used getting the gains that stock investing had to offer.
They continue to live modestly to this day, though they contribute to their church and "a few various things".
Retirement in 1997
14 years after attending those classes with Tim at the local college, Linda and Gordon retired.
Betty was 63 years old.
They'd made it.
They shared some of their financial numbers with me, which for the sake of privacy I won't share in the post. Suffice it to say, they had saved enough in 14 years to provide a comfortable and modest retirement, and maintain a healthy nest egg to see them through their final years.
"Social Security alone isn't enough", said Betty.  You need to save while you can.
"The Lord has blessed us tremendously".
Indeed.
And you, Betty, blessed me with our wonderful phone call.
I'm glad your son offered to buy me lunch.
---
Lessons Learned
As we wrapped up our phone chat, I asked Betty what pieces of advice she would give to a 50 Year Old who may be reading her story.  Keeping it simple, she boiled down their learnings into two key pieces of advice:
Get a good financial advisor, you don't know those things by yourself.
Be consistent with saving and putting money away.
Ironically, after I had talked with Betty, but before I had completed this story, a very relevant article came out in Forbes.  7 Ways To Get Ready For Retirement If You're 50 And Haven't Started Saving.  It's worth a read, and the following steps from the story are spot on.  Notice the similarities to the story of Betty & Gordon:
Understand Time Is Not On Your Side
Save More
Protect Your Income
Create Multiple Income Streams
Get A Roomate
Use Technology to Save & Invest More
Track Your Spending Using Technology
---
Conclusion
Sometimes, life doesn't give you the luxury of saving for retirement from a young age.  If you find yourself in that situation as you read these words, have hope.  Others have been where you are, and they've made it.  More than ever, it's time to get serious.  Really serious.  The time for procrastination is gone. If you take the right steps, you can make it.  You can live a happy life.  You can survive comfortably in retirement.
Don't believe me?
I have proof.
Just ask Betty.