We should all have a Purpose, Motivation and Life Aspirations to strive for...Right?
Click To Tweet
This blog is about Helping People Achieve A Great Retirement, and all which that entails (hmmm…ponder that).
The more I study this stuff, the more I realize that having things that Motivate us and provide Purpose are important elements for a great life, and a great retirement.
Some of us….
…get motivated through work, then struggle in retirement.
…get motivated as parents, and struggle with Empty Nest.
…get motivated by things that don't matter, and can't figure out why we're unhappy.
…get motivated by things that do matter, and are the most content people around.
…get motivated by personal causes in retirement, and have a Purpose in our Freedom Years.
I don't know about you, but I want to be a member of the "last two bullets" above, and get motivated by things that really matter.  I'm striving towards that as I work toward retirement, and I believe it's important.
Think about something you can strive for, something that motivates you. Life Will Be Better That Way.
Click To Tweet
We should all strive to have a variety of things that motivate us. I like to write about things that motivate me, in the hope that you can use the concepts to find something to motivate yourself.  It's important that we find ways to motivate ourselves to pursue new goals, challenge ourselves, and keep ourselves engaged in "the game" that is Life.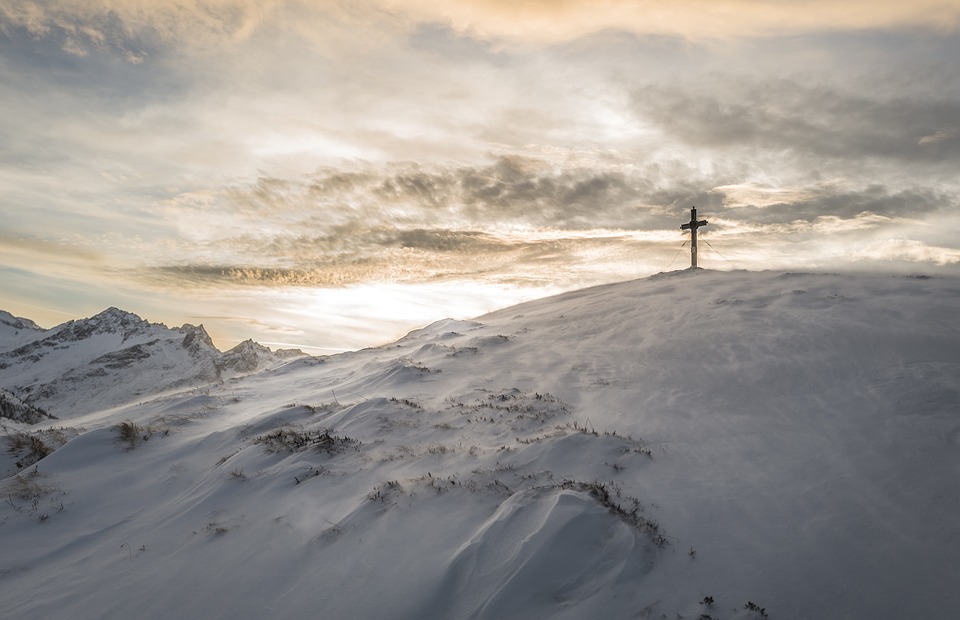 Purpose, Motivation and Life Aspirations
So, as we prepare for, and move through retirement, we should look for things that…
…Are important, really important, to us on a personal level.
…Can be developed into A Purpose.
…Can be broken down into short term goals.
…With the right goals, will Motivate and move you forward.
…Will give you Life Aspirations, things to strive toward.
This article is about Purpose, Motivation and Life Aspirations, and the principles presented can (and should) be applied in various areas of your life.  I'll use an example of Physical Fitness for today's story, but it's only one of various areas in my life where I'm using the approach.  Some other areas I'm working on, and encourage you to consider:
Spirituality  (Closer to God each day)
Marriage  (We're together for life, couldn't be happier)
Relationships  (Treasure old & develop new)
Charity / Giving Back (Help create some Good in the world)
Community Involvement (Make a difference, locally)
Prioritizing Family (They're the most important people in your life)
Personal Fitness  (I want to be able to hike into my 70's) 
Life Experiences (The Retirement Road Trip in that 5th Wheel is on the horizon!).
This is primarily a personal finance/retirement blog, so I don't write about all of the areas listed above.  However, they're all important to me, and I spend a lot of time thinking about them, and trying to improve in many areas of my life.
I encourage you to spend time thinking about developing Purpose in various areas of your life, and view today's story about Cold Water Swimming as an analogy that can be adopted as you see fit.  As you think about it, I encourage you to….
…Find A Purpose
I encourage you to find things that provide motivation in your life.  Think through various areas of your life, and build a list of things you'd like to improve. Seek to make a few of those things fitness related.  As I discuss in Younger Next Year, there is clear scientific evidence that consistent, moderate exercise is the best thing you can do to be able to enjoy the same activities in your 70's that you do in your 50's.  In addition, a focus on fitness should help to keep your health care costs down as you age.  Are those factors important to you?  They should be, in my humble opinion.
Fitness is something I feel a passion for, and I'm pursuing it as one of my "Purpose" areas, currently in development for retirement.   I sincerely believe that a well rounded fitness program will increase your chances of Having A Great Retirement.  I encourage you to think about it, and hope my posts motivate you to do something for your health, and other areas of your Life.  Find other areas to develop (continuing, of course, with your personal finance development via reading this blog, and other sources!  Smiles).
Find a Purpose.
While you're at it, find a few.

My Motivation:  Cold Water Swimming
Let me give you an example;  A Case Study of the process….
For Starters…Motivation:  When I focus on the "Purpose" of Personal Fitness, cold water swimming is something that motivates me.  It's crazy, I know.  But I like it, and it works (really well) for me during this phase of the  Retirement Transition Plan.  It's something that gives me a sense of accomplishment, and it's something I want to pursue.  SO, I get intentional on designing cold water swimming into my fitness goals.
I hope you'll find the Case Study a nice example for the broader concept of building Purpose, Motivation and Life Aspirations.  Look at how I'm using swimming, and see if you can find something that you can use in a similar way in your own life.  Find a way to create….
A Purpose.
A Short Term Goal toward that Purpose.
A Challenge To Motivate You Day-To-Day.
Something that stretches you to improve.
During chats, folks seem to frequently mention my "odd habit" of Cold water swimming. It seems to have become something that people remember about about me.  I guess I'm a bit unique, in a way.  Quirky, even?  I'm "cool" with that (bad pun, intended).  I hope my interest motivates you, and these stories offer a bit of entertainment along the way.
Find something that motivates you, and try building something using the framework I'm using.  My Physical Fitness Case Study can be applied to any Purpose you're attempting to build, anywhere in of your life.  I hope the approach helps you as we all work together to Achieve A Great Retirement (my byline).
Find a Purpose, Develop Short Term Goals, and design motivation to improve.
Click To Tweet
As an aside, if you want to see how "big" cold water swimming can be, check out this video.  (here's that entertainment part I promised).  Maybe someday I'll be fortunate enough to join these members of the International Ice Swimming Association in this strangely appealing swim
Of special note:  They talk about the physiological impact of swimming in cold water, which is exactly what I experienced in London, at the 3:00 min mark in the video.  I wrote about what happened to my body in Achieving The Dream. Take a minute to listen, it's fascinating "mind over matter-type stuff", well worth a few minutes of your time. Don't miss "The Devil's Look" at 5:00 min mark:
Imagine swimming a kilometer in water cold enough to kill you without a wetsuit at an elevation of 10,000 feet. That's what the swimmers of the International Ice Swimming Association do. It's not just a race to the finish line—it's a race for survival. Tune in to "That's Amazing" every Sunday at 9pm on The Weather Channel.

Posted by Great Big Story on Thursday, December 1, 2016
---
March 1, 2017
As I started my first draft of this post on March 1, I just completed my first cold water swim of 2017.  What were you doing on March 1st?  I suspect swimming outside was not on your mind.  Maybe I'm crazy, but…..
…..On March 1, I swam.
As I finish this post on March 7 (I write ~1-2 weeks ahead), I just finished my second cold water swim of 2017.  I was so excited (Hey, I'm on a roll), and had to send a Tweet:
---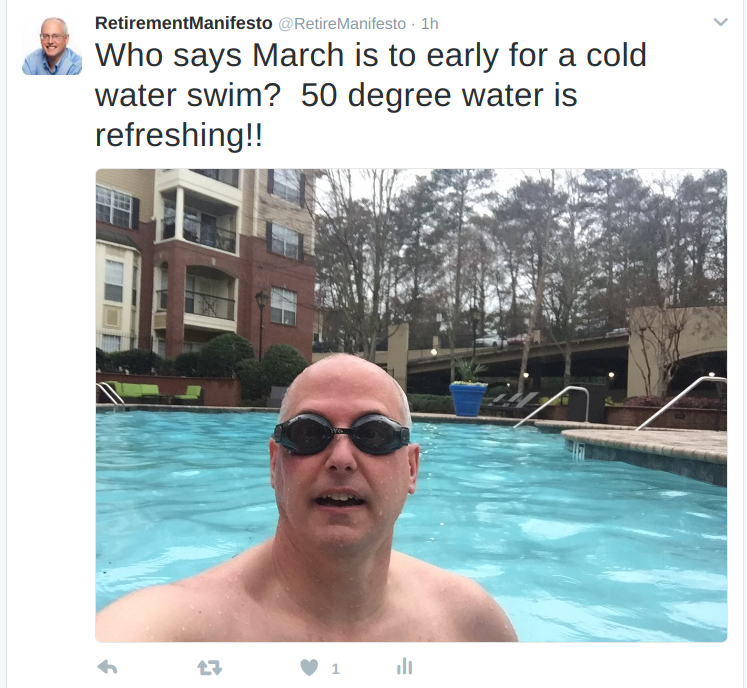 To follow me on Twitter,  just click on this link -> @RetireManifesto
Oh My Gosh, I just realized I spelled "Too" as "To" ON A PUBLIC TWEET!  I'll be persecuted by my 1,721 Followers when they realize I'm a fraud.  I can't even spell To Too correctly! And I claim to be a blogger!!??  I'm Doomed!
(BTW, I love the "network dynamics" on Twitter.  Thanks to all my blogger friends who support one another on Social Media!  You know who you are, and you're appreciated!!  
---
November 2016
The last time I swam in Cold Water was 106 Days ago, on November 15, 2016.  November was a great month, and I'll never forget my Cold Water Swim in London.  Outside, in Serpentine Lake, a hidden gem within London's Hyde Park.  The air temperature just above freezing, and The Dolphin and I went for a swim.  It was the experience of a lifetime.
What were you thinking about on November 15th?  Raking Leaves?  Football?
I was swimming.  It motivates me.
106 days between the end, and the beginning:
---
November 15, 2016:  Last Cold Water Swim of 2016 (48F  / 9C Water temp)
March 1, 2017:  First Cold Water Swim Of 2017 (50F / 10C Water temp)
---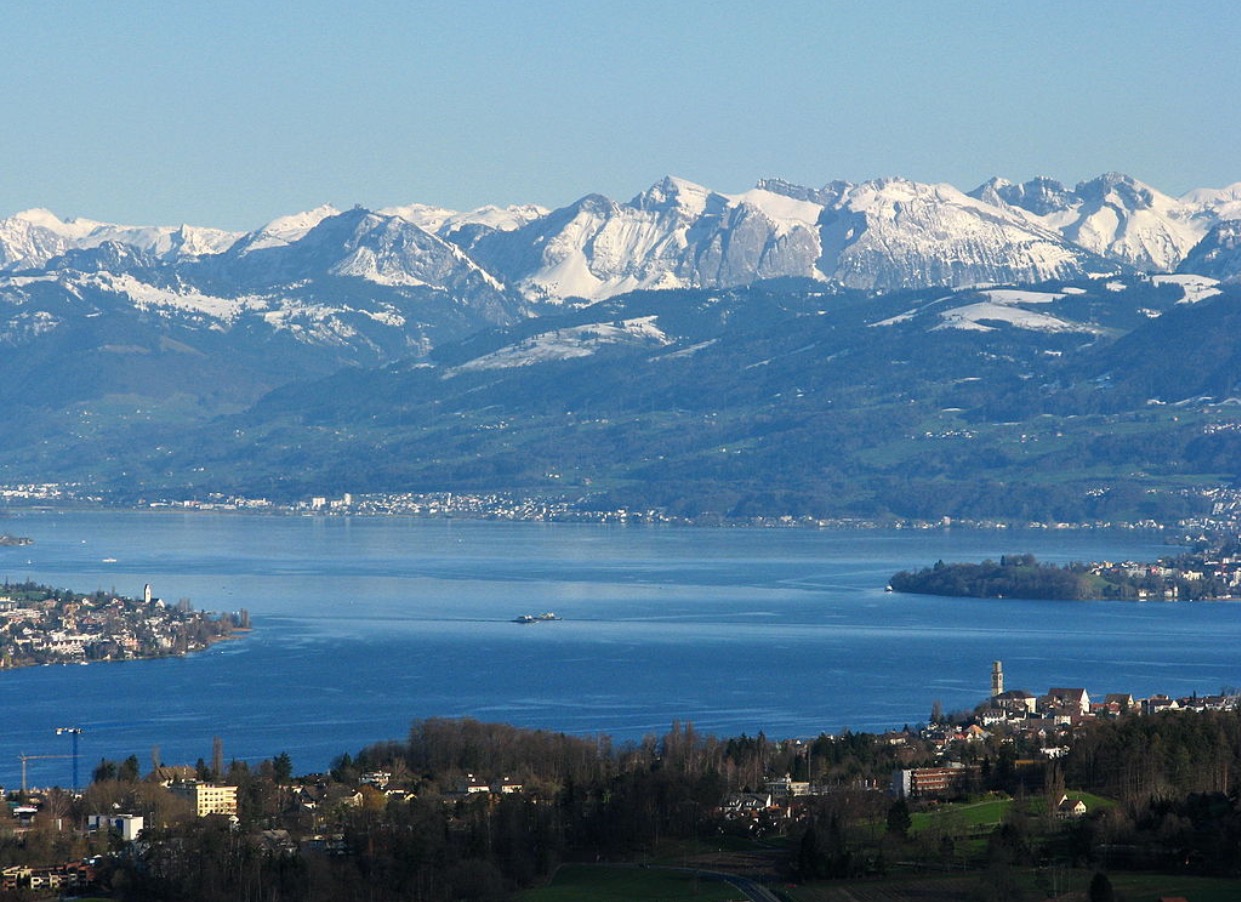 The Last Chance Challenge:  Lake Zurich Swim
My regular readers may recall that I attempted to swim across Lake Zurich last year, only to have My Olympic Event Cancelled. "The Dolphin" beat me in the last minute switch to a 100 Meter Sprint event, but we settled the score with our London swim in November.
To keep myself challenged through the summer, I've decided to resurrect my Lake Zurich Challenge, and will attempt to swim across the lake (and back) in August 2017.  As for "Last Chance" which I've added into the title, let's just say I haven't told my employer when I plan to retire, but it's highly likely that I won't have a chance to swim Lake Zurich in August 2018 (I suspect you can figure out why it's called "The Last Chance").
Hey Dolphin, You Listening?  I'll call you….
---
The Last Chance Challenge:  Defined
Date:    August 2017
Location:  Zurich, Switzerland
Objective:  To swim, via non-stop breaststroke, across Lake Zurich and back in under 37 minutes.
---
For a Grande Finale, I will close out the 2017 Swimming Season with the now infamous London Swim In November.  Yes, I will once (and for all?) swim with those crazy Brits.  You know the ones, those folks who swim outside, year-round, in the Serpentine Swimming Club?  Heads up, my British friends, I'm planning on paying you a visit in the first week of November, God Wiling.
I like to have these annual goals.  They keep me motivated, and they provide purpose.
Try it.
You may like it.
---
Conclusion
Seeking Purpose, Motivation and Life Aspirations can make the difference between a Great Life/Retirement and a "Not So Great" Life/Retirement.  Spend some time thinking about things that are truly important to you.  Think about things that matter.   Be intentional, and decide to target a few areas you'd like to focus on for improvement in your life. Then, set short term goals that will motivate you to work toward the improvement you're seeking.
And…if you're in London in November…..
…Feel free to join me for a swim.