We're going to have fun today.  I like to mix things up from time to time, and trust you'll enjoy the aerial tour you're about to embark upon.  If you're in a hurry, skip the words and just look at the photos, that's really what today's post is all about.  Normal programming will return next week.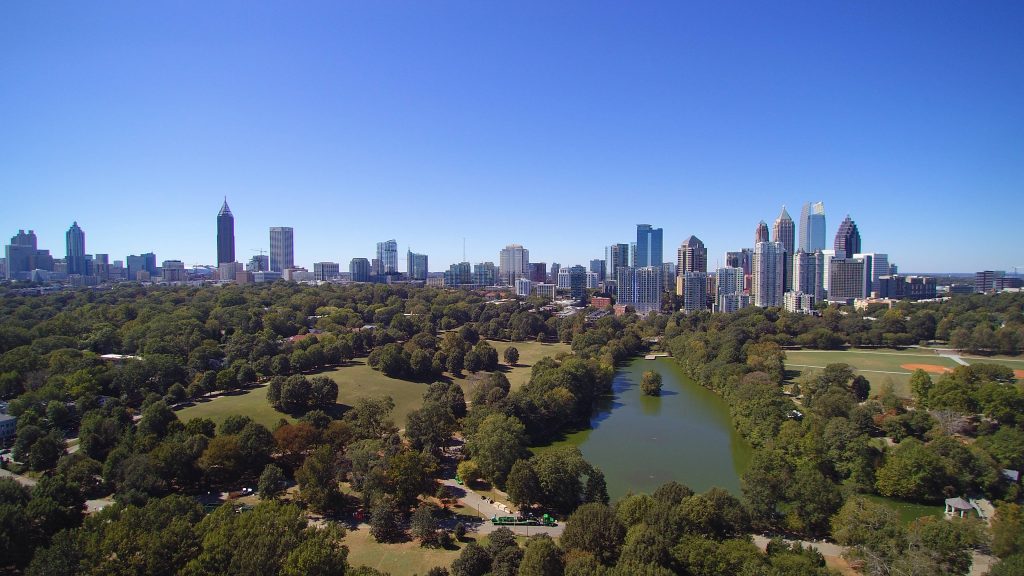 Today, we're going flying. I'm hoping to develop drone photography as a semi-serious hobby post-retirement, and I thought you'd enjoy seeing how my early experiments have turned out.  It's fun to fly a drone and I'm enjoying the process of learning how to work with my new toy high-tech flying photographic machine.
View today's post as an example of how to be intentional in developing new hobbies for retirement and think about hobbies you'd like to develop yourself.  Then, get started!
Develop new hobbies for retirement. Be Curious. Explore. Fly A Drone!
Click To Tweet
An Aerial Tour Of Piedmont Park
Today, I'm taking you on An Aerial Tour of two locales.  First, we'll visit Piedmont Park in Atlanta, GA, where the flight plan didn't end well (more on that in a minute).
Second, we'll go to my retirement mountain town of Blue Ridge, GA, where I had fun flying the drone around our gorgeous town.
We start with an aerial video taken at Piedmont Park on a recent, beautiful October afternoon (it's only 56 seconds long, so buckle your seat belt and enjoy this short flight!):
The flight over Piedmont Park was fantastic, and I was very pleased with the photographs and video I was able to capture during my flight.
Unfortunately, the flight didn't end well.  We'll chalk it up to "Learning Curve" (be willing to fail!).  The photo below is my least favorite from the day and shows what happens when you try to fly your drone in the wind…
Note to self:  be careful flying in the wind, it has a nasty habit of throwing your bird into the trees.
I ended up crashing my drone on the return flight from the video shown above. I was bringing the drone in for a landing near the edge of the pond, and I tried to squeeze it down into too small a clearing through the trees.  Mother Nature & Mr. Murphy interceded at precisely the wrong moment, and the flying craft was sent sideways into a group of trees.
The result was immediate and harsh. Rotors shredded, the drone nosedived into the ground.
Click To Tweet
I was able to retrieve the downed drone and was pleased to see that only the rotors were damaged (um…obliterated?).  I've got extra rotors at home, so it will live to fly another day.  Since my flying was over for the day, I decided to take a nice 3 mile run throughout the park.
By the way, Piedmont Park is a lovely spot, if you ever get to Atlanta it's worth a few hours of your time.
---
An Aerial Tour of Blue Ridge
Blue Ridge, GA is a beautiful mountain town on the Southern edge of the Appalachian Mountain Range.  I'm proud to call it "Home". The Appalachian Trail starts nearby on Springer Mountain, and the region is a wonderful place to spend some time.  Like….an entire retirement!  I can't wait to be there full time, this City Apartment living gets old after a while!
When I first got my drone, I immediately started playing with it in Blue Ridge and I'm sharing the results with you below.  Following are my two favorites drone photos taken in Blue Ridge.  I hope you enjoy!
The picture above means a lot to me.  Two of the things I really love about living in Blue Ridge are the access to Lake Blue Ridge and the trout fishing in the Toccoa River.  I swim in the Lake, and I fish in the River.   Seems appropriate to have both the lake and the river in one photo!  It was the first photo I shot with my drone, and I'll forever cherish it!  (For those wondering, yes it is nerve-racking when you fly your drone for the first time.  It gets easier with practice, but I had NO idea what I was doing when I took the photograph above. I'm pleased with the result, though!)
Downtown Blue Ridge is a special place, and my wife and I spend every Saturday in "The Barking Lot" on Main Street volunteering at a weekly pet adoption event held by Tri-State Pet Rescue.  If you know where to look, that spot is in the photo above.  I also like the Blue Ridge Scenic Railway, which can be seen in the center of the picture above.  The train runs two scenic tours a day up into Tennessee (we can hear the train's whistle from our cabin, and we know the time of day by hearing the whistle announcing the train's departure/arrival!). The train's a popular thing for the tourists to do – funny that we've never done it.
Last but not least, the lake I'm thankful to have just minutes from my house.  Lake Blue Ridge.
(BTW, my Outdoor Swimming Streak is still alive – Mar 1 through Oct 18.   33 straight weeks with at least 1 swim outside EVERY SINGLE WEEK!  From Lake Michigan to Zurich, Switzerland to Bahrain to Lake Blue Ridge, and you can see it all here for the proof!)
Bottom line:  Blue Ridge is a special town, and I'm happy to call it home.
---
Conclusion
Find something that interests you, and start exploring.  A few short months ago, I knew nothing about flying drones.  Today, I'm posting an article with photos and videos I've created.  In a few weeks, I'm taking our "AV Guy" from work out to lunch to get some hints on video editing (he's the guy who took this drone video of me swimming across a lake).
Another example of developing an interest is my love of cold water swimming, an area in which I had no experience just 12 short months ago, but is now a twice-annual challenge (March & November) to keep me motivated as I work toward being Younger Next Year. 
For my wife, it's pottery.  She recently took a class and fell in love.  That's EXACTLY what we should all be doing.
Try Something, Try Anything. Push Your Limits, Explore, and Be Curious!
Click To Tweet
The point of this post is to encourage you to explore.  To Be Curious. To try new things. To swim in cold water. To be willing to fail.  To crash your drone.  To destroy your clay. To share your drone pictures with the world.
Life seems somehow better when you're pushing the limits, trying new things, testing yourself.
Give it a go.
It may just help you to help me in achieving the goal of my blog:
Helping People Achieve A Great Retirement.